You don't need to be a home improvement expert to know when something isn't working quite right. Drafty windows, squeaky doors, leaky pipes, and fluctuating indoor temperatures usually set off tiny alarms in our heads. For many homeowners, there's a sense of pride that comes with having an updated and well-working home.
Old, outdated windows are hard to ignore when they're insulating your home poorly or failing to open and close properly. If you recognize the signs of outdated windows and are ready to update your home, then congratulations! You've made a big decision to improve the value of your home. Make the most of it by picking the best window style for you.
Casement windows are just one of the various window styles available from the Golden Windows product line. Everyone's taste is different, so if you want to know more about the different styles out there, then reach out today and get the answers all your burning questions.
In this article, we'll focus on the casement window, which is side-mounted on hinges and pivot to swing open and closed with the turn of a crank. We'll cover how to plan for a renovation and some best practices for working with a window installation company. We'll also go over some window vocabulary to aid you as you shop and compare different models and styles. Finally, we'll cover the specifics of the casement window and its many benefits before diving into how to accurately measure your windows.
The Window Replacement Checklist
Maybe you suspect that your current windows are causing drafts in your home. Maybe you're looking to open up what was once a wall and install an entirely new window. Maybe you want to update the look of your home and give the whole building a facelift with some shiny new windows. Whatever the reason, there are a few things that you should bear in mind as you shop.
To help you stay organized, here is a short checklist for replacing your windows. These are the steps that you should take in order to make the most informed decision for your home improvement project.
Research and Compare Companies. Only you know what kind of service you prefer for renovations, and you should follow your gut to a certain extent. On the other hand, there are some telltale signs of a good and reliable company that you should be on the lookout for when comparing window retailers and installers. Check for the amount of years they've been in business, their licenses, customer referrals, proof of insurance coverage, and any industry credentials that speak to a company's commitment to quality.
Look at Window Types. A trip through the Golden Windows showroom is a great way to see the product first-hand. On top of that, you get to meet with a window and door professional to have your questions answered before you commit.
Think About the Installation Details. Can the company that you're working with answer questions about what an installation with them would look like? How long it may take?
Finalize the Contract. Never underestimate the power of a good contract. To protect yourself as a consumer and to make sure that everyone is clear about the work that will be done, be sure to get everything in writing. Ask for an itemized quote so you can see the cost per window. Review the payment schedule and ensure everything is clear. Familiarize yourself with the warranties and any other down-the-line issues that might arise.
Completed Job Walk Through. How exciting! The new windows have been installed and now it's time to bask in their glory. Make it a priority to complete a walkthrough with the installer once the job has been done. Look for proper insulation, that windows are sealed and caulked correctly, and that screens are where they should be and free of damage. Also make sure that all hardware operates perfectly and that there has been no damage around the windows or in other parts of your home as a result of the installation.
A Crash Course in Window Parts
Windows look like pretty simple pieces of equipment with just a few key components. However, anyone who has worked closely with windows will tell you that there is much more than meets the eye when it comes to all of the parts and pieces of a window. When you're shopping for new windows, you're going to have to be able to compare and contrast different styles, models, and materials.
While you can leave the really intricate stuff to the window experts who you will ultimately consult with and hire for your installation, you're going to need to have a basic understanding of what exactly you're looking at. Here are a few of the key window parts to help you talk the talk when you're shopping for the perfect windows.
The framework that supports and surrounds the entire window system (head, jamb, and sill.
The main horizontal piece that forms the top of the window frame.
The main vertical pieces that form the sides of the window frame. This term also applies to doorways, where frames are also key components.
The sill is the main horizontal part that forms the bottom of the window frame.
The term here applies to the entire framed sheet of glass in a window frame.
This is the moveable part of the window that holds the glass. It should be structurally reinforced in order to prevent distortion that could lead to window leaks, drafts, or locking issues.
You'll find these in different places in a window depending on what type it is. In casement windows, the hinges will be found on the side of the window that does not open.
The Casement Window
Modern casement windows improve a home's energy efficiency with their double window panes, but they really do so much more. They are unique because they open outward from the home's exterior, and you can find them in models that open sideways and vertically, too. Because they can be opened up outward, they allow a person to direct the air flow in their home by catching the breeze that would otherwise blow right past.
No other style of window can be opened as far and widely as a casement window. When you depend on cross ventilation to cool your home, this is an important advantage. Unlike double hung windows where only one half opens at a time, or sliding windows where only one side can open, casement windows provide a huge opening to the outdoors. For log homes and cottages, this is especially desirable since an open window can bring plenty of nature to the indoors.
Another benefit to this type of window is the improved view that casements offer. Depending on your personal preference, you might be opposed to window grilles. Window grilles are decorative patterns on a window consisting of horizonal or vertical bars that divide the larger glass into smaller panes. Grille types include simulated divided lites (SDL) or grilles between the glass (GBG). They remain a very popular style for homeowners today, especially traditional style homes.
It's simply impossible to ignore the major impact that natural light has on how we live our lives. Homes that are filled with natural light feel open and spacious while dark rooms with little to no views of the outdoors can feel cramped and gloomy. Casements without grilles provide a nearly unobstructed view of the outdoors and can make a space feel roomy and open.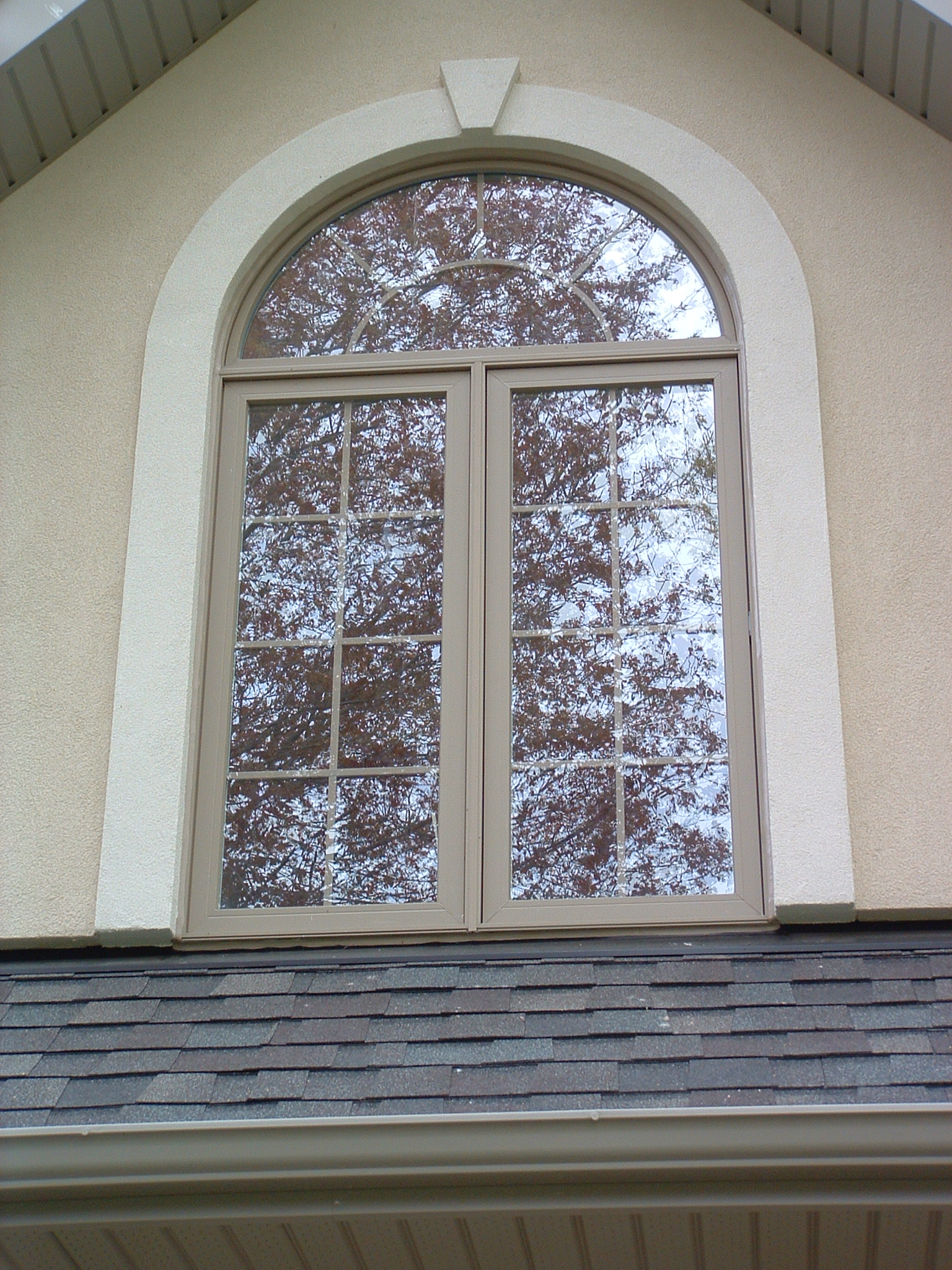 For Your Consideration: Exterior Space
If you're reading this then you're probably looking for information about how to measure your current windows and window openings before getting them replaced. We'll go over the different and the proper way to measure your home windows, but we'll start by focusing on the exterior space of your home.
What makes casement windows unique is the way that they open outward, but this can be an issue if you have overhang or any type of obstruction that would keep your window from swinging out easily. If there is a potential obstruction around the outside of the window opening, then account for it when you choose your new windows.
You might have a garage that sits close to your home's exterior that you need to consider as you replace your windows. Oftentimes we focus so much on the look of a window and what they'll do to the interior of the home that we forget to look on the exterior, too.
Opening, Frame, Glass
When you're measuring spaces with window replacements in mind, there are a few things that you'll have to look at. Just one look at the different window sizes available for a casement installation will show you how important it is to measure accurately.
The main measurement that you'll be looking at for your replacement windows are the opening size. This will be your largest value. The window manufacturer and retailer that you team up with for your home renovation will have certain fixed sizes of casement windows.
The actual dimensions will vary depending on the material of frame (wood, aluminum-clad, or vinyl). Whether you opt for vinyl casement windows, wood or even aluminum-clad, you should have an idea of your measurements for replacement. Your installer will personally complete the final measurement of the windows before they go into production.
When It's Time to Measure
You'll need a few tools on hand when measuring your house windows. You should have a measuring tape, a ladder, and a pencil and paper to record your measurements. You might also want to use a slide rule if you have one, since they are considered to be more accurate than a measuring tape.
1. Window Width
Measure between the jambs at the top, middle, and bottom of the window opening. Don't measure from the trim, instead measure from the surface of the jambs. The smallest value you get is what you'll use for your replacement.
2. Window Height
Once again you will measure in three places: the left, centre, and the right, though this time you will be measuring vertically. Measure from the high point of the sill (the surface that is closest to the inside of the window) to the top of the window opening. Then use the smallest value for ordering replacements.
3. Window Depth
This is one of the most important steps in getting your window measurement values. Ignore any window parts that get in the way of you measuring the opening depth between the outside blind stop strip and the inside window trim. Take multiple measurements of the stops that extend out front of the frame and just like when measuring for height and width, focus on finding the shortest point.
4. Check for Rectangular Dimensions
You will need to check if the opening of your window is rectangular, which can be done easily when measuring for replacement windows. Measure the distance from the top left corner of the window to the bottom right corner. Record the value. Then measure from the top right corner to the bottom left and compare the two values.
If they aren't equal, then you will know that your opening is not square or rectangular. When you contact the window manufacturer for your replacements, mention what you found out because it will help you get the right product.
No Replacement for a Professional
We've gone over the things that you need to know in order to confidently make decisions when shopping for new windows and how to get the accurate measurements you need to order replacement windows. Even if you're a thorough measurer and are confident in your work, there really is no replacement for a professional window installer.
Surely you want your home improvement project to turn out perfectly, which is where the professionals come in. You won't have to second guess yourself and you'll save time and money, too. What more could you want? Get started with a free quote and use your newfound window expertise to guide you through the installation process. Good luck!