Among homeowners there is a very coveted household feature: the bay or bow window. They're those bright and gorgeous windows that you see jutting out from the side of the house. The way that the windows project outward means that there is some extra space which may or may not include floor space. There's certainly lots of light that comes through bay windows, which makes this window style a trademark of the most graceful, sunlight rooms.
Bay and bow windows offer a great view of the outdoors and from the exterior, they offer a decorative and welcoming architectural touch. They can be found at the primary front of the house, which is typically a living room window. They can also be used as a rear or side window — basically anywhere there is sufficient room for the house to extend outwards.
If you're considering a window replacement but aren't sure of how to select and buy the right windows, we've got you covered. Go ahead and check out this guide for more information on how to make the right buying decisions when it comes to this important home improvement project. For this article, we will focus mainly on the bay window, its benefits, and different options for decorating.
Bay Window Benefits
There are many advantages to having bay or bow windows in a home. For one, they add a lot of value to the house. They have a significant aesthetic appeal that makes these houses stand out from the rest. The glass makes the home look clean and modern from the outside while the inside adds elegance and, as we mentioned, more space. The improved attractiveness of your home along with the added square footage can really boost the worth of your house.
There's also the natural light that these windows bring to a space. The panoramic views, versatile ventilation options, and ability to exist anywhere in a home makes these windows very unique. As all things go, there is usually a downside to the good.
One common complaint heard from homeowners with a bay window is that the unique shape of these windows makes it hard to find the right treatments. There are tight angles and sometimes custom measurements and materials that you need to work around. What's more, some people might find it hard to get the right furniture for the size and shape.
Decorating a bay window doesn't have to be super challenging. It can be enjoyable to lean into the features of bay windows and find the décor that speaks to your style. Want to know some options for mastering this interior design conundrum? Here are five ways to style and utilize bay windows.
1. Build-It-Yourself Bench
Bay windows and benches go together like peas in a pod. A bench is a versatile seating solution for under a window, and you can even combine it with a table and other chairs to create a dining area or breakfast nook. You can make your own built-in bench, so if you love to DIY this could be the best bay window decoration for you. Fair warning, this project is slightly advanced as far as home DIY goes, but the finished product is worth it.
To sum up how to build your own bench in simple terms, you will start off building a small framing out of lumber that fits in the front width of the window. You'll then install three supports between the frame and the wall before installing 2x4 boards between the supports and frame. Then on top goes the lumber to enclose the bench, install hinges appropriately, and paint or stain the wood. Finish it all off with cushions for your back or your seat to make the space inviting and comfy!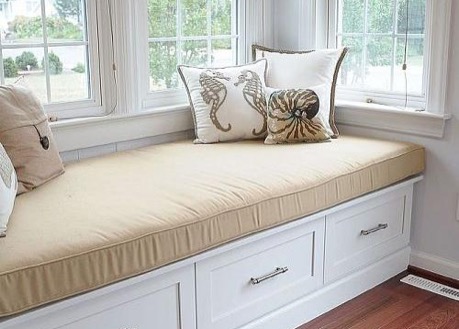 2. Seating Area
A new bay window is the perfect opportunity to reconsider a home's décor and the layout of a room. One of the greatest pleasures of a bay window is how nice it is to sit near one. You might have a lovely view to enjoy or you might just love the feeling of sitting in sunlight. Similar to a bench, a seating area gives you and your family a nice place to sit and spend time together.
You can go a lot of routes with making your window primarily a sitting space. You could arrange a couple of arm chairs with a small table in between for books or plants. You might prefer to set up a couch or sectional in the window. Maybe you'd prefer one extra elegant chair for the most profound contemplation.
Consider this: interior design experts say that warm colours are the best for enhancing the impression of a bright bay window. When going about selecting the seating furniture for your window or the accents, consider gravitating to colours like reds, browns, and oranges.
3. Workspace
While many homes in southern Ontario abide by the general North American residential style of bay windows in a living room, they really can exist in any room. It's possible that the size of your bay window and its placement in the home makes it the ideal spot for a workspace. A desk that sits up against the window means you'll always have plenty of light and a nice view while you work.
Consider how much light might be lost with a bulky desk, it's a little counterintuitive to the bay window as a whole. Because of this, you should consider a minimal approach to your workspace to make sure you still get all that lovely light.
4. Sleeping with the Sun
If you're in the unique position of having a bay window in a bedroom, then have you considered putting the bed up against the middle panel of the window? You could create a peaceful and serene atmosphere in your bedroom depending on how you position the bed to the window. It's a bold move that really puts the spotlight on your bed, so this option might be best for those who love to style their beds with accent cushions and luxurious fabrics.
5. Just Treatments
Maybe you don't want to sit in the bay window area at all. In some cases, just adding window treatments is enough to make your window look great. Something simple could be the way to go or perhaps you'd prefer something with a bit more personality or colour.
Putting a little bit of design thought into your window treatments (or hiring a designer to help you out) can completely solve your decoration woes. It might be that you're just not familiar with all of the different treatment options, or you can't navigate a colour palette.
No need to fear, there are many valuable shows and blogs out there to teach you some interior design basics. In many cases, working with a designer can be the least stressful and most rewarding way to style your windows. They can ask you questions about the ideal look for your home and how you want the spaces to function. Working with you, your family needs, and budget, you can end up with some gorgeous treatments that will last for a very long time.
Window Treatments
The type of window treatment you choose has a huge impact on the overall impression that a bay window has on the look and feel of a room. On top of deciding how to design and decorate around a bay window, you need to consider the different types of shades, curtains, or blinds and decide on one that will do everything you need from a window treatment.
You need to be able to comfortably and easily control the light, privacy, and air flow of a room, and you don't want an outdated set of broken blinds or bulky shades that close up a room. And if you have the bad luck of a bay window with a not-so-great view, the right coverings can make it a non-problem.
Similarly, you want to have something that can insulate during the colder months. When it comes to window condensation, drapes and other covering might restrict the flow of warm air moving across glass surfaces. You're more likely to create a condensation situation if the drapes are closed. In general, there are three categories of window treatment:
Soft window treatments. This term applies to anything that is made from a soft material, namely curtains, drapes, sheers, roman shades, and valances.
Hard window treatments. These are typically made from materials like vinyl or wood. They might be shades, blinds, or shutters.
Layered window treatments. This is when you combine hard and soft coverings.
Your sense of style, the view from your windows, your house's architecture, and more will all impact your decision on which hard window treatment to use. Say you're ready to take on a window replacement project and you want to install a new bay window in your home. You can see our windows in our Kitchener showroom and talk to Golden Windows sales representatives about which material to choose as well as what combination of fixed and operable models you should use.
Keep your window covering concerns at the back of your mind as you shop for Kitchener windows and explore your options. Consider these following window treatment types. Maybe one of these styles are just what you are looking for to cover your bay windows.
Woven wooden shades
Fixed wood slats
Soft honeycomb shades
Pleated blinds
Venetian blinds
Vertical blinds
Japanese Shoji panels
Sliding window panels on tracks
Roman shades
Drapery (curtains)
Sheer or net curtain
Café curtains
Austrian shades
You Want Floor-to-Ceiling Light
Many homes in the southern Ontario region have sliding patio doors that make the yard accessible and create a flow between the indoors and outside. If the main thing you want out of your bay window is to increase the natural light in a room, then you might be best off with a set of sliding patio doors. If you're not familiar, these are doors made of one or more movable panels in a large glass window opening.
The most common sliding patio doors are made up of two glass panels: one is fixed in the frame while the other slides left or right to create a doorway-sizes entrance. In some models, both panels are movable, and they retreat into recesses in the wall, leaving a large opening that allows for plenty of fresh air to flow through the home.
Sliding Patio Doors
This style of door is inspired by the sliding panel doors in traditional Japanese architecture and became popular during the North American post-war building boom. While sliding doors were once typically features of mid-century modern style, multi-unit housing, suburban row houses, they are now a standard component of residential and hospitality buildings.
An outdated sliding patio door can negatively impact your home's energy efficiency. If your doors are coming off their tracks or you can see gaps between the door and its frame, then you're likely losing heat (or air conditioning) and paying the cost in your energy bills.
For when it's time to upgrade, you'll find it's easy to find replacement patio doors in Kitchener and southern Ontario once you know where to go. The Golden Window showrooms in Kitchener, London and Kanata exist to help people visualize their home improvements and get a true sense of what a new window or door will really look like. Who knows, you might come in thinking you want a bay window and turns out a sliding door is really the best fit!
The Final Word
Now that you're an expert on how to make a bay window shine from the inside and out, perhaps it's time to consider a full installation. Whether you want to replace an old bay window, change an existing window into a bay window, or install one where there's never been a window before, please call us anytime to discuss your installation options.
Maybe you thought you wanted a bay window and it turns out you'd prefer a sliding patio door. We can help with that, too. Don't delay and get in touch soon, improved lighting and home efficiency are waiting for you.