The basement: commonly known as the place in the home where you can watch TV, work on some home projects, or even play the occasional game of ping pong. Our basements can serve many functions and can vary widely in how we use them. For some, the basement is a hardly used space reserved for the occasional movie night, storage, and the place to do laundry. For others, it can be a crucial living space that you spend a large portion of your time, perhaps in a home office, studio, or living room.
Best Basement Uses
If the basement of your home is unfinished, in need of updates, or you're just ready for a change, it's time to assess how you're using your basement. Need some inspiration? Take a look at this list of some of the top basement uses. Once you get a sense of what you want that space to do, you'll have an easier time deciding on which updates to select and which types of renovations need to be made.
Home Office

Whether or not the home office is a good way to use your basement area will depend a lot on the type of work that you do. If someone in the house works from home, they should have a dedicated space where it's functional and easy to accomplish their tasks. You can also create a general workspace that can be used by all members of the family, which can be especially handy if you have teenagers who will be studying for exams.
Guest Room
Here's one use that will make you consider the amount of light in your basement. If you're planning on updating your basement and want to make use of a guest room, you should focus on the window placements and consider installing new ones to make the bedroom feel comfortable and bright.
Entertainment Space
Because they're darker than the rest of the house by nature, basements typically make a good space for entertainment areas like home theatres or record players and vinyl collections. Your vision for an entertainment space will depend on your personal style and budget, which will also affect the amount of work that will need to be done to make this room come together.
Workshop or Studio
A little different from the home office, a workshop or studio use for a basement gives the handyperson or artist in the home a place to work with all of their tools in a designated and safe space. Lighting will be essential since it's important to be able to see your work, especially if you're using power tools or heavy-duty equipment.
You should also consider your ventilation options, which can make a huge impact on the functionality of a basement workshop. If you work with fumes, heat, or smoke, you'll need to have a good ventilation system and easy-to-use, operable windows.
Efficient Storage Space
Chances are that your basement is already being used for its storage space and potential. But you might be keeping things in an inefficient, and crowded manner that makes it hard to find the things you need when you need them.
If you dread having to go down to the basement to look for something that you swear you saw somewhere around here, then it's time to clear out any rubble, tidy things up, and put decent shelving and cupboards in there to maximize storage opportunities. In doing so, you can make the difference between having a basement that is a useful storage space instead of a place where things collect dust.
If Plumbing Is No Issue…
For those who are really willing to explore the functional potential of their basement spaces, incorporating plumbing opens up some opportunities for a highly functional space. Getting the plumbing in requires a certain level of expertise, which means the following two basement renovation ideas require a way of getting water in (and possibly heating it if the boiler in the property isn't accessible) and getting it out, too.
Laundry
The basement can be a great place for a laundry, with the possibility of ironing space as well as a sink, washing machine and tumble dryer. You could even have hanging space to let washing dry naturally, as long as the ventilation is good enough. If you're conscious about the environment and want to stick to cold water washing in your laundry machine, a cold-fill machine can keep you from worrying about getting a hot water supply to the basement. To suit your needs, you might want to consider a standalone heater that can heat a small amount of water for the laundry sink if you wish.
Bathroom or Shower Room

This is another idea where the lack of natural light shouldn't be a problem, but one where it does make a big difference. Sure, with a good electric lighting system and vents you can get the light and air circulation you need to deal with the moisture that is created in a basement bathroom.
For basement bathrooms, windows are an easy and reliable way to get the light and ventilation you need while also adding maximum value to your home. Resist the temptation to go for all the bells and whistles in your bathroom renovation (unless you plan to install top-notch ventilation), or you'll have no shortage of moisture problems that can get pretty ugly.
Basement Windows
In looking at the previous list of potential basement uses, you might have noticed that a lot of the most functional ways to use a basement involve some sort of window component to the renovation. If you think that there's just aesthetic benefits to basement windows because they make the space look prettier, think again. There are many functional benefits of basement windows. Take a look:
Good ventilation. Proper ventilation is necessary for basements that are finished and unfinished. With adequate ventilation, you can minimize and avoid musty odors, mold, and mildew growth. You can also allow plenty of fresh air in, which is essential for a space that is well-used.
Natural light. Sometimes the only reason why a basement doesn't get used to its full potential is because of the lack of natural light. Basement windows make what is otherwise the darkest part of the home into a bright space with plenty of natural light. Yes, it is possible to live in a windowless space, but the sunlight makes a big difference and is also good for your health and happiness. Natural light increases energy, encourages better sleep, stimulates circulation, and results in vitamin D production.
Emergency exit. There are very specific parameters when it comes to basement windows and living spaces. For a basement room to legally qualify as a safe and complete space, there must be a window exit that can be used in case of an emergency. They can work as an exit in the case of a fire, and they also give emergency response crews a way to get into the basement. In all, these windows make the home a safer place for all of a home's occupants.
Improved Home Value. Because of the benefits we've just mentioned as well as the added curb appeal and aesthetic improvements of basement windows, these features of a home certainly add value to its overall price. Whether you're planning on reselling soon or not, an investment in the home like this will yield results well into your home ownership.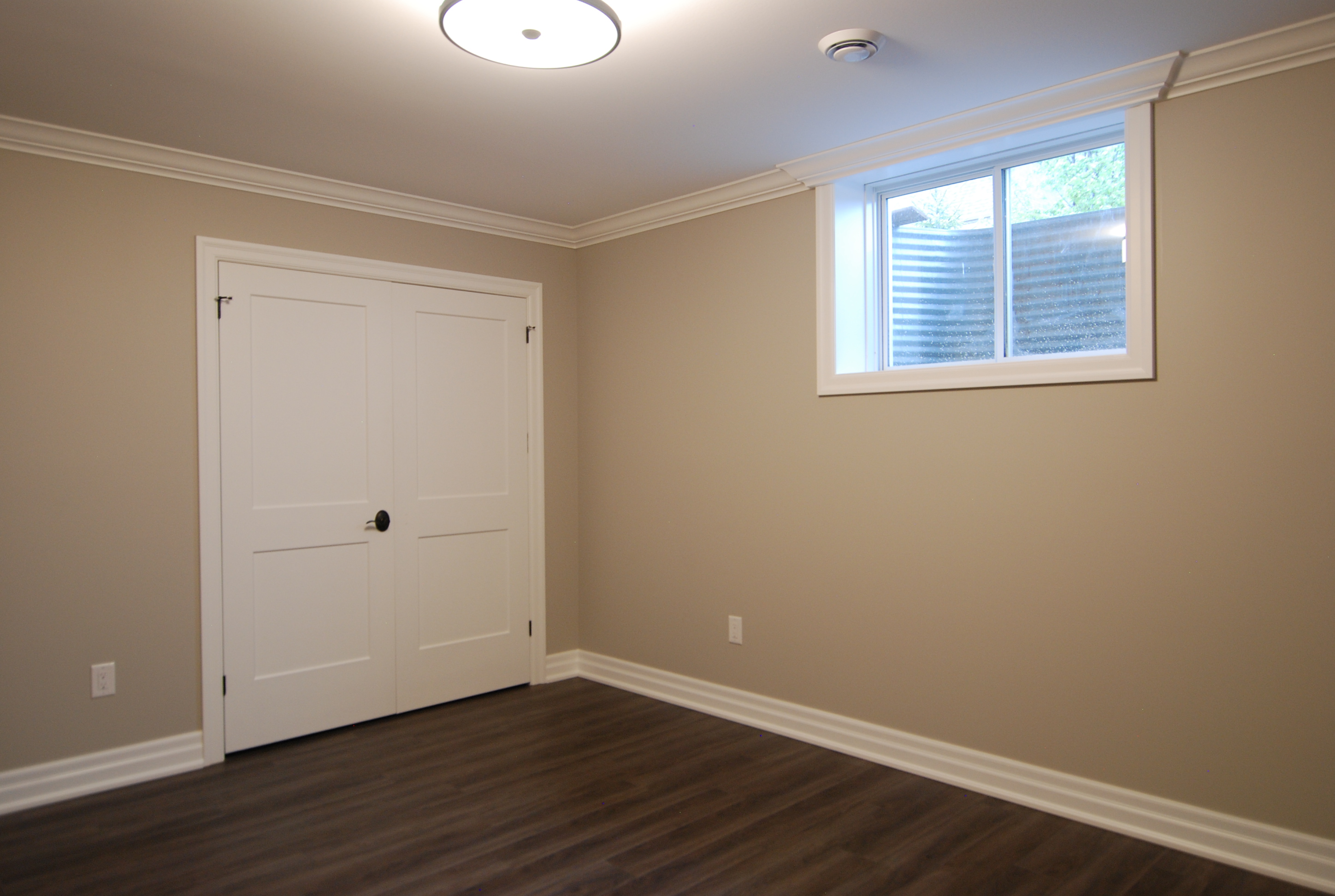 Egress Windows
There is a distinction between basement windows and egress windows. What is that distinction exactly? The word "egress" means "a means or place of going out, an exit," which means that an egress window is one that is large enough for entry or exit in case of an emergency. So the answer to the question what are egress windows then is simply: a window that serves as a point of exit.
Earlier we touched on the important role basement windows play in your home's safety. If you are using your basement for one or more bedrooms, then you must abide by the requirements put forth by the National Building Code of Canada (NBCC).
According to the NBCC, bedroom windows must:
provide ventilation adequate for year-round mechanical ventilation.
be properly sized so that it can serve as an emergency escape for a human and it must open from the inside without a need for tools, hardware, or special knowledge. (If there is a sprinkler system installed in the room, a window is not required as an emergency exit).
provide a minimum of 5% floor area light for the entire room.
be no higher than 1.5m above the floor.
You've probably noticed how raised basement windows are higher up on a wall than regular windows. As long as they adhere to code, there is no issue with where these windows sit. They will, however, let in less light than other windows on the main or second floor of a home. What's more, the sizes of these windows will most likely be small because of the limited space above the ground level. The good news is that you can squeeze in a series of small windows to bring more sunlight into the room without taking up too much space.
Improved Energy Efficiency
Old, outdated basement windows only contain a thin piece of glass that you're relying on to separate the living areas indoors from the frigid winter temperatures of the outdoors. As a result, basements are often not comfortably regulated in their temperature, which often leaves folks to use more energy to heat the area. Either that or they avoid the space altogether, which then cuts down on the amount of functional space in your home.
Better basement windows and insulated glass, however, can help keep out the cold, keep in the heat, and also insulate against undesirable outdoor noise. Insulated glass is a natural choice for anyone who wants to create a comfortable and peaceful atmosphere in their private space.
Aside from the added comfort of better temperature regulation and reduced noise, the benefits of reducing air infiltration with new basement windows can be seen in your energy bill. Your energy efficient windows will naturally reduce your energy bill and save you on heating and cooling costs. It's the improvement that just keeps on giving!
Window Care and Maintenance
If you've gone to the trouble of selecting and installing new windows for your home, you're going to want to make sure that your investment lasts. The good news is that newer window models do not require the same amount of cleaning and maintenance than older models.
Wooden window frames, especially, require a certain amount of regular cleaning. In the case of your basement windows, there are some simple basement window care and maintenance tips that you can follow to make sure your new installation is kept in tip top shape.
Clean all operating hardware, hinges and tracks at least twice per year and lubricate lightly with a silicone spray or light oil.
Clean vinyl surfaces with mild soap and water.
DO NOT clean glass or other finishes with abrasive materials or cleaners.
Clean aluminum with mild soap and water. An application of automotive paste wax may renew the lustre of the aluminum.
Care should be taken to ensure weather-stripping and hardware is not painted over. This could hamper the operation and seal of the window and cannot be claimed under the warranty as a manufacturing defect.
Inspect face caulking annually to ensure proper seal against the glass.
We recommend removing the internal screens during the winter months to lessen the likelihood of condensation forming on the glass surfaces.
Come and See Us
At Golden Windows, we are proud of the work that we do and the quality of people we have as a part of our team. That's why we always welcome you to consult with our representatives no matter what stage of your home renovation planning you are in. Go ahead and visit our showroom in Kitchener, London or Kanata and speak with a representative about what you're looking to do. We're happy to help you make your basement dreams a reality through the right window installation.