What does it mean to have a house that's ready for the winter? You want to do what you can to make sure that your home will make it through the cold temperatures and harsh conditions of snow, hail, or freezing rain. When the temperatures drop, many of us know that it's time to break out the space heater. Maybe we start to wear our warmest pair of slippers or start spending more time by the fireplace.
With quality, modern windows in your home, you don't have to worry about knowing the best tips and tricks for staying warm in your home. That's why it's important to check your windows this winter for any inefficiencies. Even something that might seem like it is only an issue with the hardware of your windows could be negatively impacting how your home regulates its temperature.
All of your home's exterior fixtures that separate the indoors from the outdoors need to be working properly. They must be lacking in any cracks, leaks, or water damage. Your windows, for instance, play a huge role in how well your home insulates during the winter and how well you can keep your home cool during the summer.
Spot the Problem Areas
Too often when problems arise with windows or doors, we just become accustomed to the issue. We start to live with these malfunctioning fixtures like a sticky door or drafty window, getting caught up in band-aid solutions without getting at the heart of what's really wrong.
All throughout Southern Ontario, we know to expect the unexpected from the weather. But do you know what to expect from our windows and doors? This article will address some of the common weather-related issues and how they impact these crucial home fixtures. You'll know how to spot the signs of wear and tear and when it's time to visit a reputable provider of windows and doors in Kitchener and the GTA for a consultation.
Know Where to Go
Take just a quick glance at the listings for window and door providers that service the Kitchener, London, Ottawa and surrounding areas. There's a lot of people who promise results and quality product, but homeowners and contractors alike want to work with someone they can trust. As you look at your own home and notice what needs improvement, you'll want to know about a quality provider of windows and doors who can help.
Know that you can turn to Golden Windows, one of the few integrated designer, manufacturer, and distributors of replacement windows and doors in Kitchener and the surrounding area to hold the ISO 9001 designation. With this designation, we are able to provide services that are consistently up to high standards. We promise great lead times and on-time delivery as well as a knowledgeable staff that can always answer your questions about product specifications and who you can consult about potential window and door issues in your home.
Wintertime: Clean and Check Your Windows
Make it a priority to check your window glass, frames, and hardware during every season. It is especially important to check your windows in the fall right before the cold weather sits in. When checking your windows, look for gaps between the window, frame, and the wall. Save this task for a windy day since that's when you're more likely to spot a draft.
The common household trick for checking for drafts involves moving a lit candle along the frame and glass surfaces of your windows when it's windy. If the flame starts to flicker, then you've got an air leak.
Windows and window frames that are cleaned often and stay clean actually function better in keeping out the cold. To stay warmer during the winter and to protect your windows from erosion that could eventually lead to a leak, keep your windows clean by vacuuming and washing away any dirt and debris from your frames. This goes for all styles: wooden, aluminum, or vinyl as well as your screens and seals.
Protect Your Windows
Moisture buildup on windows during the winter should be taken seriously. It indicates the drastically different temperatures and humidity levels between the indoors and outdoors, which makes sense given the time of year, but too much moisture on the inside or in between window panes can cause staining on your window seals and frames. It can even lead to frame rot on wooden surfaces.
Prevent condensation from damaging your windows by positioning air vents and fans to keep air circulating through the home and over the window glass and frames. Your exterior walls should be insulated. Make sure that your window frames are insulated, too. Consult with a window pro and they can help you ensure that your windows are insulated as best they can and make sure that the condensation isn't a sign of malfunctioning windows.
The Locks on Your Doors
Ever been rushing to your front door on a cold winter day and it feels like you just can't get your keys out fast enough? Have you come to expect differences in how well your locks work depending on the season? The front doors of your home, as the main entry system, are one of the first things your guests notice. A strong and sturdy door also acts as a main fixture of your home's insulation and safety levels, and you rely on having a reliable locking system that keeps your door shut.
When you turn to an expert window and door installer, you get to choose a door that compliments the style and structure of your home as well as its flow. But changes in the weather affect the function of your lock systems, so it's best to know what to expect during the colder months and during the warmer months. As temperatures fluctuate, some residential door locks may jam despite their quality, but luckily there are preventative measures you can take.
Summer & Winter Lock Issues
As humidity and temperatures rise during the summer, many home owners begin to notice that their locks are jamming. Usually this happens to exterior doors since increasing temperatures result in doors expanding slightly, making it difficult to turn a lock. This is most common with wooden exterior doors and door frames where the wood material is more susceptible to changes in size from swelling and contracting in extreme temperatures.
In the colder areas of the world (and Canada definitely has a claim as a colder part of the world), the lower temperatures come with their own set of problems for our door locks. Temperatures that fall below freezing cause door frames to contract, resulting in a bad fit between the door and its lock.
Like with the summer, this winter phenomenon is more common with wooden exterior doors and door frames since they adapt with changes in humidity levels. The contracting that occurs during the winter makes it difficult to turn the key when locking and unlocking exterior doors. When you've got a jammed winter lock, you can jostle the door a little bit and try pulling or pushing the handle to re-align the lock in its proper place within the frame. This might work in the moment, but it is by no means a solution to a faulty door. A replacement will solve your door issues while providing the perfect opportunity to enhance the style and add character to your home.
Preventative Measures for Door Locks
There are some easy-to-follow preventative measures that you can take in order to avoid frustrating issues with your door locks. For starters, when you install a new lock (or door), be sure to work with an experienced professional. For door installations especially, it's essential to work with an expert who can not only assess your needs and suggest ideal solutions, but one who has the technical skills to ensure that the door frame and its lock are aligned and fitted properly.
You can choose low-maintenance and versatile materials for your doors like the products in the GoldenClad and GoldenVinyl product lines from Golden Windows. With certain product lines from a reputable and reliable window and door provider and installer, you can choose to build your home using versatile, aluminum-clad materials and other non-wood products that still look great.
You can also keep your locks functioning well by maintaining them in good shape with regular oiling. When you oil your locks every now and then, it's easier to turn your keys even as the seasons change. And finally, be sure to keep your lock dry by ensuring that overhangs and gutters are clear and move the water properly away from the house.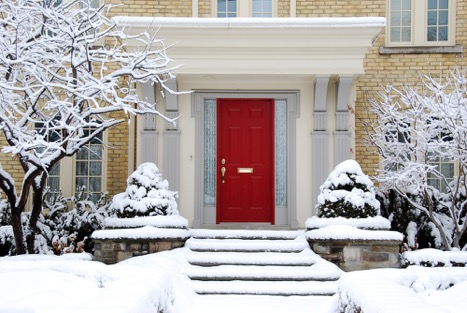 Why Do Looks Matter?
The pragmatists of the world value practical considerations above all else, so they might find themselves completely focused on how well a door works more than how good it looks. There's nothing wrong with this since prioritizing a sturdy, functional door is key to maintaining a home's insulation and safety.
But there is an impact that good looking windows and doors have on the overall value of your home. Curb appeal matters if you're planning a move in the near or distant future. On top of making a good impression, investing in quality window and doors that add value to the home lead the homeowner to have greater pride in their house. When you like how good things look and know that it all works well, you're more motivated to take good care of your fixtures.
Sliding Patio Doors
Perhaps you're looking to update some outdated and squeaky patio doors, or maybe you're looking to open up a room and create a new flow from indoors to outdoors. When you install sliding patio doors, you make a huge improvement to your home's appearance and functionality. Warmer weather during spring and summer beckons us to spend as much time outside as we can, and adding new patio doors is a great home renovation to do just that.
The prospects of more light, improved backyard living, breezy ventilation, and charming views of nature are enough to motivate anyone to finally undertake a renovation project for new sliding patio doors or terrace doors. These doors are meant to open up your home to nature, so you don't want the elements to wear them down. That's why both homeowners looking to renovate and contractors sourcing their projects need to be selective about which window and door provider can meet their needs.
Sliding patio doors and terrace doors are technically entry systems, but unlike your front door, they're meant to stay open from time to time. What's more, they have higher foot traffic and might get opened and closed several times within the span of an hour. Patio doors that are aluminum-clad promise a maintenance-free exterior that still boasts the inviting and traditional looks of wood. The major perk with these doors is that the wood core is protected from the elements, meaning the door functions and looks as it should during the whole year.
You Need the Right Glass
As a largely glass surface, patio and terrace doors need to be energy efficient insulators that can regulate your home's temperature against both high and low temperatures. You can turn to Low E glass options in order to maximize your energy efficiency. For instance, a clear Low E glass will provide the homeowner with year-round cost savings thanks to its passive solar grain that works well for Northern climates where heating is the dominant and most prevalent energy concern.
When considering which glass options to select for new windows that will protect your home from the elements, consider Warm Edge Technology. This type of window feature involves the installation of a spacer bar with a better thermal performance than an aluminum spacer bar. By holding panes of glass apart in a window, these glass spacers maximize the insulating properties of your windows and promise a high UV resistance.
When you live in a climate with fluctuating temperatures, you can expect some window expansion and contraction depending on the time of year. You can prepare for this with the installation of a Superspacer structural foam spacer system. It has 100% memory so as the weather changes and things expand and contract with it, the foam will always return to its shape. This feature protects your windows from stress fractures and ruptured seals, a common problem in conventional sealed units.
Upgrade and Maintain
You deserve to enjoy a warm, dry home during the winter and you should be able to rely on your windows and doors to properly regulate the temperature of your home all year long. With the right window retailer and installer, you can select the best model for your home and rest assured that you can handle the maintenance going forward.
Newer models of windows, patio doors, garage doors, and other entryway systems are easy to clean, inspect regularly, and re-paint. When you upgrade your windows and doors in and maintain them well, your home can handle any climate with style and ease.