Is it time to replace the windows in your home? There may be a few reasons why you are considering an upgrade: either your windows are old, lack energy-efficiency, or you simply just want to improve the look of your home both inside and out. Whichever the case, window replacement is a huge investment not only of your money but your time as well, so obviously you'll want to carefully consider all the choices that you need to make well in advance.
If you're thinking of replacing your windows and are looking at window companies in Kitchener then look no further – Golden Windows has all the resources and know-how you could possibly need to ensure that you are happy with your new units. We have around 60 years of experience in the industry and design, manufacture, and install of our products – meaning we can ensure quality from start to finish.
We know how big a project window replacement can be, and there are a number of factors that need to be considered. As experts, we will guide you along the way and help you make decisions that will not only improve the overall look of your home, but also help you save money by reducing your energy bills.
Before thinking about what window styles you may want, first take a moment to consider the following:
Budget. It's important to sit down and decide how much money you would like to spend on the project. Golden Windows offers free onsite consultations where we can discuss your budget and recommend options that will work within it.

Schedule. Do you have a set date that you'd like your project completed by? As one of the few window and door companies with ISO 9001 designation, you can count on us to be able to provide the fast and efficient window installation services.

Design. Houses come in all designs and styles, and you'll want your windows to fit in perfectly. Consider whether you are looking for classic, traditional, sleek, or a modern look for your home.

Material. Would you prefer a classic wooden frame, or are you seeking something more modern with vinyl or aluminum? These materials also come with their own advantages and disadvantages – be sure to ask us more about it.
Now that you've had time to consider these points, it's time to take a deep dive into the different styles of windows that we offer. We'll go over some basic details about their look and functionality in order to give you a better idea of what to expect from each one.
Awning
Awning windows are hinged at the top and swing outward to open from the bottom. They are popular in areas like bathrooms and kitchens where ventilation and an ample amount of natural light are needed. They can also be found on top of doors or above larger windows in order to create a stylish look.
When considering this style as an option, keep in mind that since the window opens outward it will need a decent amount of space in front of it. This is why they are generally placed higher up on walls so that when they are opened they are not in the way.
Casement
Casement windows are hinged on either side so that the sash swings outward like a door to the right or left. Their ability to completely swing open makes them a popular choice for homeowners because they offer an unobstructed view as well as an ample amount of natural airflow into the home.
These windows can be installed in most areas of a home, though typically they are not used in basements because like awning windows they also swing outwards and need space in front of them. This makes them ideal for living rooms or bedrooms where you'd like a lot of natural light as well as the convenience of being able to open and close them without any hassle.
Slider
Slider windows have a long history of use in homes and perhaps they are the kind you are most familiar with. They are made to slide open from either the left or the right side to provide a wide view of your surroundings.
Originally, these horizontal sliding windows used interlocking wooden frames that would slide open. The basic operation is much the same today, but modern versions utilize low friction brass rolling sliders, allowing for easier operation. Their simplicity and ease-of-use makes them popular choices for use in homes, especially in hard-to-reach areas.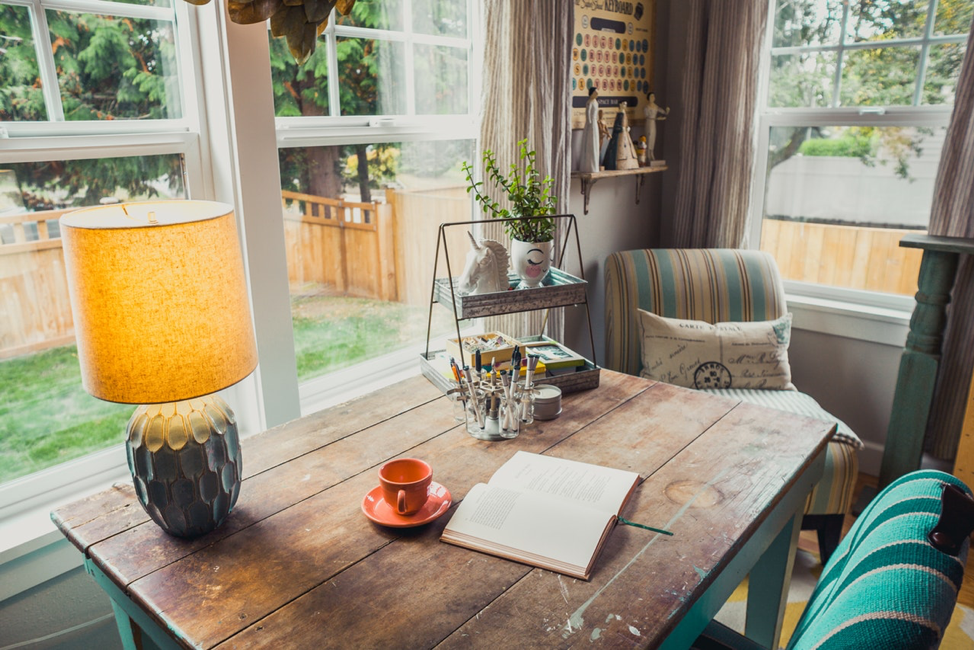 Hung
When looking at hung windows you will come across two different kinds, single and double. The most significant difference between the two is how their window sections move. With single hung windows, the bottom window panel moves in an up and down direction, while the upper sash stays stationary. As a result, when you open the window, the upper sash gets covered on the inside.
A double-hung window, on the other hand, allows both the lower sash and the upper sash to move up and down, and they typically tilt outwards. Because of this, they are easy to clean and maintain.
An advantage to hung windows is that they open and close with any protrusion, making them compatible with rooms near terraces, patios, or walkways. If you live in a small space, these types of windows are an excellent option.
Bay & Bow
Not only do bay and bow windows look beautiful and add character to a home, they also allow a large amount of natural light to stream into a room – far more than the other above options. But what's the difference between the two?
Traditionally, bay windows are created with a large picture window in the center and two smaller casement windows on either side, totalling three units (though this isn't always the case). The side windows extrude from the exterior wall and are angled 30° or 45°outwards towards the middle window, creating a boxed look. Bay windows usually require more space on the outside of a home to accommodate their extrusion.
Bow windows, in contrast, are usually made up of four to six windows that are put together to make a curve that protrudes from the home. Because of the curved shape that's less box-like than the bow window, less space is needed outside of the home. The angle of these units also creates a panoramic view of the outside letting more light in than its counterpart.
Architectural & Picture
Golden Windows can customize an unlimited range of shapes and sizes to create windows that will match whatever style you desire. Your choices in architectural windows are limited only by your imagination – mix and match with other styles or install your unique piece on its own to add a dramatic look to your home.
We have hundreds of standard sizes in a multitude of shapes available, including half rounds, quarter rounds, gothic, ellipticals, segmentals, arch, ovals, extended shapes, geometric shapes, and many more. You can also choose from a wide variety of standard grilles and window designs or we can custom build one for you. We can work with you to create a truly unique piece that will add character to your home and help it stand out in the neighbourhood.
Window Placement Considerations
Now that you've gotten an idea of the popular window styles that are common, you should think about what where you'd like your windows to be placed. With custom options your choices are almost unlimited, but there are some general guidelines that you should follow.
First, it's essential to choose a space that will allow for lots of natural light. A well-lit space can make or break a home. It makes the area feel more open and connected to the outside world. Plus, natural light is better for the environment as it reduces the need for electrical lighting.
To get the most amount of light, you'll want to consider which way each wall is facing – north, east, west, or south. While the sun rises in the east, keep in mind that it may be hidden behind other homes around you and sunlight won't be hitting your house until later in the day.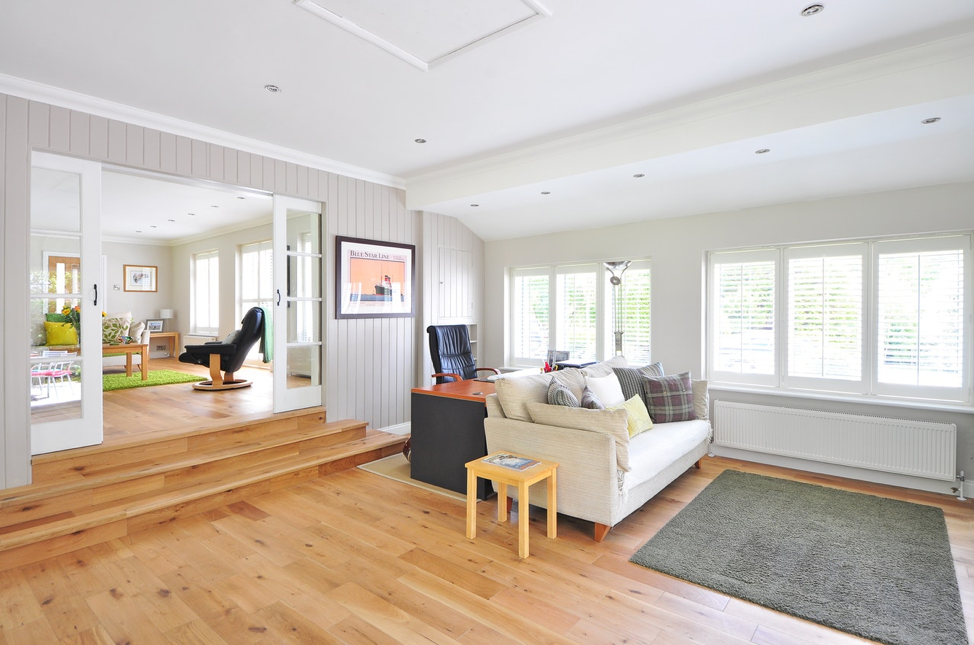 Also, it's important to consider how a new window may influence a room's temperature. If the sun is hitting a large window in midday, you may find that a room will heat up quickly. This can be counter-measured with the right blinds or curtains, so it really depends on your personal preference.
Another factor to consider is the view. Since windows help connect us to the natural world, you'll want to place a window where you have access to beautiful scenery. It can really make a difference to how much enjoyment you can get out of a room.
And lastly, window height considerations need to be made. If there's too much wall space above a window, the room can feel shorter. On the other hand, too little space can create strange proportions. If a room is taller, then you have the perfect opportunity to install large windows. Windows and doors should also be kept at the same height for aesthetic purposes.
Keep in mind to always leave enough room for blinds or curtains when deciding on window height. You wouldn't want to be stuck in a situation where you want a certain style of blinds but can't fit them because you installed a window that's too high.
Popular Window Treatments
Once you choose a window, you can enhance their look with a window treatment that suits your style and that matches your choice. Window treatments are used for a number of purposes: they can make a room look softer, add colour to it, frame your windows, and on the more practical front they provide privacy as well as block out sunlight when needed.
When choosing the right window treatment, fabric, texture, and pattern are crucial. Here are some of the best ways to style and utilize windows with current popular looks.
Pleated Panels
Pleated panels are the most classic choice when it comes to window treatments. They add a sophisticated element to a room and come in various pleat styles. These pleats are sewn into the top edge of a panel for a decorative touch and formed with header tape. As a result, the tape creates pleats as it is being pulled.
Valances
A valance helps identify a room's style while adding softness to a window. This type of treatment is purely decorative and can be a simple fabric attached to a rod with clip rings, or you can add pinch pleats for a more unique look.
A specific type of valance called the simple valance is ideal in a kitchen or bathroom. If you gravitate towards a more classic decorating style, the box-pleated valance may appeal to you. This type of valance uses a treatment that works well in rooms with a formal air like a living room, dining room, or large bedroom. You can also use this design on furnishings like table coverings, slipcovers, or bed skirts to create a unified look.
Cornices
A cornice is essentially a wood valance – it is usually made from plywood and then painted. It can also be covered with fabric or wallpaper. A cornice looks exceptional on its own but can be used with other treatments as well. Since it is made from wood, it is best paired with a softer look, like a delicate curtain.
Simple Swags
A simple swag adds a luxurious touch to a room by using a loosely slung fabric strip over a decorative rod to create style. The middle of the fabric creates an effect similar to how a valance functions, and it hangs down the sides of the designated window.
Roman Shades
A Roman shade works well when you want a classy look without the bulk of too much fabric. When a Roman shade is closed, it has a flat fabric panel; however, when raised, many horizontal folds cascade out, giving it an effortless appearance. To keep the shade mobile, there are cords strung in the back of the fabric.
Finding the Right Team for Installation
All window products come with their advantages and disadvantages, and at the end of the day it mostly comes down to your personal style as well as what your budget is. That's why it's essential that you have a team of reliable window and door experts by your side like the ones from Golden Windows.
We'll be here to guide you through the process and make recommendations using our years of experience and industry know-how. And because we design, manufacture, and install all of our products, you can rest assured that everything we do is done with the highest standards in mind.
So if you are looking to get your windows replaced, be sure to give us a call – you won't be disappointed.