If you're anything like the rest of us, you get a lot of good thinking done in the shower. You come up with brilliant ideas, work through complicated issues and maybe even replay an argument or two in your head. The shower – and, in fact, the bathroom as a whole – is more than just a place to keep clean. It's a sanctuary, where we can feel relaxed, invigorated and unhurried.
But it's hard to feel invigorated, much less relaxed, when you stare out of an old, inefficient and unattractive window. Worse yet, it's hard to enjoy your bathroom if it doesn't even have a window. The bathroom window is a multifunctional installation: enhancing the aesthetic of the room, allowing you to bask in natural light, keeping the room energy efficient and permitting you privacy.
Installing a new bathroom window might seem like an undertaking, but in fact it's pretty straightforward. If you're confused by your options, or unsure what features suit your bathroom best, we're here to help!
As a leading window manufacturer in Ontario, Golden Windows wants you to feel as confident and excited about your bathroom windows as possible. To help get you started thinking about your new summer project, here is everything you need to know about installing bathroom windows, from common concerns, to available choices and what to expect with installation.
The Issue of Moisture
In addition to your windows looking amazing, there are three main concerns to think about with bathroom windows: moisture control, privacy and efficiency. Let's start by discussing moisture control, as it's a critical component in keeping the entire bathroom safe, clean and long lasting.
Between washing your hands and face with hot water running from the faucet, and taking hot (occasionally long) showers, your bathroom sees a lot of steam. In and of itself, steam isn't much of an issue, but humid, warm environments are incredibly inviting for mould. What happens is that moisture condenses on surfaces cooler than the air, carrying mould spores. And the cellulose-based materials found in most houses, including wood, carpet and drywall, provide the mould ample food to eat. Thus, they proliferate.
This mould can be in plain sight or, perhaps more worrying, it can remain hidden – behind walls, under mats and in-between tiles. A few mould spores are to be expected. They're just a fact of life, existent in every home in the world. When mould becomes worrisome is when it collects. When mould is allowed to run rampant, it can have detrimental effects on your bathroom materials and more importantly, your health.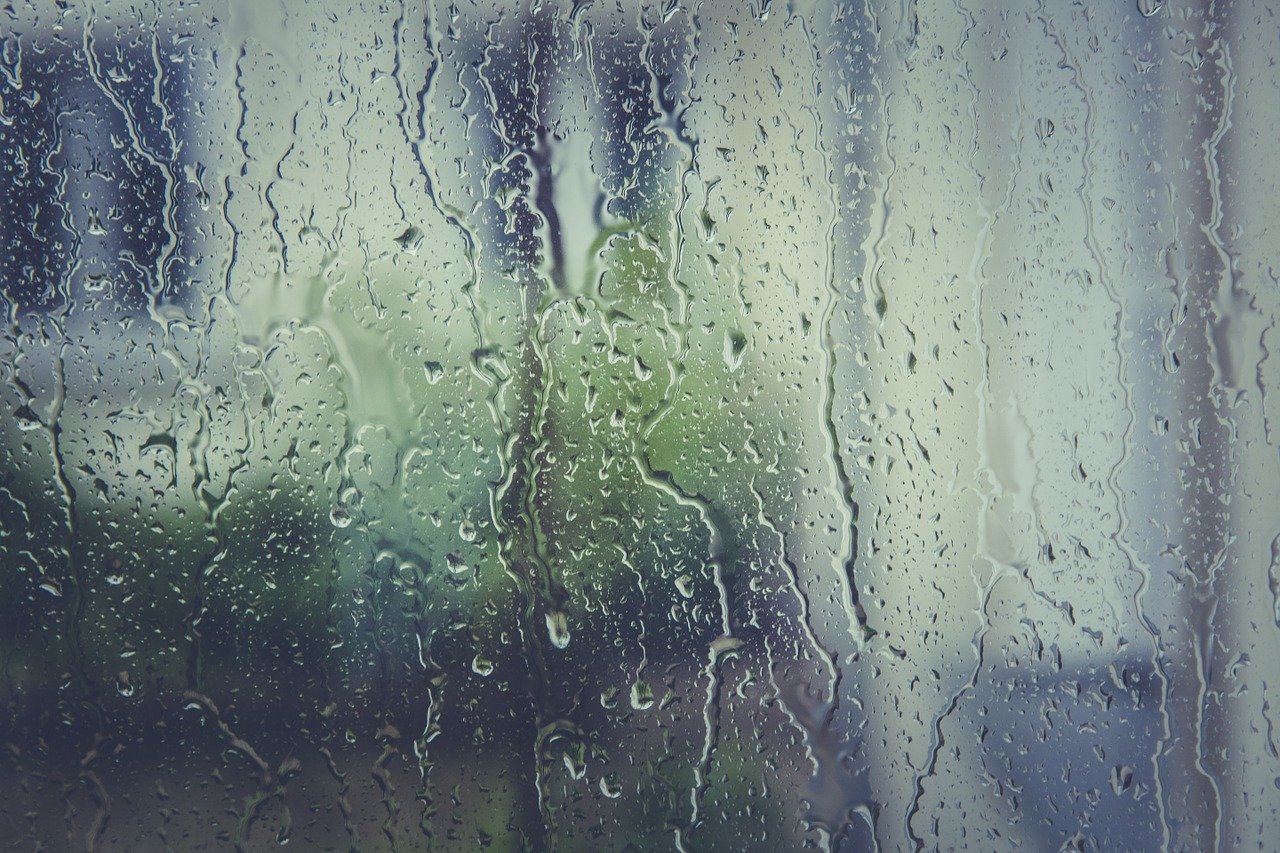 So how do windows figure into it? Well, if your bathroom has an inoperable window – that is, a window that doesn't open to the outside – or has no window at all, there's little chance for steam to escape. You can try to make up for the lack of ventilation with a ceiling fan and heating mechanism, but they're not as effective.
The best protection against mould is good old-fashioned fresh air. To show mould spores the exit, simply open the window after a shower to allow the humidity to lower. Keep the bathroom door closed so that the spores aren't tempted to go elsewhere in your home. And keep the window open until the sill feels dry to the touch.
For even more protection, consider having Golden Windows install two bathroom windows at opposing corners. Having two windows encourages cross-ventilation, a process in which cool air naturally displaces warm air by moving between two openings. Cross-ventilation, in conjunction with other moisture-management efforts like a ceiling fan, bathroom squeegee and heat will ensure your bathroom stays fresh and free of mould build-up.
A Private Matter
You want to brighten your bathroom with natural light but you don't want any prying eyes to see inside. Privacy is a large issue with bathroom windows, understandably. But there are absolutely ways you can have the window you want, as big as you want it, while still preserving the privacy of the bathroom.
What's most important is that you don't let privacy concerns deter you from installing a bathroom window. As mentioned above, operable bathroom windows are critical in controlling mould-carrying moisture. And, as we'll mention below, new windows play a key role in keeping your home energy efficient. The new windows are a great idea – now, let's work on making them private.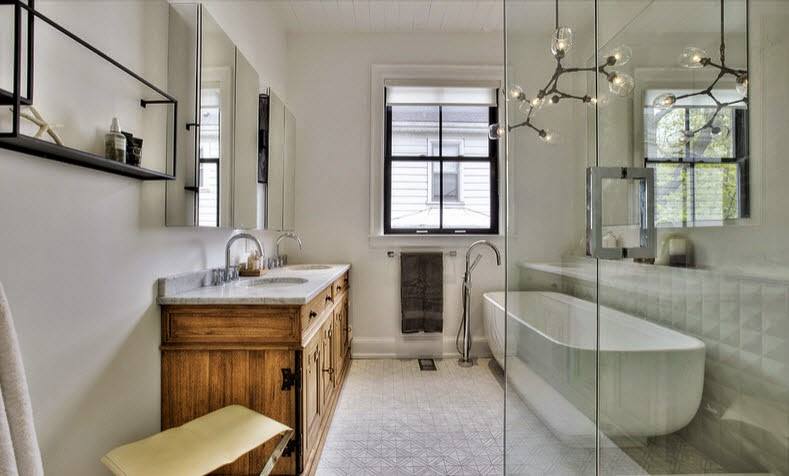 The first and most obvious way to make a window private, as everyone knows, is with blinds. Blinds for your bathroom window have their benefits, for sure. With blinds, you can choose the amount of outdoor visibility you want (and, in turn, the amount of indoor visibility you'll permit people outside!). This means that, when you're simply brushing your teeth or washing your hands, you can open the blinds and catch a beautiful glimpse of the outside world. Then, when it comes time to have a shower, you draw them back down.
The other way to make a bathroom window private is to make it permanently private, with privacy glass. This obscure or frosted glass ensures that there are no slip-ups – there are no accidental mishaps where you forget to draw the blinds. Put a fun way, privacy windows are "embarrassment protection insurance."
At Golden Windows, we give you privacy glass options from Trimlite, which handcrafts beautiful, decorative textured glass. With privacy glass in one of our windows, you get all the natural light and elegant design of a fantastic, new window, without having to worry about passers by.
The Need for Maximum Energy Efficiency
Picture a bathroom filled to the ceiling with water – with old or inefficient windows, that water would leak out, slowly but surely. Now imagine that water is heat, or cool air. That's essentially the issue with drafty, old, poorly made or poorly installed windows. In the winter, they let warm air out and cold air in. In the sweltering summer months, they allow hot air in. What this means is that you end up paying more out of pocket to keep your home temperature controlled.
Golden Windows' ENERGY STAR® products work to insulate your house throughout the seasons. The low emissivity (Low-E) coatings and argon gas fills we deploy in our windows prevent heat transfer between inside and outside, improving the insulation of your home. That means the heat you use during winter stays inside your home, and the heat outside in the summer stays outside.
Here are a few of the different glass options available for your bathroom windows. Read through and consider what's best for you. And, of course, if you have any questions, never hesitate to contact us!
Clear | Hard Coat Low E (3) – CLLE: This is a durable hard-coated low-emissivity glass that provides passive solar gain resulting in year-round cost savings. Used on the 3rd surface it maximizes energy efficiency in the colder Northern region climates, where heating is dominant and the greatest energy concern.
Soft Coat Low E (2) | Clear – SBCL: This soft-coated low-e glass provides solar heat control in moderate to warm climates. The neutral appearance and high level of natural light transmitted makes this glass ideal solution for homes where heating and cooling requirements vary throughout the year.
Hard Coat Low E (2) | Hard Coat Low E (4) – LELE: The addition of a 4th surface Low E technology on insulating glass units allows you to improve the performance of a unit by approximately 15-20%. During cold conditions the coating on surface 2 reduces the heat lost from the airspace to the outside and the coating on surface 4 will reflect heat back into the room.
Soft Coat Low E (2) | Hard Coat Low E (4) – SBLE: The addition of a 4th surface Low E technology on insulating glass units allows you to improve the performance of a unit by approximately 15-20%. During warm conditions the coating on surface 2 reflects solar energy outside and the coating on surface 4 will reflect heat back into the room during cold conditions.
In truth, these are all fantastic options. Give us a call to discuss which options work best for your particular bathroom. With the right windows, you can kick moisture to the curb, preserve your privacy and save both energy and money!
Choose Your Bathroom Windows
As mentioned above, it's important when choosing a window for your bathroom that it's operable: capable of opening to let steam escape. We've also touched on the different types of glass available in our windows, each Low E and capable of making your home more energy efficient.
Now, let's talk style. Below, we'll list a few options we think are perfect for your next bathroom window. If you see something here that strikes your interest, we encourage you to read more about it on our website. We offer comprehensive product specifications, including your size, grille, glass and colour options, as well as the window's thermal performance.
Awning Window: These awning windows open completely from the bottom outwards, allowing you to direct natural airflow into your home, and thereby reducing the mould-encouraging humidity in your bathroom. They also feature a multi-point locking system, which allows for increased security to this vulnerable room.
Casement Window: These windows open completely, allowing you to direct plenty of natural airflow into your bathroom. They also feature a multi-point locking system, which allows one locking point to control multiple locks on the window for additional security.
Single/Double Slider Window: The Double Slider allows both sash to operate and has the added feature of allowing the sash to pivot towards the interior for easy cleaning and maintenance – definitely a plus for bathroom windows! It also features a single channel where the sash slides, which reduces the opportunity for dirt build-up. Slider windows are popular, easy, accessible choices for a bathroom window.
Bay & Bow Window: Want to make a sophisticated statement with your bathroom windows? Want to allow in plenty of natural light from multiple directions? Want to increase the size of your bathroom with a lofty extension of the wall? Bay or Bow windows aren't for everyone's bathroom, but if you want a truly luxurious window, this is the way to go. It's perfect next to relaxing Jacuzzi, or for a bathroom with a view.
Had something else in mind? Explore the many options on our website, or contact us for questions or quotes!
Installation
Now that you know the main criteria of a bathroom window, and you've decided which window style best suits your bathroom, the next step is installation. As your one-stop window experts in Ontario, Golden Windows can help with installation too.
We work transparently and thoroughly every step of the way, taking time to confirm with you. To start, an Installation Sales Representative will come to your home at your convenience, complete a free onsite measure and discuss your bathroom window options, eventually providing a quote. Then, a meeting will be set up with a Certified Installer Team; they'll do a final measure, and again confirm the project details.
If all looks good, we'll get to work custom-making your new bathroom windows. You're in expert hands with our Certified Installer Team – they've been lightening houses like yours for a long time. Again, the onsite measure with our Sales Rep is free, and your confirmation is sought at every step, so the process of installing your dream bathroom windows will be fun and pressure-free.
If you're looking to add more light and more energy efficiency into your home, while reducing the potential for mould growth, give us a call about your next summer project. You don't have to have a specific window in mind to get the ball rolling. If your bathroom is a place for unhurried relaxation and reinvigoration, give it the windows it deserves!