As we have discussed previously on this blog, quality windows carry a variety of benefits for homeowners. Designed and made right, they are a vital tool in your home's overall efficiency efforts, ensuring protection from the elements. They are also a necessary source of natural light, which has a host of health and wellbeing benefits. Windows, especially triple glazed windows, can also be effective at noise-reduction, creating a more tranquil at-home experience, whether you're working, studying or putting the kids to bed.
And then there are aesthetics. For all their high-performance functionality, windows, like other design features in your home, still have to be beautiful. At Golden Windows, we understand the importance of an attractive window. Not only do they improve your curb appeal, but they accent your home's interior, allowing you to express your unique sense of style.
When you install new windows from Golden Windows, you can choose from several customization options to get exactly what you want. But the customization doesn't have to stop there. Once we have installed your new windows, you can further personalize your purchase with window treatments.
In this article, we are giving an overview of the window treatment options available to you. Broken down into two main sections – Soft Treatments and Hard Treatments – we will list the most popular treatment styles and offer a brief description of each.
View the following list as inspiration. Not only are your new Golden Windows products efficient and functional, but they can be a bold, sophisticated personal statement.
Soft Treatments
In the wide world of window treatments, a popular way to categorize options is to break treatments down into "soft" and "hard."
Soft window treatments, as you may expect, are those made from pliant, soft materials – usually some sort of textile. Soft treatments are known for lending a lush, luxurious quality to a room. In a room mainly comprised of hard elements – like wood furniture, mirrors or stone countertops – they provide a welcome sense of levity, flow and flexibility.
Soft treatments can be added atop hard treatments, as an accent, or used on their own. They can be purely decorative or functional (or both.)
Soft treatments come in all looks and styles, from pleated to flat, sheer to light-blocking. Below, we have listed a few of the most popular window treatment styles, along with a short description of each.
Curtain Panels
One of the most popular styles of soft treatment is the curtain panel, a length of curtain fabric supported by a central top rod. Although curtain panels tend to be sold individually these days, you will most often find them used in pairs – one on either side of the window – for the classic look.
Curtains, along with drapes (which have their own section below,) come in a variety of types, differentiated by look, as well as how they are hung:
Grommet: Grommet curtains and drapes are hung from a rod by grommet rings – typically metal eyelets reinforcing holes in the panel fabric. When bunched, this creates a pleasing, rippled look. When drawn flush, they feature a wavy appearance.

Pinch Pleat: As the name suggests, this style features pinched pleats at the panel tops. The pleated top can either be hung from hooks to the rod, leaving a small gap, or the panel top may fix directly to the rod.

Rod Pocket: The Rod Pocket style features a sewn channel at the top of the curtain or drape, through which the rod is placed. When forced together, the channel fabric bunches up, sometimes asymmetrically. It's a popular choice for a more casual treatment look.

Table-Top: Table-Top panels hang from the rod by fabric loops sewn to the panel's top seam. They can often be found in cottages and lake properties here in Ontario, as they evoke a rustic design. But the style is catching on with city-dwellers as well!
When shopping for curtain panels, consider how you want to use them. Will they be stationary, for decorative purposes? Or will they be functional, to control sunlight?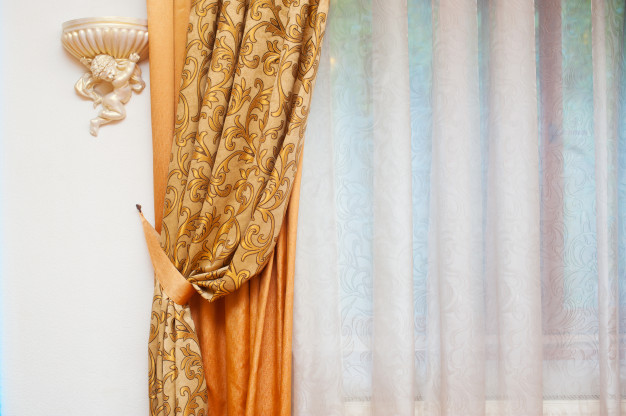 Drapes
For many, the terms "curtain" and "drape" are interchangeable. However, while they certainly share similarities, they are not quite the same. The key difference between the two is structure. Drapes are often made with stiffer, thicker textiles than curtains and may feature an interior lining.
The purpose of these stiffer fabrics may be decorative – a homeowner may prefer the structured, rustic look of tweed, for instance. Or, a homeowner may choose drapes over curtains for their superior sun-blocking capability. As much as we love natural light in the home, there are occasions when we want total control over the amount of light: putting the kids down for a daytime nap, sleeping in on Sundays, or creating the right ambience for a movie night.
The types of curtains listed above are also available in drapery panels. Both drapery and curtain panels work well with just about any window type, but they are most popularly paired with casement windows and picture windows.
Valances
A classic soft treatment, window valances are pieces of fabric that cover the topmost part of the window. You will most often find them accompanied by either drapery or curtains, though it's increasingly common to see them on their own or with hard treatments too.
Valances can be theatrical and intricately detailed, as they were in the Baroque to Victorian periods. Or they can be more modern, sporting simple designs and clean lines.
Window Valances are usually ornamental, used to conceal drapery hardware. But, because of their position at the top of the window, they can also partially block the bright mid-day sun.
Roman Shades
Soft Roman Shades are a stylish option for window treatments. Tracing their history back to (you guessed it) Roman times, Roman Shades have never gone out of fashion.
In its most basic form, a Roman Shade is a piece of textile that evenly folds up when raised by a cord or pull. It's an elegant style of window treatment that blends the functionality of blinds with the flowing, airy quality of shades. They come in several different fabrics, though linen and cotton are popular choices. They also come in various "fold styles" (the way the fabric folds when pulled,) including flat fold, soft fold and European fold.
Pair Roman Shades with a wide selection of windows from Golden Windows, from our beautiful GoldenWood® Casement Window to our GoldenVinyl® 5000 Series Double Slider Window. They even add thermal insulation to our already energy-efficient windows. To get started styling your ideal window, call Golden Windows and ask about our window installation services.
Cellular Shades
Cellular shades are excellent energy saving window coverings that block solar heat and conduction heat gain or loss.
Sometimes referred to as honeycomb shades, they are comprised of hexagonal cells that fold up along clean, crisp pleats. These cells form a barrier of air pockets between your window and interior, furthering your window's energy efficiency. Pair them with Golden Windows' triple glazed windows for maximum thermal performance and energy efficiency.
Like all soft treatments, Cellular Shades come in a number of different opacities, depending on how much light you want them to allow, and are available in various materials.
Hard Treatments
As you may guess, hard window treatments are made from hard materials like wood or vinyl. Often, homeowners gravitate toward hard treatments for privacy, though they can also be a great way of adding aesthetical flair to a room.
Additionally, compared to soft treatments, hard window treatments are relatively easy to clean and maintain. Depending on the style and materials, hard treatments may also reinforce the energy efficiency of your window.
Blinds
Many people use the terms Blinds and Shades interchangeably as a catch-all term for window coverings, but blinds belong in their own distinct category.
While Shades are most often made of a single piece of hung fabric (see Roman Shades above,) blinds are made of slats of hard material. Wood and vinyl are popular options for blinds, though aluminum, bamboo and even leather are increasingly popular.
The slats are commonly horizontal and come in a range of widths, from micro-blinds (1/2-inch thick slats) to large blinds (around 2.5-inches or larger.) The width you choose will largely depend on the size of the window you wish to treat; in general, small slats go with smaller windows, large slats with larger windows. Using small slats on a large picture window, for instance, may make it look too busy.
You may also choose vertical blinds to add visual height to a room or to cover your new Golden Windows sliding patio doors. As the name suggests, these blinds hang vertically, opening and closing along a top track like a curtain.
Shutters
Think of shutters as a sturdier, more permanent version of blinds. Like blinds, they often feature slats (usually horizontal, often operable) that open and close to control light. Like blinds, they are available in a range of materials, from wood to metal. Unlike blinds, however, shutters attach to the window frame itself, as opposed to inside or above the window recess.
Of all the window treatments, shutters feel most like an integrated feature of the home, rather than a superficial treatment, since they are constructed to the frame. Shutters may be attached to the exterior or interior of the window, and come in a remarkable variety of styles: louvered, café style, board and batten and plantation-style, to name a few.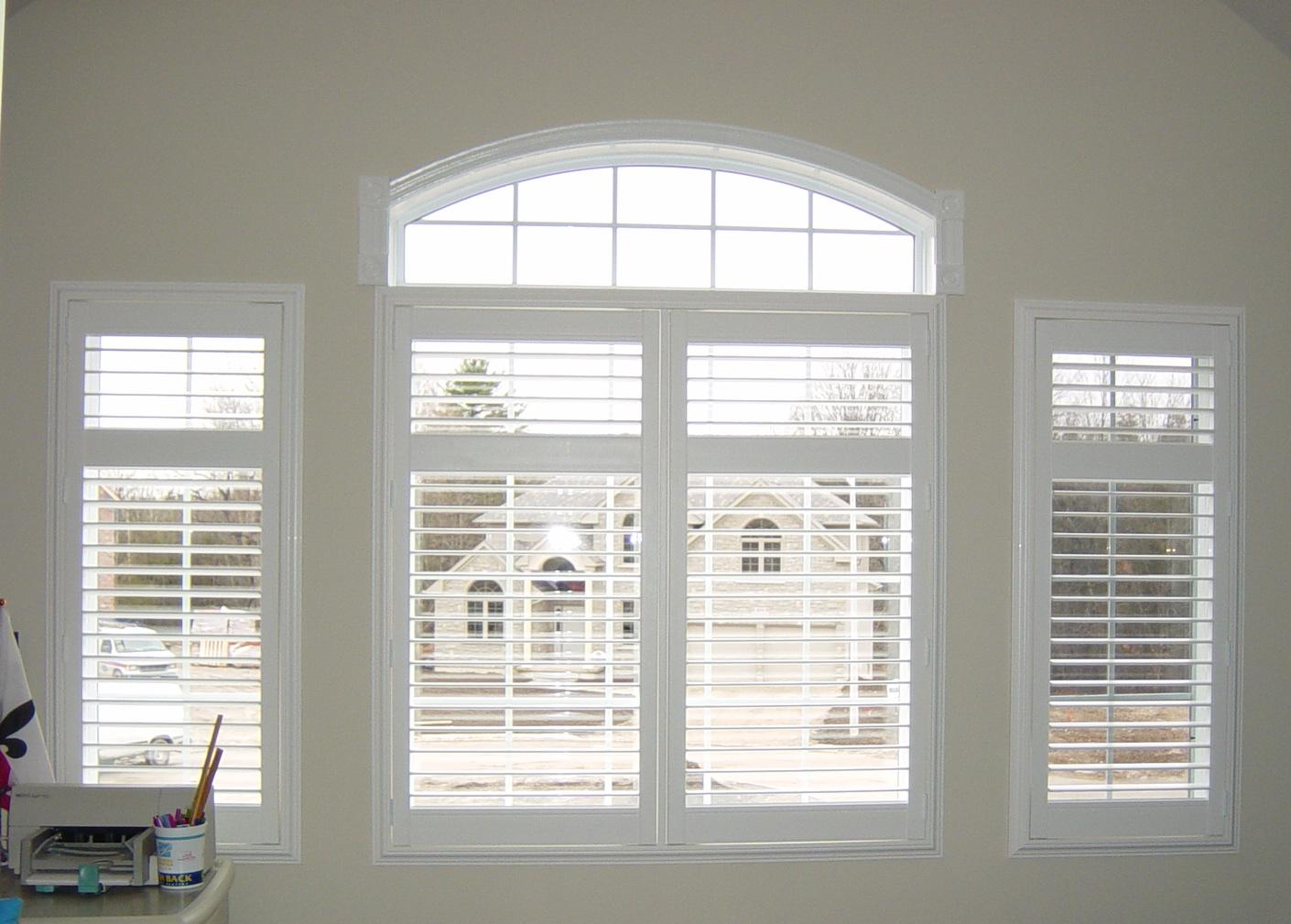 Cornices
Think of a cornice as a wood valance: a hard treatment, usually made from plywood and then painted, that rests atop a window. It can be covered with fabric or wallpaper or left as is for a bold, architectural look. A cornice looks spectacular on its own, but it can be used with other treatments as well, especially a soft treatment like a flowing pinch-pleated curtain.
Decorating Your Bay or Bow Windows
Bay or Bow windows belong in a category of their own. Like our other window offerings, they supply your home with abundant natural light and maximize your efficiency. But unlike our other windows, they are protrusive, adding depth to the interior of a room. Because of that, you can view them both as a window and an added space.
Decorating your bay windows involves choosing treatments for the windows themselves, as well as designing the nook. For treatments, drapery panels offer a classic, elegant look that complements the lofty qualities of a bay window. Roman shades also work brilliantly, adding texture and structure to the existing angles.
To design the nook, consider how you would like to use the space. If you are creating a reading nook, consider adding upholstered window seating so you can sit and soak in the sunshine while you read. If you are planning a breakfast nook, you may also choose window seating, or simply place a light, circular table at the centre. For an even more relaxing feel, consider decorating with tall plants.
To get started creating the perfect bay or bow window, call Golden Windows to request a quote and chat with us about customization options.
Care and Maintenance of Windows and Window Treatments
Aesthetically speaking, adding window treatments to your home does not only add to the design of your space, but they can be an additional barrier against the elements. However, homeowners must make sure that their window treatments do not restrict airflow around the windows as condensation can build up and cause issues down the road.
Condensation occurs on cold surfaces when there is too much moisture in the air, there is inadequate ventilation and availability of cold surfaces upon which moisture can condense. Too much moisture in the air may come from a variety of sources such as: Showering, cooking, washing dishes and clothes, people, plants, damp basements, etc.
Therefore, making sure homeowners maintain a healthy relative humidity level around the home is important. Read through our Condensation Information Package for helpful tips and tricks to keep your home healthy and efficient.
Start Customizing Right Away
Before you decide on window treatments, you need windows. If you are planning on upgrading your windows in 2021, contact Golden Windows. We offer numerous customization opportunities for your new windows. Choose from several different types, including hung windows, awning windows, slider windows, casement windows and architectural and picture windows.
Once you have decided on a type, you can get started customizing. Choose the shape, size, colour, grille pattern, glass and more. From deciding on the kind of window, all the way through to choosing your perfect window treatment, you can express your personal taste and accent your unique home.
We hope this handy guide to window treatments has inspired you to create something beautiful. Let Golden Windows be a part of your new window project by calling us, emailing us or visiting one of our showrooms. If you enjoyed this guide and want to learn more about windows, read our handy guide to common window terms on our blog!