There is a hint of chill in the air, the trees are shedding their leaves, and the sunsets arrive sooner every day. It is almost winter here in Canada. For homeowners, it is that all-important bridge between seasons – between the temperate fall and the icy-cold winter – when home improvement is pivotal.
To safeguard your home from the cold and keep your family safe, you want the best windows possible. A necessary source of light in the winter, windows nevertheless carry the capability for heat loss – that is, if they aren't specifically geared to the trying Canadian winter climate.
Luckily, the triple glazed windows from Golden Windows are more than up to the task.
What Are Triple Glazed Windows
Let's start with the basics. In the interest of empowering you to make the ideal decisions for your family and home, we believe in being as detailed as possible. Although you might already know what "triple glazed" means, let's begin with a simple definition.
Used in the context of windows, the term "glazed" refers to the "window panes." Single glazed windows have one pane, double glazed have two and triple glazed windows – you guessed it – have three panes. Each of the panes is separated by argon gas, a low conductivity, colourless, odourless and harmless inert gas fill that improves thermal insulation by reducing heat transfer.
Double glazed windows have one chamber of argon gas, whereas triple glazed accommodate a second chamber, increasing the energy rating.
The Benefits of Triple Glazed Windows
Perhaps you have been researching information on net-zero energy housing and want to improve your home's energy efficiency. Or maybe you just want to ensure a warm and comfortable winter for you and your family. Whatever the reasons, you have decided to take the plunge on triple glazed windows.
It may please you to know that there are several benefits of triple glazed windows in addition to insulation performance. In this section, we will explore a few of the main advantages.
Insulation Performance
High insulation performance is arguably the main reason why people choose triple glazed windows. Homeowners like the added insulation and the cost-savings associated with it. Having that third pane, with an added argon fill, increases the window's Energy Rating (ER), meaning it better resists heat loss and air leakage and lowers the window's solar heat gain coefficient.
In the article below, we will touch more on the ENERGY STAR® Canada program and the "zone" system to which passing grades apply. But, in the meantime, here is the salient takeaway: triple glazed windows meet a passing grade for even the coldest areas of Canada.
Windows with an ENERGY STAR® designation, like the triple glazed windows from Golden Windows, help you reduce your greenhouse gas emissions, keep your home warmer and save money on your utility bills.
Sound Transmission
A lesser-mentioned benefit of triple glazed windows is their ability to block outside noise. As you would expect when adding another layer, these windows further reduce sound coming from outdoors.
If you are particularly noise-sensitive, triple glazed windows give you the peace of mind you're after. If you are searching for windows for a quiet home office or child's room, these windows are a sensible and solid choice. And if you are next to a neighbour who likes to mow their lawn first thing in the morning, the added pane of soundproofing can also prove advantageous!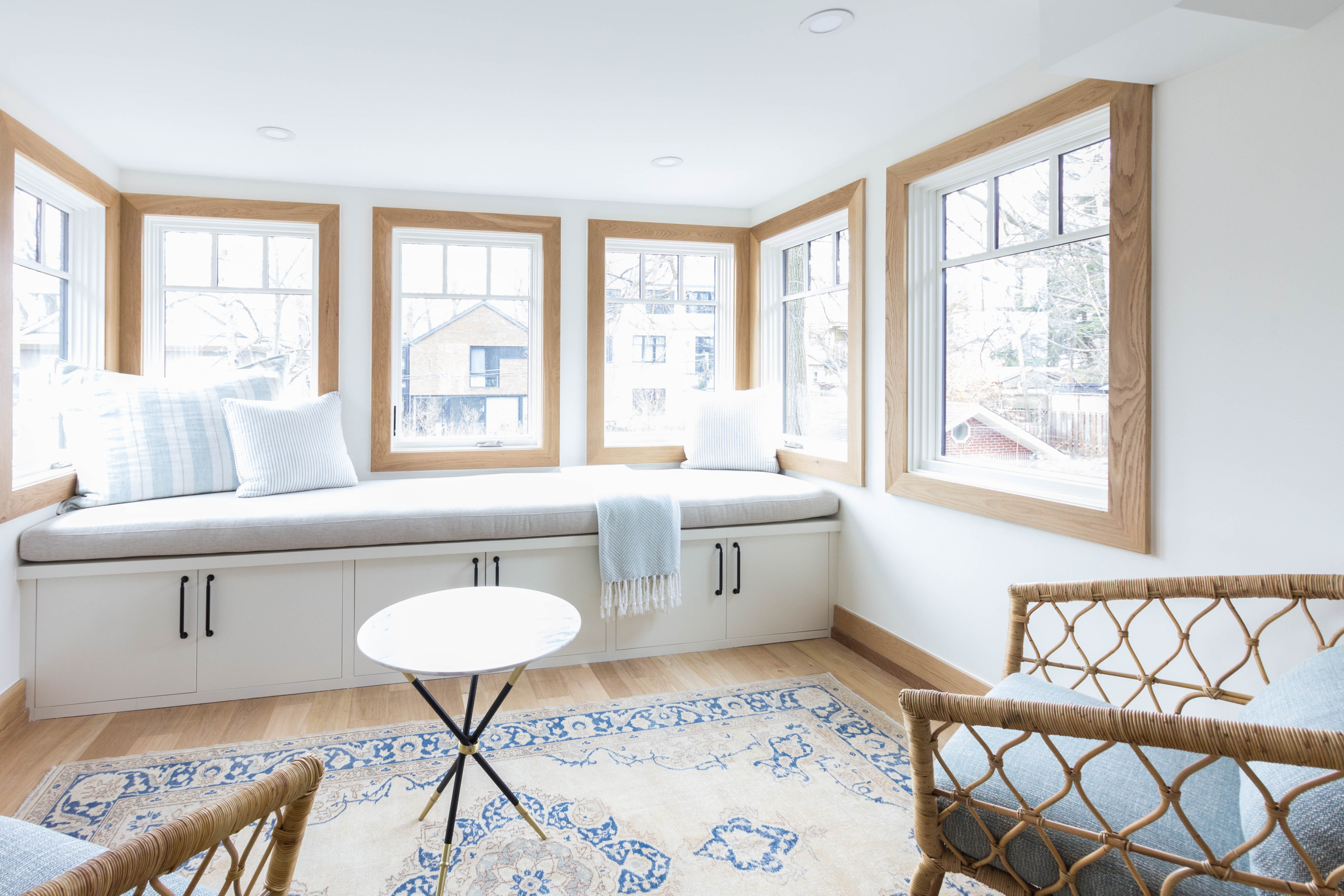 Security
According to the Telegraph, triple glazed windows can act as a security deterrent, given their sturdiness. Because of that added pane, they are difficult to break. This could discourage a burglar from entering your home; it can also give you precious added time to alert authorities.
Of course, triple glazed windows alone should not be the entirety of your home security measures. If you are concerned about break-and-entries, make triple glazed windows an aspect of your overall security strategy.
Reduced Condensation
Often, condensation occurs during colder weather when moist air inside the home collides with cooler surfaces. The moisture in the air can condense to form water droplets or even frost. The risk of condensation increases as the weather gets colder or the indoor humidity rises (or both). And one of the main causes of condensation is the availability of cold surfaces upon which moisture in the air can condense.
As the Family Handyman points out: triple glazing will reduce condensation. In theory, this can allow you to maintain a higher relative humidity indoors during the cold months.
Since triple glazed windows, by design, reduce the heat lost from a room by conduction, the surface temperature of the room-side pane will be higher than either the single- or double-glazed alternatives. A higher temperature means less likelihood for moist air to form into condensation. However, preventative measures should still be taken to control moisture around the home. Too much or too little can be detrimental to one's health. Homeowners should read through this helpful Condensation Information Package to understand how humidity plays a role around the home.
Triple Glazed Options
We have discussed the various ways in which triple glazed windows can improve your home: superior thermal performance, added soundproofing, increased safety, and reduced risk of condensation. If you want to reap those benefits in your home, contact Golden Windows about installing new triple glazed windows and doors.
Let's say you are ready to make the switch – what comes next? At Golden Windows, we have options to suit your unique home and personal taste. Choose from the window and door types below to get started.
Golden Windows offers two lines of windows: GoldenVinyl® and GoldenClad®. Our Performer Patio Door is also available in triple glaze. All three of these fantastic choices come with the following:
Choice of our standard colours: white, taupe, sable or black

Choice of 28 optional colours, or can colour match to an existing project

Four different Low Emissivity (or Low E) Options.

Low E glass emits low levels of radiant thermal energy,

limiting the amount of ultraviolet and infrared light coming through the glass, without limiting the amount of light. All our Low E options include Argon gas.

Multiple grille options to choose from, including grilles between the glass and simulated divided lights (SDL.)
As mentioned above, all our triple glazed options help reduce indoor condensation, reduce some types of traffic noise through greater acoustic insulation, and reduce the amount you pay for utilities.
With those commonalities established, let's look at the individual triple-glazed options!
GoldenVinyl® Triple Glazed Windows
Customers love our series of vinyl windows because they are effectively maintenance-free. Because the frame is made of a sturdy vinyl compound, it resists warping and cracking, which in turn reduces the likelihood of air leaks and bugs. Vinyl is also an excellent insulator – a perfect pairing for the triple glazed panes.
In addition to the bullet points listed above – attributes shared by all three of our fantastic options – the GoldenVinyl® and GoldenClad® windows offer further customization opportunities. Exterior Brickmould and sill nosing are available for both. And clients can choose from the standard hardware or upgrade to the Encore™ hardware system, a high-strength and high-performance multi-point locking system.
GoldenClad® Triple Glazed Windows
GoldenClad® windows are popular with homeowners who want a sturdy, efficient window that fits their rustic or chic décor. Our GoldenClad® product line offers a beautiful wood interior and a maintenance-free, extruded aluminum-clad exterior for homes.
The wood interior is available in Pine, Oak, Mahogany, or the finish of your choice. We also offer a narrow rail profile for a more modern style.
Performer Patio Door
Are you looking to replace your patio door? Get a head start on next summer's renovations while adding insulation for the cold winter months with the triple glazed Performer Patio Door. A gorgeous addition to any home, this exceptionally sturdy sliding door is high-performing and low-maintenance.
The Performer patio door comes with a wood and PVC frame for exceptional sturdiness and steel-reinforced stiles for added rigidity. Its screen door has an extruded aluminum frame and fibreglass mesh for increased service life, and the rugged self-lubricating nylon tandem panel rollers ensure easy-sliding patio doors. For added security, you can also choose from an optional twin-point mortise lock that reduces the risk of break-ins.
This is the gold standard for patio doors, and it is only available at Golden Windows.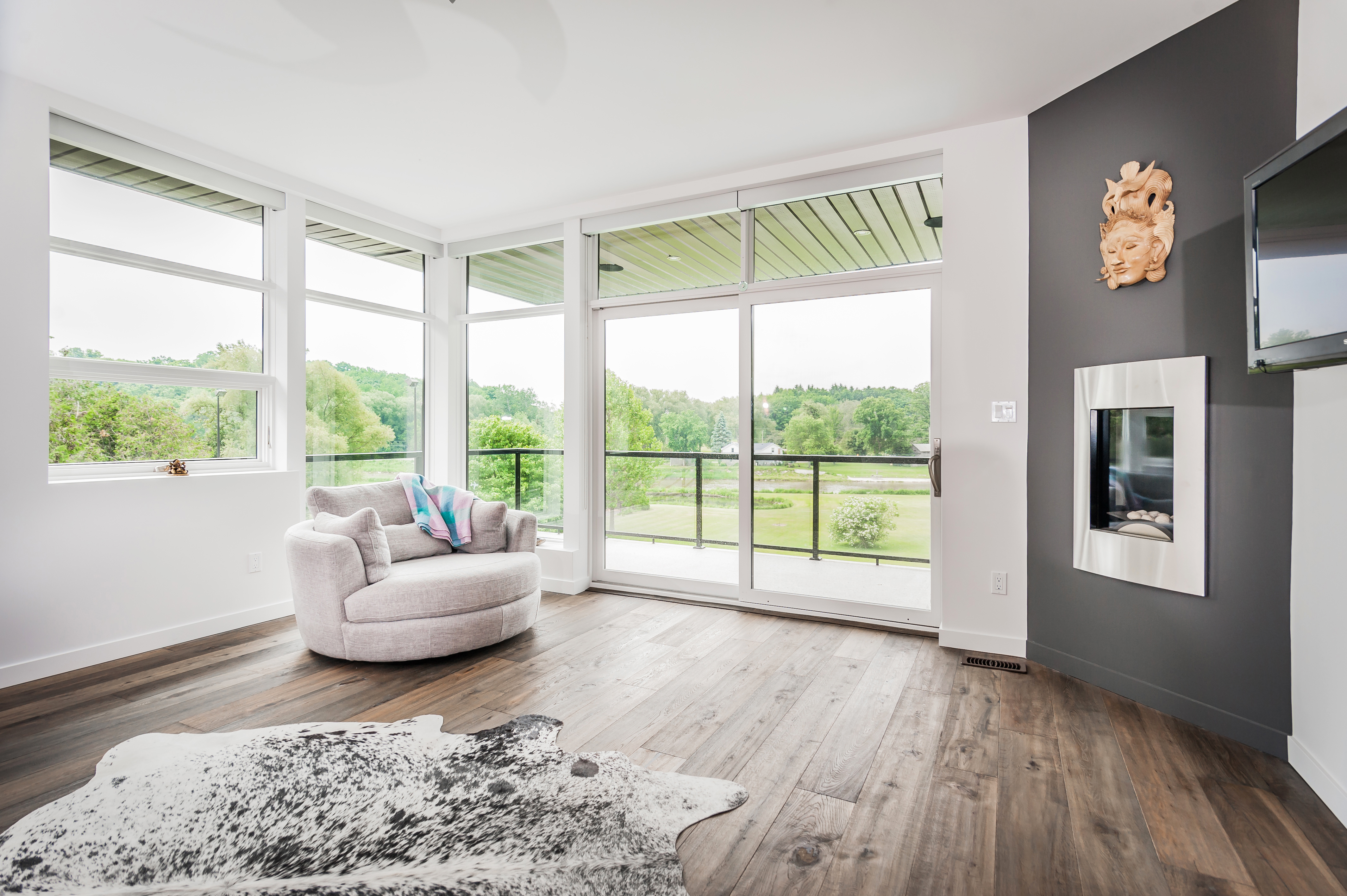 Updates to the ENERGY STAR® Program
As mentioned in the "Insulation Performance" section, triple glazed windows come with a coveted ENERGY STAR® designation.
Recently, there have been changes to the ENERGY STAR® program in Canada that is worth communicating to our customers. Effectively, the latest updates get rid of the old "climate zones" model. Previously, the program divided Canada into Zones 1, 2 and 3, each corresponding to geographical climate (Zone 3 being the coldest). As of 2020, ENERGY STAR® now recognizes Canada as one entire zone, using the existing Zone 3 specifications.
This change was made to avoid confusion among buyers. Under the old model, not only did consumers have to look for an ENERGY STAR® sticker on their products, but they also had to match the product to their specific zone. Some homeowners were misled and purchased windows that did not meet a passing grade in their zone.
Luckily, the triple glazed windows from Golden Windows meet the specifications for Zone 3 – defined as having window energy ratings of equal to or greater than 34. Therefore, you can rest comfortably with an ENERGY STAR® designated triple glazed window, wherever your home may be.
If you want to lower your emissions, improve your home's efficiency and save money with ENERGY STAR® rated windows then contact Golden Windows about a replacement.
How to Request Service
Finally, if you ever need us to service your Golden Windows products, we have made the process simpler. In an ongoing effort to ensure that your windows and doors work at peak performance, we have made it easy to request service through our website.
Just head to the Service Request section of the Golden Windows website. There, it will prompt you to choose one of two options: "I Am a Homeowner" or "I Am a Contractor." Choose which option suits your description, and it will lead you to a simple service request form. Fill out your contact information, including name, phone number and email address, as well as the address where you require service. Let us know when you purchased your Golden Windows product, who the contractor/builder was (if possible) and the order/quote number if you have this information available.
From there, provide a simple description as to why you require service. You can even attach photos, which will help us determine how to fix the issue. Our expert service team will review the form and contact you directly to set up a time to visit your home. Easy as that!
In Conclusion
To conclude, our triple glazed windows from Golden Windows make for the perfect window replacement. They offer first-rate thermal performance, meaning that your house is warmer and more comfortable during the winter. They lower your energy bill. They reduce outdoor noise and condensation. And they can help make your home safer.
Choose from our GoldenVinyl®, GoldenClad® or Performer Patio Door and then customize your order to satisfy your taste and lifestyle. Our triple glazed windows meet the new high standards of the ENERGY STAR® Canada program, meaning that they perform well even in Canada's coldest corners.
And should you ever have an issue, we have made it simple to get the service you need with our new Request Service forms.
What are you waiting for? Get triple the protection today with Golden Windows' triple glazed windows.