There is a lot to consider when installing new windows. Whether you are replacing old windows or building a new home, you will need to make a series of small choices to ensure you end up with exactly the right product for your unique tastes and lifestyle. Throughout the process, you will decide on type, size, shape, colour and hardware, among other details.
But one of the first decisions you will make is about material. Understandably, you may be scratching your head at the options, wondering what exactly the big difference is between window materials. As it turns out, there are several differences. While there's no universal correct answer (each material has its unique merits), finding the right material for you will require some light research.
To help you through the process, Golden Windows has put together this handy comparison between three of the most common window materials: wood, aluminum and vinyl. In the interest of empowering our customers to make their ideal personal choice, we will cover the pros and cons of each. We'll also discuss the different types of windows available in each material.
What to Consider
Before we jump into looking at each material, let's establish a few key factors to consider. These factors will vary from material to material:
Energy Efficiency: how insulating the material is

Price: how much the material costs

Maintenance: how easy the material is to clean

Durability: how well the material stands up to the elements

Aesthetics: how attractive the material is
Everyone's priorities are different. Some people may want to prioritize aesthetics in an effort to give their curb appeal a boost, while others may choose to designate more value to efficiency as a means of lowering their energy bill. Going forward, your job as a consumer will be figuring out which of these factors are most important to you.
To help you get a sense of your priorities, try arranging these factors in order of their importance to you. A descending list of priorities may help you make up your mind as you read through the rest of this article.
Vinyl
You will find vinyl in numerous household items, like your plumbing pipes, shower curtains and patio furniture. Vinyl refers to Polyvinyl Chloride (PVC), a common thermoplastic polymer prized for its density, hardness, tensile strength and economy. A popular choice in window frames since around the 1970s, vinyl continues to enjoy high favour among the majority of Canadian homeowners.
In this section, we'll discuss the advantages of vinyl, as well as other factors worth considering. We will also introduce you to GoldenVinyl®, our product line of vinyl windows and sliding patio doors.
The Pros
Vinyl windows are popular for a reason – they have several benefits for homeowners.
Because of its natural insulating quality and ability to form a tight seal, vinyl is very energy-efficient. Natural Resources Canada also notes that vinyl can be manufactured as a single, solid piece, which minimizes air pockets.
Vinyl is also easy to maintain. Vinyl frames don't require any paint, stain or finishing, and can be cleaned using a simple mixture of mild soap and water. This is especially ideal for homeowners who prefer a hands-off approach to their windows.
Finally, a key reason homeowners and contractors love vinyl is because of its price. A relatively inexpensive material, vinyl is a top choice for replacement windows since it adds similar value at a slightly lower price point than alternatives.
Other Factors to Consider
With vinyl products, quality is of paramount importance. Low-grade vinyl tends to be thinner and poorly-fastened (screwed as opposed to welded). As a result, the frame is susceptible to leaks, warping and even cracking.
Luckily, there are a few ways to spot quality vinyl windows. One way would be to visit one of our showrooms in Kitchener, London and Kanata. There, you will be able to feel first-hand the thickness and durability of high-grade vinyl. One of our expert sales representatives will be there to answer your questions and demonstrate what makes Golden Windows vinyl so special.
Another tell-tale sign of quality is good window energy ratings, which are tested and certified using the Canadian Standards Association (CSA) A440.2 standard or the National Fenestration Rating Council (NFRC). The SCA and NFRC test windows according to several values, like U-factor, Visible Transmittance and Solar Heat Gain Coefficient to determine performance and energy efficiency. Quality vinyl, provided that it is coupled with Low-E glass, should receive a high energy rating, qualifying it for ENERGY STAR® certification.
Finally, a last thought to consider about vinyl is appearance. Don't get us wrong: vinyl makes for a great-looking window. But it is not customizable after the fact. Since vinyl tends to be liquid-repellent, it is notoriously difficult to paint, meaning that the colour you choose initially is the colour you get throughout the window's functional life. Luckily, Golden Windows offers a choice between a Standard White exterior colour, three upgraded exterior colours and 28 optional and custom colours.

Golden Windows Vinyl Products
Our GoldenVinyl® product line offers a wide variety of vinyl products for homeowners. Whether you are looking for smaller operable windows, like vinyl casement windows, to ventilate your kitchen, or towering picture windows to meld your indoor and outdoor spaces, we have customizable products just for you. Choose from:
Awning Windows

Casement Windows

Single Slider and Double Slider Windows

Single Hung and Double Hung Windows

Architectural and Picture Windows

Bay and Bow Windows

Sliding Patio Doors
Contact Golden Windows today to chat about your new vinyl windows.
Aluminum
For fans of sleekness, strength and bold design, aluminum is a great option. The silvery-white element, prized for its balance of lightness and durability, makes its way into numerous household items.
The use of aluminum in windows predates vinyl by about a half-century. As early as the turn of the 20th Century, manufacturers used aluminum to create windows for new public transportation megaprojects like railroad cars and streetcars. According to the history books, these first transportation designers chose aluminum because of its "high efficiency as to weather tightness, great ease of operation, low up-keep costs, great strength and beauty." We could not have said it better ourselves.
In the years since, aluminum has become a popular option for residential windows, often clad to wood. In this section, let's explore the benefits listed above in detail and offer other factors to consider when choosing aluminum-clad windows.
The Pros
Those early adopters of aluminum windows were onto something. Aluminum is a rare metal that is both strong and lightweight, perfect for use in windows and doors. Since the material is light, it is easy to customize into various configurations. This is great news for homeowners searching for a truly distinctive design. But its lightness doesn't come at the expense of durability; aluminum can withstand the elements, resisting moisture damage and insect damage.
Like vinyl, aluminum is also easy to maintain. All you need to clean an aluminum frame is a mixture of mild soap and water. Optionally, you can also apply a coat of automotive paste wax to renew the material's magnificent lustre.
Aluminum is also relatively affordable, compared to all-wood windows and doors. Aluminum-clad windows (which feature an extruded aluminum-clad exterior with a wood interior) are an excellent compromise for homeowners who want the cozy look of wood without the full cost of an all-wood window.
Finally, aluminum is sleek and attractive. Its natural sheen adds a modern touch to homes, and its lightweight, narrow profile allows for better views and sightlines. When combined with wood, as in aluminum-clad window products, the two strike a fascinating balance between rustic charm and modern sensibility.
Other Factors to Consider
On its own, aluminum is not very energy efficient. Luckily, cladding aluminum to wood gives you the best of both worlds. Our GoldenClad® product line mixes an aluminum exterior with a naturally-insulating wood interior to increase energy efficiency.
As with vinyl (and indeed any window product you choose), quality is key. You want to ensure that the aluminum-clad product you purchase is expertly designed and constructed. It's also important to buy from a company that takes energy efficiency seriously. Pairing aluminum-clad frames with triple-glazed windows will help boost the overall efficiency of the product. For more information on triple glazed windows in Canada and their impact on household efficiency, visit our website or contact us today.
Golden Windows Aluminum-Clad Products
Homeowners have several GoldenClad® options to choose from. Whether you want a sleek sliding patio door for your urban oasis, a majestic architectural window for a heritage house, or a sturdy, secure front door for the family home, you will find what you are looking for at Golden Windows. Choose from:
Awning Windows

Casement Windows

Double Hung Windows

Architectural and Picture Windows

Bay and Bow Windows

Sliding Patio Doors

Terrace Doors

Front Door Entry Systems
Each of the windows and doors above comes with a choice of six standard exterior colours with an additional 24 colours to choose from. Custom colours are also available. Visit one of our showrooms today to see the GoldenClad® product line close-up, or check out the brochure on our website.
Wood
Aluminum windows may predate vinyl by a half-century, but wood predates them both – by a lot. The first wooden windows fitted with glass panes date back to roughly 100 AD. The fact that they continue to be popular two millennia later is a testament to their timeless look and superior insulating qualities.
Of course, window construction has improved immensely in the last 2000 years. In this section, let's take a closer look at why homeowners continue to love wood windows and doors.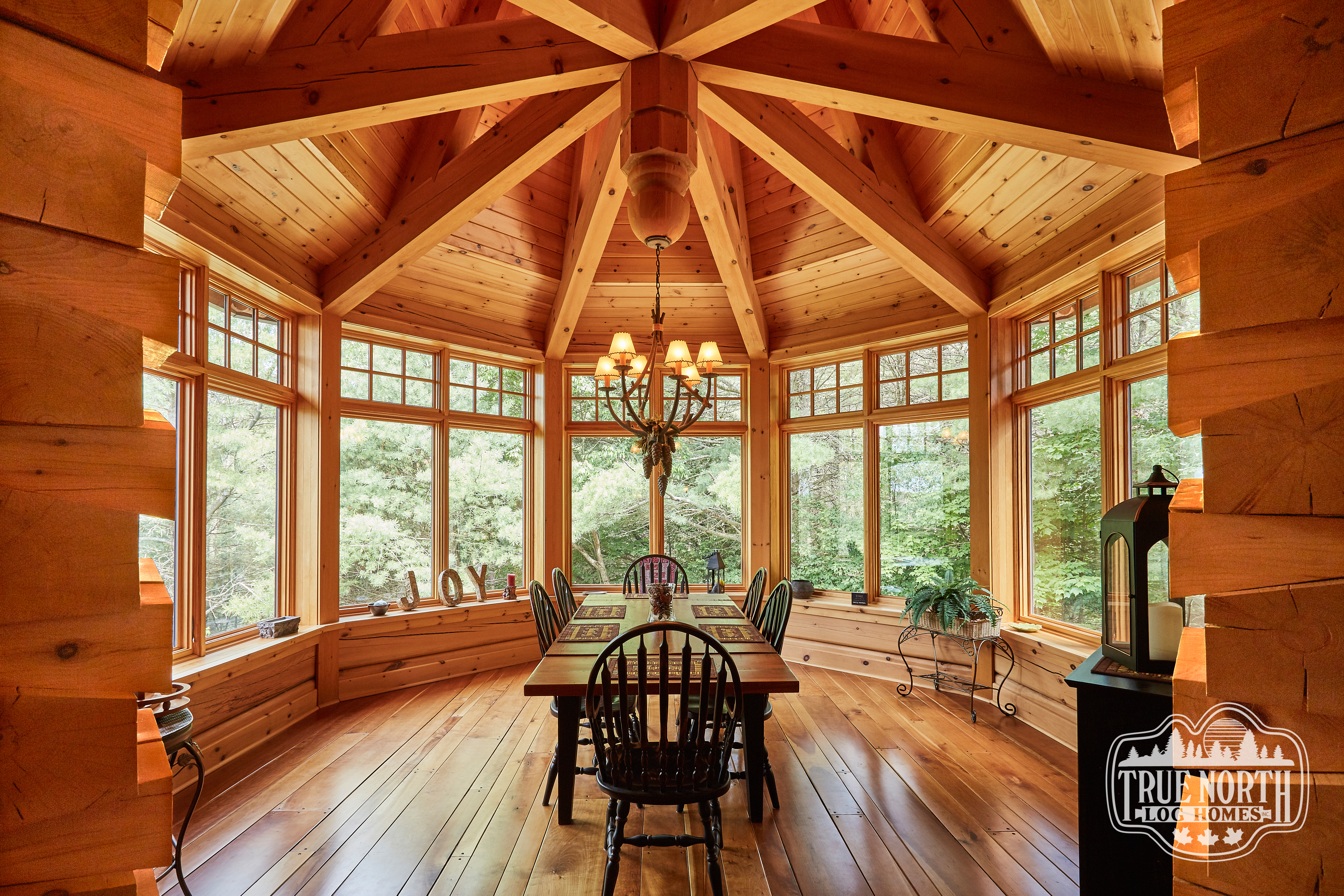 The Pros
As mentioned, wood is a fantastic natural insulator. It helps keep your home cool in the summer and warm in the winter, saving you money on energy. Wood is also durable, sound-insulating and condensation-resistant.
One of the main reasons that homeowners choose wood, though, is for its appearance. For many homes – like cottages, heritage houses and homes with traditional architecture – wood is the only material that fits the aesthetic. But even modern homes benefit from the timeless appearance of wood windows and doors.
Further, it's easy to modify the look of wood to exact specifications. Because you can stain and paint wood, you can easily ensure that your new windows complement the surrounding décor and colour scheme.
Other Factors to Consider
Wood is slightly pricier than either aluminum-clad or vinyl. However, it may pay for itself in lower energy bills and increased curb appeal (which can boost resale value). Ultimately, when you purchase windows or doors, you have to do your own cost/benefit analysis. Many homeowners happily pay a little extra for the highly efficient, beautiful and customizable qualities of wood. For others, vinyl or aluminum-clad better suit their needs.
Another factor to consider is customizability. Traditionally, it was difficult to customize the shape and size of wood frames since the product was hewn from single pieces of lumber. It is still challenging to find companies that will custom-make wood windows to your exact size and specification. Luckily, we can help. Because Golden Windows manufactures all our wood products in our in-house mill, we can customize your windows to fit almost any application, from gothic windows to custom-size double-hung windows with a camber sash. For custom windows in Kitchener, call Golden Windows today.
Golden Windows Wood Products
Whether you are replacing the casement windows in a log cabin or revamping the terrace doors in a heritage house, GoldenWood® products are perfect for your next renovation project. Like our aluminum-clad line, the GoldenWood® line is available in the following products:
Awning Windows

Casement Windows

Double Hung Windows

Architectural and Picture Windows

Bay and Bow Windows

Sliding Patio Doors

Terrace Doors

Front Door Entry Systems
Visit our showrooms to view the products above, or find pictures in our website's gallery. If you currently have wood windows or doors that need servicing, you can request a service today through our online form.
Hopefully, this side-by-side comparison will help you choose the right window and door material for your tastes, criteria and budget. As always, if you have any questions regarding our GoldenWood®, GoldenClad® or GoldenVinyl® product lines, do not hesitate to contact us. We want to ensure that you get the perfect product for your home.