Photo Courtesy of Duimering Homes
A home is, first and foremost, a place where we can feel comfortable, protected, nourished and relaxed. It's where we gather with family, entertain friends and take quiet moments to ourselves. It's so much more than the four walls surrounding it.
But a home is also an investment. And as much as we love our home, at some point we may have to part ways with it. When that happens, we'd like to be certain it can fetch as much as possible on the market. For the vast majority of us, a home is our most expensive possession, so it's only natural that we want to proactively manage that investment.
Before we ever intend to sell, it's important to forecast our home's resale value, taking action to increase it through progressive renovation. Although the value of homes in London, Kitchener and Ottawa have risen between 12% and 19% in the past year, there are still things you can do to encourage even better resale value.
As a leading window and door manufacturer we know just how to help. In this article, we'll talk about increasing your home's curb appeal with a new entrance system, garage door frame and bay windows. We'll discuss making your home brighter and more energy efficient with new windows and doors. And we'll offer a few more simple projects that can increase your home's resale value.
Increase Curb Appeal with a New Front Door, Garage Door Frame and Bay Windows
Curb appeal is more than just a home renovation buzzword. The measure of your home's attractiveness as viewed from the street, curb appeal is a powerful marketing tool when it comes time to sell. It is the first impression your home makes, and oftentimes colours a buyer's decision throughout the viewing.
Curb appeal can be improved through a number of small aesthetic projects, including landscaping, lawn care and driveway maintenance, but for a more significant improvement, look to the windows and doors.
Golden Windows Entry Systems
According to Family Handyman, nowadays "a new front door is seeing a massive 90 percent resale value." That's due in large part to its visibility. The front entranceway is a focal point of the home, and strongly influences the first impression of viewers.
More than that, when you buy new doors from Golden Windows, you also get improved safety and energy efficiency. It's the perfect new addition for a home that wants to increase both eventual resale value and immediate curb appeal.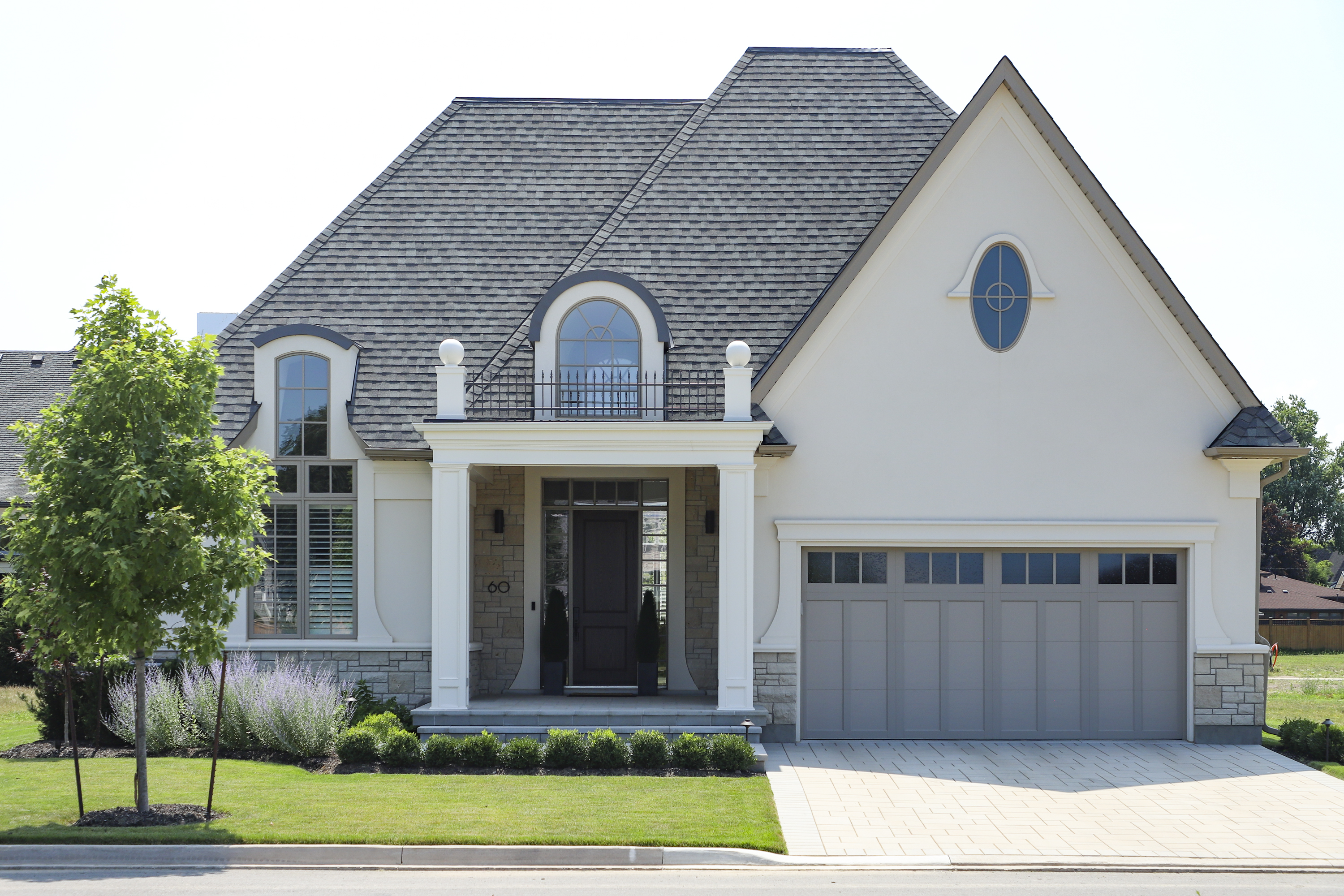 Golden Windows offers two options for your front door: The GoldenClad® Entry System and the GoldenWood® Entry System, each manufactured right here in Ontario at our Kitchener facility. Although there are two choices, the options are limitless.
The GoldenWood® Entry System has a wood frame with brickmould that allows for a choice of various stains so you can personalize your new entranceway. And the GoldenClad® Entry System is designed with a maintenance-free aluminum clad frame that comes with a choice of 6 standard colours, 24 optional colours or an unlimited number of custom colours. They are both designed with the GoldenGuard® sill, an engineered and lab-proven sealing system that prevents air and water leakage while eliminating the need for unattractive door sweeps.
For the GoldenWood® entry system, we offer a variety of wood grain embossed fibreglass panel designs, and for the GoldenClad® Entry System we offer a selection of steel and fiberglass panel designs.
Each of these front door choices is effortlessly, endlessly customizable – with various grille, sidelight, glass and hardware options – allowing you to create an entranceway that reflects your personal taste and suits your home's architectural style.
Golden Windows Garage Door Frames
The front entrance isn't the only door that impacts curb appeal. The garage door, in many ways, is the unsung hero of your home's image: a large, fronting feature that often goes overlooked by homeowners, but which is seldom overlooked by passersby. A damaged, old or peeling garage door frame is bound to catch a few unimpressed looks.
For a new garage door frame, contact Golden Windows. We offer wood garage door frames in a variety of sizes, with a standard wood brick mould or cellular PVC. The sizing of rectangular garage door frames range from a nominal size of 8' x 7' to a maximum of 18' x 8'. We also offer a wood camber top garage door frame with nominal sizing from 8' x 8' to 16' x 8' with a standard radius.
Golden Windows Bay Windows
If you really want the front of your house to pop, consider installing bay or bow windows – bold, beautiful, protrusive windows containing three or more panels. Bay and bow windows increase resale value in a number of different ways.
First, they add prominence and texture to the exterior of a home, increasing the curb appeal. Second, due to their protrusion from the exterior wall of a home at a 30° or 45° angle, they let in lots of natural light, which, as we'll discuss in more detail below, is an important component in home salability. Finally, bay and bow windows can dramatically increase the size of a room, giving it a more open feel.
Whether you are installing windows for the express purpose of increasing resale value, or you just want to improve your current living space, these are fantastic options for new windows. The Bay and Bow windows from Golden Windows are constructed using basic casement, single and double hung and picture windows, and can be created using GoldenClad®, GoldenWood® or GoldenVinyl® 5000 Series and 3000 Series products.
To ensure your curb appeal investment lasts as long as possible, maintain your new windows & doors by following our handy maintenance manual.
Add Skylights and Sliding Doors for More Natural Light
A common complaint among homebuyers otherwise enamoured with a house is that it "lacks natural light." Natural light is so important to the overall feel of a home and without it your resale value will suffer.
According to a 2020 homebuyer study, natural light is a top feature buyers look for in a home, and you can't blame them. In our recent blog post on natural light, we discussed the physical and mental health benefits of a well-lit home. Studies have shown that light can increase the amount of serotonin in a body, which can elevate mood and improve the way we feel. Natural light also boosts the body's vitamin D storage, which is essential for a number of reasons: bone health, heart health, weight regulation, and more.
To maximize the existing light in your home, you can remove outdoor obstructions like trees and shrubs that may be stifling sunlight. You can decorate with bright colours that reflect the existing natural light better. And you can add mirrors to reflect light (although, adding too many mirrors runs the risk of looking "funhouse-y".) But to add natural light, the best course of action is installing new windows and doors.
Golden Windows Skylights
Golden Windows is proud to offer Velux skylights, which are designed to contribute to healthy and bright living environments while remaining energy efficient and sustainable. Available for flat and gabled roofs, these skylights are the perfect way to add more light to your home or to convert your attic into an office, bedroom or separate living space.
Your new skylights can be functional or not – it all depends on what you want them for. If you're using skylights to attract more natural light and you live in a dense, urban setting with lots of outside noise, then you might not want them to open and close. On the other hand, operable skylights can be invaluable sources of fresh air and ventilation in addition to their brightness.
Through Golden Windows, choose from Velux fixed skylights, as a well as options for operable venting skylights: manual venting, electric venting and the wonderfully sustainable solar powered venting skylights.
Golden Windows Sliding Doors
In addition to facilitating better backyard access, sliding doors let in a lot of natural light. For locally-crafted, expertly-installed sliding doors, go with Golden Windows. Our sliding doors don't just increase your home's light – they are also secure, efficient and customizable, available in a variety of exterior colors, glass types, grille patterns, and hardware to match your home's decor and style.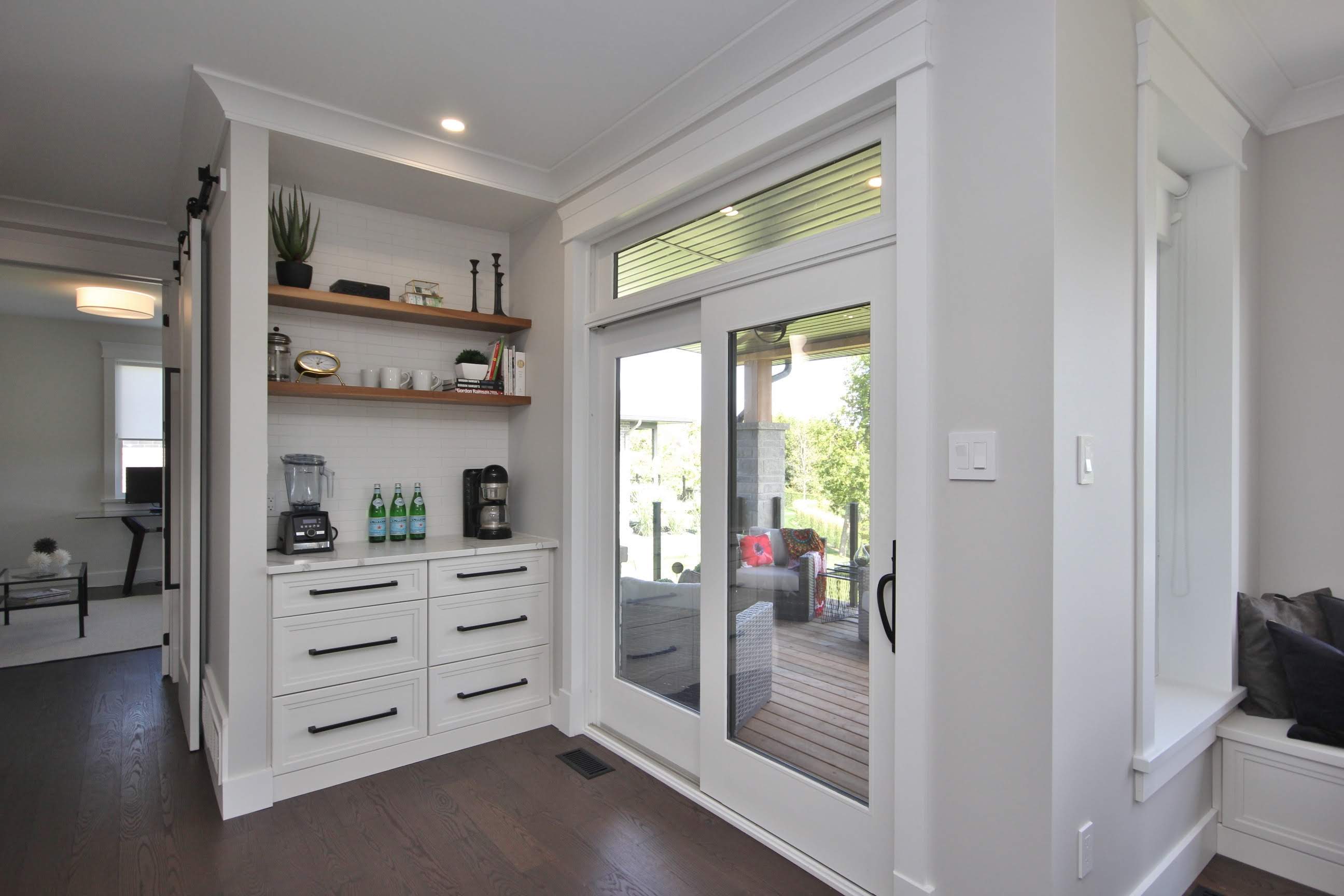 Choose between our GoldenClad®, GoldenWood® and GoldenVinyl® sliding doors:
Our GoldenClad®Sliding Patio Doors are an elegant option that match traditional interior wood doors with colour-matched aluminum cladding on the exterior. Stylistically versatile, they easily fit into most styles of home.
The GoldenWood®Sliding Patio Door is a sophisticated all-wood sliding door, hand-crafted with only the finest components and perfect for cottages and rustic homes.
Our GoldenVinyl®Sliding Patio Doors are designed and engineered to be unlike any others in the industry, with a multi-chambered structure, comfort-enhancing weather-stripping system and premium warm edge spacer.
From here, choose from various hardware, glass, grille and colour options. When you're ready to have your new sliding doors installed, a member of our Certified Installation Team will verify the job details and get to work brightening your home!
Your home has a bright future ahead of it with these value-adding window and door options.
Make Your Home More Energy Efficient With New Doors and Windows
The general public is increasingly invested in making energy conscious decisions, and homebuyers are no exception. Energy efficiency is top-of-mind for new homebuyers who are cognizant of their ecological footprint and want to know that their home is an extension of that green value system. To that end, making your home more energy efficient is great not just for the environment, but for resale value too.
Windows and doors can play a major role in making a home energy efficient. But in order to do so, they need to qualify for energy efficiency labelling by adhering to certain standards laid out by the Canadian Standards Association. To qualify, products must rate well according to a number of criteria, including solar heat gain coefficient (SHGC), U-factor, visible transmittance (VT), R-value and centre-of-glass rating.
These are technical terms, but in essence they measure heat transference. The less heat is transferred by doors and windows, the more energy efficient a home will be. At Golden Windows, we proudly participate in ENERGY STAR® Canada, meaning all of our products are certified by an independent organization (Natural Resources Canada) and meet strict efficiency requirements.
Low-E Glass
For each of our new doors and windows, Golden Windows offers a selection of low-emissivity (Low-E) glass options. Low-E glass emits low levels of radiant thermal energy by minimizing the amount of ultraviolet and infrared light that can pass through, without limiting the amount of visible light. In other words, it keeps your home both properly insulated and gorgeously bright.
When choosing a glass type for your new window, you will have four low-E options:
Clear | Hard Coat Low E (3) – CLLE, a durable hard-coated glass good for year-round cost-savings and particularly good for colder Northern region climates
Soft Coat Low E (2) | Clear – SBCL, a soft-coated low-E glass great for moderate to warm climates
Hard Coat Low E (2) | Hard Coat Low E (4) – LELE, a fourth surface addition that allows you to improve the performance of a unit by approximately 15-20%. It maintains interior warmth in cold conditions.
Soft Coat Low E (2) | Hard Coat Low E (4) – SBLE, a versatile addition: in warm conditions the coating on surface 2 reflects solar energy outside; in cold conditions, the coating on surface 4 will reflect heat back into the room.
An energy efficient home often commands a higher price. To make your home more energy efficient, contact Golden Windows about installing new doors and windows with low-E glass.
More Home Project Ideas for Increasing Retail Value
With their ability to improve curb appeal, increase natural light and make your home more energy efficient, windows and doors play a critical role in resale value. But there's still more homeowners can do. For further projects to increase resale value, consider the following:
Landscaping – increase your curb appeal with this fun summer DIY project. Or, for a more hands-off approach, consult a local landscaping company.
A Fresh Coat of Paint – adding a new coat of paint to your home can be a low-cost way of enticing potential buyers. If you're confident in your abilities to paint within the lines, all you need is a few cans and a roller.
Hardwood Floors – that old, spotty carpeting isn't doing your home any favours. Modern homebuyers much prefer the elegance of a hardwood floor.
Open Concept – layout trends continue to favour open concept, though this resale value project might involve quite an investment.
New Furnace and AC – when selling your home, an out-of-date furnace may have to be replaced as part of the inspection report, which could lead prospective buyers to offer a lower price, or pass on the place completely.
Between these home renovation projects and your new windows and doors from Golden Windows, not only will you have a brighter, airier, more efficient and enjoyable home, but you'll also have a home with better resale value. These are investments in the present and the future. For more information on our products and services, please visit our website.