"Curb appeal" used to be a term exclusive to real estate. A buzzword during the housing boom of the mid-2000s, agents and analysts used it as a handy way to describe the competitive advantage outwardly attractive homes had on the market. When prospective buyers went to look at a home, they would respond more favourably to those that looked good from the curb, and so the term "curb appeal" caught on.
But curb appeal isn't just about real estate anymore. Think of it as your home's first impression. Homeowners who have no intention of selling still want their home to make a positive first impression, whether to guests, neighbours or just the average person strolling down the street. While it's still true that improving curb appeal can help boost your home's resale value and market attractiveness, nowadays it's as much a matter of homeowner pride.
And curb appeal can also have a purpose. Rather than "lipstick upgrades" that only serve to make a house appear pretty, curb appeal projects are a fantastic opportunity to make meaningful upgrades to your home – to save energy, increase safety and even improve the interior experience of the home.
In this article, we'll discuss a few ways you can increase your home's curb appeal this summer, including installing new windows and doors. If your home is not dressed to impress, now's the time to fix that.
Install a New Front Entry System
The front door is often the first thing people see when they approach your home. It's a focal point on the front of your house, instrumental in creating a positive first impression. If it's creaky, faded or peeling, visitors will take note.
Installing a new front entry system is a simple way to improve the curb appeal of your home while also adding value in the form of energy efficiency and safety. But not just any front entry system will do. If you want something that maximizes beauty, safety and energy efficiency, choose a new front door from Golden Windows.
When to Replace Your Front Entry System
It's tough to know when to let something go – especially something as important as your front door. If you're unsure whether you need a replacement, consider the following common reasons homeowners cite for replacing their front door:
The door looks dated.
The door isn't energy efficient, a fact that's reflected in your increasing energy bill.
You want improved curb appeal as well as more natural light in the entranceway.
Your door is broken, worn out or battered by years of use.
Your door doesn't fit your home's architectural style.
You plan on selling your home (either immediately or eventually) and are looking for a good way to add resale value.
Do you see yourself in any of the above reasons? If so, it might be time to close the door on your old system and call Golden Windows for a replacement.
How to Select Your New Front Door
At Golden Windows, we understand that tastes and needs vary. What's stylish in the context of one person's home might not necessarily work for someone else's. That's why our designers and manufacturers strive to offer an array of attractive choices. Whether your home is old or new, big or small, modern or traditional, we have a door that complements your personal and architectural style.
The first step in selecting your new door will be to choose the materials. As far as curb appeal is concerned, either option is fantastic. The decision boils down to your personal preference.
The GoldenClad® Entry System is designed with a maintenance-free aluminum clad frame and comes with a selection of sophisticated steel and fibreglass panel designs that add a modern touch to your curb appeal. The GoldenWood® Entry System is designed with a wood frame, brickmoulding, and a choice of wood grain embossed fibreglass panel designs that add rustic charm and elegance to your home's exterior.
Both options are manufactured in Kitchener and shipped across Ontario and abroad. And both options are designed with the GoldenGuard® sill, an engineered and lab-proven sealing system that prevents air and water leakage while eliminating the need for unattractive door sweeps.
Once you've decided between these two options, you get to have fun customizing your new door.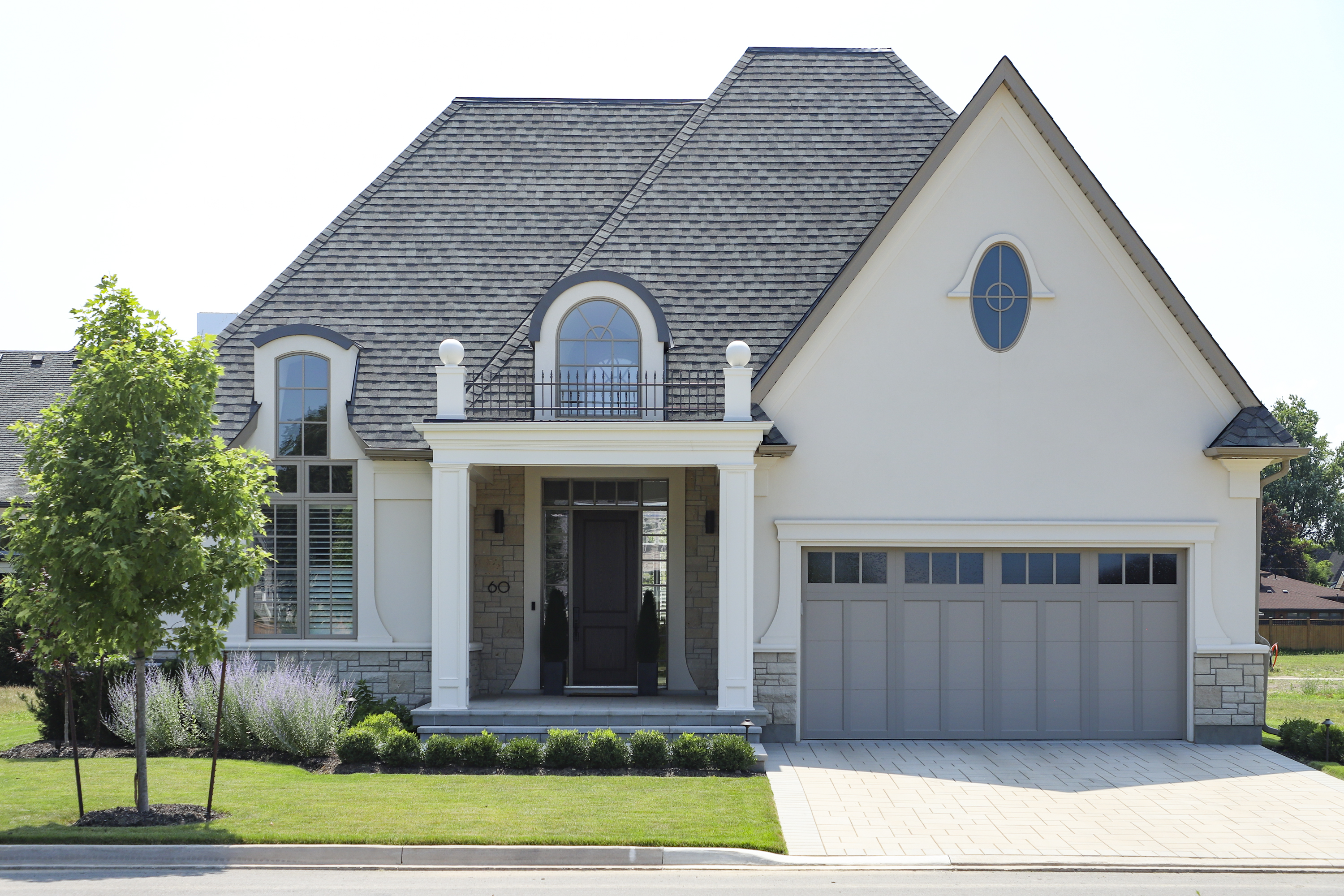 Customize Your New Door
To improve your home's curb appeal, you should have final say on the look of your entry system. Don't settle for a drab, standardized front door. Ask yourself: what would look best given the colour, architectural style and landscaping of your home?
Luckily, when you choose a Golden Windows door, you have plenty of options at your disposal, from the frame colour and door panel type, down to the sidelite, glass, grilles, hinges and hardware.
For colour options, you can choose from six standard frame colours, 28 optional colours or an unlimited number of custom colours. As for the panel, you can get one that is flush, or choose from several panel options, including: 1 Panel Arch, 2 Panel Squaretop, 2 Panel Hollister, 4 Panel New England, 6 Panel, 8 Panel Parliament and many more.
For sidelite options, choose between all glass, kick panel, full lite panel, 3/4 lite panel and 1/2 lite panel. And for grille options, we can create custom patterns, or you can choose from the options we have available: Colonial, Muskoka, Victorian or 2" Horizontal.
Above is just the tip of the iceberg when it comes to customizing your new front door. You have options for Grilles Between the Glass (or GBG,) Simulated Divided Lite (SDL) and removable wood grilles, hardware, accessories and glass. And, to fit your home just right, you can choose from a number of sizes and shapes.
Take some time to explore our website, where we list all the options for your new front door. Together, we can improve your home's curb appeal while staying true to your personal taste, lifestyle and the architectural style of your home.
Install New Windows
Windows naturally draw the eye. Whether they're reflecting the sunlight, or allowing a peek into the home's interior, they are a significant source of visual interest on the front of your house. It's what makes them so special. It's also what makes them so susceptible to scrutiny.
Drab, out-dated or outright damaged windows are a mark against your overall curb appeal. They are also often inefficient, causing you to overcompensate on energy use to keep your home climate-controlled. For curb appeal with a purpose, it's time to replace those outdated windows.
How to Select Your New Windows
As with the front door, you don't just want the standard option – the one-window-fits-all approach. Your windows should be an extension of your personal taste and lifestyle, as well as a seamless feature of your home's architecture and overall aesthetic. They should fit in, even as they stand out.
When it comes time to install new windows as part of a curb appeal improvement project, entrust Golden Windows with the job. Because we're active every step of the journey, as designers, manufacturers and installers, we can offer you a fully personalized experience.
The first step in that experience is choosing the perfect window. Each type of window contributes to your overall curb appeal in a unique way, and each has its additional benefits – including ease of use, ease of maintenance and ventilation. Here to help you decide are quick descriptions of the types of windows we offer:
Hung Windows: Available in single and double hung, these windows have a classic appearance. With Double Hung Windows, the top and bottom sash both operate and pivot towards the interior; on Single Hung Windows, the top sash is fixed and the bottom sash operates. Because they are non-protrusive, hung windows are often found in rooms that face alleyways, laneways or porches, but they can also be found on the fronts of houses.
Slider Windows: Horizontal in design, they come with sashes that slide back and forth rather than up and down like hung windows. A classic fixture in many homes, modern versions of the Slider Window use low friction brass rolling sliders, allowing for smoother operation.
Awning Windows: Designed with hinges at the top, Awning Windows open outward from the bottom, allowing for excellent ventilation.
Casement Windows: These windows are designed with hinges on the side, and open completely, like a door. They provide excellent ventilation and are easy to maintain.
Bay & Bow Windows: Bay Windows are three or more sided windows that protrude from the exterior wall of a home at 30° or 45°. Bay Windows are created by joining multiple windows together to create a curved shape. And bow windows are essentially semi-circular bay windows. Both are fantastic for curb appeal, adding texture, depth and visual interest to the front of a home.
Architectural & Picture Windows: These windows are typically custom-made to accent the particular design or feel of a home. They come in a number of shapes, including half rounds, quarter rounds, gothic, elliptical, segmental, etc. Whatever you can imagine!
For a clearer picture of what these different types look like, visit the windows page of our website, where you will also find details on the different materials available for each, as well as product details.
Customize Your Windows
As with our doors, there are limitless ways to customize your new windows. Choose from a variety of colour options, glass and grille options, hardware finishes and optional accessories.
And once our Certified Installer Team installs your windows, you can further improve curb appeal by styling your windows to your exact tastes. Style them with any number of window treatments: sophisticated pleated panels, decorative valences or cornices, regal swags or minimalist Roman shades, to name a few popular treatments. Curb appeal projects are an opportunity to express yourself. Have fun with it!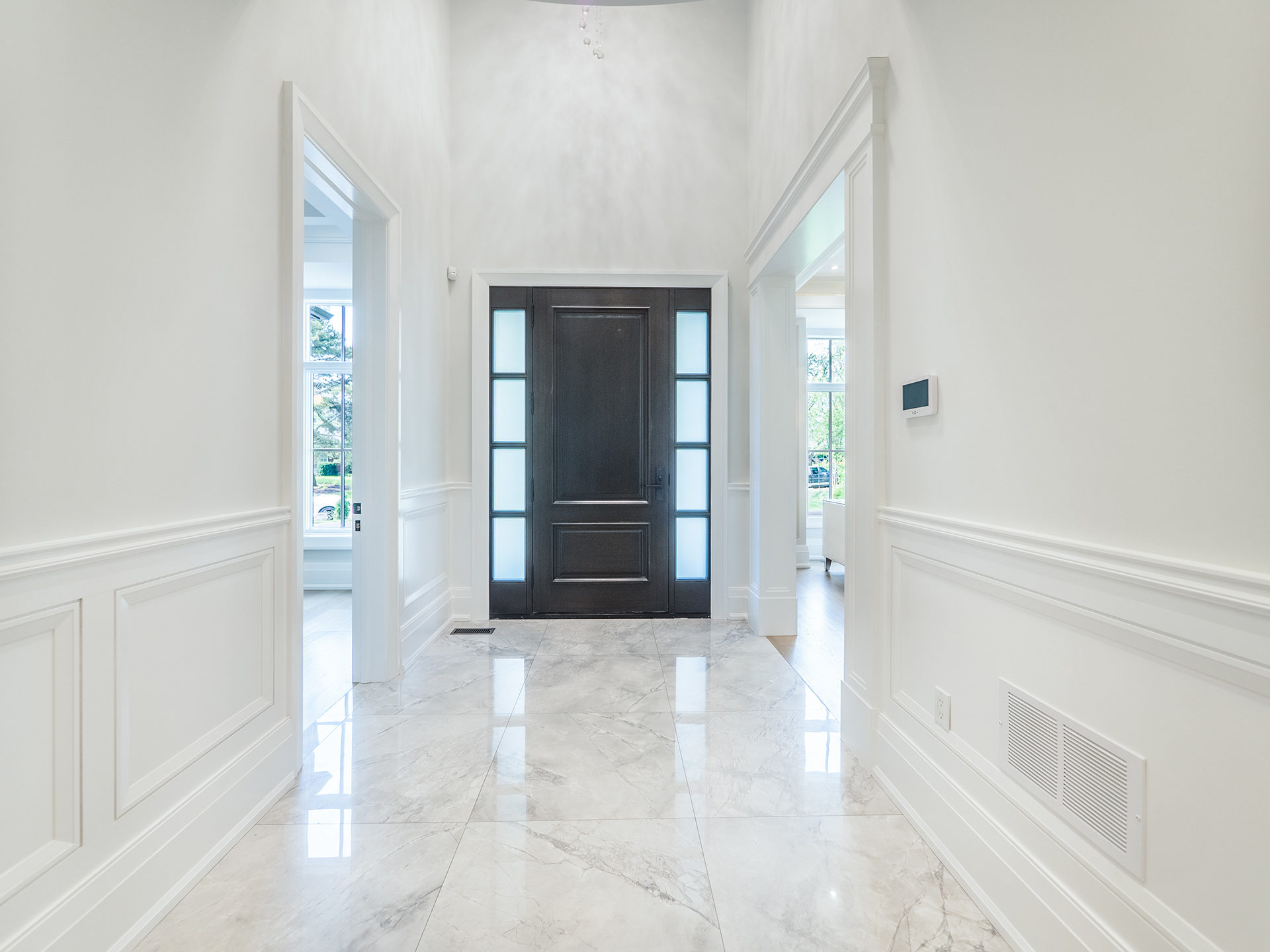 Window Maintenance
A large part of ongoing curb appeal is maintenance. As any window ages, it will need to be cleaned and maintained to keep it looking like new.
For our windows, we recommend cleaning all the operating hardware, hinges and tracks twice a year, lubricating with silicone spray or light oil. For vinyl and aluminum surfaces, we recommend simply using a mild soap and water (additionally, automotive paste wax can be used to renew the lustre of the aluminum). Every year, inspect the face caulking to ensure that it's still properly sealed against the glass. And, as for the glass, we recommend going gentle – avoid using any abrasive materials or cleaners.
If it helps, set dates in your personal calendar to keep up the maintenance. The better your windows are maintained, the more mileage you will get out of your curb appeal investment.
Other Tips for Improving Curb Appeal
Windows and doors are the focal features of your home, but you can improve curb appeal in other ways as well. Anything in the curb's sightline is fair game: the siding, paving, porch, steps, downspouts, yard and even the mailbox. You can't undertake everything at once, but over time you can turn your house into the envy of the block.
Here are a few simple curb appeal projects to get you started:
Add Lighting: Curb appeal does not take the evening off. Add accent lighting and walkway lights to spruce up your home's nighttime appearance.
Redo the Walkway: If the door is the main focal point of your home, the walkway is what directs the eye there. Stepping-stones, brick and pavers are among the most versatile options, fitting in with nearly every exterior.
Slap on a Fresh Coat of Paint: An inexpensive way to add immediate curb appeal, new paint can wake up the home's exterior and make even old homes look new again.
Add New House Numbers: Often overlooked, house numbers can really "set the tone" for your overall curb appeal. Choose a modern font to express sophistication or a classic font for a more timeless look.
Get Your Green Thumb Out: There is no single, correct way to have a front garden. Some homes benefit from a lush, untamed and rustic look, accented with hanging planters and arches. Others benefit from tidiness, restraint and symmetry. The only way to miss out on your garden's curb appeal potential is not to have one at all.
While we are cautioned from a young age not to judge a book by its cover, the plain fact is that – at least where houses are concerned – we all do. Luckily, with the right entry system and windows, as well as a few other simple projects, you can easily improve your home's curb appeal this summer.