New year. New you. New windows.
With each new year, it's fun to look back at what worked and what didn't. It's also good to look ahead to the future and what we hope for. As we say goodbye to 2021, it's time to start looking forward to 2022.
When we think about our hopes and goals for the year ahead, that also pertains to what we want for our home. If you wish to improve your home's appearance, increase your energy efficiency, or make your home more comfortable to suit your current needs better, windows are a great place to start when looking at what renovations and changes we wish to make to our homes.
Windows, as with all things, have trends that come and go. Some trends may have a quick 15 minutes of fame, and others may stay for a while. Keeping up with trends when renovating can help boost the curb appeal and retail value of your home. Here at Golden Windows, we always notice what our customers are choosing for their homes and see when specific trends emerge.
As the manufacturers of the finest windows and doors in London Ontario, we pride ourselves in offering products that are the perfect mix of timeless and trendy. This mix ensures our customers can keep up with the hottest trends while still having a lasting appeal that will not quickly go out of style.
Let's look at trends that are growing and that we expect will take firm hold this upcoming year ahead.
From Functional to Focal Point
Trends can be interesting and take even the experts by surprise. An emerging trend is windows going from being a functional part of the design of a room to the focal point of the design of a room.
While previously, it was common to have a similar coloured window frame as the walls to allow them to blend into the background. These were usually light and neutral colours as well to provide an airy, bright environment. But now, an increasingly popular style is using a contrasting colour on the exterior and interior of window frames to serve as a bold accent point.
This style is often used in a room with light-coloured walls and using it to create a particularly striking visual contrast. This bold look draws the eye and incorporates windows into the design of a room now — windows have gone from functional to focal points in home decor.
Black has been the most popular colour choice for interior windows, but there are other bold options to consider, including slate, sable, and even burgundy. To explore more colour options, visit our showrooms or contact us to set up an appointment to see exact colour and finish samples.
Reduced Noise
With more time spent at home during the past few years, some of us may have begun to notice sounds and noises that previously were overlooked. The industry is seeing a significant increase in windows and doors that offer noise control. Whether it's noise from city life, industrial, heavy traffic, or airplanes, when we're at home, we want to be able to enjoy the peace and quiet. The desire for silence is why many homeowners are looking for ways to reduce the noise entering their home. One of the greatest ways to do that is with new windows.
While most known for their energy efficiency, there are plenty of other triple glazed windows benefits. They increase security, reduce condensation, and can significantly reduce the noise coming into your home. Installing these windows is a surefire way to get the noise control that homeowners are looking for.
Glass Partitions
Open floor plans are prevalent in homes as they provide a laid-back feeling and allow for natural light and plenty of ventilation. It does have its drawbacks, however, and sometimes we just want some privacy. We all have different needs at different times, and sometimes we need alone time to get some work done or recharge our batteries.
With many people still working from home, finding a quiet space to work or take a business call can be difficult. It's also making the ability to separate work and home life a challenging endeavour. Having a separate room or specific area set aside for work can help set boundaries between time spent working from home and time spent enjoying being at home.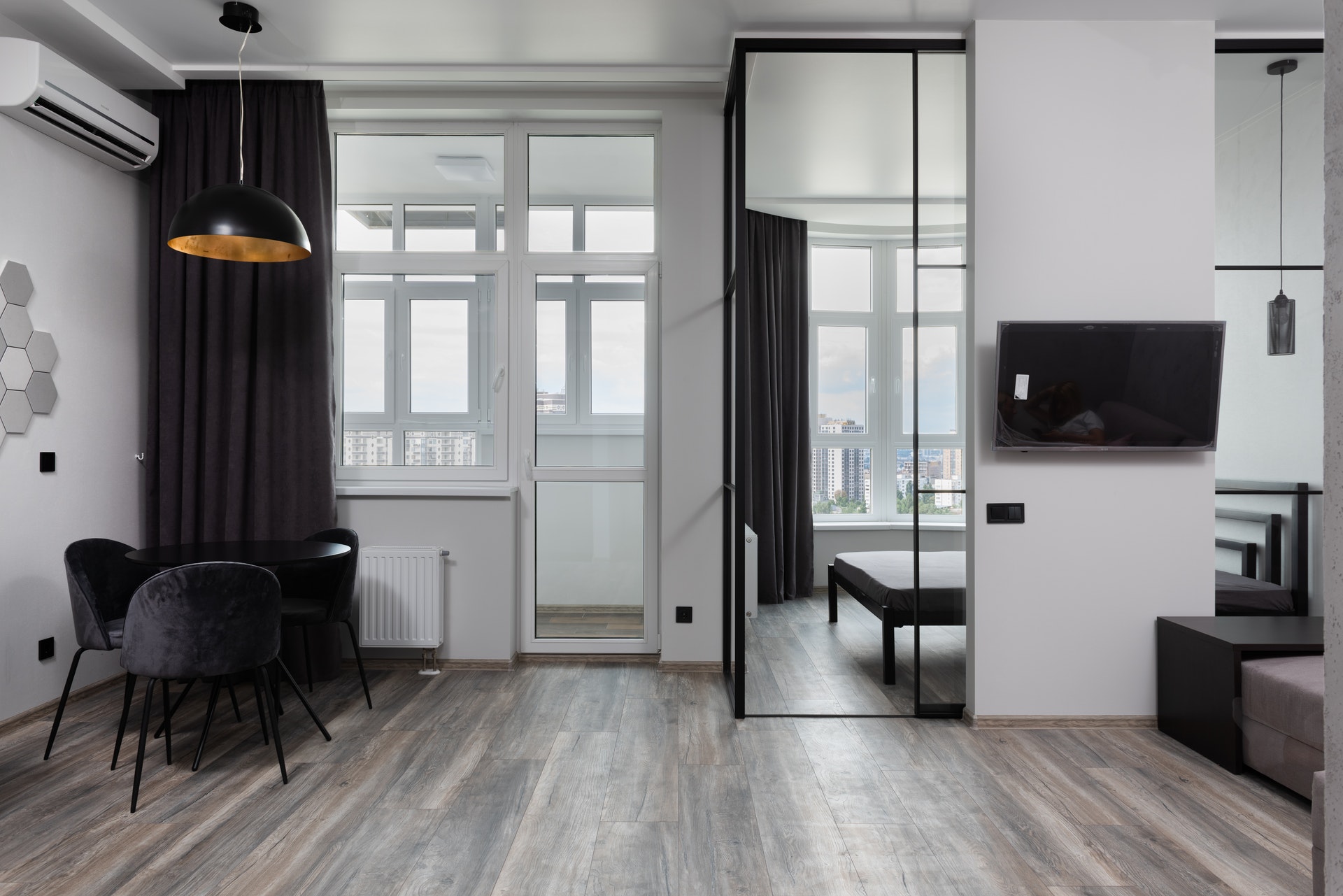 Credit: Max Vakhtbovych via Pexels
Also, with more people being at home for more extended periods, we may find that having no divider between rooms, like the kitchen and living rooms, isn't working for us anymore. If one person is trying to watch TV and another person is cooking, it can create a hectic environment for everyone. Creating some separation between rooms or spaces can help everyone enjoy what they're doing separately.
Of course, it's not always possible to create a permanent private room or home office. And with an increased desire for natural light, we may not want to put up permanent walls that block the sunlight. Defining smaller areas with a glass partition is increasingly popular. It can help provide an element of privacy, create separation between spaces while still tying everything together. These partitions can provide a quieter area to work or study while still allowing an open aesthetic and allowing plenty of sunshine and fresh air to make its way into your home. Having a defined area can also help to create a boundary between work and home life. For even more privacy, homeowners can opt for a foggy glass effect to further separate spaces.
Energy Efficiency
It will come as little surprise to most people; energy efficiency is a trend that began decades ago but only seems to grow as time goes on. More and more consumers are making environmentally-conscious decisions in all aspects of their lives, from the purchases they make, to the vehicles they buy and the investments they make.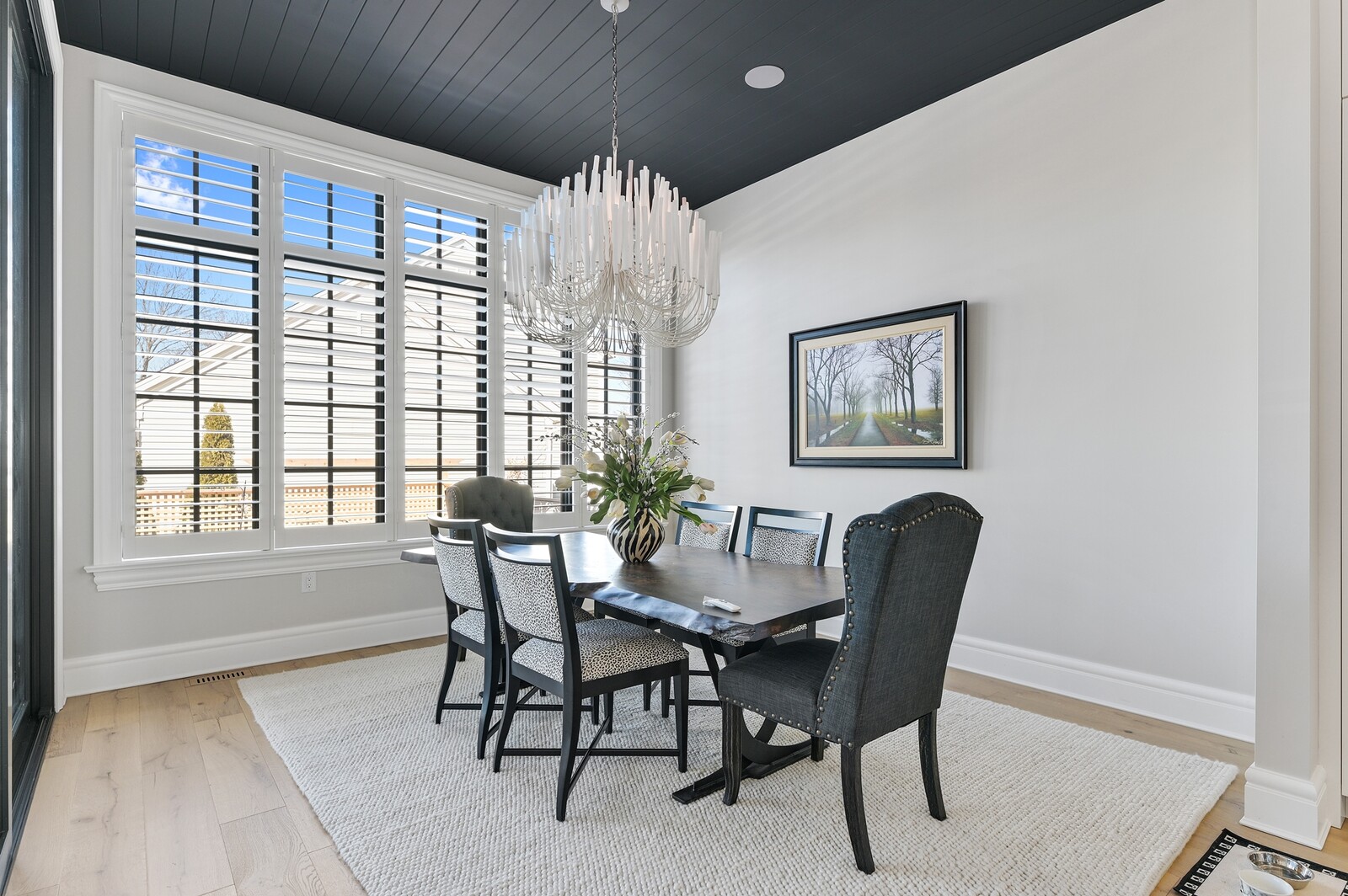 With that in mind, energy efficiency in windows is vitally important, which is why there are window energy ratings to identify a product's overall energy performance. In Canada, the Canadian Standards Association (CSA) A440.2 standard or the National Fenestration Rating Council are the accredited bodies used to determine the energy rating of windows, doors, and skylights — including the products we offer here at Golden Windows.
We also include ENERGY STAR® participation among our professional products and services. We're committed to helping homeowners across Southern Ontario find the right window and door treatments for their homes, with energy efficiency and affordability at the forefront.
We have plenty of energy efficient options that we offer our customers here at Golden Windows, most notably our triple glazed window options. The added insulation and the associated cost savings of triple glazed windows are a big draw for homeowners. Having a third pane of glass and an extra layer of argon fill means it better resists heat loss and air leakage and lowers the window's solar heat gain coefficient.
Some of our triple glazed products include our GoldenVinyl® Triple Glaze, which combines energy efficiency with a sleek look. There are also our GoldenClad® Triple Glazed windows, which fit well with rustic decor. If you're looking to replace your patio door, we also offer our triple glazed Performer Patio Door.
Mixing Indoor and Outdoor Living
This is a popular design element that had emerged slightly before the pandemic and took off amid successive lockdowns. After being confined to our homes for so long, customers can't seem to get enough of merging their indoor and outdoor spaces, a style that stems from a Nordic architectural trend. It's when one blends their home with its natural surroundings using operable windows, skylights and sliding patio doors. This provides a closeness with nature while also shielding residents from the harsh aspects of Nordic winters.
The benefits to this trend include the abundance of natural light, fresh air and a sense of openness. The inclusion of operable windows also allows for plenty of fresh air to make its way into your home. This trend of blending indoor and outdoor spaces became popular when we were in lockdowns, and with new variants emerging, we don't anticipate it going away for a long time to come.
This trend can be achieved by adding skylights, floor-to-ceiling windows to maximize views and natural light and plenty of operable windows to allow for plenty of fresh air. Large patio doors offer the best of both worlds, seamlessly blending the barrier between outdoors and indoors and providing light and air. Harmonizing your home with its natural surroundings also provides you with the opportunity to create additional living space for your family as it makes the outdoor area more visible and accessible. Design tip: To increase the outdoor feeling in your home, hang mirrors opposite your large windows. This will also help bounce the light around and make the space feel bigger.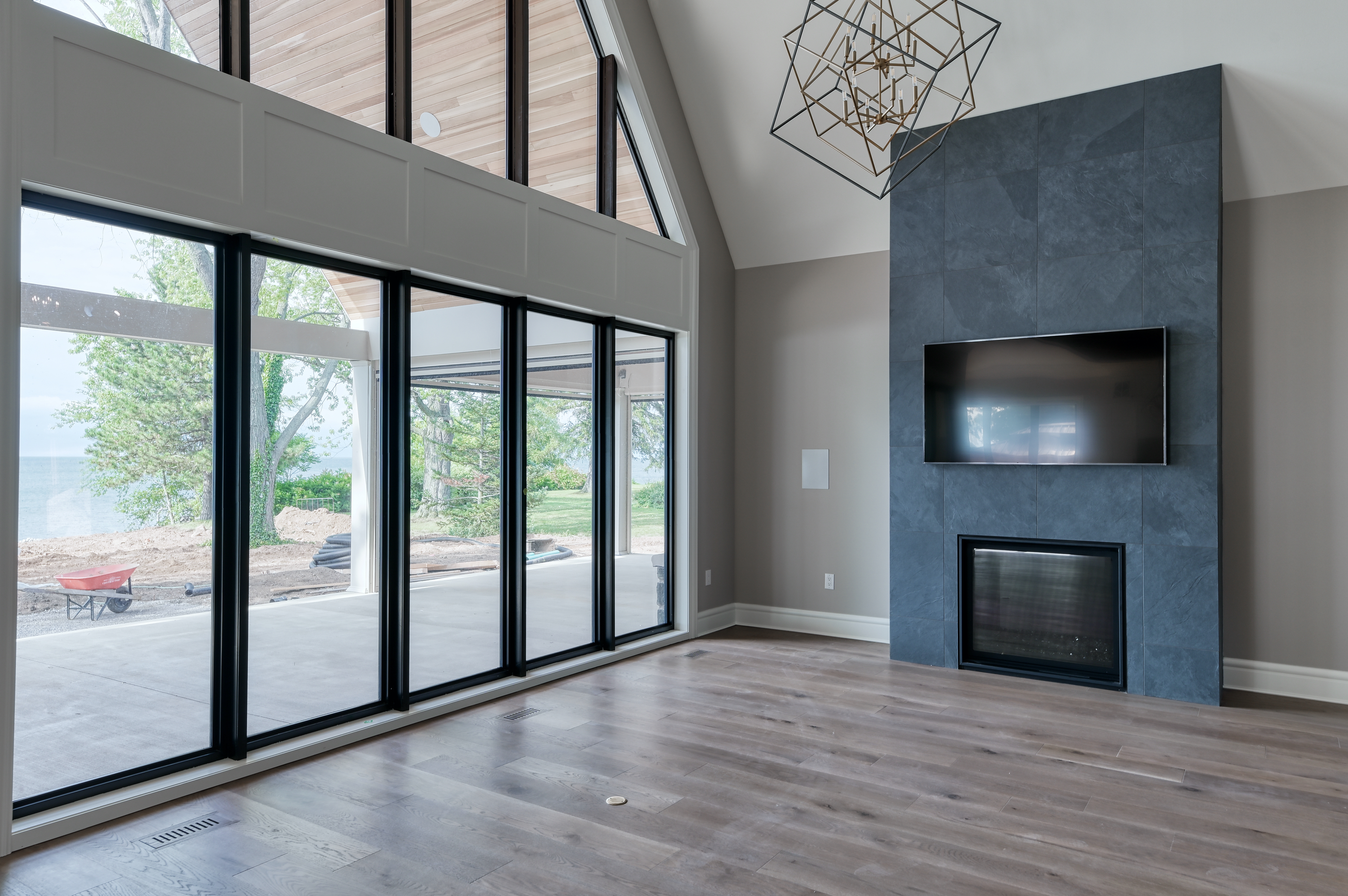 Bold Door Colours
While homeowners often chose neutral, toned-down colours for their front entry system in the past, we're seeing customers opting more towards bolder options. Just as we're seeing with window frames being incorporated into the design of a space, many homeowners are choosing to set their home apart with a contrasting door.
Bright, bold colours can really pop and draw attention. It can be surprising how much a bold colour can distinguish your home from others in the neighbourhood. At Golden Windows, we provide many different customization options for all our front entry systems and offer six standard and 28 optional colours, including black, cranberry, and old-world blue.
Open Views
Getting an abundance of natural light in your home can make a room feel lighter, brighter, and more inviting and improve overall well-being and mood. A desire for more natural light and fresh air in our homes can be met with oversized windows offering wide-open views.
Large picture windows provide an unobstructed view and are perfect if you are lucky enough to look out over a beautiful view. Floor-to-ceiling windows offer similar benefits, with an even bigger viewpoint and allowing for maximum natural light. Bay and bow windows protrude from your home and therefore provide the ability to get a broader perspective.
A decision for many of these options will be whether to include a grille. Clear, unobstructed windows provide the best views; some homeowners will still be drawn to a simple grille pattern, such as our Colonial or 2" Horizontal. These options will maintain a minimalist appearance while adding some visual and geometrical intrigue. But this will remain a personal choice depending on your taste and style.
Despite the plentiful options listed above, trends are suggestions and should only be adhered to if it's what you want. They indicate what dominant styles, approaches and products other homeowners have been selecting. Therefore, they can be valuable as a starting point for ideas to help you explore what you are looking for or hoping to avoid with your new windows. But the final decision is always your call and should reflect your personality and lifestyle.
No matter if you choose to go trendy or timeless, contact Golden Windows to explore your options and get exactly the windows and doors that you're looking for. Whether you're looking for new windows or doors or want to request service on the ones you have now, we're always ready to help.