Since 1961, Golden Windows has been a family owned and operated window and door company that is committed to providing quality products and exceptional customer service. By focusing on the needs and desires of our customers, the business has continued to grow and expand into an integrated designer, manufacturer, and distributor of products servicing Ontario, portions of the United States, and other countries such as the Cayman Islands, Great Britain, and Japan.
Both homeowners and professional builders have come to know us as a reliable source for supplying well-crafted windows and doors. Our highly-skilled team operates out of a facility in Kitchener, Ontario, and utilizes the latest technology to produce aluminum, wood, and vinyl windows and doors that exceed our customers' need for energy efficiency, natural air flow, and easy cleaning and maintenance. We achieve this by partnering with our suppliers and quality builders, renovators, and dealers, to meet the high standards set by our clients.
If you are a professional home builder with questions about our products, we encourage you to get in touch with us so we can connect you to a door and window specialist at Golden Windows who would be happy to answer your questions. Our staff is highly knowledgeable and can help you make the right choices when it comes to selecting from our wide range of products.
With so many styles, materials, and colours to choose from, it can be difficult to know which products would be the best choice for your new build or renovation. Here is a handy guide that will give you some tips for choosing new windows and doors for your next project.
Consider Function-Type
Before thinking about style and colour, the most important thing to consider is function. Every room has its purpose and will be limited by a certain amount of space. You will need to find the appropriate windows and doors to serve this space, not only in regards to their function but also so that they are used in consideration of the space available.
For example, exterior terrace doors (while elegant and beautiful) are not ideal for small spaces as they function by swinging open and closed. If the home has a small kitchen, then you cannot have the doors swing inward, but if the deck or yard is limited in space, then swinging outwards isn't ideal either. In this case, you would likely want to consider using a sliding patio door instead that slides open horizontally, that way no additional space is used up.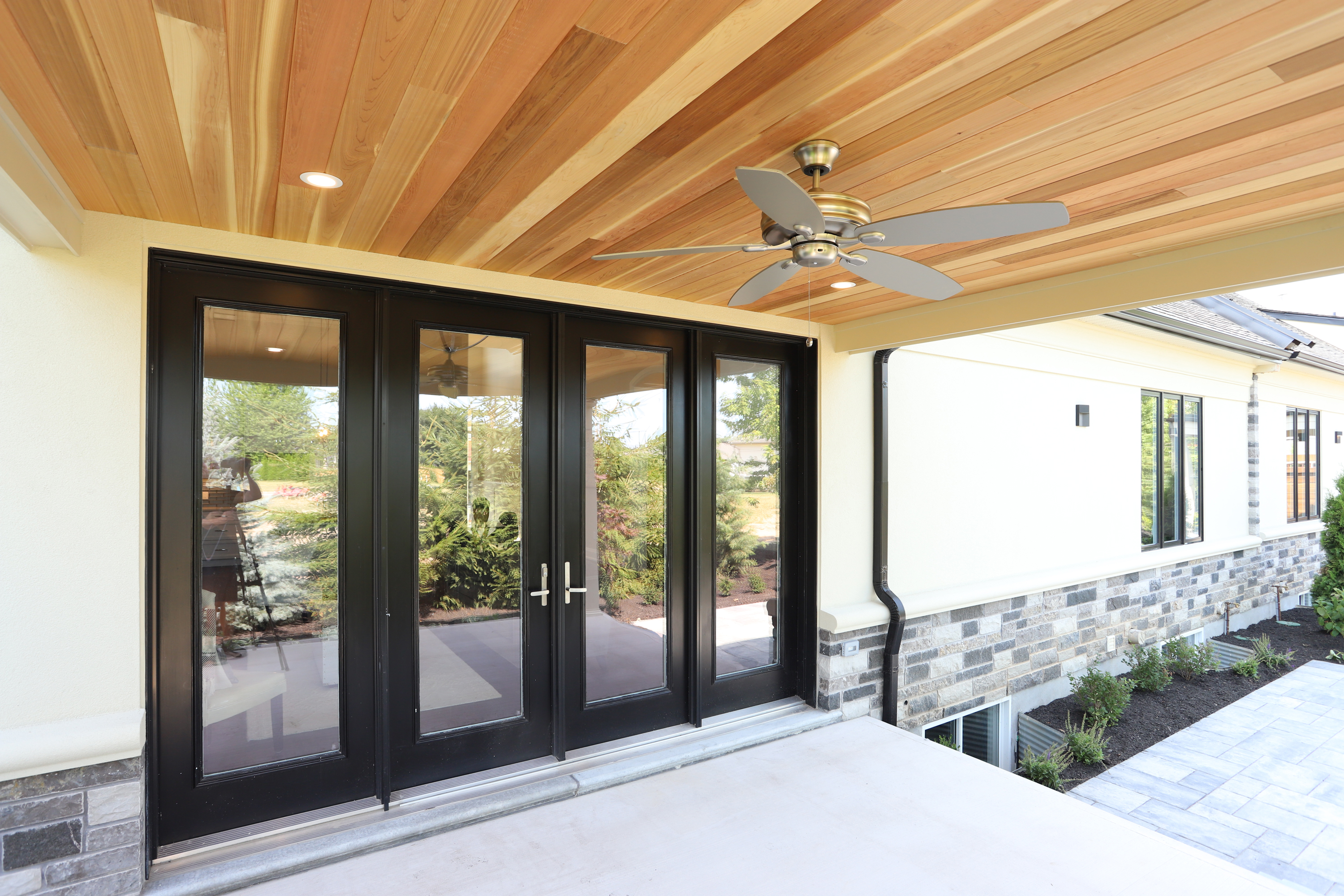 Golden Windows is able to offer sliding patio doors that can match the style of any home. With a variety of exterior colours, glass types, and grille patterns, you don't have to worry that you won't find something to compare to a terrace door. That's why function consideration always comes above everything else – you can always work with what you have to make it match the design of the house.
So before choosing the products for your build, ask yourself these three important questions:
What is the function of the room the windows and doors will be installed in? (i.e., is it a kitchen, bathroom, living room, basement space, bedroom, etc.)

How much space do you have to work with in the room that you're looking to fill with a window or door? Is it possible to fit an in-ward or outward swinging window or door (also consider the outside space as well)?

How large is the wall where the window will be installed? Determining the size dimensions you require will help you when installing a new window
Make sure you carefully note the size of the space you have available, as well as the exact dimensions you will need for your windows and doors. Golden Windows has a number of size-options available for both our windows and doors, and we can also make custom shapes and sizes if required.
Material Considerations
After determining the function of your windows and doors, the sizes, and how many you need, you should next look at the kind of materials your products will be made of. As a Canadian owned and operated business, Golden Windows understands the importance of durability in our products, as well as their ability to withstand harsh weather conditions – including both heat and the cold.
As a professional builder, it's important that you install energy-efficient windows because homeowners are looking for energy-efficient products that will save them money, lessen their carbon footprint, and also make the inside of their home more comfortable. As ENERGY STAR® participants, our products are designed for maximum energy-efficiency no matter which materials you choose. Here is a brief look at our speciality product lines and the materials we use for them:
GoldenClad®
Our GoldenClad® product line offers a beautiful wood interior and a maintenance free, extruded aluminum-clad exterior for homes. These wood and aluminum windows and doors come in six standard exterior colours with an additional 28 optional colours to choose from. Custom colours are also available upon request.
GoldenWood®
Our GoldenWood® products are perfect for log homes or to maintain the authenticity of heritage homes. The wood interior and exterior combined with our in-house mill allows you to customize your windows to fit almost any application from gothic windows to custom size double hung windows with a camber sash.
The exterior doors in this line are designed with a wood frame combined with brickmould, which allows for your choice of various stains or paint colours. The possibilities are endless.
GoldenVinyl®
Windows: Our 3000 and 5000 series both offer a maintenance-free exterior and a wide selection of colours. Choose standard white or upgrade to taupe, golden sable, or black. There are 28 optional exterior colours to customize your look even further. Our 5000 series includes an exterior Ogee profile to add depth and dimensions to your windows.
Sliding Patio Doors: Our GoldenVinyl® Sliding Patio Doors are designed and engineered to be unlike any other in the industry, featuring reinforced construction and energy-efficient performance. With a multi-chambered structure, comfort-enhancing weatherstripping system, and a premium warm edge spacer, we have ensured that these sliding doors offer the best durability and energy-efficiency on the market.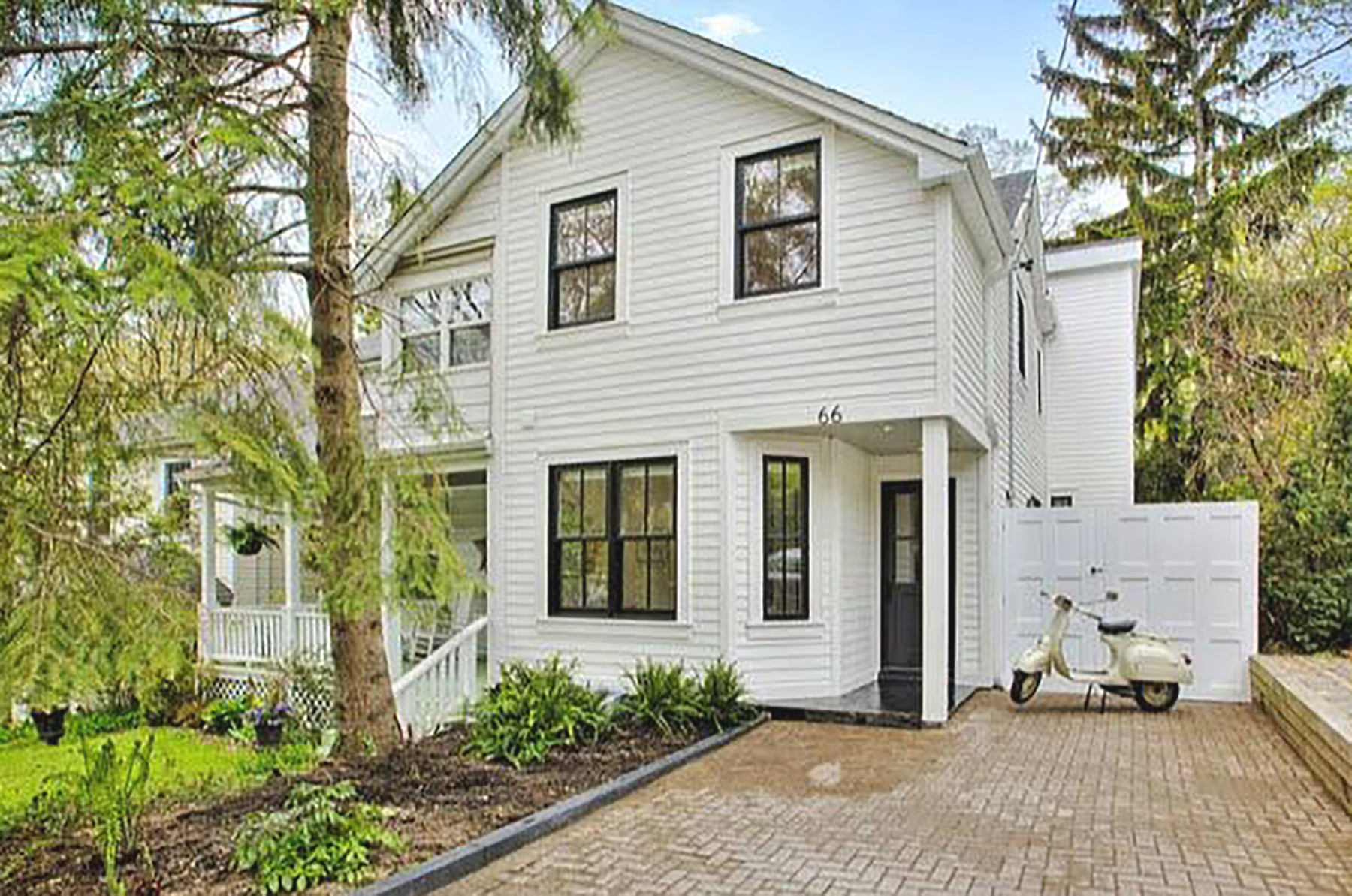 Wood vs. Fiberglass vs. Steel Doors
When it comes to choosing an entry doorway system, you typically have the option of choosing between wood, fiberglass, or steel panels. Here is what you need to know about these different door materials.
Wood-panel doors do not perform nearly as well as fiberglass and steel doors in regards to energy-efficiency, security, and resistance to the elements. Golden Windows does not sell wood-panel doors because of this, though we do have our GoldenWood® entryways that come with a wood frame, brickmoulding, and a choice of stain or paint grade finishes.
If you want your door panel to look like wood, fiberglass is a great option as it is available with a smooth surface or embossed wood-grain texture and can be either painted or stained. Fiberglass doors are a practical choice for homes because they are lightweight, durable, and versatile. They also do not rust, are resistant to denting and warping, extremely weather-resistant, and are easy to maintain.
Steel is also great because it is an affordable alternative compared to fiberglass. While they are low maintenance, steel doors can become dented and rust over years of wear and tear. While energy-efficient, they will lose their effectiveness if decorative glass panels are added.
When choosing between steel and fiberglass, it really comes down to your budget as well as the overall look you and your client are going for.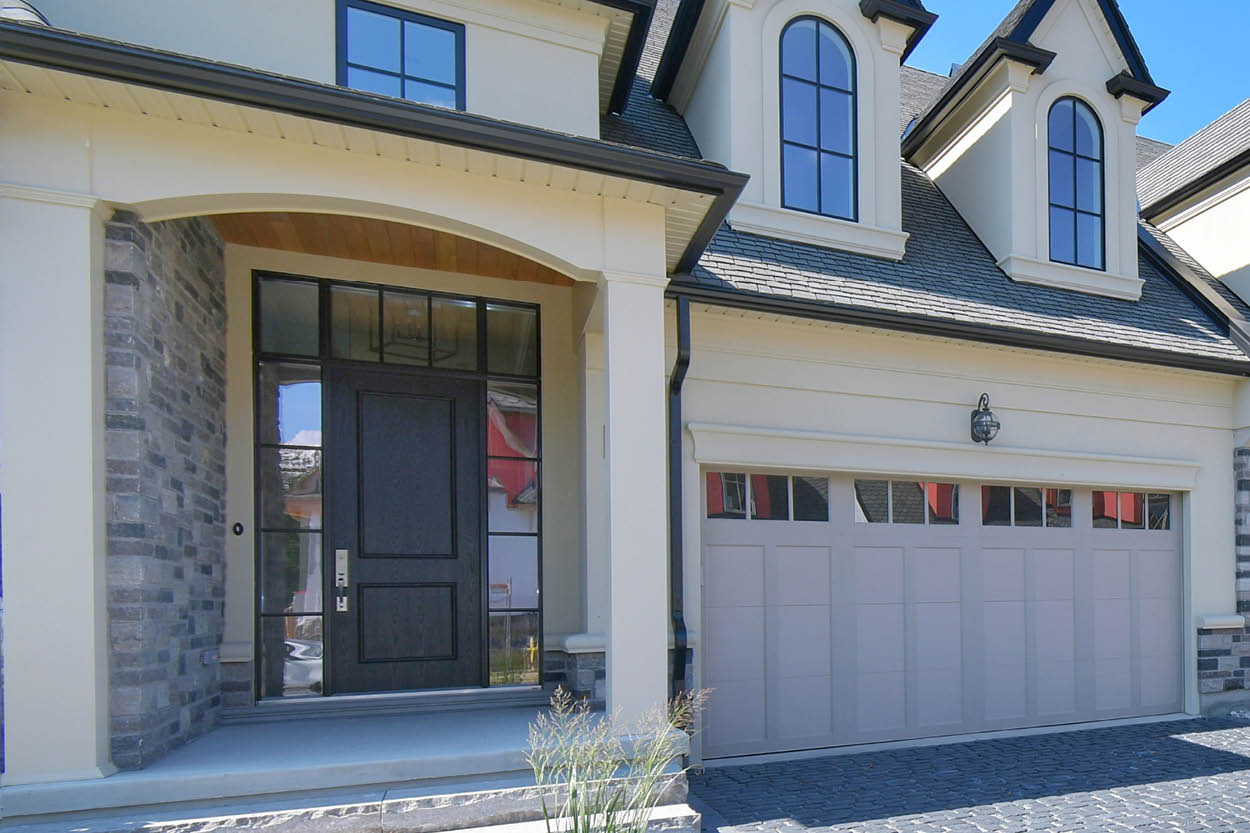 Design Considerations
Now that functionality and materials are out of the way, you will next need to consider overall design of the project and how the windows and doors will fit into it. Obviously there is a level of importance here because windows and doors can have a huge impact on the aesthetic of the home and can really set the tone of what's to come when viewing the exterior. The front-facing windows and door basically function as the "face" of the entire house.
Here are some things to keep in mind when making your selections:
Cohesiveness:

The windows and doors used throughout the house should have a similar style and match throughout. This can be achieved primarily with the frame material and colour, as well as with grille options.

Compliments the home:

Consider the current architectural design of the home – its shapes, colours, and overall style. Is it modern, classic, a mix of both? The design of the windows and doors you choose should complement the home's style. Be sure to ask one of our Installation Sales Representatives for advice if you are unsure of what your best options would be.

Functional beauty:

Sometimes a window or door's function can simply be to make a space more beautiful. A dark living room can be made much brighter with a beautiful bay or bow window with a wide view of the front yard. The natural light will brighten the interior, making it a more appealing space to live in.

Resale value:

Consider that down the road your client may want to sell their home. The design you choose needs to be timeless and not simply styled to suit a current trend.

Versatility:

Lastly, consider that new homeowners may want to make renovations later to change the up style of their home up. That's why there might be some value in choosing windows and doors that match well with a number of home design styles.
Again, it can be very difficult to balance all your options to come up with the most ideal choices for your projects. That's why our specialists are always available and happy to offer advice based on their years of experience.
Colour Considerations
This one ties in really closely to design considerations. It's last on the list because the colour scheme of the home should be decided first before selecting the colours of the frames, grilles, etc., for the new windows and doors.
Many builders may be tempted to choose these first, or to choose colours that will contrast with the colour scheme of the overall home. While this may serve to create a dramatic effect, the safer (and often wiser) option is to choose something timeless (as we noted before) that will work with whatever the homeowner has in store. A more subtle option will also be more likely to work seamlessly with the overall design, and will also not offend anyone's design preferences.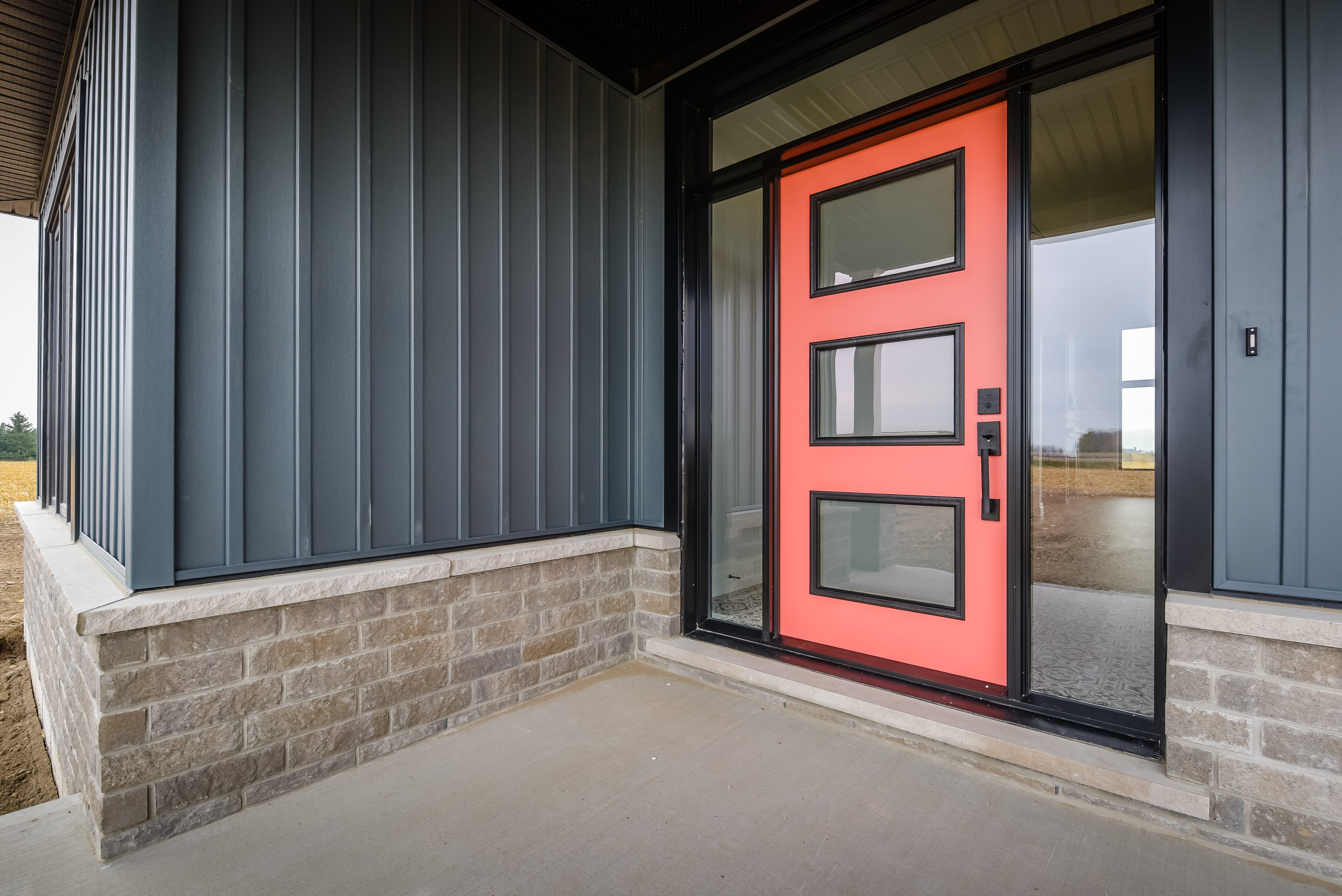 Golden Windows Has Everything You Need
As a designer, manufacturer, and supplier of quality windows and doors, we have everything you need to complete your project. We make everything from the most common window styles to custom styles designed with whatever specifications you have in mind:
Awning:

Made with hinges at the top, they open outward, allowing for great ventilation no matter the weather condition.

Casement:

These windows swing outwards from the side and open completely, allowing for maximum natural airflow.

Hung:

Made with operating sashes that move up and down, allowing for ventilation on the top, bottom, or both. Since they do not open outward, hung windows are an ideal choice for rooms that face walkways, porches, or decks.

Slider:

Horizontal in design, they come with sashes that slide back and forth rather than up and down like hung windows.

Bay & Bow:

Bay Windows are three or more sided windows that protrude from the exterior wall of a home at 30° or 45°. Bow Windows are created by joining multiple windows together to create a curved shape. In essence, a bow window is simply a bay window that is semi-circular.

Architectural & Picture:

These windows are typically custom-made and used to add a particular design or feel to a home. They come in a number of shapes including half rounds, quarter rounds, gothic, elliptical, segmental, etc., basically, whatever you can imagine. While not designed to be able to open, but they can be paired with other kinds of windows that do.
So if you are a professional builder who is looking for a supplier of quality windows and doors, then be sure to give Golden Windows a call. We are confident that we will exceed your expectations.