It's about this time of year, when the fresh heaps of snow turn to slush on the ground, that Ontarians start daydreaming about the cottage. For many, it's the light at the end of a long winter tunnel, promising warm weather, cool swimming and exciting activities.
In your eagerness to return to the cottage, you may also be thinking about renovations – to maximize your enjoyment of the space and ensure that it stays efficient and secure year-round. Cottages don't have to be drafty, drab and dated. They have the potential to be chic, craftsman-oriented and energy-efficient with a few simple upgrades.
Make the most out of your spring, summer and early fall in the country – from May 24 to Thanksgiving weekend – by undertaking a few shrewd renovations. At Golden Windows, your expert Kitchener window company, we have several products to make your cottage into a sanctuary. Below, we've compiled a spring guide to cottage renovations, complete with tips and product recommendations to inspire your next project.
Improve Your Cottage Experience with Triple Glaze Windows
In the context of windows, "glaze" refers to a pane of glass. Single glaze windows have one pane, double glaze have two, and – as you might guess – triple glaze windows feature three panes. Each pane in a triple glazed window from Golden Windows is low-emissivity glass, meaning that it allows in maximal light while minimizing energy loss. And each pane is separated by an argon fill: a colourless, odourless, inert gas that improves thermal insulation by reducing heat transfer.
This added layer of glazing carries several benefits for a cottage owner. In this section, we'll list three advantages of upgrading your cottage windows to triple glaze.
Energy Efficiency
The main reason homeowners and cottage owners choose triple glaze is for efficiency. That extra pane of low-emissivity glass paired with the added argon fill makes a world of difference in regards to thermal insulation. Replacing your windows with triple glaze can save you money on your energy bills and mitigate your home's carbon footprint by keeping energy where it belongs: indoors.
The triple glaze windows from Golden Windows even meet Energy Star Canada's requirements (an energy rating of equal to or greater than 34) for the coldest zones in Canada, meaning that, wherever your cottage is in Ontario, it will benefit from triple glaze protection.
Noise Reduction
You cannot stop the jet-skis from buzzing around the lake, or the teenagers from blaring their music on the dock, or the kids from playing a loud game of bocce in the garden. You wouldn't want to – after all, everyone deserves to let loose at the cottage.
You can, however, reduce the amount of outdoor noise that penetrates your cottage. For a more relaxing indoor experience, replace your old windows with triple glaze windows. Often, older cottage windows are only single-paned, meaning they do little to muffle outdoor sound. Use triple glaze windows, alongside other soundproofing measures, for greater acoustic insulation.
Year-Round Safety
Cottages are unique in that they are expensive investments that lay dormant and unoccupied for much of the year. Naturally, you want to keep them safe in your absence.
Below, we'll discuss how new doors with an innovative locking system can deter potential break-ins, but you can also add security with more robust windows. According to crime statistics in Canada, most illegal entries are through a ground-floor window or door, often without the use of sophisticated tools. This Telegraph article outlines how, in addition to increasing energy efficiency, heavy-duty triple glaze windows act as a security deterrent because they are difficult to break.
Triple glaze windows aren't a catch-all solution to break-ins, but they can be a critical component of your overall security efforts.
Create a Sunroom with Picture Windows
One of the reasons people renovate their cottage is to capitalize on the property's existing assets. And what's one thing a summer cottage has in abundance? It enjoys plenty of natural light.
A popular addition or alteration for cottages is to create a sunroom. Some opt to add on space by constructing a new addition, while others choose to convert an existing patio to a four-season enclosure by walling it with windows.
Either way, you need the right windows. All our window products would be suitable for the job, but for a floor-to-ceiling, energy-efficient option, consider picture windows.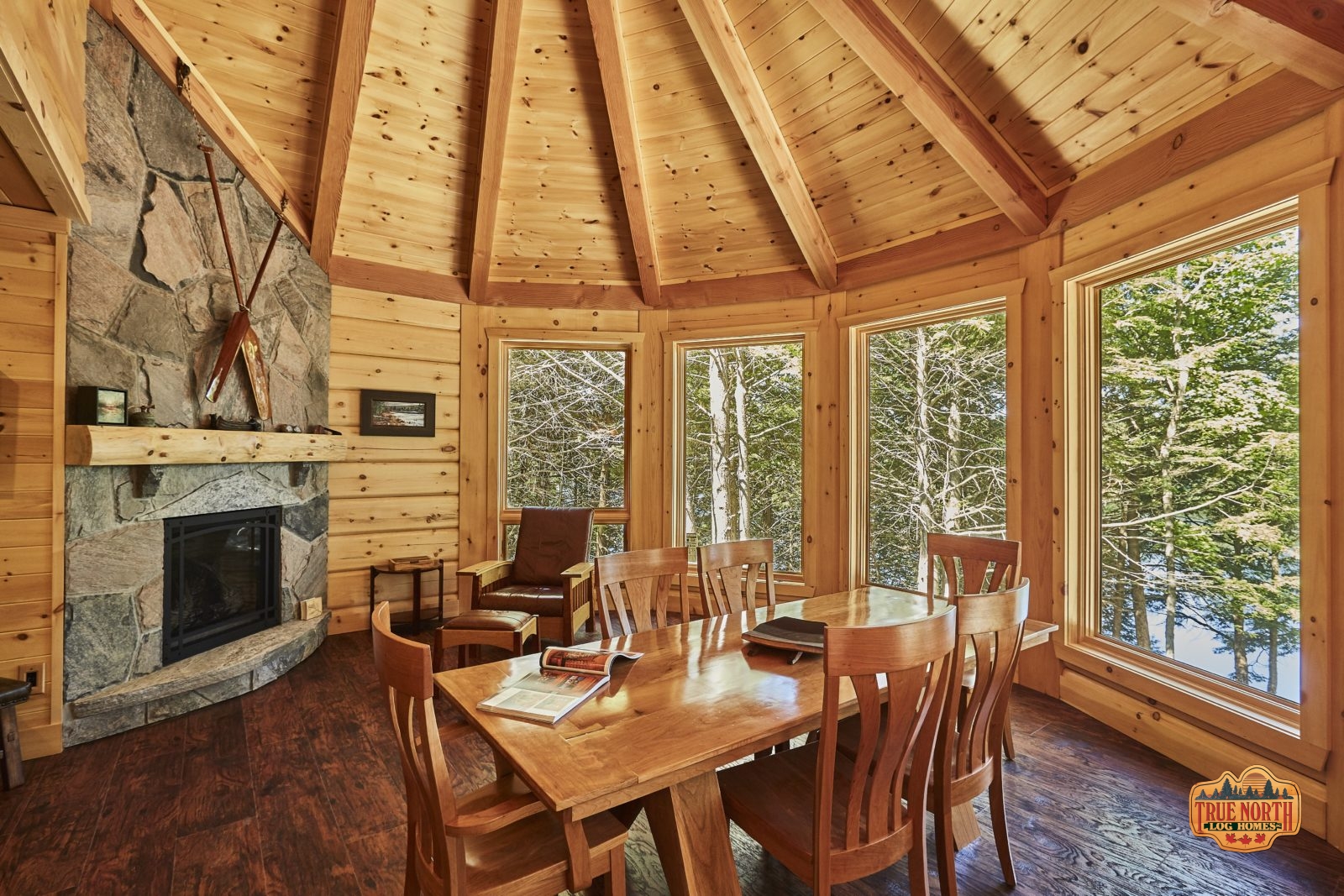 Merge Your Indoor and Outdoor Space with Picture Windows
Recently, we included a post on this blog that discussed merging your indoor and outdoor space, a popular trend among homeowners looking to harmonize with nature. By creating a sunroom enclosure with floor-to-ceiling picture windows, you can break down the barrier between cottage and nature while still enjoying the best of both worlds. You benefit from the sunshine and stunning views while still being protected from the elements.
Best of all, you can customize your new windows to fit your exact taste and specifications. Work with the experts at Golden Windows to determine the dimensions you require. Choose the minimal look of a grille-less picture window, a simple 2" Horizontal grille, or more traditional grille patterns like Colonial, Muskoka or Victorian. Decide between Simulated Divided Lites (SDLs), Grilles Between Glass (GBG) and Wood Removable Grilles, and pick your favourite colours, brickmould and accessories.
Thermal Performance Is Key
It's important for any window in your home or cottage to be energy-efficient, but if the window occupies a significant area – as in a sunroom – efficiency is particularly critical. Windows have the potential to be a substantial source of energy loss if they are improperly designed, constructed or installed, or if they contain low-quality glass.
To keep your energy bill low and save the cottage from drafts and incoming moisture, choose windows with great Energy Ratings. An Energy Rating is a numerical value that factors in Solar Heat Gain Coefficient (SHGC), U-Factor and air leakage; the higher the number, the better. You can find ER of our products on our website, or feel free to reach out for information.
Keep It Breezy with Our Selection of Operable Windows and Sliding Doors
Above, we discussed how to maximize the amount of sunlight you enjoy in your cottage. But what about the other natural joy of being in cottage country – fresh air? To keep your cottage well-ventilated and refreshing, add operable windows and sliding patio doors to your list of renovations.
In this section, let's walk through your options for operable windows and sliding patio doors.
Slider Windows
Slider windows operate horizontally with sashes that glide left and right. In the past, these windows had a reputation for sticking or creaking, but modern iterations, featuring low friction brass rolling sliders, open silently and effortlessly. Slider windows are efficient, easy-to-maintain and offer broad, horizontal views of the great outdoors: perfect for a lake panorama.
To learn more about how to take care of your cottage windows for optimal performance and longer functional life, check out the article in the link provided.
Hung Windows
You can think of hung windows as vertical sliding windows (or vice versa). They feature operating sashes that move up and down, allowing for ventilation on the top, bottom or both. Since they do not swing outwards, they are a popular choice for rooms that face walkways, porches, decks or – in the case of many cottages – nearby trees.
Awning Windows
The defining feature of an awning window is its top hinge, which allows the sash to swing outward from the bottom. This not only promotes direct natural airflow but also shields the interior from rain, making it perfect for warm, wet summer days at the cottage. You will also commonly find awning windows coupled with larger windows or doors, where they help add ventilation and create a stylish look.
Casement Windows
Similar to awning windows, casement windows operate by cranking a handle. The difference is that casement windows open horizontally like a door, as opposed to swinging outward from the bottom. Casement windows offer excellent ventilation, perhaps the best of all the window styles. The clear unfinished pine interior of our GoldenWood® Casement Windows is the perfect complement for log homes and cottages.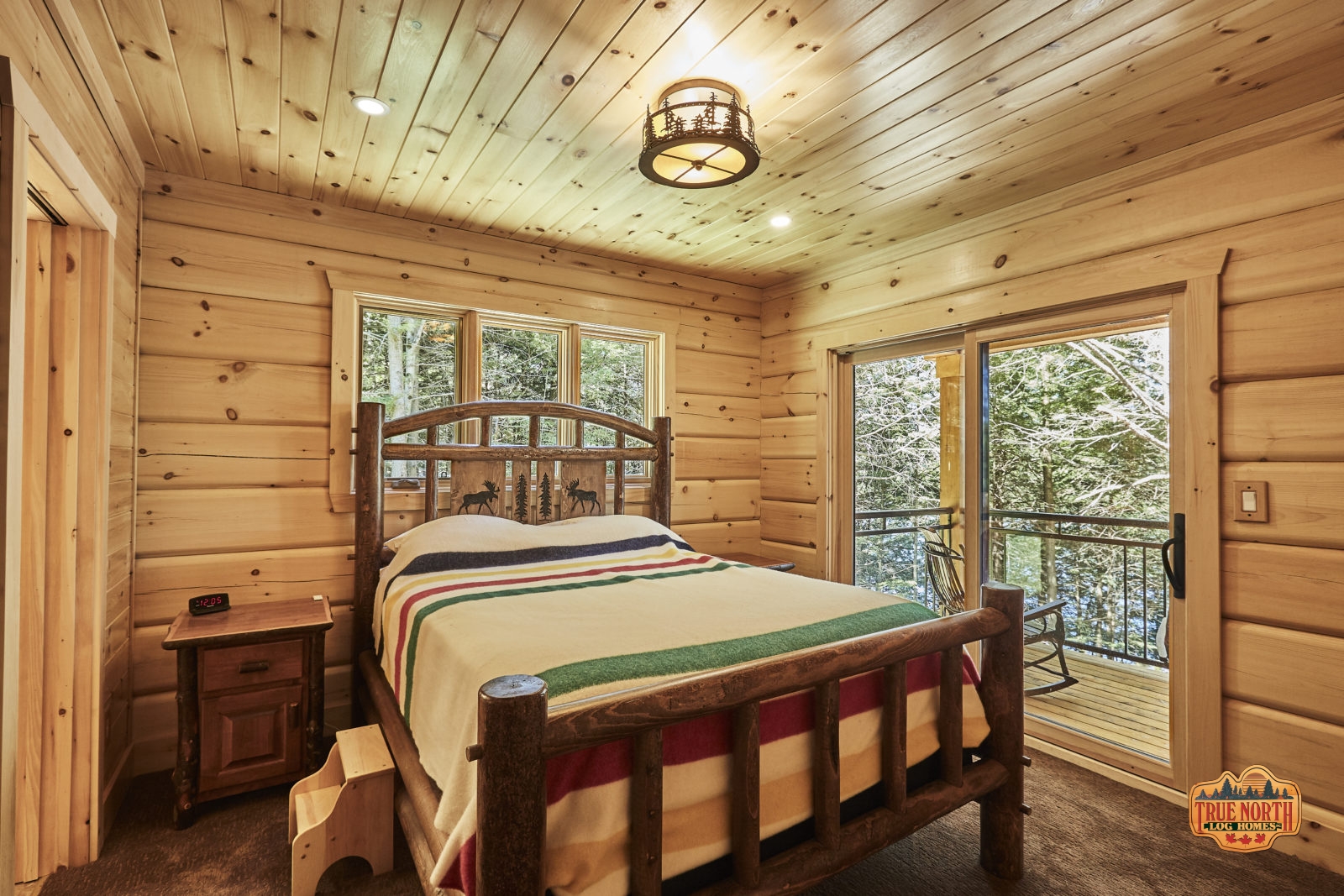 Consider Double Sliding Patio Doors
Double sliding doors are extremely popular right now, because, like picture window sunrooms, they allow you to maximize sunlight and merge your indoor and outdoor spaces. A conventional sliding patio door comprises two glass panel sections – one sliding and one fixed. Double sliding patio doors, however, feature four glass panels; in this design, the two middle panels operate, sliding outward into the back patio.
It's more accurate to think of a sliding patio door as a large window unit that acts as an exterior entryway (ENERGY STAR® even categorizes glass doors as a type of window). For that reason, efficiency is imperative. For an energy-efficient double sliding patio door that will mitigate your cottage's energy loss, contact Golden Windows.
Let There Be Light (and Extra Room) with Bay Windows
Bay and bow windows are impressive, multi-panelled windows typically created with a picture window in the center and two or more operable windows to the side, extending from the exterior wall at 30° or 45° angles. Together, the windows form a protruding trapezoidal, semi-circular or sometimes rectangular shape. In any case, the effect is added depth and plentiful natural light.
Bay windows add curb appeal to the exterior of your cottage and loftiness to the interior. With the added space, you can even create a quiet reading nook for those lazy days when you don't want to swim. Or, craft a quaint breakfast nook for the family to gather around. They represent a versatile renovation that you can enjoy in numerous ways.
Secure Your Cottage in Style with New Doors
We've discussed renovating for light, airiness and space, but how about renovating for security? As mentioned, cottages are unique in that they are large investments that remain unmonitored much of the year.
In addition to increasing energy-efficiency and boosting curb appeal, new doors help keep your cottage safe. Their sturdy construction and modern locking systems deter break-ins.
If it has been a few decades since your cottage saw a new door, now may be the perfect time. In this section, we'll discuss how Golden Windows' multi-point locking system secures your cottage, and how our GoldenWood® Terrace Doors and Entry Systems contribute to a seamless, authentic cottage atmosphere.
The Multi-Point Locking System
At Golden Windows, we refer to the multi-point locking system as "European technology in a North American lock."
When you close the door with a multi-point locking system, the upper and lower 3" latchbolts will immediately engage. Then, by turning the key from the outside (or the knob inside), you engage the central deadbolt and block the top and bottom latchbolts to become a three-deadbolt locking system. It sounds technical, but the bottom line is simple: this three-deadbolt system provides more security.
Additionally, a multi-point locking system offers better weather sealing and prevents potential warpage – ideal for a door in cottage country that experiences dramatic temperature fluctuations. The multi-point locking system is available on all our terrace doors and front entry systems. Give us a call to get a quote or request more information.
Choose GoldenWood® Terrace Doors and Entry Systems for an Authentic Cottage Feel
In truth, any of our terrace doors and entry systems would fit right in at your cottage. But if it's a rustic, authentic cottage feel you are going for, we recommend our GoldenWood® options.
GoldenWood® Terrace Doors and Entry Systems are designed with a wood frame and brickmould that allows for your choice of stains or paint colours so you can match your door perfectly with the surrounding cottage. Select from numerous glass, grille and hardware options to get the exact look you want. And choose from various sizes and shapes. Because all of our products are designed and manufactured here at Golden Windows, they are endlessly customizable.
If you are planning on spring or summer cottage renovations (or looking forward to the spring 2022 cottage season), give Golden Windows a call today. Together, we can help make your cottage brighter, airier, more efficient and more secure.