Your home is more than just a house. It's a refuge when you are tired, an activity centre when you're energetic and a gathering place for family. Your home is a collection of memories, a testament to a life well-lived and an extension of your personal lifestyle and values.
In other words, your home is unique. That's why, at Golden Windows, we believe that your windows and doors should be unique as well. Instead of choosing a cookie-cutter option, let your imagination – and bold personal taste – dictate your home's windows and doors.
In this article, let's look at a few ways that windows and doors can accentuate your personal style and philosophy. We'll explore how architectural and picture windows can add sophisticated character to your home. We'll talk about the customizable options for your front door, as well as ways to personalize every Golden Windows product. And we'll discuss how you can express your passion for the environment by choosing energy-efficient, high-performance windows.
If you want your home to reflect who you are as an individual in 2021, contact Golden Windows for a free quote on your new windows and doors.
Architectural and Picture Windows Add Gravitas and Grandiosity
The first step in adding a distinctive style to your home is choosing the perfect type of window. At Golden Windows, we offer a variety of styles – double hung, slider, casement and more. Each type has its own advantages, and choosing what's perfect for your home requires consideration.
If you want a truly distinctive window type, though, we are happy to point you in the direction of our architectural and picture windows. Stunning, dramatic and available in an unlimited range of shapes and sizes, these windows are a complete expression of personal taste. Your choice is limited only by your imagination.
To begin envisioning your new architectural and picture windows, start with shape and size. We offer hundreds of standard sizes in a multitude of shapes, including gothic, ellipticals, segmentals, half rounds, quarter rounds, arch, ovals, geometric shapes and many more.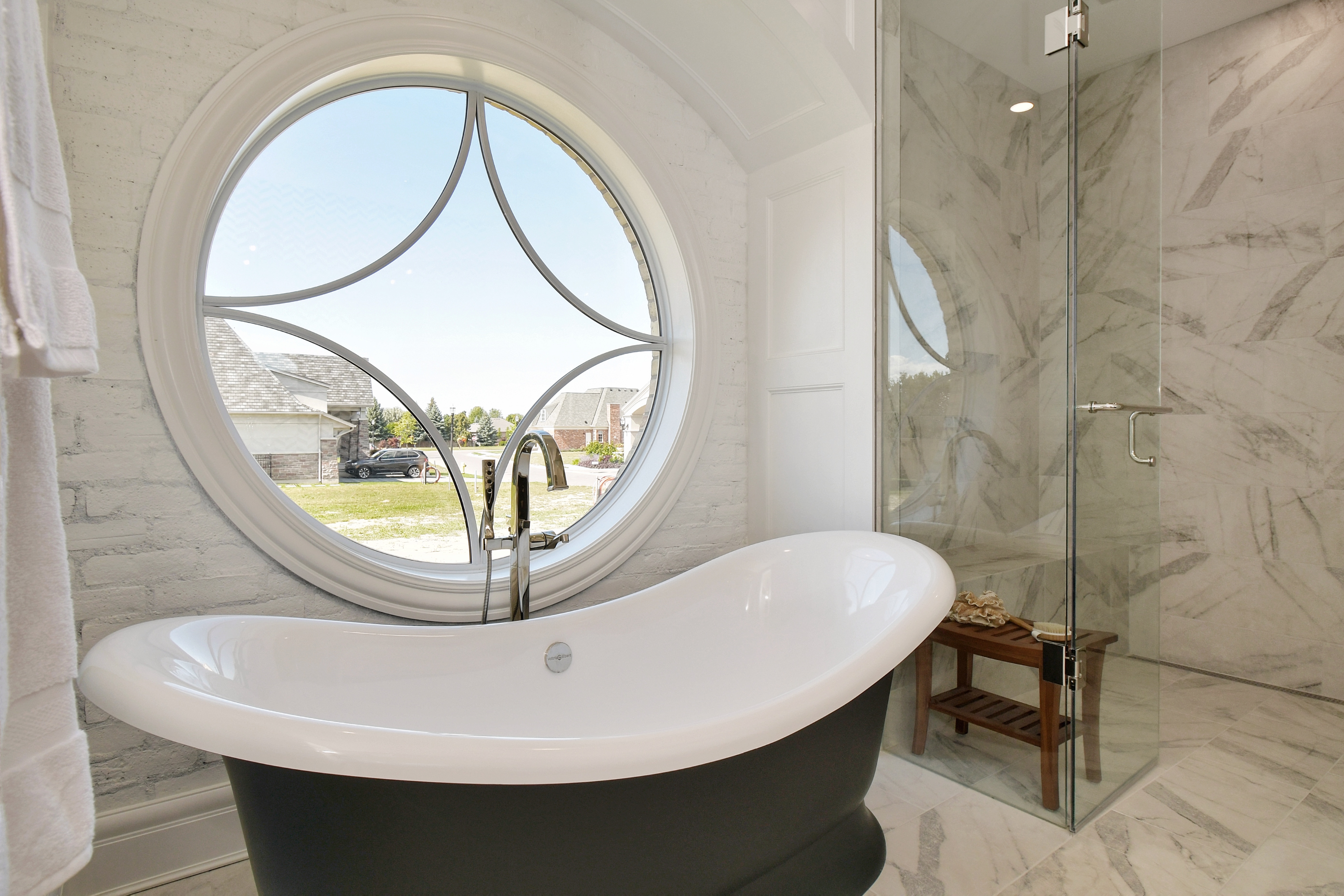 When you have decided on a shape and size, turn your attention to the grille style and window design. You can choose from several standard grilles or relay your vision to us, and we can create a custom design.
Whether you are accenting a lovely heritage home or installing the statement window in a modern house, Golden Windows can turn your vision into a reality. Unlike other window and door companies, we design, manufacture and install all of our products, giving us – and you – creative control throughout each step of the process.
Add Loftiness and Depth with Bay and Bow Windows
For homeowners looking to add loftiness and elegance to their homes and increase space, bay and bow windows are an ideal option.
Bay and bow windows are a style of window that project from a wall, adding both visual appeal to the exterior and roominess to the interior. Bay windows are usually three-sided, with a picture window in the centre and two side windows at a 30- or 45-degree angle (generally casement, single hung or double hung windows.) Bow windows, while similar, feature a curvilinear shape rather than an angled one. Both achieve the same effects: depth, spaciousness and style.
To customize, choose between Golden Windows' GoldenClad®, GoldenWood® and GoldenVinyl® products and create your perfect bay and bow windows. Pick your favourite colour, Low-E glass option, grille type, grille pattern and more.
And the customization doesn't stop when our expert installation team installs your bay or bow window. Turn your new space into a reading nook, breakfast nook or lounge area. The possibilities are limitless.
Personalize Any Window You Choose from Golden Windows
Regardless of which Golden Windows product you choose, there are several customization options. Above, we discuss our more dramatic window offerings – bay, bow, architectural and picture windows. In this section, we would like to demonstrate how each of our window products can be customized to create a unique expression of your home, taste and lifestyle.
As an example, let's take our GoldenClad® series of windows. If you are looking to replace old, inefficient or drab windows, begin by selecting the type of window you want:
Our GoldenClad® Double Hung Window, which features an operable top and bottom sash that both pivot towards the interior for a classic look, easy cleaning and effective use of space.

Our GoldenClad® Awning Window, which is hinged at the top, allowing the sash to swing outward from the bottom for superior airflow and protection against precipitation.

Or our GoldenClad® Casement Window, which is designed with hinges on the side that allow the sash to open completely, allowing for plenty of fresh air and natural light.
Once you have chosen the basic type of window you want, you can personalize it through a number of different choices. The following are available for each GoldenClad® product:
A selection of six standard or 28 optional colours. Alternatively, you can select from an unlimited number of custom colours.
Four different Low-E Options for the glass, which all include Argon gas. Low-E (or low emissivity) refers to glass that emits low levels of radiant thermal energy; Low-E glass helps conserve your home's energy expenditure without minimizing the amount of natural light you enjoy.
Three standard and two optional hardware finishes to choose from
Multiple grille options, including grilles between the glass, removable wood grilles and simulated divided lights (SDL)
A choice of Victorian, Muskoka, Colonial and Custom Grille Patterns
A choice of available exterior brickmould and sill nosing
Additionally, the GoldenClad® Double Hung Window comes with the option of an available "Cottage style," which has a smaller upper sash, a larger lower sash and an optional interior wood jamb liner insert. The GoldenClad® Awning Window and GoldenClad® Casement Window each come with the option of white, black, Coppertone or wood grain screens and are available in triple glaze for increased energy efficiency and reduced sound transmission (more on triple glaze windows below!)
Of course, these are just the options for our GoldenClad® series, meant to demonstrate the wide range of options available to homeowners. More options are available in our fantastic GoldenWood® and GoldenVinyl® windows. We recommend perusing our website to explore all the myriad ways you can personalize your new windows.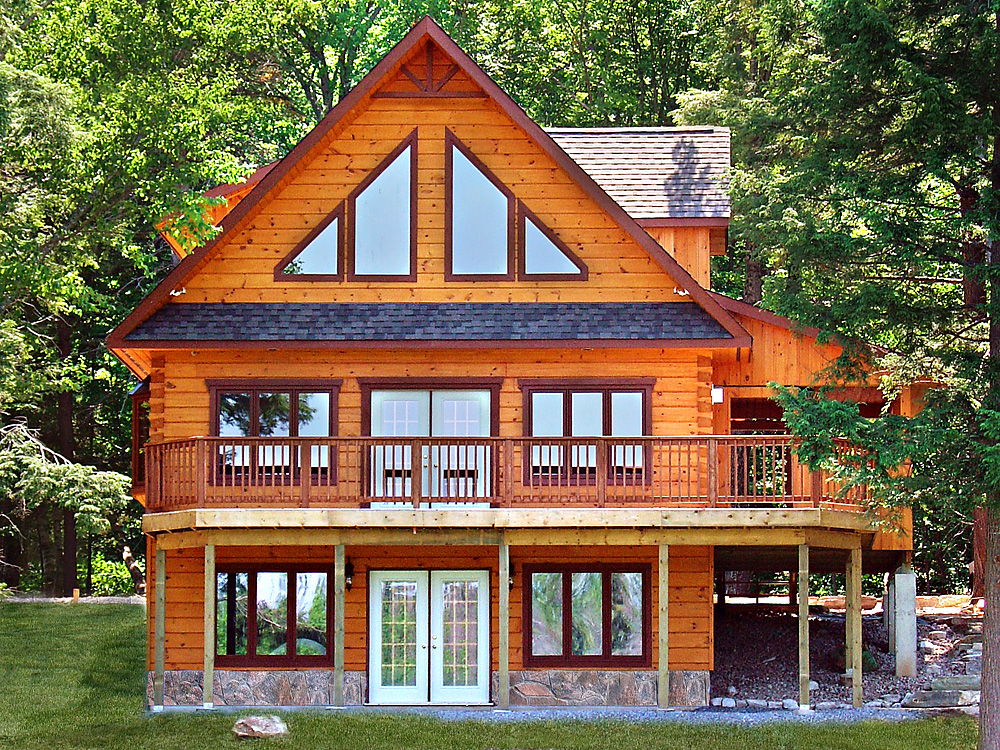 Customize Your Front Door with Endless Options
The front door is typically the first thing guests see when they arrive and the last thing they see when they leave. It needs to make a stellar impression. It also needs to be a cohesive component of the home's overall style, complementing the architecture and aesthetic.
For a front door as unique, sophisticated and well-built as the rest of your home, go with a Golden Windows Front Entry System.
Choose between our GoldenWood and GoldenClad Entry Systems, each manufactured here in Kitchener, Ontario. The former is designed with a maintenance-free aluminum clad frame and is available in a selection of steel and fibreglass panel designs. The latter features a wood frame with brickmould that allows for a choice of various stains, and is available in a variety of wood grain-embossed fibreglass panel designs.
Once you've decided which door is right for your home, you can start customizing. As with our windows, our front entry systems come with a choice of six standard and 28 optional colours. For the sidelite, you have four different options of Low-E glass and several grille options, including standard grille patterns, grilles between the glass (CBG) and simulated divided lites (SDL.) We also offer a selection of decorative glass alternatives from Trimlite.
You also have a creative say on the door panel – arguably the central feature of the front door. You can go with a fibreglass panel, which is durable, lightweight and resistant to rusting, denting and warping. Or opt for a steel panel and enjoy an energy-efficient, low maintenance door panel. As for design, we offer flush panels (with plain, flat facings on either side) as well as numerous design options:
1 Panel Arch

2 Panel Cambertop

2 Panel Cambertop Plank

2 Panel Craftsman

3 Panel Archtop

4 Panel Blanktop

4 Panel New England

6 Panel

8 Panel Parliament

9 Panel Cambertop

And many more!
If you are having trouble picturing the panel designs above, consult the "Door Panel Options" section of our clad or wood entry systems and doors page, where you will find helpful line drawings.
If you want your home's first impression to be unique, contact us at Golden Windows, and we will get the ball rolling on designing, manufacturing and installing a custom front entry system that suits you.


Express Your Environmental Concern with Energy Efficient Windows
Many homeowners we have spoken to do not just want their windows and doors to reflect their personal taste – though that's important. They want their windows and doors to reflect their principles as well.
Environmental issues are close to many Canadians hearts, as we strive to protect the natural beauty and abundant resources that make this country so great. That's why more homeowners are replacing their old, inefficient windows with new, high-performance windows.
When it comes to efficiency and thermal performance, one window option tops the rest: triple glaze windows. At Golden Windows, we're proud to offer triple glaze options for several of our window and door styles.
What are triple glaze windows? Simply put, triple glaze windows are made with three panes of Low-E glass and feature two argon gas fills. The extra pane and argon gas chamber increase the window's insulation performance – making it more resistant to heat loss and air leakage, and lowering the window's solar heat gain coefficient.
To understand the efficiency of triple glaze windows, let's turn our attention to the leading certifiers of energy efficiency: ENERGY STAR®. Recently, the ENERGY STAR® program in Canada updated its zoning system. Where before, the program separated Canada into three geographical climate zones – Zones 1, 2 and 3 – now they simply use one, Canada-wide zone.
Zone 3, previously the coldest zone, is now used as the benchmark for the entirety of Canada, meaning that it has become more difficult for windows to meet the ENERGY STAR® program criteria. Triple glaze windows meet the requirements. With an impressive Energy Rating (ER), triple glaze windows help you reduce your greenhouse gas emissions, keep your home warmer and save you money on utility bills, wherever you live in Canada. That's why more and more builders like Terraview and Devonleigh Homes are building Net Zero, modern style homes using triple glazed windows to maximize energy efficiency.
Not only are they more efficient, but triple glaze windows also offer superior soundproofing. Because of their added panes and fills, they reduce sound transmission, making them ideal for home offices and bedrooms. Due to their added sturdiness, they also act as a security deterrent, discouraging burglary and break-and-entry.
To express your care for the environment, lower your monthly bills and reap soundproofing and security benefits, we recommend switching to triple glaze windows. If you are interested in replacing your old windows with Golden Windows triple glaze windows, give us a call or contact us through the website. We are happy to answer questions, offer resources and start the installation process.
Golden Windows: A Unique Company for Discerning Homeowners
The story of Golden Windows is as unique as our products. We started in 1961 as a millwork plant in Kitchener, employing only a few craftspeople. Since then, we have grown to service customers across Ontario, across Canada and across the world. We have become a one-stop shop for home renovators – designing, manufacturing and installing all of our products.
Because of our consistent ability to provide outstanding lead times and on-time delivery of our windows and doors, we obtained the coveted ISO 9001 designation – one of the only window and door companies to do so.
In other words, we're unique among window and door companies. Homegrown, all-encompassing and dedicated to superior customer service, we are the perfect choice for your home improvement project. If you are looking to add personality, individuality and character to your home this year, let Golden Windows help.