Fall has just arrived, and leaves have barely begun to fall. The furthest thing from your mind is those projects or renovations you are planning for the spring. There's plenty of time to think about those later on when the inevitable snow starts to melt. It's way too early to start getting quotes, right? Wrong!
It never hurts to be prepared, and even more so in the case of getting spring project quotes done early. This helps to ensure your spring projects get done in an efficient and timely manner.
Luckily, Golden Windows is ready to help. There are many benefits to getting ahead of the curve and getting quotes from an experienced window company right now, and we'll outline why in this post.
Benefits of Getting Started Now
The early bird gets the worm, and that statement has never been more true when it comes to home projects these days. The pandemic has increased demand for home improvement for various reasons, and there are no signs of it slowing down.
When everything initially shut down last spring, there were bottlenecks created in the production process leading to supply shortages, some of which have not caught up due to the rising demand.
That increased demand is due to people spending much more of their time at home. Those who have had a steady income have been able to save more money with reduced vacation and entertainment costs, and they want to put that money into their homes.
According to data from Abacus Data, of Canadians who own a home, almost 1 in 3 have already done renovations or are planning to do them. With increased time at home, 8 in 10 Canadians want renovations for comfort, with functionality being another primary driver as more and more people want multifunctional spaces due to repeated closures of offices and gyms.
All of these factors combined to shift construction projects into high gear. Getting project quotes in the fall or winter months helps to ensure the window products you want will be available and that everything will be ready to go for the spring.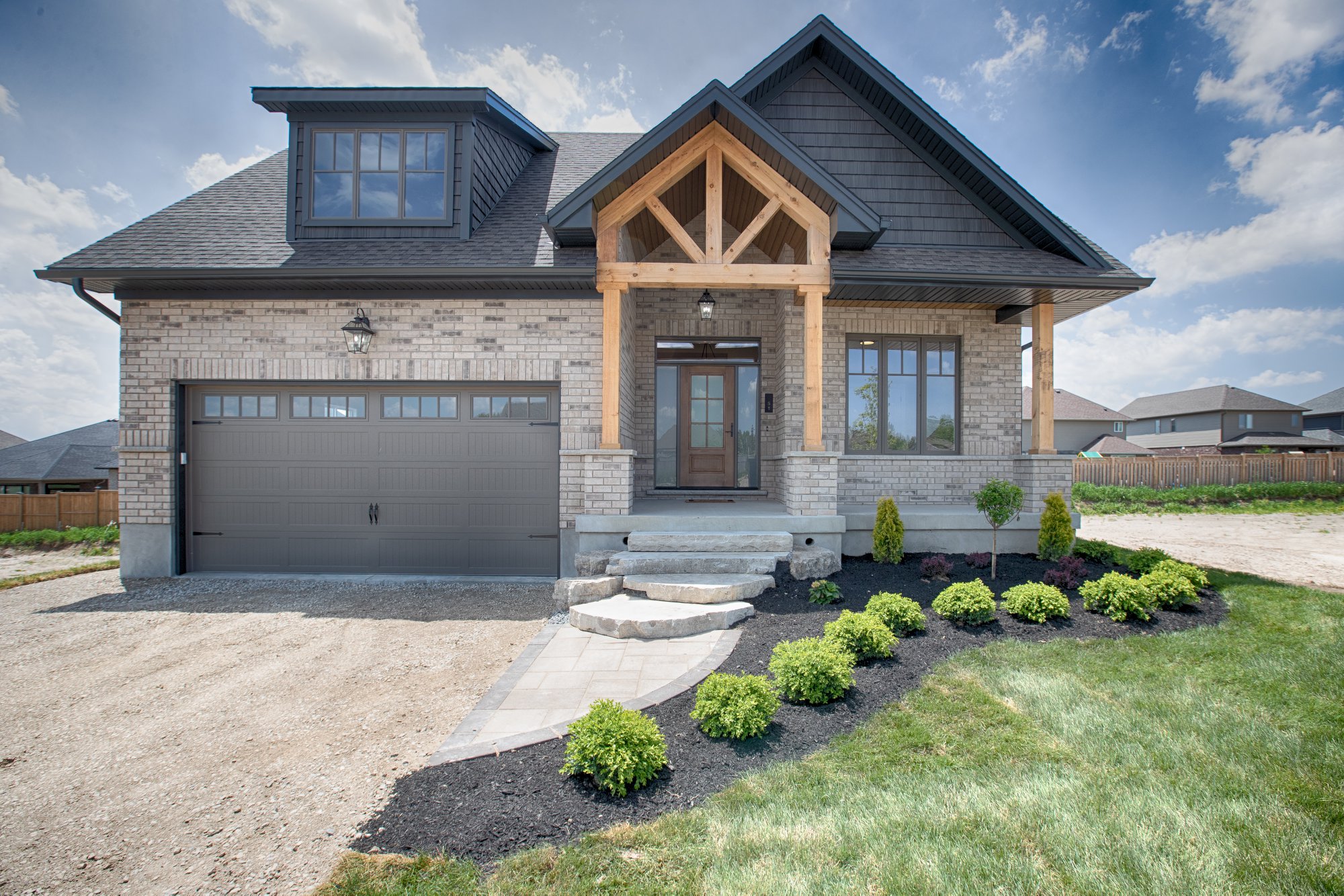 Photo: Duimering Homes
What to Look for During the Quote Process
With a budget in mind, you'll want to shop around for value. Most experts suggest three quotes are enough to compare. By doing this, you will get a realistic understanding of the market costs for your project, find the best fit for you and your project, and be more confident in your choice, knowing you did your homework before going forward.
By making comparisons, asking the right questions, and getting more than one quote, you'll be able to find the windows and doors that are the best option for you and your home. You don't want hidden costs involved, which can disrupt your ability to budget adequately for a project.
Keep in mind that if you receive quotes from multiple sources, be sure that you are asking the same questions to evaluate their estimates fairly. We'll go over some great questions to ask later on.
When looking at a quote, compare everything you can, such as similar product types, including material, style, and finishes. Look at each company's timeline, warranty, service guarantees, and an explanation of the process, extra costs, and references.
Don't discount the investment of your time. By finding a trusted and experienced window company that can handle all the project details and make helpful recommendations can save you endless time and frustration in the long run.
What the Quote Process Looks Like
To get started, do some research. Look into the company's history, online reviews, warranty information, and the products they carry. Then, start reaching out to initiate the process.
At Golden Windows, we start with a free onsite measure, a necessary part of the installation process. All window and door consultations should include a measurement. A good consultant will also look for structural issues, types of windows required, and any problems that may arise during installation.
An installation sales representative will come to your home, take measurements, answer your questions, and discuss window and door options with you. This is a preliminary part of the process before you receive a quote.
Once this is complete, our installation sales representatives will reach out to you with a quote. After that, we will book a convenient time for a final measure.
Questions to Ask
A reputable window and door company should have nothing to hide, but they should also be forthcoming and generous with their information. We pride ourselves at Golden Windows on our approachable customer service and broad expertise in the field of windows and doors – you wouldn't expect less from the manufacturer of the best new build and replacement windows in London Ontario.
Ask any question that pops into your mind during the consultation, but also try to have some questions prepared to ask your sales representative to glean as much information as possible. Here are some questions to ask as you prepare to add or replace windows and doors as part of your spring project.
What Timelines Can I Expect for the Project's Completion?
This is a natural question to ask during any quoting process, as most customers want to know when they will receive the products they are purchasing. It's also a great example of why starting the quote process early is so beneficial. Timelines are heavily dependent on the size and scope of the project. At Golden Windows, we work with many builders and homeowners alike, and we always do our best to work with our customers to achieve the delivery date you desire.
Can I See Examples of the Windows or Doors in Advance?
With any significant investment, it makes sense to want to see the product before you buy it. This is the same for windows and doors.
To picture how a product will look in your home, find a window and door company that has a showroom.
You will find a selection of doors and windows on display at our showrooms, where you can see the functionality and colours in person to better understand what might look best for your home. Our showrooms in London and Kitchener are currently fully open, and Kanata is open by appointment.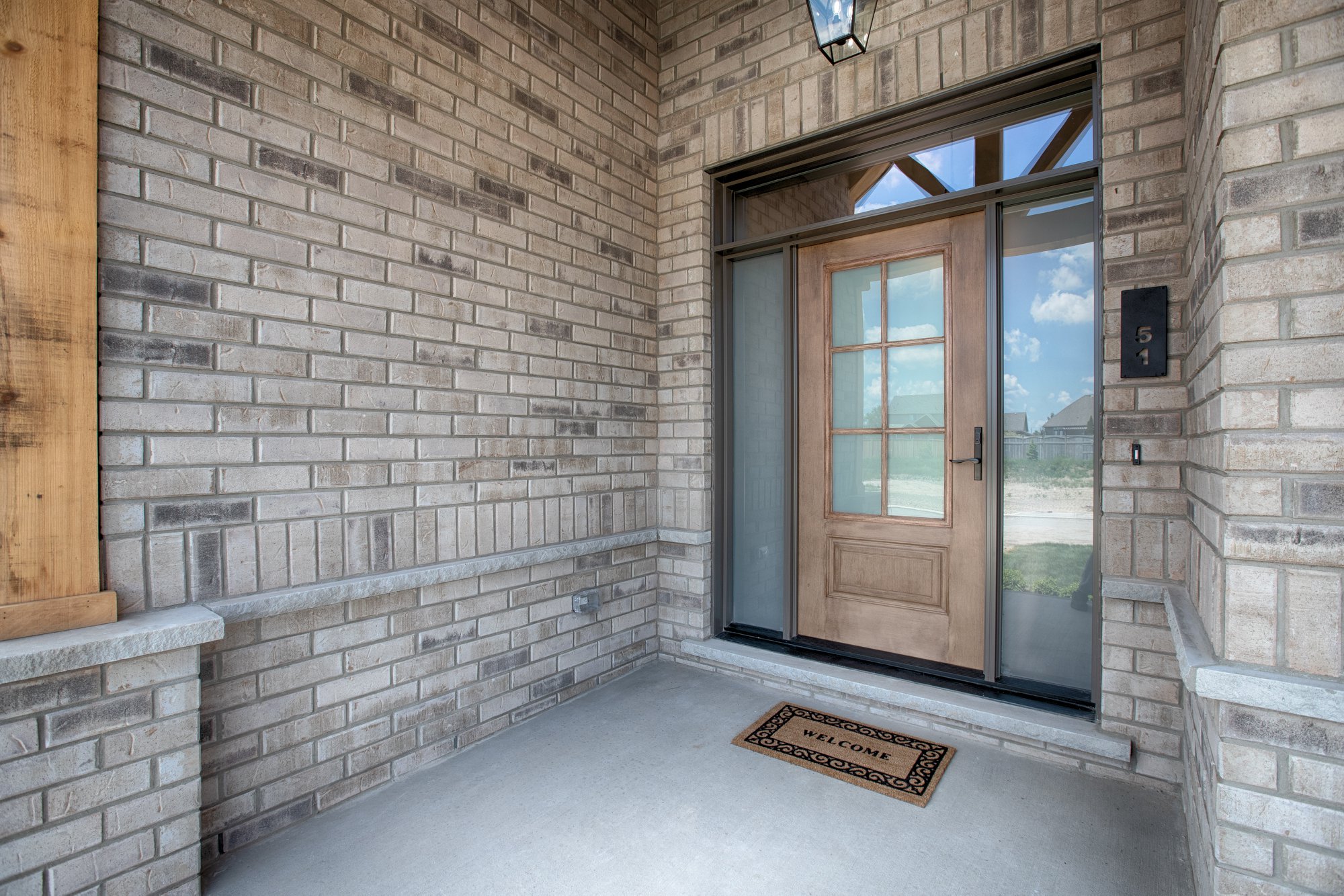 Photo: Duimering Homes
Can I Customize My New Window or Door?
When you're investing in a new build or home renovation, you want to be able to make the right choice for your style and taste. At Golden Windows, we believe that you should infuse personality and uniqueness into each of our products.
The more a company allows you to personalize a window or door, the better. Even if you end up choosing several "stock" features, you still want the option of customizing specific details. At Golden Windows, there are opportunities for customization throughout the selection process, including colour, glass, grille, and hardware.
What Is Low-E Glass?
Low-E means "low emissivity" or "low thermal emissivity" and refers to the surface condition of a glass emitting low levels of heat. Essentially, Low-E glass limits the amount of infrared and ultraviolet light coming in through the windows without limiting the amount of visible light. This means that your windows will be energy efficient – reducing radiant infrared energy emissions – while still supplying your home with plenty of natural light.
As a follow-up question to ask your window and door company representative, ask which Low-E option they recommend for your house's climate and window's position.
What Are Energy Ratings?
Asking about energy ratings will help you choose the most efficient product for your home. Additionally, you will want to ask about the energy rating of the specific product (type and material) that you are considering, which you can discuss when you speak to one of our experts.
As for energy ratings, here in Canada, we use the Canadian Standards Association (CSA) A440.2 standard or the National Fenestration Rating Council to test the energy performance of windows, doors and skylights. A product's energy rating is a combination of its performance in the following values: U-factor, solar heat gain coefficient (SHGC) and air leakage heat loss. Together, these values give us a good impression of how energy efficient a window or door is. When looking at the relative energy ratings of various windows and doors, look for higher numbers – higher equals better.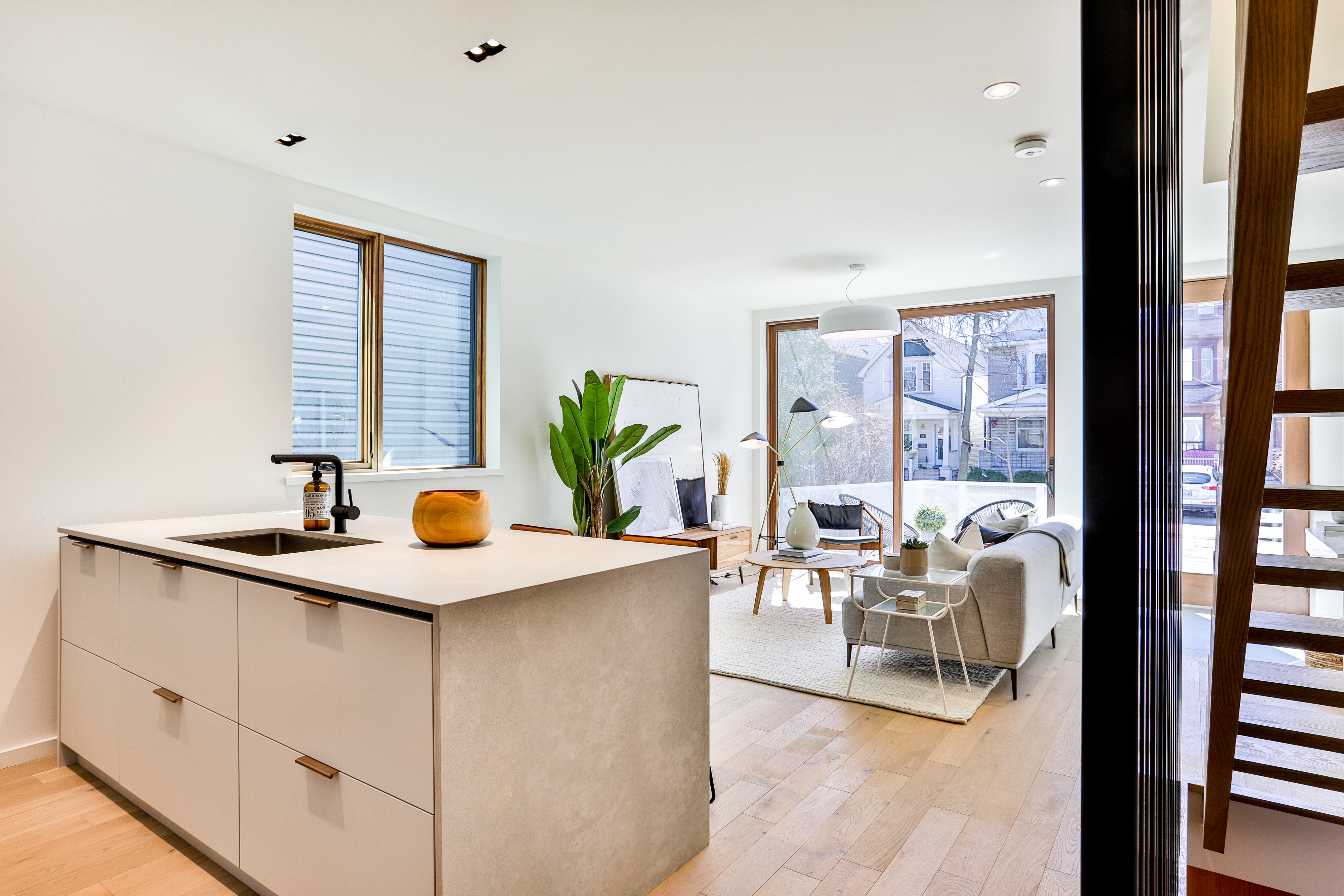 What Windows and Doors Work Best for My Home?
You might already have a clear picture of what you're looking for, but if you'd like some advice on what windows suit your home best, your consultant should be able to provide ideas.
Remember, home designs and styles are unique. Choosing a window or door that works for your home requires the help of an expert. Additionally, let us know if there are other priorities or features you value in a window. If you're looking for something easy to maintain or extra secure, we can help.
At Golden Windows, we pride ourselves on matchmaking unique homes with their ideal windows and doors.
What Kind of Warranty Do You Offer?
As we mentioned before, windows and doors are an investment. And like any investment, you'll want to research every company's warranty.
Before you buy, ask your window and door company what kind of warranty they offer. Warranties aren't just for when something goes wrong; they also represent peace of mind. You want to know that your purchase will work as it should and that if it doesn't, the company will intervene.
At Golden Windows, we offer a competitive warranty with window and glass coverage, warrants for craftsmanship and materials, and factory finish coverage. As with any warranty, you should read through exclusions and limitations, as well as how best to care for your product. You can find our residential warranty here.
Who Will Be Installing My Window?
If you ask a company, "who will be installing my windows?" and they give you a vague or unencouraging answer, thank them and kindly take your business elsewhere.
Installation is a crucial step in the process of buying a new window. You can buy a top product that has excellent energy ratings, quality materials and expert craftsmanship, but if the window installers are don't know what they are doing, it won't matter. A window's energy efficiency and functional lifespan can be impacted with improper installation.
After you've had your appointment with a Golden Windows sales representative, chosen your products, and received your quote, you'll need to find the right contractor to install them in the spring. For expert window installation services, turn to the manufacturers themselves.
Window manufacturers, like Golden Windows, know their products inside and out. They will ensure that the windows are correctly installed and that the customer is satisfied.
When you are ready to place your order, a Golden Windows Installer will return to your home to finalize the measurements and set up an installation date. The installation team are certified experts with plenty of experience installing Golden Windows products. They are also dedicated to customer service and customer satisfaction, meaning you can rest easy knowing you're in great hands.
How We Can Help
We help homeowners across Kitchener and Southern Ontario select the styles and sizes that best suit their homes and budget. Our one-stop-shop includes premium design, manufacturing, and installation services with a proven track record of customer satisfaction.
Golden Windows can help you transform your space, lower your energy costs, and increase the value of your home, so contact us today about getting a quote for your upcoming spring project to improve your home. And know that if you have any issues at all with your doors and windows from Golden Windows, you can quickly and easily request a service call through our website.