When it comes to choosing the optimal material for your home's new windows, it's all about finding a product that combines style with functionality and affordability. In recent years, vinyl has become one of the most popular materials on the market.
Golden Windows is a trusted Kitchener windows and doors company and is celebrating 60 years in business. We have helped homeowners across Southern Ontario breathe new life into their homes and save money along the way.
Our selection of vinyl doors and windows is our most sought-after product. That is why we have put together a comprehensive guide to vinyl windows and doors. We will discuss the basics of vinyl, the types of windows and doors we provide, and a few helpful maintenance tips.
The Basics of Vinyl
Vinyl was produced on a mass scale in the late 1950s by a vinyl manufacturing company that decided to produce a line of windows for the modern homeowner. However, many homeowners were not interested in this type of material in their houses until the late 1980s, when it became a suitable window alternative in North America.
Vinyl is a synthetic material that is made up of ethylene and chlorine. Combined, these materials create Polyvinyl Chloride — or Vinyl, as it is known to consumers. As a synthetic material, vinyl is resistant to moisture and humidity, which is ideal for homeowners.
Today, vinyl is one of the most popular materials for residential windows and doors, thanks to its significant lifespan and minimal maintenance.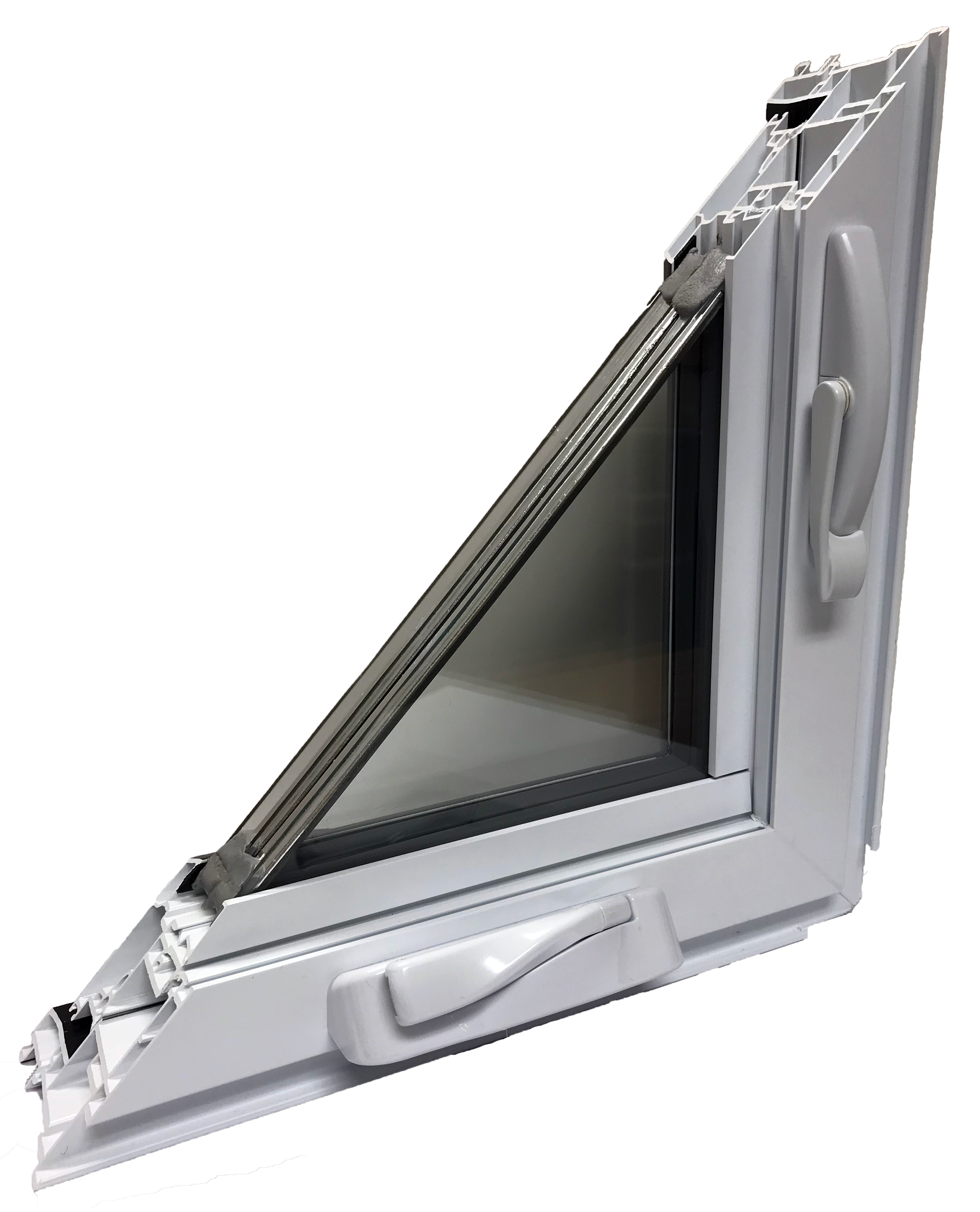 What is a Triple Glazed Vinyl Window?
Triple glazed refers to the number of panes of glass in a single window unit — in this case, a triple glazed window will have three panes of glass. Homeowners across Canada choose triple glazed windows to withstand the changing temperatures in the summer and winter months.
At Golden Windows, we offer two distinct triple-glazed window styles designed to provide optimal thermal performance.
GoldenVinyl® Triple Glaze
GoldenVinyl® Triple Glaze is designed with expert thermal capabilities and is available in a variety of unique styles, including casement, awning, and fixed windows. Whether you are looking for a Colonial, Victorian, Muskoka, or custom grille pattern, our professional engineers and installers have a wide selection to choose from.
Our GoldenVinyl® windows are designed to reduce indoor condensation and improve acoustic insulation. Homeowners can choose from 30 optional and custom colours as well as a variety of hardware.
GoldenClad® Triple Glaze
GoldenClad® Triple Glaze windows are expertly engineered windows designed to enhance comfort in the home and provide an aesthetically pleasing exterior. GoldenClad® is designed with greater acoustic insulation to help homeowners on busy streets or in busy metropolitan cities find peace and quiet indoors.
Each GoldenClad® Triple Glaze is available in custom colours, various wood interiors, and multiple grille options. Each window feature includes Argon gas with a selection of four unique Low E options.
Vinyl Window Solutions from Golden Windows
Golden Windows is Southern Ontario's premier choice for custom vinyl windows. We have provided quality craftsmanship for sixty years using only the highest-grade materials from our trusted suppliers.
Our product lines are engineered with a variety of customization options to fit your home's unique structure and style. Our customers can choose from a variety of vinyl styles, including:
Awning Window
Casement Window
Single Slider Window
Double Slider Window
Single Hung Window
Double Hung Window
Architectural & Picture Windows
Each of our vinyl windows is expertly designed to improve airflow, protect the home from dust and allergens, and present an aesthetically pleasing exterior. We offer a range of standard and custom sizes that fit into any traditional or modern home.
 
The Types of Vinyl Doors
At Golden Windows, we help homeowners find vinyl doors that speak to their personal style and fit the structure of their home without sacrificing quality and affordability.
We produce our vinyl windows and doors to the highest quality and partner with only the most reputable suppliers in Southern Ontario.
The Performer Series
For homeowners looking to combine materials, the Performer® Patio Door is designed with both PVC and wood, combining functionality and style.
Performer HP® doors are engineered using the highest quality materials for exceptional durability. Using a combined wood and PVC frame, these sliding doors ensure the structural integrity of your door and its surrounding frame are never compromised. Its self-lubricating tandem panel rollers ensure effortless sliding door capabilities to maximize access to your outdoor space.
For homeowners looking for additional security, the Performer® Patio Door is available with optional twin-point mortise locks, an exterior key lock cylinder, and a top guard lock to reduce the risk of break-ins.
GoldenVinyl® Sliding Patio Doors
Our vinyl sliding doors are engineered and designed to stand out in the market. Their reinforced construction and energy-conscious performance combine comfort, affordability, and durability for lasting insulation and increased value.
We offer a range of exterior colours to match any home aesthetic while providing quality glass inserts that will hold their own against extreme Canadian temperatures. Our vinyl sliding doors are available in a variety of grille patterns to suit any style of home, from a grand colonial to a contemporary home with clean, simple lines.
Vinyl Door Solutions from Golden Windows
Golden Windows is the leading source for quality vinyl doors and windows in Ontario. We've helped homeowners reinvent their homes for over 50 years and have developed trusted relationships in the process.
We offer an extensive range of customizable options for your new vinyl doors, including:
Colours
Finding the right colour for your vinyl door is an important step in the renovation process. At Golden Windows, we offer a range of colours to match any individual style. Our standard colour is our signature Golden White, with available upgrades including Black, Taupe, and Golden Sable.
For those looking to add more personality to their exterior doors, our optional exterior colours extend beyond neutrals — including warm burgundy, forest green, and deep navy.
Glass
The glass selected for your door can impact the level of energy efficiency in your home. We offer a variety of options to choose from, each with its own benefits. Our hard-coated low-emissivity glass provides exceptional solar gains, which can reduce yearly energy costs, while our soft coated Low E glass is ideal for moderate or warm climates since it allows for high levels of natural light.
When choosing a glass spacer, we offer two solutions: the Intercept and the Edgetech. Both spacers are designed with Warm Edge Technology. This technology provides a higher-quality thermal performance than an aluminum spacer bar.
Grilles
Our selection of grilles is designed to seamlessly integrate with any style of home, from the classic colonial 8-pane style to a decorative Victorian or a custom grille for any unique home. Each grille is available in several finishes and colours for maximum customization.
Sizes & Shapes
At Golden Windows, we know each home is unique. That's why we offer a range of vinyl door shapes and sizes to fit your home's style and structure. We offer multiple double and triple-frame options in both rolling-fixed or fixed-rolling construction.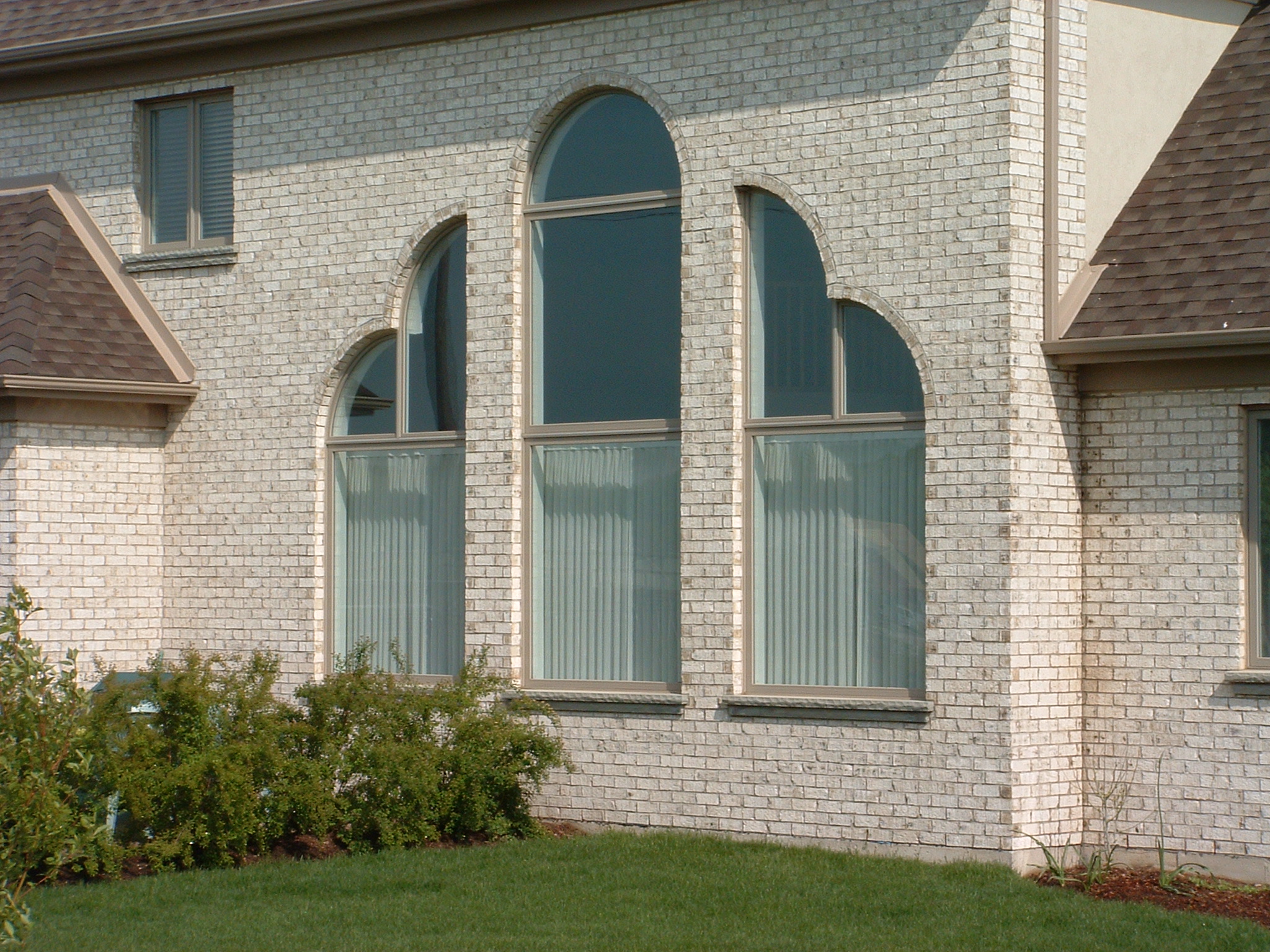 Benefits of Vinyl Windows & Doors
For many years, vinyl windows have been the most popular choice for homes across Southern Ontario. Its long-lasting capabilities and budget-friendly price tag allow homeowners to revamp any space in their home without sacrificing their savings.
If you are in the process of selecting new windows or replacing the doors of your home, there are several benefits to selecting vinyl.
Energy Efficiency
Once installed in the home, vinyl windows and doors provide a more energy efficient lifestyle. Its advanced insulating properties are as practical as it is aesthetically pleasing. When installed correctly, vinyl reduces air leakage and enables the home to rely less on fossil fuels to keep its temperatures comfortable. Homeowners prefer vinyl frames as it is proven to lower hydro bills and help them save money.
Additionally, vinyl itself is a recyclable material which is why contractors and homeowners prefer to work with this material over fibreglass or wood. With combined energy efficiency and environmental consciousness, vinyl is an optimal choice for your next renovation project.
Durability
Window and door installations are a significant renovation for any homeowner, which makes durability an essential factor in their selections. Vinyl is a synthetic material that is designed to last decades — often 20 to 40 years — before showing any blemishes or signs of damage.
Flexibility
Vinyl is a flexible synthetic material that is known to contract and expand with ease — which makes installation more efficient and faster than aluminum, fibreglass, or wooden frames. When it comes to customization, vinyl offers homeowners more possibilities. Its flexibility can be adapted to reflect a certain style of door or window, creating a unique aesthetic throughout the home.
Cost Conscious
Cost is a significant factor when deciding which materials to use in any home renovation, including replacing windows and doors. Vinyl is one of the least expensive materials on the market, making it the popular choice for homeowners looking to replace their dated wooden frames. Costs for vinyl windows and doors can range anywhere from 10 to 30 percent less than fibreglass or wood.
Maintenance
Unlike wooden frames, which often require consistent sealing, painting, and restoring, vinyl is nearly maintenance-free. If dust, moss, or mud build up around the frames, simply wiping everything away with a sponge and warm water is enough to keep them looking good as new.
If you live in an area with extreme temperatures, the change from hot to cold may cause the seal around your vinyl windows or doors to break — all it takes to repair any breakage is a caulking gun to restore its insulation capabilities.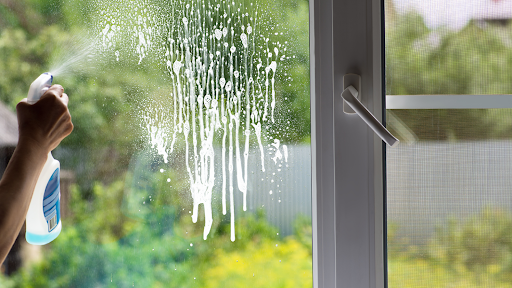 How to Care for Your Vinyl Windows and Doors
Homeowners are choosing vinyl as their go-to material when it comes to restoring or installing new windows and doors in their homes. Vinyl's synthetic properties lend themselves to minimal maintenance, which is desirable among today's busy homeowners. When it comes to maintaining your vinyl windows or doors, you can rest easy knowing cleanup and maintenance is low-effort and low-cost.
The Interior Vinyl Frame
By following a few general maintenance tips, you can be assured of having many years of trouble-free windows. Cleaning the vinyl surfaces with mild soap and water will keep the frames looking like new. Refrain from using harsh solvents or rigged materials, which can damage the vinyl.
The Exterior Vinyl Frame
Keeping the exterior of the vinyl frame is as simple as the interior. Soap and water are enough to remove any dirt or buildup on the exterior using a gentle cloth. Like the interior, avoid strong chemicals and abrasive materials, or you will risk damaging your vinyl frame. Once the area has been cleaned, remove any excess soap, which can dry and form a coating under direct sunlight.
The Glass
As with any window style, maintaining the glass is essential to the longevity of any vinyl door or window. Do not clean glass or other finishes with abrasive materials or cleaners. We also recommend removing internal springs during winter months to reduce the chance of condensation forming on the glass surfaces. Inspect the face caulking annually to ensure proper seal against the glass.
Hardware
Maintaining the hardware is an essential part of keeping any vinyl door or window running smoothly. Clean all operating hardware, hinges and tracks a minimum of twice per year and lubricate lightly with silicone spray or light oil.
The Solution: Golden Windows
When it comes to choosing the perfect vinyl windows or doors for your home, Golden Windows has the experience and reputation for helping you find the right material for your home.
We help homeowners across Kitchener and Southern Ontario select the styles and sizes that best suit their homes and budget. Our one-stop shop includes premium design, manufacturing, and installation services with a proven track record of customer satisfaction.
No matter which style of vinyl you are looking for, we offer a variety of custom window and door options to match every home. Let Golden Windows help you transform your space, lower your energy costs, and increase the value of your home.