As homeowners, we need energy to power our homes year-round. Whether we're running our dishwashers or our furnace in the winter, energy consumption is unavoidable — however, there are ways to reduce and streamline the amount of energy we use in our homes.
Becoming energy efficient simply means reducing the amount of energy consumed on a daily basis. In a typical home, you'll find several sources of energy consumption, from the appliances in your kitchen to your air conditioning unit.
Today's homeowners are looking for ways to reduce the amount of energy they consume in an effort to protect the environment and lower their monthly costs. But what does it mean to be energy efficient? The key is to find ways to perform the same tasks and functions while simultaneously using less energy.
One of the most effective ways to do so is to invest in energy efficient windows and doors. When we think of how we consume energy, we don't always consider the toll an outdated front door or set of windows can have on how our homes operate. Investing in these new designs is a step in the right direction.
By understanding the features and characteristics that go into energy-conscious, premium quality windows and doors, you can make informed decisions when it comes to the design and installation process. Taking this step forward is one of the most effective ways to reduce energy consumption, lower monthly costs, and create a more secure and comfortable environment for your family.
Understanding Energy Efficiency
Before we dive into the details and nuances of what to look for in your new windows and doors, it's important to understand the basic definition of what energy efficiency means.
Simply put, energy efficiency is the use of less energy to carry out the same tasks or perform the same functions and achieve the same results. There are many ways to accomplish this, including replacing the current windows and doors in your home with energy efficient materials and properties.
Energy Efficient Window Features
Today's windows are designed to provide greater energy efficiency to homes in Canada and North America. When it comes to investing in new windows and comparing your options, whether you're looking to install casement windows or a spacious picture style, understanding the features that contribute to their success is essential to choosing the style and materials best suited to your home.
Window Glass
There are two options to consider when researching windows — double or triple pane windows. Double pane refers to two sheets of glass, while high-performance triple glazed windows have three sheets. The glass is separated by small spacers, which create pockets that are filled with a specific type of gas and sealed, locking in moisture, and reducing the rate of cold and heat transfer through the glass.
Depending on the climate you live in or where the sun hits your home, you may choose double pane over triple pane or vice versa. Before you start with your home renovation or new build project, speak with one of our expert sales representatives to find out which application is right for your home.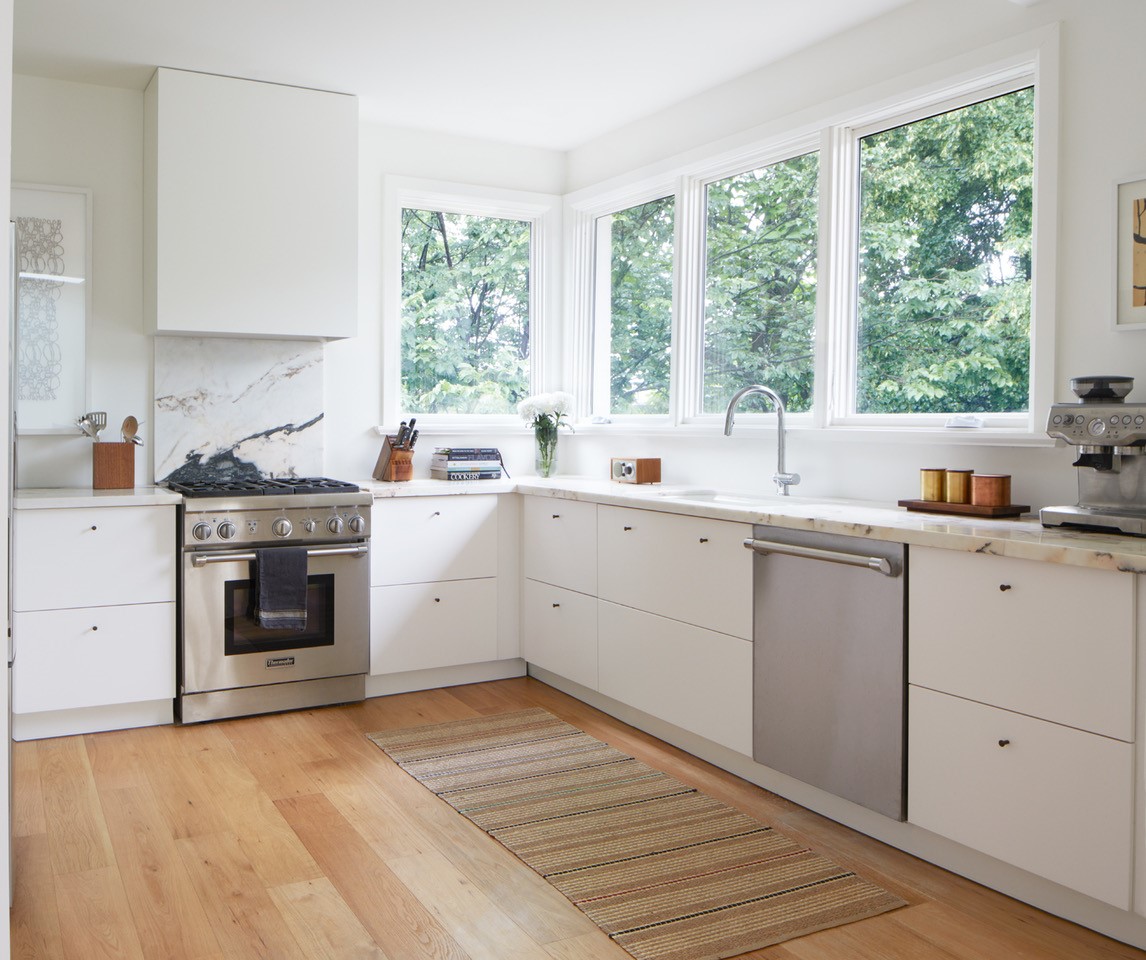 Low E Coatings
Low E coatings, or low emissivity, are designed to increase the insulation that has already been provided by the initially chosen windows, frames, and double or triple-pane glass. This coating was created to minimize the quantity of infrared and ultraviolet light that can pass through the glass without sacrificing natural light.
When light or heat is absorbed by Low E glass, the glass surface will redirect or re-emit it, which helps regulate your home's internal temperatures. This transparent coating can make a significant difference in the level of energy efficiency your windows are able to produce and is ideal for homeowners that experience cooler temperatures throughout the year.
Window Spacers
Window spacers are designed to seal the areas between your double or triple pane glass. This feature helps maintain uniform separation and increases your windows' thermal performance, which in turn increases the window energy ratings.
There are two types of window spaces commonly used in new window constructions — less metal and no metal spacers. Spacers with less metal are typically made from stainless steel or a specific metal alloy and are secured with a foam separator, reducing condensation and heat transfers. No-metal spacers are designed with foam and are more flexible, which allows them to contract and expand naturally with the windows for enhanced gas retention.
Gas Fillers
In the space between each pane of glass, there is a clear gas. This glass helps your windows block cold and hot air from entering the home without compromising visibility and natural light coming through. Typically, the most common window gas fillers you'll find are argon and krypton. The difference lies in the size of the windows themselves and the space between each panel.
Argon gas is often best suited for larger gaps, typically larger than half an inch since their particles are larger. Since krypton particles are smaller in size, this gas is commonly used for tighter spaces in between glass panes, between a quarter and one-third of an inch.
Window Materials
When it comes to selecting new windows for your home, materials matter. It's important to understand that not all windows are created equally, and there is a selection of materials that you can choose from — each offering its own unique qualities and benefits.
Let's look at three of the most sourced materials for new windows in North America.
Vinyl
Vinyl is one of the most sought-after materials for cost-conscious homeowners. Vinyl provides the quality insulation and flexibility you need at a price that doesn't feel overwhelming to your renovation budget. Its formula delivers the weathering and colour-retention properties you need if you live in a seasonal climate, and it's often available in a selection of colours to fit within your design vision.
Vinyl guarantees long-lasting performance, minimal maintenance, and a low-cost solution you can trust to enhance the value of your home.
Our GoldenVinyl® product line offers numerous advantages, the most significant being its outstanding thermal performance. Our windows come in 4 standard exterior colours with an additional 30 optional colours to choose from. Custom colours are also available.
Aluminum
When it comes to an easy and seamless installation process, aluminum is at the top of the list. Since aluminum is lighter than other materials, it's often easier to install — but don't mistake its lightweight properties for weakness, aluminum is known to be durable and long-lasting. Its flexibility allows for manipulation to fit unique, architectural-style windows.
Our GoldenClad® windows offer versatility with a beautiful wood interior and a maintenance free, extruded aluminum clad exterior for your home. Our windows come in 4 standard exterior colours with an additional 30 optional colours to choose from. Custom colours are also available.
Wood
Wood is a timeless classic that has been used both functionally and aesthetically for years in homes across North America. Wood is a material that can create warmth in any space and is especially beneficial when used for new window frames.
Wood offers increased insulation, which is ideal for homes located in seasonal climates. Quality wood is long-lasting, making it a worthwhile investment for homeowners looking to save money in the long-term. Additionally, it's a visually appealing material often sought out to complete rustic aesthetics or to lend a warm touch to modern interiors.
Energy Efficient Door Features
Understanding what makes your new door energy efficient is key to selecting a style that meets your home's needs. These features are an important part of the process and contribute in their own ways to your long-term energy-saving success.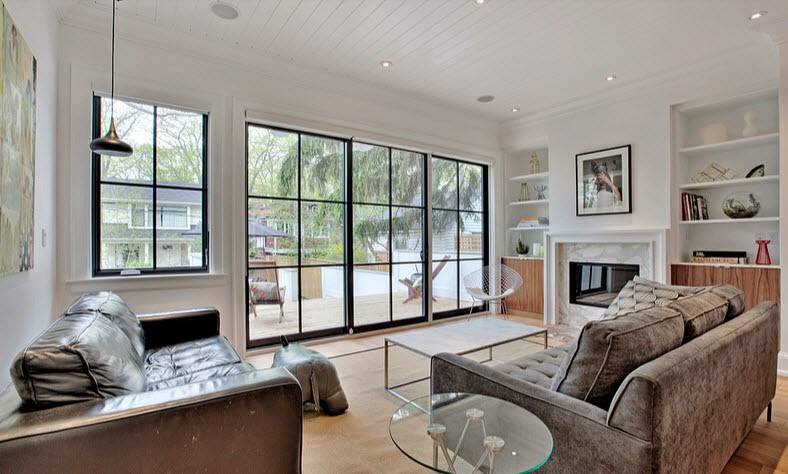 Insulation
Insulation is designed to reduce energy usage and costs and to improve the comfort of the home. By regulating both cold and hot temperatures, an insulated door can keep your furnace and air conditioning units from working overtime.
In many cases, insulated doors will be equipped with polyurethane foam which helps keep heat indoors and simultaneously reduce exterior noise.
Weatherstripping
Weatherstripping can have a significant impact on the longevity of your new doors. This process involves sealing any cracks or gaps around the frame to prevent drafts — since drafts are one of the primary ways heat escapes from the home.
Adding weatherstripping to the installation process is a simple and effective way to increase the energy efficient properties of your new doors, increasing comfort in the home and helping you save on monthly energy costs.
Materials
The materials you choose for your new door can quickly set the scene for the long-term functionality, security, and longevity of your home. When it comes to energy efficient doors, knowing the benefits of each material can help you make an informed decision for your household.
Fibreglass: Fibreglass can easily become one of the most energy efficient materials when it's paired with additional insulation. Adding foam cores to the structure will lock in heat and keep your home's internal temperature regulated throughout the seasons.
Aluminum: Aluminum is one of the most popular choices for new doors among today's homeowners. This material comes equipped with heat-protecting, insulating properties which guarantee the energy efficient qualities you need to keep your home comfortable and your costs down.
Steel: Steel doors have become a popular choice for homeowners looking for a low-maintenance, energy efficient option — especially during the harsh Canadian winters. Its insulating core can easily lock in heat inside your home, preventing any heat from escaping and overworking your furnace.
Vinyl: Vinyl is known for its low-maintenance properties and thermal insulation. Homeowners can add foam insulation to increase its energy efficiency, and wide sills can be reinforced with wood or metal.
Benefits of Energy Efficient Windows and Doors
When it comes to replacing the windows and doors in your home, there are certain qualities that should be prioritized that offer long-term results. Energy efficiency is key in new windows and a new entry or patio door and can provide several important benefits to homeowners in Canada and across North America.
Reduced Condensation
Window condensation is often the result of excessive humidity. As outside temperatures begin to drop, the temperature of your window glass will follow, and when that moist air connects with a glass pane, water droplets begin to form.
In an energy efficient set of windows, the interior of the glass provides a warmth that prevents condensation from accumulating. This means during the winter months, you won't see frost gathering on your windows, and your furnace won't have to work overtime to make up for any lost heat in the home.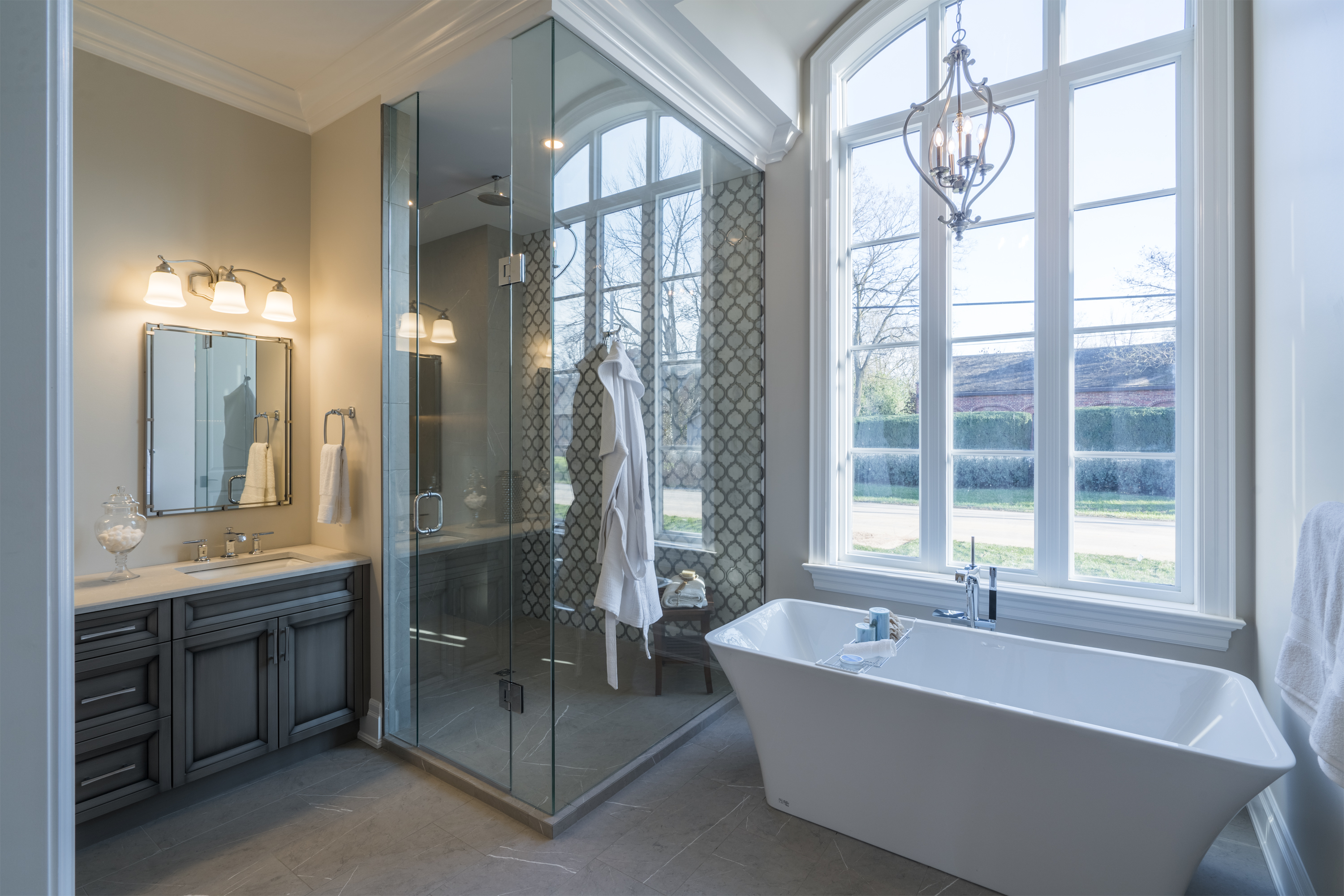 Increased Light
The windows in your home are a key source of natural light. When you invest in new window with energy efficient properties, you're also improving the levels of Vitamin D that enter your home — which is known to improve productivity and better your overall mood.
Increasing the amount of natural light in your home is also an effective way to lower your energy costs. The more sun and light you're able to fill your home with during the day, the less likely you are to turn on your lights.
Energy Savings
In many cases, older windows and doors are known to have significant wear and tear the longer they remain a part of the home and were not designed with energy efficiency in mind. If you've noticed an increase in your monthly energy costs as of late, this could be one of the leading factors.
Investing in a new set of windows and a new front door is one of the most effective ways to curb your costs. The more heat that's kept inside your home in the winter and cool air in the summer, the less likely your furnace and air conditioning units are to work overtime — which can lead to unnecessary surcharges on your monthly bills.
Safety & Comfort
Your home should feel like a secure oasis where you can relax and unwind after a long day, but it can be difficult to do so if you feel cold or uncomfortable in your home. The purpose of installing new windows and doors is to increase the security and comfort you feel inside the house — with new hardware and locks to keep unwelcome guests and wildlife out and keep moisture in and prevent uncomfortable drafts.
Energy efficient windows and doors are designed to achieve this security and comfort, keeping internal temperatures regulated and ensuring there are no gaps or vulnerable entry points available.
Finding Energy Efficient Window and Door Specialists
To make your home energy efficient, you need industry experts that understand the nuances involved in the products themselves and the installation process.
Energy efficiency has become an important part of the way homeowners shop for new windows and new entry or patio doors. Finding manufacturers and designers that specialize in these features is key to ensuring everything is crafted and installed correctly.
At Golden Windows, our window and door specialists in Canada produce quality-made products that meet Energy Star participation requirements and are designed to withstand the elements and protect the inside of the home while still offering style and comfort.
We understand the importance of energy efficiency and are dedicated to creating window and door styles that help our customers reduce their energy consumption and save money.
Get Started Golden Windows
Golden Windows is a leading window and door manufacturer and supplier in Canada with over 60 years of experience.
Since 1961, we've helped homeowners elevate their homes with quality-made windows and doors in Ontario and throughout the USA. We offer a one-stop-shop experience where you can select your desired style and materials and customize them to meet your needs. Our window and door specialists will design, manufacture, and install your new items with a fast and reliable turnaround.
We offer three retail locations in Kanata, Kitchener, and London, Ontario. Browse our selection of window and door frames and materials in-person and receive insight from our manufacturing experts.
Finding energy efficient doors and windows that you can trust to keep your home safe has never been easier.
Contact Golden Windows today to get started.