Cottages and cottage inspired homes can have a magical, cozy feeling to them. They are our happy places, our home away from home, and our relaxation paradises. People count down the months, weeks, and days until they can head out to their cottages or log cabins and open them up for the season.
Just as windows are vital to the function of a house, they are also essential to the function of a cottage. The right windows can be a big determinant of your enjoyment and relaxation, so you need to pick the right ones.
If you're looking for new windows or inspiration for cottage renovations, we've got you covered. Here, we'll go over what you should consider when selecting either new construction or replacement windows for a cottage or cottage aesthetic, what style of window is best suited to a cottage environment, how Golden Windows can help you achieve the look you want, and how to maintain those windows so they look and perform their best for years to come.
Considerations
There are several different factors to consider when selecting the windows for log homes or your cottage. How you prioritize them will be up to you, but you should remind yourself what your goals are as you look at your options. People dream about their cottage getaways, and by choosing the right windows based on the following factors, you can ensure your escape into nature is just a dream worthy.
Comfort
Cottages are primarily used as a getaway and vacation from everyday life. Days at the cottage are for relaxing and enjoying life away from the day-to-day obligations. For some, that means a lot of time spent reading and sunbathing, for others, they may want to boat or fish.
Whatever it means to you, cottages are for comfort, which means that comfort should be a factor when selecting windows for your cottage. Even though a growing number of people are spending more time at their cottages due to the increased ability to work from home, you should still prioritize comfort and relaxation. Whether you like a cool breeze to circulate, keep your windows open in the rain, or want to be able to take in an unobstructed view of a lake or the woods, set the priorities that you want and go from there.
Energy Efficiency
As with all investments, choosing energy efficient options should be top of mind. The best window companies will offer plenty of window and door products that meet today's efficiency standards.
In addition to reducing energy loss, energy efficient windows serve to keep the desired temperatures inside, keeping out exterior heat, cold, and humidity. Unless you choose to let that in by opening a functional window, of course. Our windows come in different low-E coatings, multiple glazes, and energy savings to meet your direct needs.
Maintenance
Different materials and styles of windows require different levels of maintenance. Ease of cleaning is important to consider because the amount of cleaning and maintenance you're willing to do will directly correspond with the performance and lifespan of the windows.
Wood goes perfectly with a cottage aesthetic and provides a stunning look. However, there is some extra maintenance required with wood windows to keep them looking and performing at their best. Some people won't have an issue with it, but others may not want to put in the extra effort, so that's something to think about before investing in wood windows.
Airflow
Being able to get air circulating and proper ventilation is key for comfort and enjoyment. You want to be able to circulate a breeze on a beautiful summer afternoon. After all, going up to the cottage is all about appreciating the great outdoors, and it's even better if you get that boost of the outdoors inside your cottage as well. Fresh air does wonders for mental health and relaxation. It energizes, boosts mood and improves the immune system.
Light
The amount of natural light you want in your cottage is a big decision. Natural light is beneficial by providing exposure to vitamin D, which has many health benefits and plays an important part of the health of your blood cells, bones and immune system. With sunshine being in short supply in Canada for half the year, Canadian cottage goers should make the most of it while it's in high supply. Windows play a huge part in the natural light your cottage receives.
View vs Privacy
If you have a spectacular view, it absolutely makes sense to take advantage of it. Choosing the right window can help to maximize and frame a gorgeous view. Additionally, having a view of nature from inside your home can help to blend the indoors and outdoors together.
On the other hand, while many cottages are more remote and offer plenty of privacy, it's not necessarily a given. Consider what your privacy needs realistically are while considering those views, and remember, there are always stylish window coverings is you need privacy but don't want to give the view up.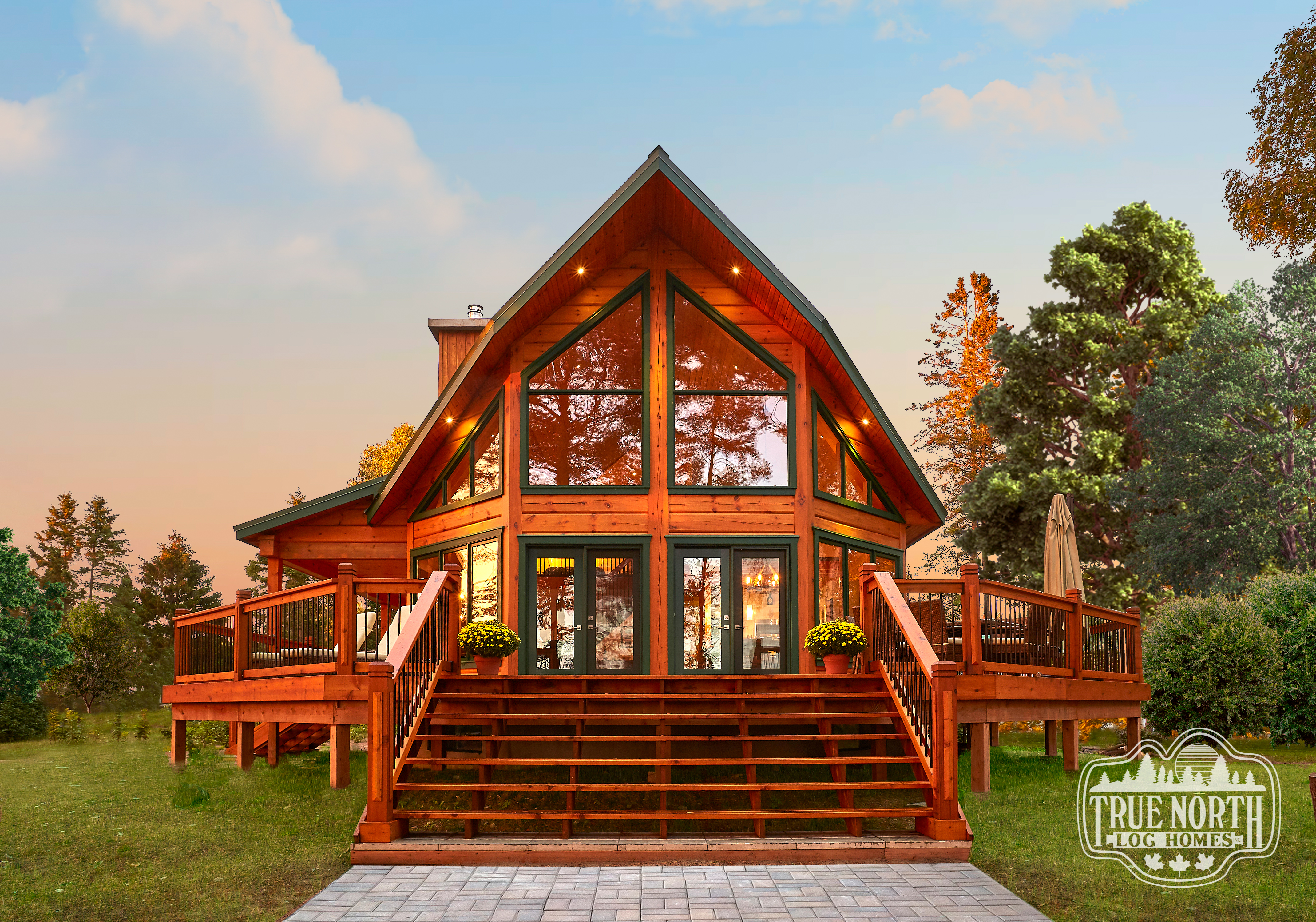 Getting the Cottage Aesthetic with Golden Windows
If you're looking for that rustic look that only comes with wooden windows and doors, you're in luck. We offer two product lines that will meet your needs, depending on your preferences.
GoldenWood® Windows
For those who want 100 per cent wood windows, there's no better than our GoldenWood® windows. They are perfect for log homes or to maintain the authenticity of heritage homes. The wood interior and exterior combined with our in-house mill allows you to customize your windows to fit almost any application from gothic windows to custom size double hung windows with a camber sash. The possibilities are endless.
Our GoldenWood® products are known for their rustic, homey appearance, making their coziness difficult to beat for your cottage or log home. A fantastic natural insulator, wood is a durable, energy efficient option that provides sound insulation and resistance to condensation. And because you can stain, finish and paint wood, the opportunities for customizing their look to match your décor are almost limitless.
Our GoldenWood® windows offer great insulation, but they also require maintenance. However, if you love the look of wood, but don't think the upkeep is for you, we have another option.
GoldenClad® Windows
Our GoldenClad® product line offers versatility with a beautiful wood interior and a maintenance free, extruded aluminum-clad exterior for your home, making it a hard to beat combination. Manufactured in Kitchener, Ontario, our GoldenClad® windows and doors come in six standard exterior colours with an additional 28 optional colours to choose from. Custom colours are also available upon request.
Our GoldenClad® windows provide a sleek, attractive look on the exterior of your home while maintaining wood's cozy aesthetic on the interior of your home. These windows are strong enough to withstand the elements, resisting moisture and insect damage, and they're also easy to maintain. All you need to clean an aluminum frame is a mixture of mild soap and water. Aluminum is also relatively affordable compared to all-wood windows and doors.
Popular Styles for Cottage Aesthetic
Taking all of the above considerations and product lines and using them to choose a style of window for your cottage is no easy task. There are many different window styles that work well with a cottage or cottage style aesthetic. Our GoldenClad® and GoldenWood® windows come in a variety of styles to complement your cottage and meet your needs.
Single and Double Hung
Single and double hung windows are one of the most quintessential cottage windows, providing a charming, quaint, country look. These windows have two sashes. In a single hung window, the top sash remains fixed and the bottom sash slides upward. In a double hung window, both sashes slide, one upward and one downward.
Because hung windows don't open outward, they are beneficial for areas where you want to maximize the usable space around the window like porches or decks. They are perfect for cottages because they work well with a classic aesthetic.
Bay and Bow
Equally synonymous with relaxation at cottages, bay and bow windows are another excellent option. These windows are made of multiple panels and protrude from the exterior of the building. They can be fixed, but often are made up of a mix of fixed and operable panels. Bay windows are constructed on a 30° or 45° angle, while bow windows look more semi-circular.
These windows are popular for the extra interior space they provide, which is often used for a cozy reading nook. They also help to blend the indoor and outdoor space and provide an abundance of natural light.
Slider
Slider windows, like hung windows, have two sashes. However, with slider windows, the sashes slide side to side rather than up and down. Also, like hung windows, sliders don't open outward, making them another great choice for those wanting to maximize space on a deck or porch.
Slider windows are efficient and easy to maintain. They are also great choices for those wanting to take advantage of their surroundings while still having an operational window, as they offer broad, horizontal views of the great outdoors.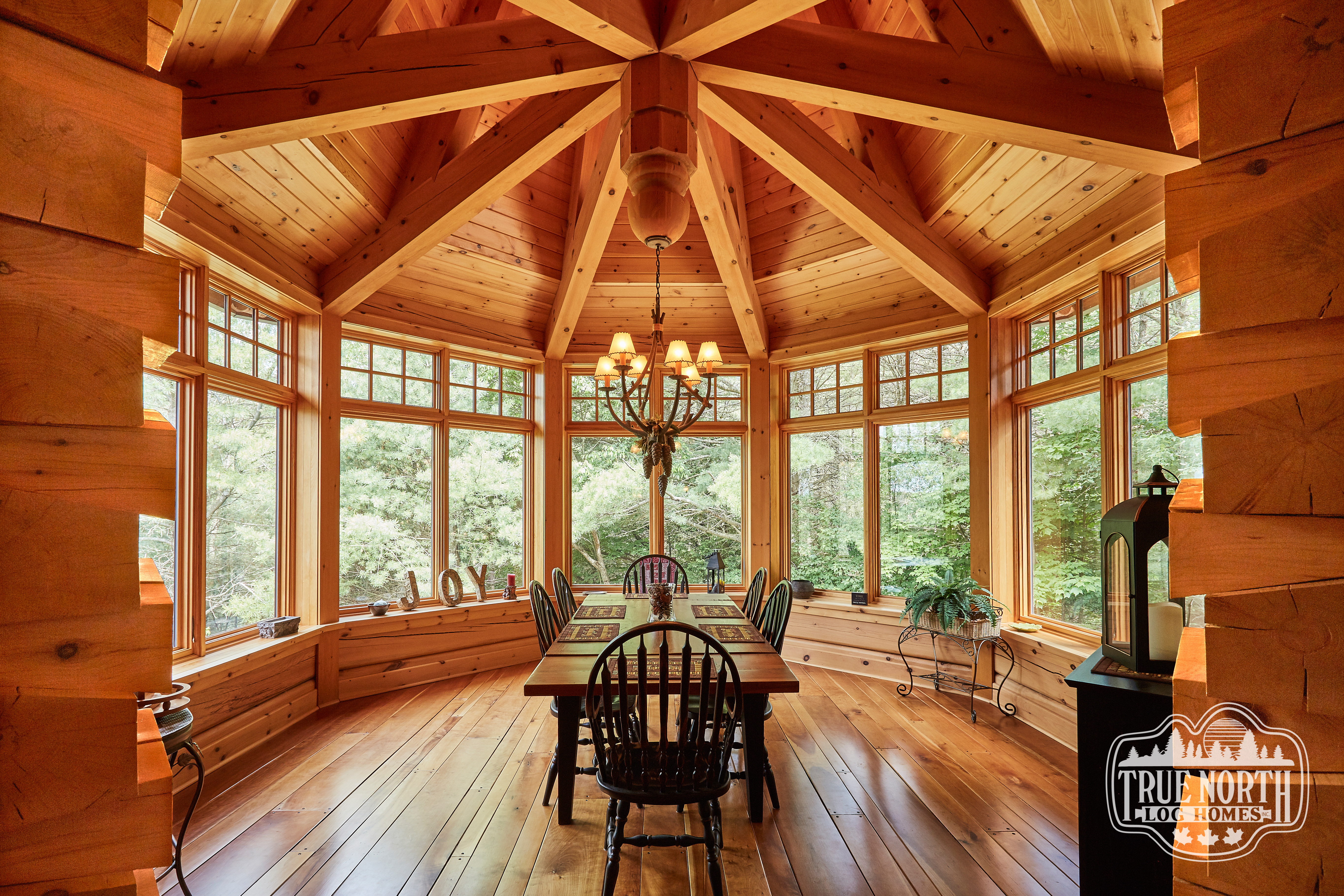 Awning
While summer brings sunshine and blue skies, it also brings rain. Whether a gentle afternoon drizzle or a booming thunderstorm, awning windows provide all-season ventilation. They have a top hinge that allows the window to swing out from the bottom, so the panel deflects precipitation and offers protection from rain and snow. They are particularly good choices for kitchens and bathrooms in log homes, cabins, cottages and heritage homes.
Casement
Casement windows are hinged on the side and open outward, similar to a door, by cranking a handle. This helps to provide good air circulation, as the window almost catches a breeze and moves it inward.
This is a visually appealing choice for those who want to leave their windows open as much as possible to enjoy as much fresh air as possible.
Terrace Doors
The doors you choose connect you to your outdoor spaces and can have a big impact on the look and feel of the space. Terrace doors are a great choice, particularly for log homes. Terrace doors are also perfect for preserving the authenticity of heritage homes. Their classic design fits right in with older homes, and their endless customizability allows you to tailor the door to your exact specifications.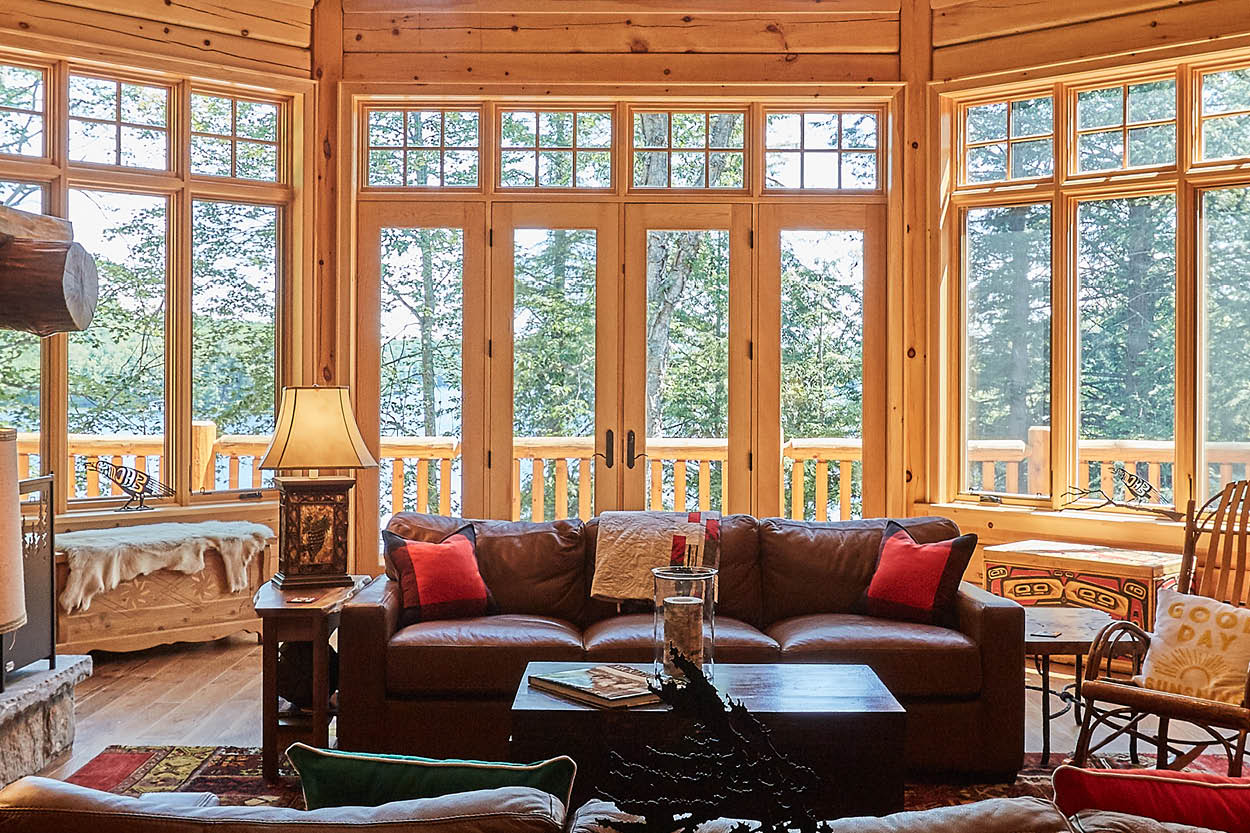 Sliding Patio Doors
Sliding patio doors help blend indoor and outdoor spaces by providing an unobstructed view of the outdoors, while providing plenty of fresh air and sunlight. They come in single or double sliding doors. A conventional sliding patio door comprises two glass panel sections – one sliding and one fixed. Double sliding patio doors, however, feature four glass panels; in this design, the two middle panels operate, sliding outward into the back patio.
Fixed
Getting a nice, cool summer breeze circulating in your cottage is wonderful. But throwing in a few fixed windows doesn't hurt either. Fixed windows do not open, so they're great for providing unobstructed natural light or for taking advantage of a stunning view.
Picture windows are typically large, fixed windows that offer extraordinary views of a home's natural surroundings. There are also architectural windows, which are custom-designed windows that fit your distinctive tastes and the unique architecture of your home.
Picture and architectural windows are great options for those wanting to be able to customize them. Personalize your windows from an unlimited range of sizes and shapes, including half rounds, quarter rounds, gothic, ellipticals, segmental, arch, ovals, extended shapes, geometric shapes, and many more. Mix and match with other styles and make them as tall or wide as you want. You are limited only by your imagination.
When getting new windows installed in your cottage, cabin or cottage inspired home, there are many factors to consider to get both your desired look and the proper function that you're after. Browse our galleries for some inspiration or contact us to discuss some of your favourite options.