There's something timeless about wood. For millennia, humans have hewn wood for lodging – bending, sawing and fitting it to meet their demands. Its robustness provides comfort and shelter. Its earthy tones create a cozy environment. And wood homes effortlessly blend into their natural surroundings, acting as an extension of nature rather than something separate.
Here at Golden Windows, we love working with wood. When we first started making quality windows and doors in Kitchener back in 1961, we focused on wood exclusively. With a handful of employees working at our millwork plant, we perfected the wood window. It was our first passion, and we still get excited about designing, manufacturing and installing wood products.
Recently on this blog, we celebrated the last 60 years of Golden Windows with a post highlighting our journey from that small Kitchener millwork plant. In this post, we want to focus on the material that started everything: wood.
If you are building or renovating a wood home – whether it's a rural log cabin, lakeside summer cottage or urban family house – Golden Windows can help. Our GoldenWood® line is expertly designed and manufactured here in Kitchener, Ontario, ready to enhance the look and feel of your upcoming project.
In this article, we will spotlight the full line of GoldenWood® products, from Architectural windows and Bay windows to entry systems, terrace doors and more. We will also discuss the benefits of wood products and offer maintenance tips for wood windows and doors.
The Benefits of Wood Windows and Doors
Wood enjoyed a long tenure as the material of choice in window and door construction. It wasn't until relatively recently that other materials, like vinyl and aluminum, made their way onto the scene. Even with the introduction of those other materials, wood remains a popular choice for new constructions and renovations, which is a testament to its enduring benefits.
Here are just a few of the benefits of wood windows and doors.
Aesthetics
The look of wood is unmatched. It is both versatile and uniquely itself. Left unfinished, it has a rustic and simple charm that suits homey cabins and cottages. Finished with a stain, it becomes dignified and sophisticated. With paint, it blends in effortlessly with contemporary and older homes alike. Whichever way you finish it, you can always recognize that it is wood.
Durability and Longevity
Wood is robust and lasts a long time, another reason why many homeowners prefer it. On average, it enjoys a longer lifespan than other materials, provided it is cared for adequately. With regular cleaning, general maintenance and weatherproofing, your wood windows and doors can last for decades.
Insulation
Wood is a fantastic thermal insulator. Paired with two or three panes of low-E glass (double- or triple-glazed), wood windows offer superior insulation and energy efficiency. So, not only will your new wood windows look beautiful, but they may also save you money on your energy bill.
Sustainability
According to Mother Earth Living and several other eco-conscious observers, wood is the most environmentally friendly option for window and door material. This is due, in part, to wood's longevity (mentioned above). Longer lasting products mean that fewer windows and doors will end up in landfills.
The World Wildlife Federation (WWF) calls wood windows "a clear choice" for the environment. They note that engineered wood products are biodegradable, renewable and are typically produced using less energy and pollution than alternatives.
Get Inspired: GoldenWood® Windows and Doors
Golden Windows has a long history of producing quality wood windows and doors. Our professional designers and manufacturers have perfected the art of making energy-efficient, durable and beautiful products that match your taste and lifestyle.
Below, we are spotlighting our GoldenWood® line of windows and doors. However, please note that you can also choose products from our GoldenClad® line if you want the benefits of a wood interior with the protection of an extruded aluminum-clad exterior.
Terrace Doors
If you are building or renovating a log home, GoldenWood® Terrace Doors are an ideal choice for the back patio. Their wood frame and brickmould are wide and sturdy, complementing the solid construction of a log home or cottage. And the large panes of glass allow loads of natural light.
Terrace Doors are also perfect for preserving the authenticity of heritage homes. Their classic design fits right in with older homes, and their endless customizability allows you to tailor the door to your exact specifications.
Choose from the standard fingerjoint pine or one of our optional species: clear pine, clear oak and clear mahogany.
Sliding Patio Doors
Sliding Patio Doors are extremely popular with cottage renovators and home builders alike. They help blend indoor and outdoor spaces by providing an unobstructed view of the outdoors. They provide plenty of fresh air and sunlight. And they are accessible entryways for guests, kids and pets.
The GoldenWood® Sliding Patio Doors marry new world sensibilities with old-world charm for an unprecedented level of class and comfort. They offer all the advantages of a sliding door, with the added appeal of a wood frame. Choose from a Traditional (wide French Rails) and a Contemporary (Narrow Rail) design.
Front Entry Systems
Your front door is the cornerstone of your overall curb appeal, leaving a lasting impression on visitors. It is the first thing guests see as they approach, and the last thing they see as they leave. Our gorgeous GoldenWood® Front Entry System ensures that your door makes a brilliant impression every time.
We designed this product with the GoldenGuard® sill, which incorporates an efficient drainage system while eliminating the need for unattractive door sweeps. And each GoldenWood® Front Entry System comes with an optional multi-point locking system for added security.
Choose from various stains for the wood frame and brickmould to create a door that matches your home perfectly. And select from a variety of wood grain embossed fibreglass panel designs too.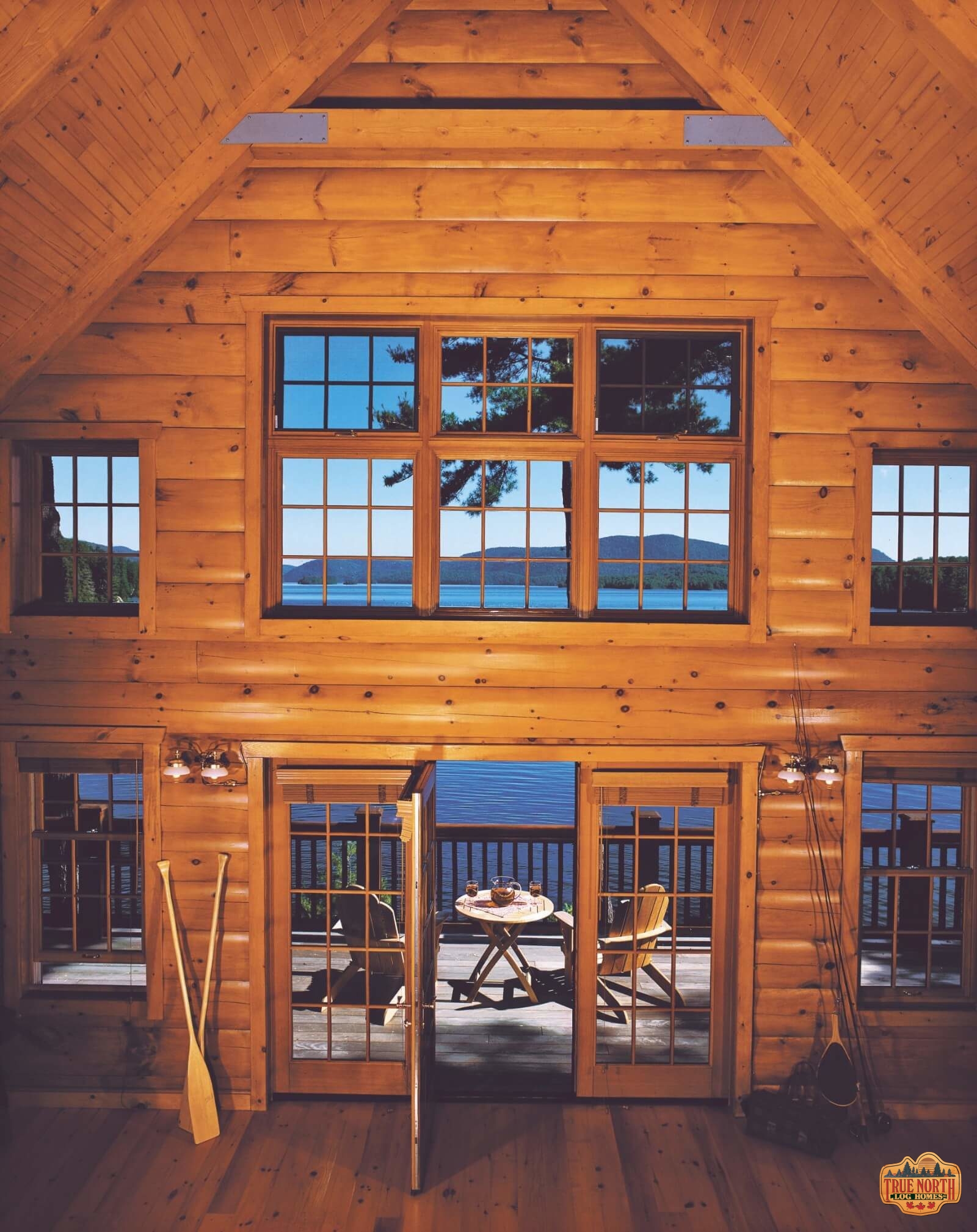 Bay and Bow Windows
Bow and Bay windows make a bold statement, especially when coupled with wood. These large, multi-panelled windows protrude from the exterior wall of a home at 30° or 45°, allowing for multiple angles of natural light and adding depth to your interior.
GoldenWood® Bay and Bow Windows fit neatly within a log home or cottage as a nook area for breakfast or lounging. They also look fantastic incorporated in a heritage home for a lofty, ageless look.
The Bay and Bow windows we offer at Golden Windows are constructed using basic Casement, Single and Double Hung windows, as well as central picture windows. The combination of fixed and operable styles gives homeowners the best of both worlds: plenty of sunshine and airflow.
Architectural and Picture Windows
Picture windows are typically large, fixed windows that offer extraordinary views of a home's natural surroundings. Architectural windows aren't so much a type of window as they are a statement of purpose – custom-designed windows that fit your distinctive tastes and your home's unique architecture.
Wood picture and architectural windows are perfect for homeowners who want unrestrained creative input. Personalize your windows from an unlimited range of sizes and shapes, including half rounds, quarter rounds, gothic, ellipticals, segmentals, arch, ovals, extended shapes, geometric shapes, and many more. Mix and match with other styles, and make them as tall or wide as you want. You are limited only by your imagination.
Operable Window Styles
For operable wood windows, choose between casement, awning, and double-hung styles.
Our GoldenWood Casement Window is energy-efficient and works well in numerous rooms. Its timeless design matches perfectly with the ageless appeal of wood. Casement Windows open completely, allowing you to direct natural airflow into your home. They feature a multi-point locking system for added security. And the roto operators provide superior ease of operation, making them an ideal choice for hard-to-reach spaces.
The GoldenWood Awning Window is an excellent choice for all-season ventilation. Awning windows feature a top hinge that allows the window to swing out from the bottom, meaning it offers protection against rain and snow. They are perfect for kitchens and bathrooms (both of which require routine ventilation) in log homes, cabins, cottages and heritage homes.
Lastly, consider our GoldenWood Double Hung Window, an energy-efficient wood product that is great for ventilation and easy to maintain. In a double-hung window, both the upper and lower sash move up and down, so you can introduce double the fresh air into your home. Both sashes also pivot toward the interior, making cleaning and maintenance a breeze.
Maintenance Tips for Wood Windows and Doors
While wood windows and doors do require some special attention, maintaining them is not so different than maintaining other materials. Just follow a few general rules, remember to keep abrasive products and tools away from the wood, and keep a regular cleaning schedule.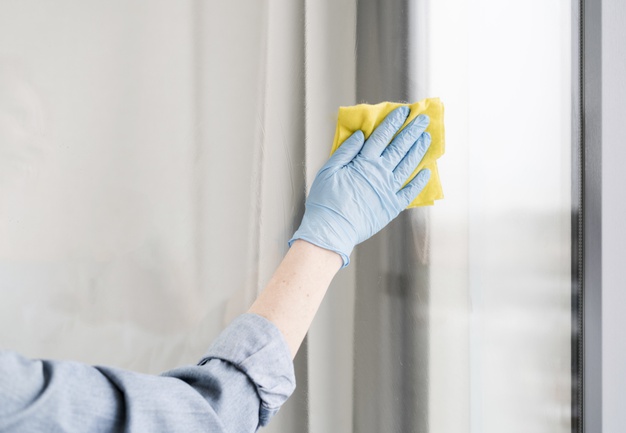 To get the most from your door and window energy ratings – and to keep them looking like new – follow these simple tips.
Get in the Habit of Cleaning Regularly
If it helps, set a care and maintenance schedule for your windows and doors. Often, an annual clean is all you need to keep everything looking great, but a twice-annual routine is even better. Incorporate wood windows and doors into your spring-cleaning regimen, so they get some attention after the moist, cold winter. And, if possible, check them again after the hot summer.
Consult Our General Cleaning and Maintenance Tips
For a detailed exploration of how to clean your windows and doors, consult the Golden Windows care and maintenance brochure available on our website.
If you're in a hurry, here are a few quick tips for cleaning your wood doors:
Disinfect the handles and locking systems and dust your door panels. To dust the hard-to-reach ridges in the panel or moulding, use an unused paintbrush.

Use a diluted mixture of soap and water to clean your doors. Avoid cleaning products like countertop cleaners that contain solvents.

Use a vinegar and water solution to tackle hard-to-clean stains on a white door,

Ensure that you dry your wood doors thoroughly after cleaning. Wipe off any excess moisture with a clean, dry towel and dry with a fan if necessary.
And some helpful tips for cleaning your windows:
Clean the hinges, tracks and operating hardware of your windows at least two times a year. Use a silicone spray or light oil to lubricate.

A gentle cloth or microfibre towel dipped in warm, soapy water should suffice to clean your window frames.

Avoid abrasive materials or cleaners when cleaning glass or other finishes.

Take care not to paint over the weatherstripping. Doing so may result in windows not performing as intended.

Once a year, examine each window's caulking for a proper seal against the glass. Inspect the sealing on the house's exterior as well, and replace or repair any area that is cracked to prevent leaking. (More on that below).
Inspect as You Clean
Look at the finish or paint for peeling and cracking. The finish/paint on your wood products isn't just for appearance; it also protects against swelling, cracking and staining. Remember, though, to be careful with repainting – painting over the weatherstripping may affect performance.
As you clean, you can also check your windows and doors for drafts and leaks. To check for drafts, perform the straightforward "candle test" by holding a candle near various spots around the window or door. If the candle flickers, you may have a draft.
Next, inspect for cracks, breaks or holes in the wood. If necessary, use the Service Request page on our website to contact us for help.
Finally, inspect the caulking. Caulking should last an average of five years, though that estimate can vary greatly depending on climate, weather and other factors. To start re-caulking, use a putty knife to gently remove the old caulking. Choose a suitable caulk (for example, choose higher quality caulk for the exterior). With both hands on the caulking gun, run a steady, narrow bead along the length of the seam. Then smooth the caulk with an applicator, working one small section at a time to prevent buildup.
To summarize, wood windows and doors offer beauty, strength, versatility and efficiency. While they require more maintenance than products made from other materials, caring for wood products is not as laborious as you might think. At Golden Windows, we offer a wide range of expertly designed and manufactured products perfect for any log home, cottage or heritage house.