Your home is one of the most important investments you'll ever make. The longer you live in your home, and the more care and attention it's given, the more equity you build as a homeowner. When it comes to the value of your home, upgrades and renovations are an important part of the equation.
There are several types of renovations or projects you can take on — from gutting and remodeling your kitchen to simply giving your exterior a refresh with a new coat of paint. In between that spectrum is an important part of the home that shouldn't be ignored — premium quality windows and doors. What may seem inconsequential is key to the value of your home.
If you've never embarked on a window or door replacement project, you probably have a long list of questions. To help you get started, we've created a helpful FAQ with some of the most commonly-asked questions among our customers.
With this insight, you feel confident you're making the right decision for your family.
When is the Right Time to Replace My Windows or Doors?
This is one of the most common questions homeowners ask when they're considering taking on this type of project. Timing is an important factor if you're looking to replace your windows and doors, and knowing when to invest your time and money can make a significant difference.
Noticeable Damages
Noticing any damages related to your home's windows or entry door is key to replacing these items at the right time before the problem becomes worse.
Let's talk about potential damage to your windows and doors. First, you want to look around the frame for any rotting wood or chipped/cracked material. It may seem like a minor issue at first, but if left untreated, the frame can start to chip away, creating more opportunities for drafts, allergens, and even wildlife to find their way into your home.
Next, check if your windowpanes are showing any signs of condensation — this could be the result of a defect in your window seal. Instead of letting these issues impact your home and quality of living, invest in new windows or a new entry door for peace of mind.
Dated/Worn-Out Styles
There's nothing wrong with updating your entry door or the windows in your home simply because the style is out of date. In fact, chances are they're due for a remodel anyway — since dated windows especially can create gaps within the framing due to condensation.
Stylistically, upgrading these items is one of the simplest ways to elevate your home and give it the modern look you've been wanting. New framing and fresh colour are often all you need to make an aesthetic impact.
Energy Costs Have Increased
You may have noticed lately that your monthly utility bills have increased steadily. In many cases, your windows may be contributing to these rising costs. When window frames aren't properly secured or condensation begins to form between the panes, this can easily compromise internal temperatures. If drafts or hot air can enter any area of the home, heating and cooling systems have to work overtime to compensate. This drives up energy usage and overall costs.
Today's windows are designed with more energy-efficient solutions, giving homeowners the comfort and peace of mind, they need to feel more financially stable.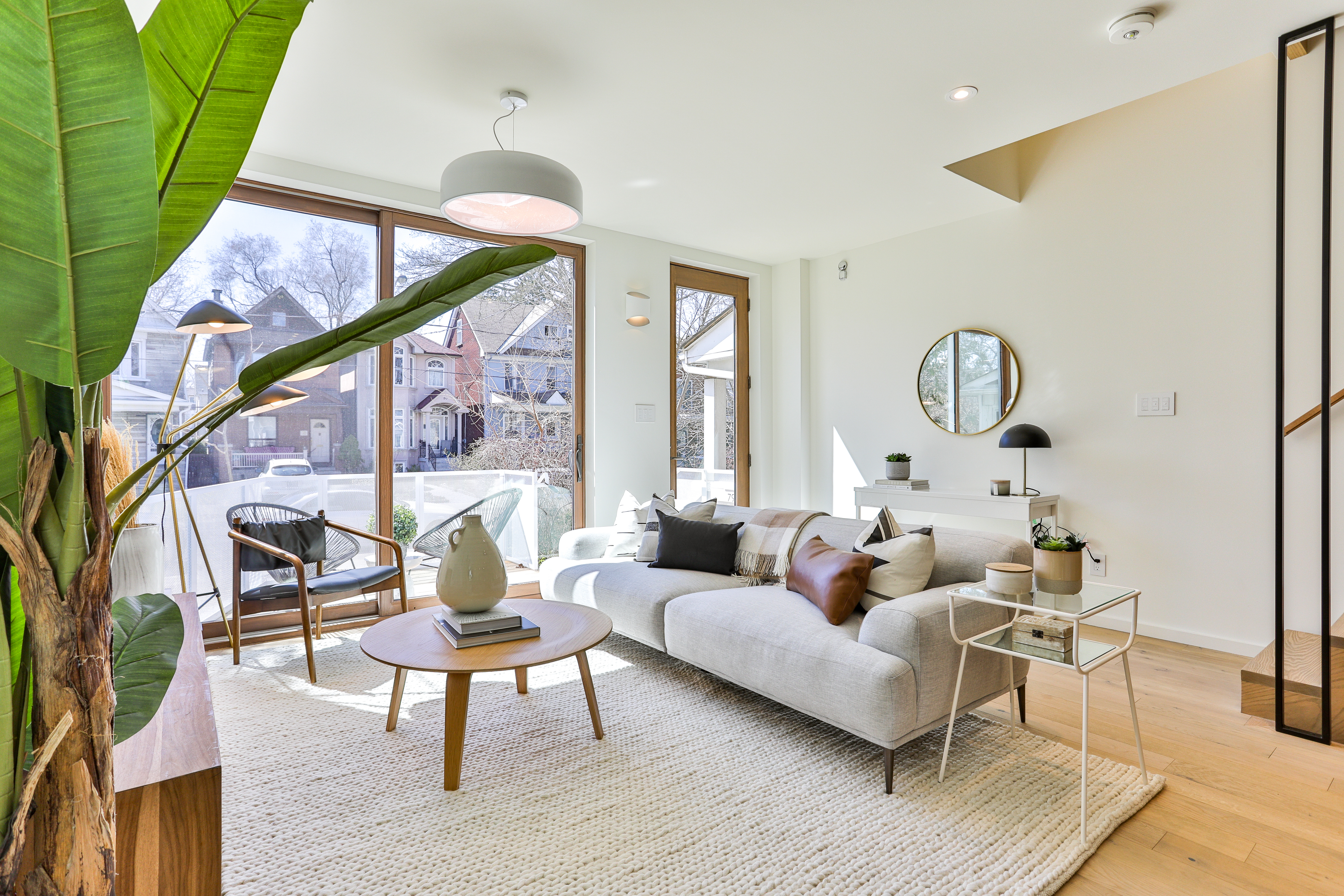 Security Issues
Your home should be a safe space for you, your family, and welcomed guests. The last thing you need is to feel unsafe because your windows or front door are unable to be properly secured.
Upgrading these items is an effective way to keep a wide range of unwelcome guests out of your home, ranging from harmful pollutants and allergens, local wildlife, and even physical intruders. Your window and door specialist will ensure every unit fits securely into its frame and all locking mechanisms are in working order — so you can stop feeling uneasy and start feeling comfortable in your home again.
How do I Know What Style is Right for My Home?
When it comes to replacing windows or doors in your home, style and aesthetics are important pieces of the puzzle. Your home is an extension of your personality, and the features you invest in should reflect your design style.
Let's take a look at a few of our most popular styles and their most desired features to help you find the inspiration you need for your project.
Casement Windows
Casement windows are one of the most popular window styles among homeowners, primarily for their simplicity and functionality. Bound by a side hinge, this style opens outwards and closes with ease, thanks to its fold-down, easy-turn handle.
A casement window offers good ventilation and is ideal for kitchens and bathrooms, where ventilation is especially important. With 90-degree open angles, this style is easy to clean and maintain. Its screen acts as a barrier between outside wildlife, dust, and allergens, giving homeowners the peace of mind they need.
If you're considering installing new casement windows for your home, keep in mind they could act as an obstruction if you live near exterior public walkways.
Single/Double-Hung Windows
If you're looking for a reliable, affordable option, consider single or double-hung windows. Dating back to the 16th and 17th centuries, these styles are still quite common today. While they're similar in design, there are noticeable differences to consider.
A single-hung window includes a fixed sash at the top, allowing only the bottom of the window to open. Double-hung windows, on the other hand, can be opened from both the top and bottom.
While single-hung styles are often more popular, double-hung windows allow for increased ventilation. Both offer their own benefits and amenities that we recommend considering for your next renovation.
Bay/Bow Windows
Like single and double-hung styles, bay and bow windows share many similarities and just as many differences that set them apart from one another.
A bay window is designed in three sections that protrude outwards. Its centre window is picture-style with side panels that typically angle at 45 or 90 degrees. This style is favoured among homeowners looking to create a quaint sitting area or an alcove in their living room.
Bow windows are designed with an arch shape and typically structured with four panels — often casement-style. They offer enhanced natural light, superior views, and can help increase your home's overall value.
Picture Window
If you have a view from your home that you love, you may not want to obstruct it with a single or double-hung window. Instead, you might consider installing a picture window to take full advantage of your exterior surroundings.
Picture windows are single-frame windows that, as the name suggests, frame an outside view like a picture. This style is typically larger than a common casement or awning style and is fixed, meaning it does not open.
The purpose of keeping this window style fixed is that it reduces the size of the frame, giving you more of a view without any obstruction.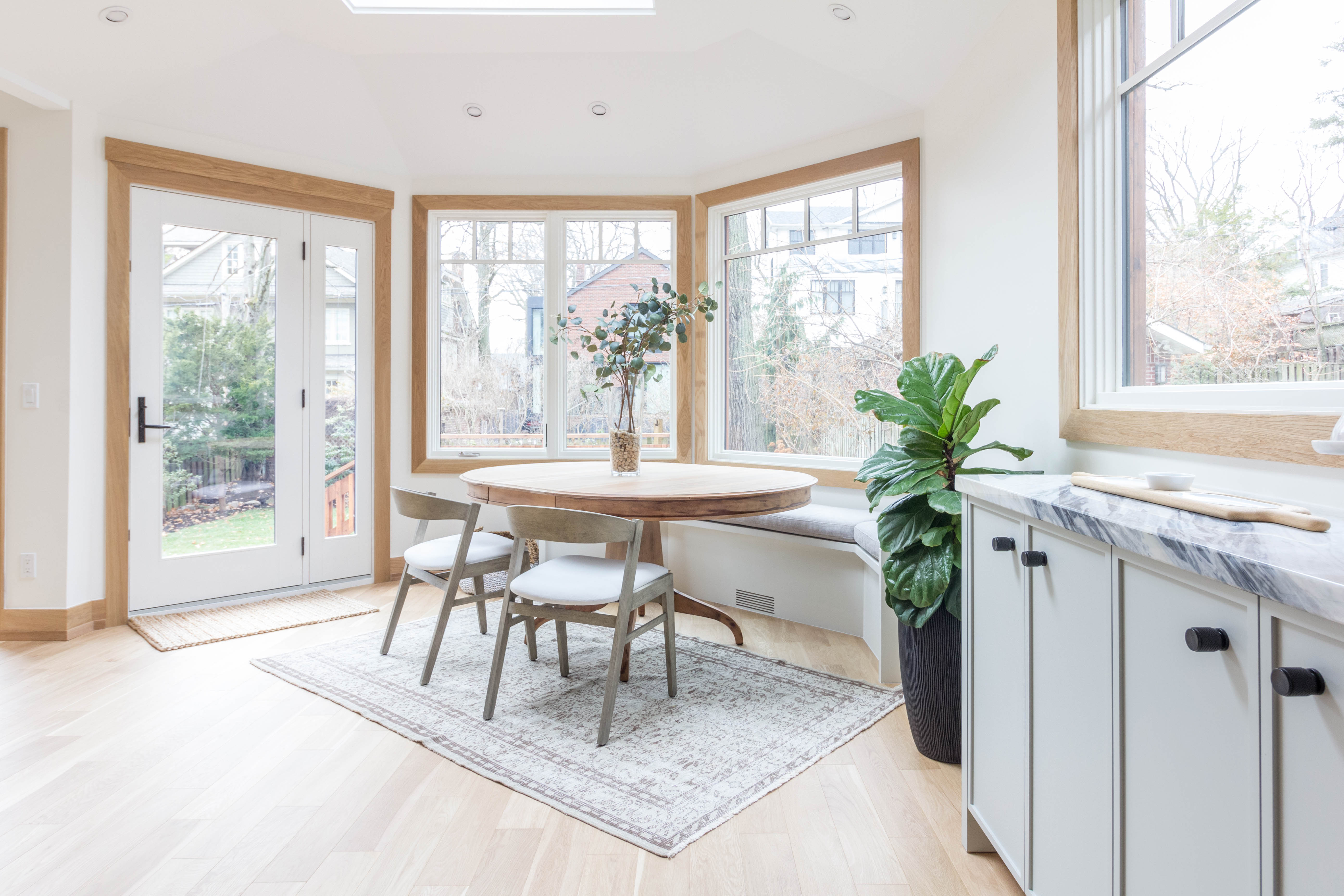 How Much Does Window or Door Replacement Cost?
The cost of replacing the windows and doors in your home will vary depending on several important factors. Understanding these factors will help you make the best decision for your family and your budget.
Size
To understand the full scope of your budget, you need to know the size of the windows or door you're replacing. Standard-sized windows will cost less than custom windows. The more bells and whistles you add, the bigger the sticker price.
Material
The materials you select will ultimately determine which end of the scale your budget will fall to. The price of new windows and doors can vary greatly depending on the material you select — with vinyl often coming in at a more affordable cost than aluminum clad or wood.
Style
There are a variety of window and door styles to choose from, and when it comes to price, they're not all created equal. For windows, custom features such as skylights ring in at a higher price point than sliding or awning windows. When it comes to doors, installing new entry doors in wood or fiberglass be pricier than steel.
What Type of Material is Best for New Windows or Doors?
We don't often think of the materials that make up these important features in our homes. The reality is that the type of material you choose for your windows and doors can impact their overall style, structure, and level of maintenance.
Choosing the right material for your taste and budget will ensure your investment does not go to waste.
Windows
When choosing what type of window is best suited to your home, materials matter. Each window material offers a unique set of qualities and costs to consider.
Wood frames are often regarded as the more costly, high-maintenance option but they also offer a warm stylistic touch and can work with any type of home. On the other hand, vinyl or aluminum frames are most cost-effective and require minimal maintenance.
Doors
Similar to choosing new windows, there are several materials available if you're replacing your front entry door. Wood is regarded as one of the more traditional styles, though you can add a bright pop of colour if it reflects your home's personality.
Many families with young children or those that live in seasonal climates prefer a fiberglass door for its scratch-resistant, durable properties. While aluminum is becoming increasingly popular for its cost-effectiveness and modern aesthetic.
In both cases, there is no right or wrong answer. The most important questions to ask yourself are what are your family's needs, your climate, and your overall budget.
Every homeowner's needs are unique and at Golden Windows, we offer a selection of window and door materials to suit every lifestyle and budget.
How Do I Choose the Right Installation Team?
When it comes to installing new windows and doors in your home, the right team makes all the difference.
The process of window and door installation may look simplistic in nature; however, there are specific details and nuances that must be accounted for during the installation process. Choosing the wrong materials or size can quickly derail your project and waste precious time and money. With the help of experienced window and door specialists, you can avoid these common pitfalls.
Choosing the right installation team is an important decision that shouldn't be made lightly. Asking the right questions is the first step — including experience, customer referrals, and pricing. With these details, you can better gauge if you're choosing the right team for the job.
At Golden Windows, we've worked with homeowners across North America for over 60 years. We're proud to have built a reputation as a trusted manufacturer and installer of quality-made windows and doors. We work closely with our clients to understand their needs, lifestyle, and budget. We know first-hand how important choosing the right windows and doors is for your home.
Get Started with Golden Windows
At Golden Windows, we're committed to helping customers in Ontario and across North America find the right window and popular entry door styles for their homes.
As a leading window supplier, we offer expert design, manufacturing, and installation services that you can trust. We understand that choosing the right style of windows and doors can feel overwhelming. Our installation specialists will work closely with you to ensure you feel comfortable with our process.
With over 60 years of industry experience, Golden Windows is your trusted source for quality-made windows and doors, whether you're looking for a classic look or a more modern approach. We offer three showrooms in London, Kanata, and Kitchener, Ontario — visit us today to view our selection in person.
Contact us today to learn how to leave a lasting impression with family and guests through your home.