Image Provided by: Duimering Homes
A front entry system isn't just a door; it's the entrance to your home and the first impression of your home given to guests. It should send the message that the people who reside on the other side of it care deeply about their home and are willing to put in the time and effort to keep it in great shape. An old, chipped, warped door sends an impression you don't want to be putting out there.
As the holidays approach and in-person gatherings are finally back after years of social distancing and virtual meet-ups, you might be fretting over the condition of the exterior of your house. The focal point of the exterior is the front entry system, and as hands rise to knock on your door, you don't want them to recoil as they take in the deterioration of your door. Luckily, your Kitchener window and doors manufacturers are ready to help with all your entry system needs.
In this article, we'll explore the reasons for upgrading front entry systems, the products Golden Windows offers, how to customize our products to get the exact look you want.
Why You Should Upgrade Your Front Entry System
In addition to the aesthetic benefits of a new front door, there are several other reasons to upgrade your front entry system. These reasons range from aesthetic benefits like a boost to your home's curb appeal to functional benefits like increasing your home's security. Let's explore the benefits our doors can bring.
Increased Security
For most people, our homes are our safe places, and it's essential to consider the safety of your home. Your front entry system helps keep you and your family protected, not just from bad weather and neighbourhood noise but also break-ins. As much as it can welcome our family and friends into our home, a front door also needs to keep unwanted intruders out.
Your doors and windows shouldn't be the only security measures you take, but they do play a vital role in your safety. Cheap-looking doors and windows are often targets for burglars. If they aren't performing at their best, it's time to invest in ones that do. Look no further than our entry systems for your replacement or new construction doors. Our entry systems are manufactured to ensure they form a solid and resilient barrier to your home. We also offer a multi-point locking system for added security, which comes equipped with a central deadbolt and two latch bolts to reduce the chances of lock-picking and forced entry.
The peace of mind that comes with hearing the click of the locking mechanism engaging goes a long way to feeling safe and secure in your home and knowing your family is safe.
Energy Efficiency
Winter is on its way, and with it comes freezing cold temperatures. An efficient front entry system will provide a warm welcome to visitors and also work to keep you warm inside as well. Even if you keep your door closed as much as possible, if it's old, uninsulated or damaged, it could be contributing to air leaks that waste electricity and cause your furnace to work overtime. Your doors and windows could be responsible for up to 25 percent of the total heat lost from your home, which can be a cost not only to your wallet but also to your own comfort in your home.
All of our doors boast an ENERGY STAR® certification, which means all of our products have been confirmed by Natural Resources Canada (NRCAN) to meet strict international efficiency standards. This ensures your door's insulation and glass panels are designed to retain heat when the temperatures drop.
It's also important to ensure your new front entry system is being installed correctly. The most energy-efficient doors and windows won't do any good if they aren't installed correctly, which is why it's essential to always have professional installation. There are plenty of tasks around the home that are great for DIY enthusiasts, but some things are better left to the professionals.
Natural Light
After falling back on the clocks and bringing an end to daylight saving time, potentially for the last time here in Ontario, evenings are arriving earlier and earlier. Whether you've gone back to the office or are still working from home, it's probably already dark out by the time you finish work, leaving no chance to get some sun in during an evening walk.
A new front entry system can help lighten up your darkened days. Getting an adequate amount of natural light has many benefits, and it is even more challenging to get enough of it in the winter. Our front doors come with a variety of options that increase the amount of natural light inside your home through our sidelite and glass options.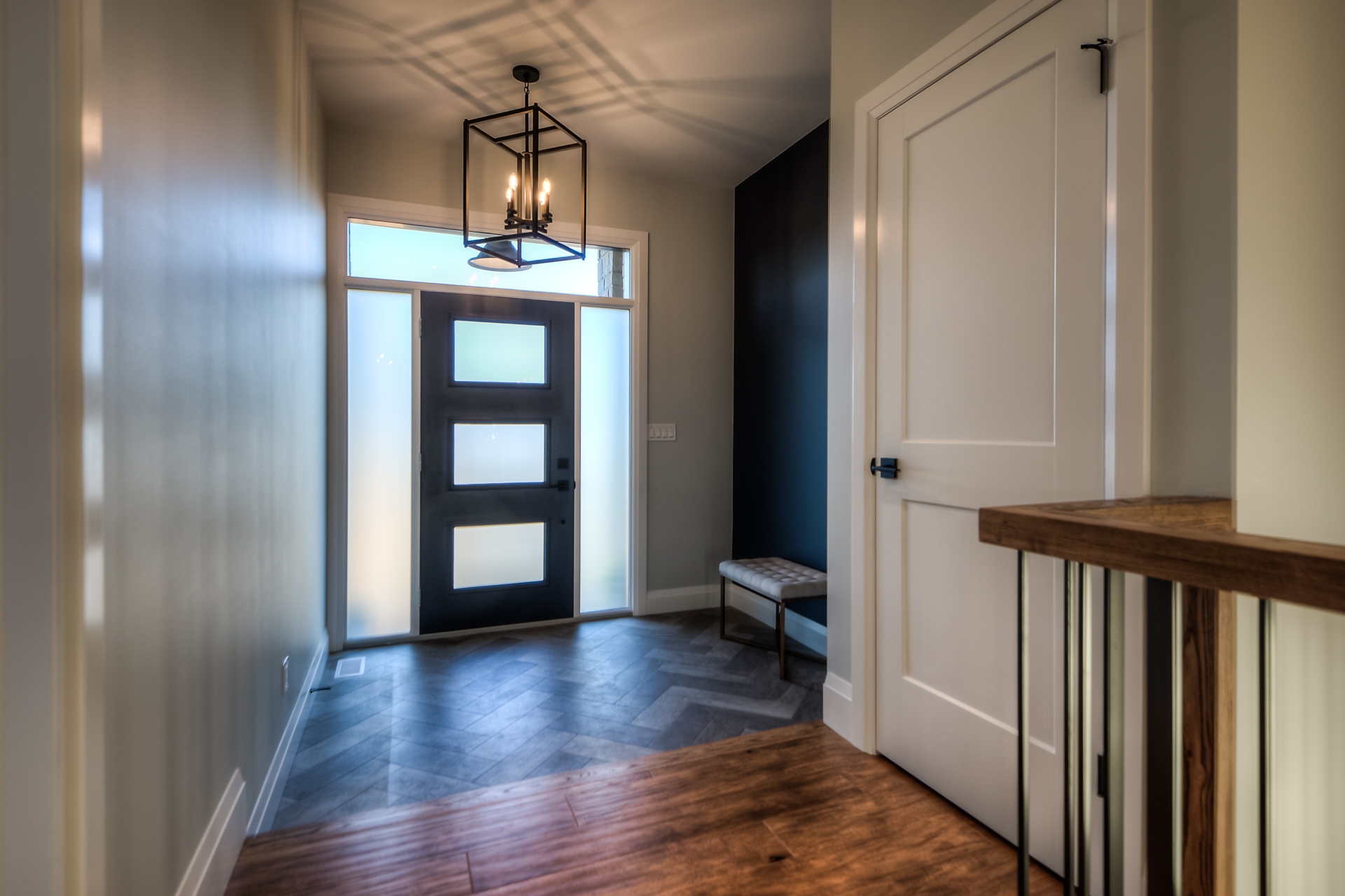 Image Provided by: Duimering Homes
Curb Appeal and Resale Value
Whether you're planning on selling your home or not, improving your curb appeal and resale value are always great things to keep in mind when making investments in your home. In addition to making a great first impression on visitors, a new door serves to make a great first impression on potential homebuyers as well.
The longer a home is listed in Ontario's hot real estate market, the less chance of getting the best price. As homeowners browse real estate listings, having excellent curb appeal that instantly attracts and draws people in is an incredible advantage. An outdated, dirty, or damaged door might take away from all of your home's other beautiful features and turn off potential homebuyers from even coming for a viewing.
A beautiful new entry system adds value to your home and grabs the attention of potential buyers, and increases the chances they'll come for viewing and stick around to learn more about your home.
Add Personality to Your Home
If you live in a newer subdivision, your builder-grade home may look identical to the other houses on the block and share many of the same architectural features in the same materials in roughly the same layout. It could be easy to mistake a neighbour's house for your own if you weren't familiar with your spot on the street.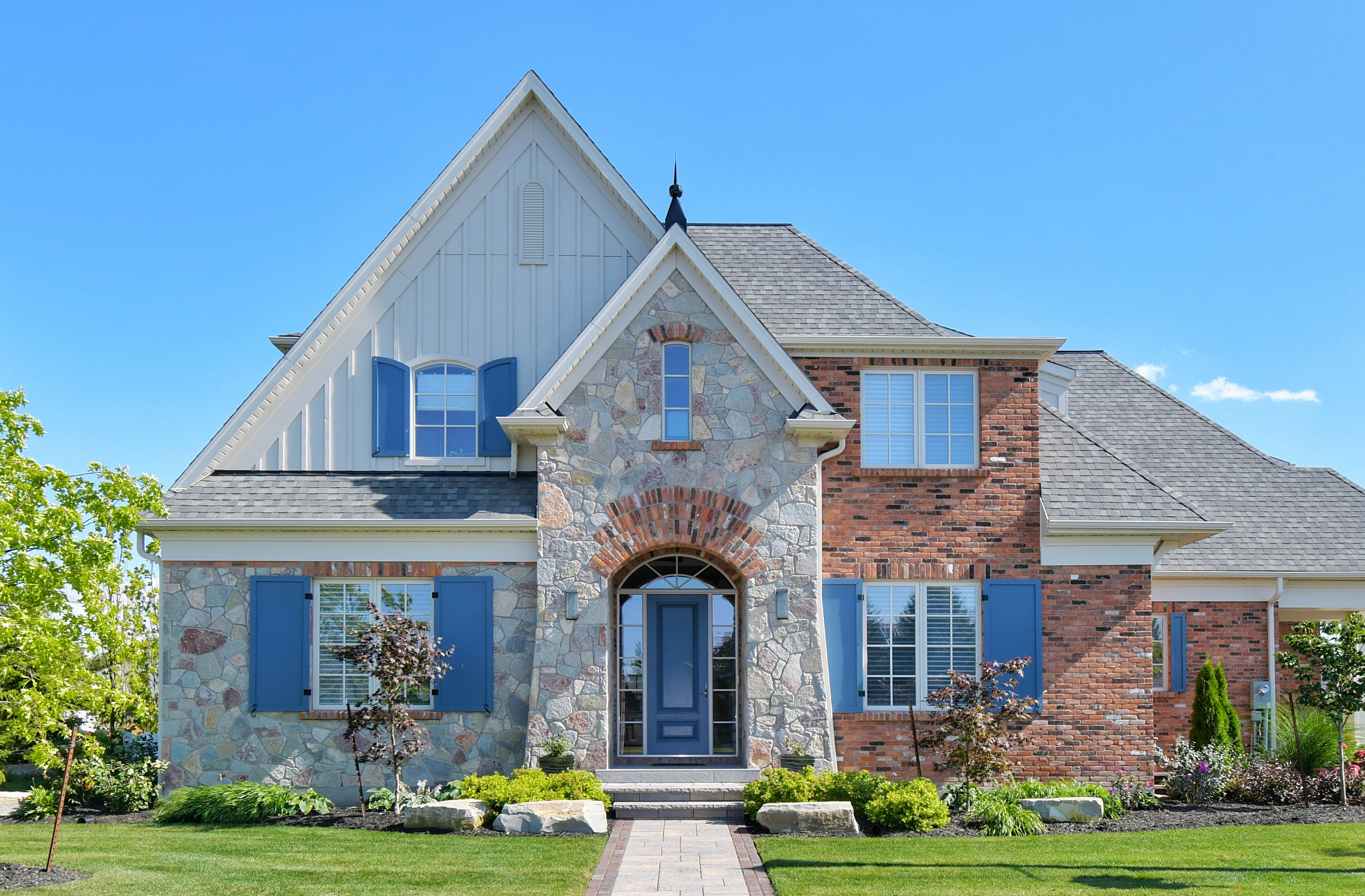 Even a seemingly minor change to your home's exterior, like a new front door, can add to your home's personality and make it stand out from the crowd and make your home feel more homey and welcoming. With the many customization options that come with a Golden Windows entry system, there are plenty of opportunities to let your personality shine through your new front door.
How Golden Windows Can Help
Our entry systems help to provide increased security, curb appeal, and natural light while allowing for your own design and style preferences. They are designed with the GoldenGuard® sill that eliminates the need for unsightly door sweeps while incorporating an efficient drainage system. Each of our Kitchener engineered doors is available in a variety of colours and materials for maximum customization.
Now that you have ample reason to upgrade your entry doors, your next step is to choose which door you need for your home. Here at Golden Windows, we have two main categories of door entry systems.
Our GoldenClad® Entry Systems add a sophisticated and modern addition to your home. It comes with a maintenance-free aluminum clad frame with a variety of steel and fiberglass panel designs. We offer a selection of steel and fiberglass panel designs to reflect your personal taste, lifestyle and the architectural style of your home.
If you're looking for a front door that is unique, sophisticated and well-built, our GoldenWood® Entry Systems are the way to go. Its wood frame with brickmould allows for a choice of stains and lends a timeless beauty to your home. You can choose from a selection of wood grain embossed fiberglass panel designs to customize a classic look that reflects your personal taste.
With both of our systems, you can further tailor your options with Masonite and Trimlite line of products to your liking.
Customizing Options
Once you've decided which entry system is the right one for your home, you can start customizing it to meet your specific style. As with our windows, our front entry systems come with a choice of six standard and 28 optional colours. For the sidelite, you have four different options of Low-E glass and several grille options, including standard grille patterns, grilles between the glass (CBG) and simulated divided lites (SDL). We also offer a selection of decorative glass alternatives from Trimlite.
You also get to make a creative choice with the door panel, which is possibly the most prominent and central feature of your front door. You can decide on a fibreglass panel, which is a durable and lightweight option, resistant to rusting, denting and warping. Or consider a steel panel and enjoy an energy-efficient, low-maintenance door panel. As for design, we offer flush panels (with plain, flat facings on either side) as well as numerous design options.
Once you've chosen your door entry style, you can customize it with custom colours, glass, hardware, accessories, and more. Since we manufacture all our entry systems here in Kitchener, customizing your door to your exact specification is a welcome and straightforward process. It's as easy as picking up the phone and giving us a call. One of our knowledgeable representatives can provide you with a thorough overview of your options and help you pick out the perfect combination.
Maintaining Your Entry System
Keep your front door looking its best and ready to welcome all your guests into your home by ensuring you are regularly cleaning and maintaining it. An annual schedule should be all you need to keep your door and windows looking their best but increasing it to twice a year will be even better. Include wood windows and doors in your spring-cleaning routine to make sure they get the attention they need after the cold, moist winter, and check them again in the fall after the heat of the summer.
We recommend using a gentle cloth or microfibre towel combined with a mild cleanser and water to clean all our products. Disinfect the handles and locking systems and dust your door panels. To dust the hard-to-reach ridges in the panel or moulding, use an unused paintbrush. For hard-to-clean stains, use a vinegar and water solution. For wood doors, dry your wood doors completely after cleaning them and wipe off any excess moisture with a clean, dry towel. Keeping these tips in mind will ensure your new Golden Windows' front entry system looks and performs at its very best for many years to come.
The front door is typically the first thing guests see when they arrive and the last thing they see when they leave. It needs to make a stellar impression. It also needs to be a cohesive component of the home's overall style, complementing the architecture and aesthetic. If you want your home's first impression to be unique, contact us at Golden Windows, and we will get the ball rolling on designing, manufacturing and installing a custom front entry system that suits you. Golden Windows is always here to help you find the best solutions amongst our wood, clad, and vinyl windows and doors.