A few years ago, Architectural Digest wrote a piece on the Swedish Naturhus (Nature House, in English,) a trend in Nordic architecture that strives to integrate homes with their surrounding environments. "When you stand at the edge of a Nature House," they wrote, "it's not always clear whether you're inside or out."
These Nature Houses are often created by installing several large windows, giving the effect of limitless space and surrounding natural beauty while still shielding occupants from the harsh Nordic winters. This concept piqued our interest. And it continues to inspire us as we work with more homeowners looking for that very same effect – a connection between outdoor and indoor spaces.
While the Nature Houses of Sweden are made almost entirely of glass, you don't need to go quite that far to achieve a seamless merge of outdoor and indoor living spaces. In this article, we'll discuss how you can create a more spacious, environmentally integrated home with Golden Windows.
If you want to harmonize your home with Ontario's natural beauty, you've come to the right place. At Golden Windows, we design and manufacture all of our windows and doors in Kitchener, Ontario, so we understand the landscape.
The Benefits of Breaking Down Boundaries
Before we discuss how to merge your outdoor and indoor living spaces, let's list the benefits of doing so. There are several great reasons to upgrade your windows and doors, including increasing your home's energy efficiency and security. In this section, however, we will focus specifically on the benefits of installing new windows and doors for the purpose of blurring the indoor-outdoor barrier.
Spaciousness
When you add large windows, sliding patio doors and skylights to your home, you make it feel more spacious. This is because, first and foremost, we experience our homes visually. Surrounded by opaque walls with few windows, a space can feel restraining and confined. But when you add clear windows and doors, your eye naturally gravitates beyond your walls, which creates a lofty, expansive impression.
In the case of bay windows (which we will discuss below,) you can also create more physical space in a room, in addition to visual spaciousness.
Fresh Air and Natural Sunlight
Little House on the Prairie author Laura Ingalls Wilder wrote back in 1911 that, "Some old-fashioned things like fresh air and sunshine are hard to beat." That remains true today. Adding more windows, patio doors and skylights can supply your home with much-needed fresh air and natural light.
As we have discussed previously on this blog, natural light is a critical component of a happy, healthy home experience. Your body uses natural light to improve mood, regulate circadian rhythms (i.e., sleep cycles,) and stay focused. Natural light is also key in facilitating your body's vitamin D production, an all-important vitamin responsible for fending off illness, keeping your bones healthy, boosting weight-loss and reducing depression. Especially if you are working from home or spending most of the day indoors, it's important to optimize your home for natural light. You can do so by installing larger windows and doors.
Operable windows, sliding doors and skylights also allow fresh air into your home. Fresh air helps reduce the risk of moisture buildup (which can lead to mould growth) by ventilating your home. And much like natural light, it also has essential health benefits.
We intuitively understand our bodies' need for fresh air. When we get worked up, we might exclaim, "I need some fresh air!" When we sense someone isn't feeling well, we might suggest that "fresh air will do you good." This intuition is backed by science, with studies finding that fresh air has broad positive effects on both our mental and physical wellbeing.
Make Your Back Patio an Additional Living Area
Connecting indoor and outdoor spaces also provides homeowners with the opportunity to create additional living area. By making your back patio more accessible, visible and stylistically integrated, you expand the definition of your home to include outdoor space.
When spring arrives, you can treat your back patio like a second living room, and by summertime, your outdoor living space can serve as an extra dining room. It can be a play place for the kids, a workout space for the adults or even your very own family campground.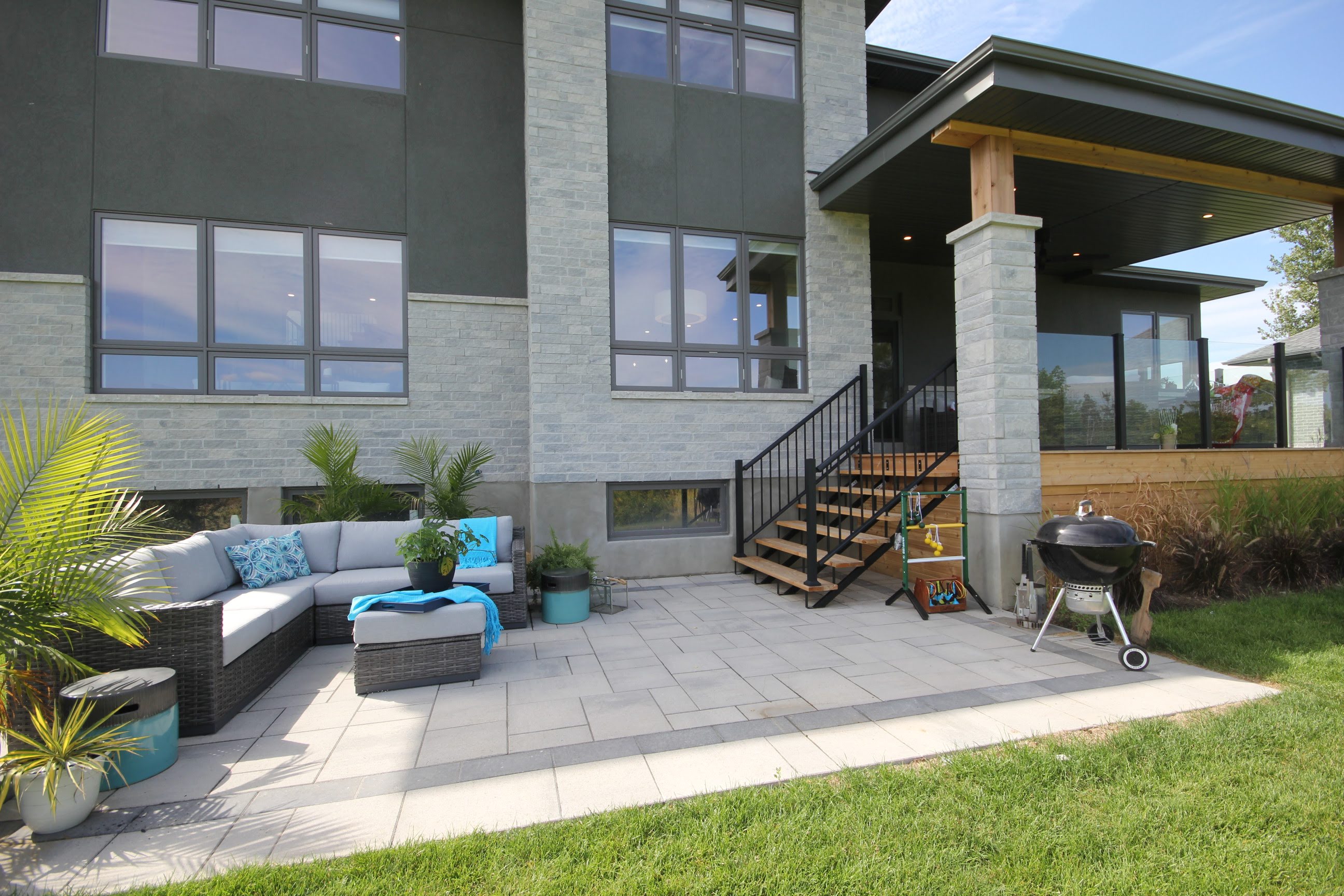 Improve Curb Appeal
Large picture windows and sliding glass doors are trendy, beloved by modern architects and homeowners alike. These installations don't just break the barrier between outdoor and indoor space, creating a more open and enjoyable living experience; they also improve your home's curb appeal by adding a sleek, modern flair.
How to Connect Your Indoor and Outdoor Spaces
If you are ready to reap the benefits of connecting your indoor and outdoor spaces, Golden Windows can help. Choose from our wide selection of doors and windows, and customize them to fit your aesthetics and lifestyle. As inspiration, this section will list a few products and tips that can help you get started.
Picture Windows
When it comes to merging outside and inside spaces, bigger windows are always better. For a large window that's energy-efficient, low-emissivity and expertly constructed here in Ontario, check out Golden Windows' picture windows.
Picture windows are so named because they give you an unobstructed, clear view of the outdoors – just like a picture frame. They are large, fixed-pane windows that feature excellent energy efficiency and superior sound insulation. In other words, they are perfect for allowing in natural light while still shielding you from the elements.
At Golden Windows, you'll find picture windows in a range of options. Choose from GoldenClad®, GoldenWood® and GoldenVinyl® product lines, as well as several colour, grille and accessory options. You also have your choice of glass options, including our triple-glazed glass – three panes of low E glass with argon fills for superior efficiency and reduced sound transmission.
Want massive floor-to-ceiling picture windows? We can accommodate that too. Contact Golden Windows today about installing your bright, beautiful new picture windows.
Bay and Bow Windows
Bay Windows are three or more sided windows that protrude from the exterior wall of a home at 30° or 45°, adding depth and loftiness to a room and allowing for a range of natural light throughout the day. They are usually created with a large picture window in the center and two smaller casement windows on either side. Bow windows are essentially semi-circular bay windows – rather than featuring sharp angles, they have a more curvilinear form.
Both bay and bow windows are excellent for connecting your indoor and outdoor spaces. Because they are multi-panelled, they draw in a lot of sunshine and afford a panoramic view of your natural surroundings. And because they are typically composed of two or more casement windows, they can also be operated to draw in fresh air in the warmer seasons.
Plus, you can decorate bay and bow windows with seating to create a nook. Craft a quiet reading nook where you gaze out at nature or a breakfast nook where you can eat the day's most important meal surrounded by morning sunshine.
Sliding Patio Doors
Sliding patio doors are the ultimate access point to the back patio. They have all the function of a door with all the natural light and breeziness of a window. In fact, Natural Resources Canada and ENERGY STAR® lump together windows and sliding patio doors into a single category.
A popular choice for all styles of homes, sliding patio doors are a type of sliding door, considered a single unit, that is made up of two or four glass panel sections. In a two-panel sliding door, one section slides open and closed while the other remains fixed. In the four-panel style, the two doors in the middle slide open outward into the back patio. The latter is becoming an increasingly popular choice among our clients, who want large, custom patio doors to connect their houses with their backyards.
With Golden Windows, the customizability of your new sliding doors is endless. Choose from energy-efficient GoldenVinyl® sliding windows, rustic GoldenWood® or elegant GoldenClad®. If you are looking for patio doors in Toronto for a modern home, you might go with GoldenClad®. If you are sprucing up a Muskoka cottage, you might choose GoldenWood®. The choice ultimately depends on what best suits your home.
Skylights, Operable Windows and More
For skylights, Golden Windows is proud to offer Velux products. Velux skylights are designed to contribute to energy-efficient, sustainable, healthy and bright living environments. They are fantastic for attic and loft conversions, but they can also add light to your hallways, kitchens, bathrooms, and more.
Skylights come in two main types: venting and fixed. The former is an operable skylight that you can open to add even more fresh air to your home, while the latter is inoperable. Venting skylights are usually found in easy-to-reach places in the house, though Velux does offer an electric venting skylight option that is button-operated.
Whichever Velux skylight you choose, they will provide bright midday sun, further opening up your living space. And because they offer top-down light, they can replace your home's electrical light during the day, saving you money on your energy bill.
To connect your indoor and outdoor spaces, you can also consider installing new operable windows. At Golden Windows, we offer numerous styles to choose from: awning windows, casement windows, hung, double-hung and more. Adding more windows is always a great way to make the most of your home's natural surroundings.
If you are considering a new front entry system, we can also recommend choosing one with sidelites, which bring some welcome sunshine to your front entrance. Visit the Golden Windows website for a list of front entry systems and peruse the various options to customize your new doors. Together we can design, make and install a door that fits your home's unique style and needs.
More Tips for Connecting Indoor and Outdoor Spaces
With your new windows, sliding patio doors and skylights installed, you can turn your attention to connecting your indoor and outdoor spaces in other ways. Here are a few tips for creating an environmentally integrated home:
Add Plants: including plenty of plants in your home décor helps create a sense of unity between your indoor and outdoor spaces, in addition to producing oxygen in the home.

Consider Continuity: Think about repeating certain design features inside and outside. If you have a particular colour palette inside, repeat it in the back patio. If possible, choose similar flooring or furniture materials. This repetition creates continuity in the two spaces and has a harmonizing effect.

Design Your Outdoor Space for Liveability: Put the same effort into designing and constructing your outdoor space as you would an indoor room. Choose comfortable, durable patio furniture. Add mood lighting. Accent with splashes of colour. And to pull the whole thing together, consider an outdoor rug.

Make It Functional Too: With a great BBQ set up, a bar and a fire pit, you can spend all day and evening outside during the summer. The more functional items you add to your back patio, the more time you will want to spend outdoors.
The Importance of Energy Efficiency
If you are adding more window space to your home, it's essential that the windows are efficient. Whenever a window replaces a wall, there is potential for energy loss. To do your best to mitigate energy loss, choose windows with a high R-Value.
Golden Windows offers several energy-efficient glass options, including triple-glazed – which, as mentioned above, provides superior thermal insulation. If you are unsure what glass option to choose, don't hesitate to contact the experts here at Golden Windows. We are always happy to provide information to homeowners.
If your summer renovation project includes harmonizing your house with nature, let Golden Windows help. With our custom picture windows, bay windows, sliding patio doors, skylights and more, you can effortlessly merge your home with its natural surroundings, allowing in more natural light and fresh air.