When you're building a new home, there are many factors to consider. When dealing with everything between architects and contractors to cabinetry and roofing, it can seem like there's no end in sight to the decisions you need to make.
It's no wonder why homeowners often tend to overlook windows and doors when building a new home. With so many decisions to make, it's easy to get decision fatigue and just want to finish the process. Unfortunately, when it comes to your home's new windows and doors, overlooking certain details can cause you to make costly mistakes you'll pay for in the long run. You'll want to make important decisions beforehand, and make sure they are the right decisions for your home.
The good news is new construction is a fantastic opportunity to get precisely the windows and doors you want and make an enormous contribution to the overall look and feel of your home. We know making choices for new construction can be daunting, so we've broken down some of the critical decision-making factors below.
Use our guide to help you make the best decisions for your home.
Which Material to Choose
When it comes to choosing new construction windows and doors, one of the first decisions you will need to make is about the material. It might not make much of a difference to the untrained eye, but there are a few significant differences of note between some of the more popular window and door materials. There's no "right" material, just the right one for you.
So, what should you be keeping in mind as you look at the different materials? Everyone's priorities are different, but some key factors to consider are price, energy efficiency, maintenance level, durability, and how they look.
Let's look at some of the options available.
Aluminum
Aluminum is an excellent option for those looking for sleekness, strength and bold design. It has become a popular option for residential windows, often clad to wood, desired for its balance of lightness and durability.
The lightness of aluminum makes it easy to customize the material into various configurations, which is excellent news for homeowners who want a truly distinctive design. At the same time, it's still a strong material, able to withstand the elements, resisting moisture damage and insect damage. Aluminum is also easy to maintain, and just requires a mixture of mild soap and water to keep clean.
Compared to all-wood windows and doors, aluminum is also a relatively affordable option. Aluminum-clad windows (which feature an extruded aluminum-clad exterior with a wood interior) are an excellent compromise for homeowners who want the cozy look of wood without the full cost of an all-wood window.
The natural sheen of aluminum also adds a modern touch to homes, and its lightweight, narrow profile allows for better views and sightlines. While aluminum alone is not a very energy-efficient material to use, going with aluminum clad to wood can provide the best of both worlds. At Golden Windows, we offer various aluminum clad windows including both our GoldenClad® Double Hung Window and GoldenClad® Architectural & Picture Window.
Vinyl
Vinyl has been a popular choice in window frames since around the 1970s. It continues to enjoy high favour among the majority of Canadian homeowners, as they have several benefits for homeowners.
With a natural insulating quality and the ability to form a tight seal, vinyl is a very energy-efficient material. It's also easy to maintain — vinyl windows don't require any paint, stain or finishing, and can be cleaned using a simple mixture of mild soap and water. Our collection of vinyl window products is especially ideal for homeowners who prefer a hands-off approach to their windows.
Another great benefit to vinyl is its low price point, adding similar value at a more affordable price than alternatives. However, quality is of paramount importance when looking at vinyl. Low-grade vinyl tends to be thinner and poorly fastened, making the frame susceptible to leaks, warping, and even cracking.
While vinyl makes for a great-looking window, it is not customizable after the fact. Since vinyl tends to be liquid repellent, it isn't easy to paint, meaning that the colour you choose initially is the colour you get throughout the window's functional life.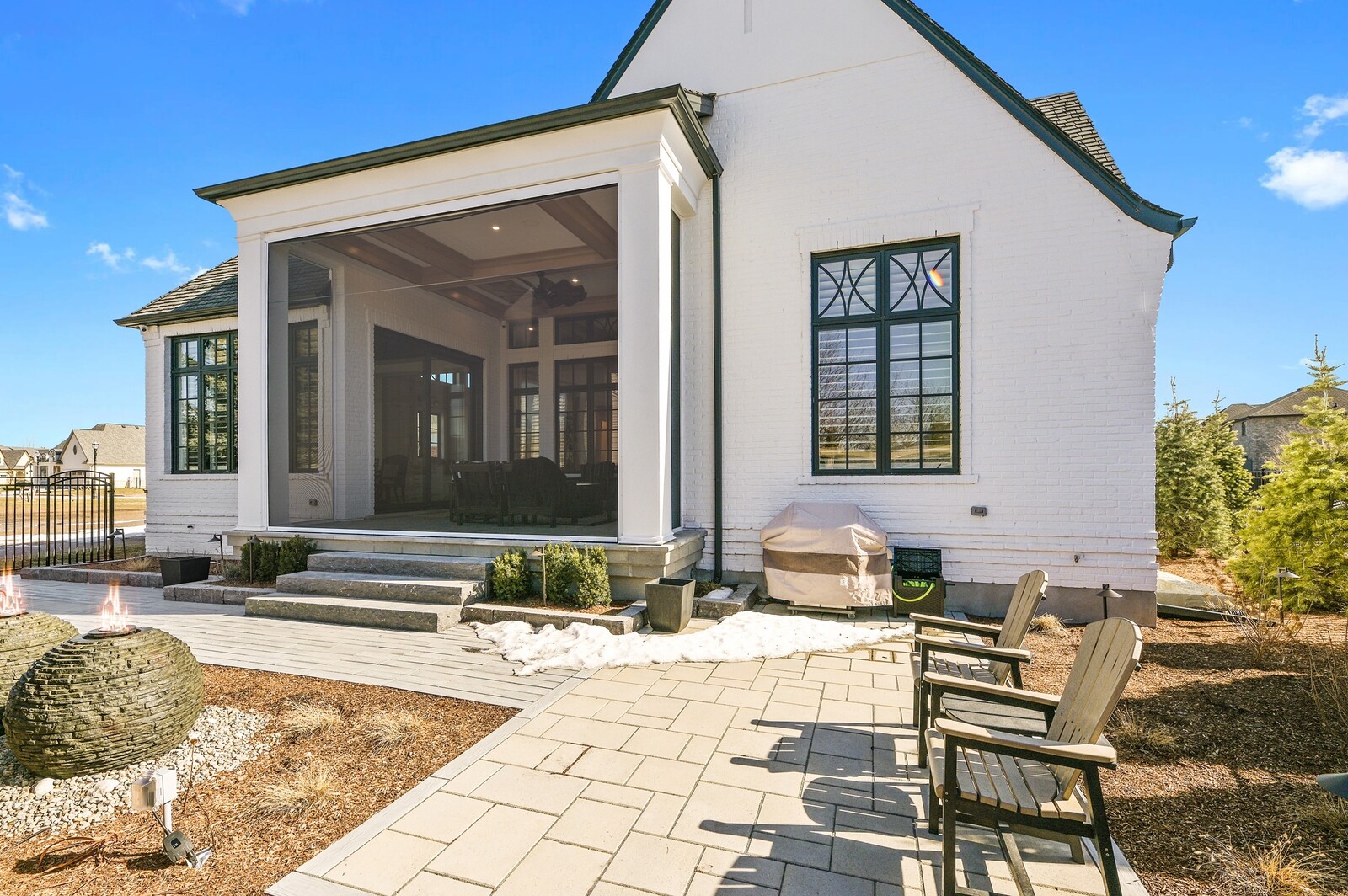 Wood
Homeowners love wood windows and doors for their timeless look and superior insulating qualities. Wood is also durable, sound-insulating and condensation-resistant.
You can also easily modify the look of wood to exact specifications by staining and painting, making it easy to ensure that your new windows complement the surrounding décor and colour scheme.
That said, all of the benefits of wood come with a price. Wood windows are more expensive than both aluminum-clad or vinyl counterparts, but can pay for itself in lower energy bills and increased curb appeal (which can boost resale value). Ultimately, when you purchase windows or doors, you have to do your own cost/benefit analysis. Many homeowners happily pay a little extra for the highly efficient, beautiful and customizable qualities of wood. For others, vinyl or aluminum-clad better suit their needs.
Choosing Your Type of Windows & Doors
Your doors and windows help define the style of your house, allow natural light to flood your rooms during the day and let in air to keep it fresh and dry. Beyond those standard functions, windows can vary in many ways.
Some window types are easier to open, some are ideal for broad views, and some are great for airflow. Different windows can also have very different looks to fit a building's architectural design or decorative style. Narrowing down the many options for windows includes looking at the primary window types.
Double-Hung Windows
Classic hung windows have two sashes that slide vertically up and down in the frame. They're also easy to maintain, allowing you to pivot the sashes toward the interior for effortless cleaning.
Casement Windows
Casement windows are hinged windows that operate by turning a crank and open completely at a side hinge, allowing you to direct the airflow.
Awning Windows
Awning windows open from a top hinge, allowing you to ventilate a room even when it's raining outside.
Picture and Architectural Windows
Picture windows are tall, impressive, fixed pane and usually without grilles. You can generally find these statement windows flanked by smaller, operable windows to create a structured framing effect. Architectural windows are another fantastic choice, available in various traditional shapes, including half rounds, quarter rounds, gothic, ellipticals, arch, ovals, and many more.
Slider Windows
Slider windows are ideal for rooms with interior or exterior space constraints, as the sashes run flatly on a track. They allow you to ventilate a room without obstructing space and are very easy to maintain.
Bay or Bow Windows
Classic bay and bow windows are a perfect accompaniment for cottages and classical homes. They are bold, bright, multi-paneled windows that maximize natural light.
Double Sliding Patio Door
Another popular choice for modern homes is the double sliding patio door, which features four panels, with the two doors in the middle sliding open outward into the back patio.
Check out the windows section of our website to gain more inspiration about what our windows could look like in your new home.

Energy Efficiency
The energy efficiency of your windows and doors is one of the important aspects to consider when preparing for your new construction home. You should feel comfortable in your own home and not have to worry about losing heat in the winter or air-conditioning in the summer.
High insulation performance windows and doors maximize efficiency. Look for windows with Low E coating, sealed space for argon gas, weather stripping, moisture-resistant frames and airtight caulking.
It is also essential to have your windows professionally installed by a certified team of installers. Improper installation can negate the functional properties of an energy-efficient window. At Golden Windows, we design, manufacture, and install our products, so you know you are getting efficiency at every step of the process.
If you're looking to ensure a warm and comfortable winter for you and your family, you might be considering triple glazed windows.
There are several benefits to triple glazed windows in Canada, including their high insulation performance and cost savings that are ideal during our often-extreme weather conditions. With an added argon fill, that third pane of glass increases the window's Energy Rating (ER), meaning it better resists heat loss and air leakage and lowers the window's solar heat gain coefficient.
Other benefits of these windows include noise reduction and increased safety. Our triple glazed windows are also more resistant to condensation, meaning a more comfortable environment all around.
Customize Your Windows and Doors
No matter which Golden Windows product you choose, there are several options to customize your windows and doors to create a unique expression of your home, taste and lifestyle.
Say, for example, you choose one of our GoldenClad® products. Once you have selected the basic type of window you want, you can personalize it through several different choices. The following are just some of the available options for each:
A selection of six standard or 28 optional colours. Alternatively, you can select from an unlimited number of custom colours.
Four different Low-E Options for the glass, which all include Argon gas. Low-E (or low emissivity) refers to glass that emits low levels of radiant thermal energy; Low-E glass helps conserve your home's energy expenditure without minimizing the amount of natural light you enjoy.
Three standard and two optional hardware finishes to choose from.
Multiple grille options, including grilles between the glass, removable wood grilles and simulated divided lights (SDL).
A choice of Victorian, Muskoka, Colonial and Custom Grille Patterns.
A choice of available exterior brickmould and sill nosing
Of course, these are just the options for our GoldenClad® series. There are more options available in our GoldenWood® and GoldenVinyl® windows. We recommend perusing our website to explore all the myriad ways you can personalize your new windows.
Meanwhile, if you want to make a stellar impression, pay special attention to the front door, as it's the first and last part of your home that guests see. It also needs to be a cohesive component of the home's overall style, complementing the architecture and aesthetic.
When you opt for a Golden Windows Front Entry System, you can choose between our GoldenWood and GoldenClad Entry Systems. The former is designed with a maintenance-free aluminum clad frame and is available in a selection of steel and fibreglass panel designs. The latter features a wood frame with brickmould that allows for a choice of various stains and is available in a variety of wood grain-embossed fibreglass panel designs. The best part? All of our doors in Kitchener are manufactured locally.
Once you've decided which door is right for your home, you can start customizing. As with our windows, our front entry systems come with a choice of six standard and 28 optional colours. For the sidelite, you have four different options of Low-E glass and several grille options, including standard grille patterns, grilles between the glass (CBG) and simulated divided lites (SDL.) We also offer a selection of decorative glass alternatives from Trimlite.
You also have a creative say on the door panel – arguably the central feature of the front door. You can go with a fibreglass panel, durable, lightweight and resistant to rusting, denting and warping. Or, you can opt for a steel panel and enjoy an energy-efficient, low-maintenance door panel. As for design, we offer flush panels (with plain, flat facings on either side) and numerous design options.
If you are having trouble picturing the panel designs above, consult the "Door Panel Options" section of our clad or wood entry systems and doors page, where you will find helpful line drawings.
If you want your home's first impression to be unique, contact us at Golden Windows, and we will get the ball rolling on designing, manufacturing and installing a custom front entry system that suits you.
Trendy Options for New Construction
When it comes to windows and doors, there are always traditional favourites. However, if you're looking to do something different, here are some current trends for new builds.
Floor-to-Ceiling Windows
We've all spent an abundance of time in our homes during the past year, so homeowners are naturally seeking an abundance of natural light.
Floor-to-ceiling windows have been steadily growing in popularity for a few years now. To let more light in, homeowners are choosing bigger windows spanning the entirety of a wall. Floor-to-ceiling windows open spaces to the outdoors and create the opportunity for impressive views.
When windows take up a significant amount of real estate, they must be insulating. Golden Windows' picture windows, which can be scaled to any size to fit your unique home, come with a choice of four Low E glass options. They are also available in Triple Glaze for increased energy efficiency.

Corner Windows
Corner-unit windows have been gaining popularity for their ability to capture panoramic views and light from multiple directions. A corner window is a single unit comprised of two or more sashes that meet at a corner and span both sides of a building. They provide a clean aesthetic with minimal visual disruption. Bigger options can provide more expansive views while still offering energy-efficient comfort year-round.
Sidelites
Although sidelites never went out of fashion, more homeowners are expressing interest in adding them to their front doors.
Sidelites are the narrow, door-length windows that flank entry doors. They complement the look of a door by providing light framing, and they add brightness to your home's foyer. In the past, sidelites have been fixed within frames flanking a door, but today's trends call for more functional offerings with windows that can let in the fresh air.
Bay Window Nooks
With their curved, multi-paneled design adding depth, loftiness and brightness to a room, bay and bow windows are a trend in and of themselves. However, they have created a spin-off trend: the bay window nook.
By adding new dimensions to a room, bay and bow windows create the perfect environment for a cozy nook. These are popular for reading nooks, often featuring upholstered window seating.
Double-Sliding Patio Doors
Double sliding patio doors are very hot right now, as they merge your indoor and outdoor spaces. The four-panel sliding door is also popular, facilitating easy access to your outdoor areas and offering stunning views of the surrounding property.
In the traditional two-panel sliding doors, one section slides open and closed while the other remains fixed. In a four-panel, "double" version, the two doors in the middle slide open outward into the back patio.
Why Pre-Planning Is Important
The pandemic has increased the demand for home building and renovation, with no signs of slowing down. Between supply shortages going back to the start of the pandemic and rising demand for home projects, it's a great idea to get quotes in the fall or winter months. This helps to ensure builders will have your windows and doors ready to go for the spring.
How Golden Windows Can Help
Our sales staff are ready to help you find the windows and doors that will make your new house a home, and our professional installers know how to install doors and windows on any new construction home. Get in touch to discuss your window and door options.