Spring is nearly upon us, which for many homeowners means one thing: Renovation season! It isn't often that you renovate your home, and doing so in a way that fits your style, sensibilities and criteria takes careful consideration.
Naturally, you're curious about what's popular right now. What window and door trends are builders, designers and fellow homeowners buzzing about this year? Implementing the latest trends can help keep your home current, your curb appeal sharp and your home's efficiency cutting-edge. It can also boost your home's resale value, as this year's design trends form the basis of what future buyers look for in a home.
That's why we want to take this post to discuss the latest trends in windows and doors. At Golden Windows, we regularly receive feedback from prospective buyers and happy customers about what they like, which helps us keep up with ever-evolving trends.
Since we design, manufacture and install all of our products, we are able to adapt to shifting consumer desires and offer the latest – and best – in windows and doors. Our window collection and door collection reflect a mix between the hottest new styles and timeless designs – all bearing our signature quality craftsmanship.
If you're planning on renovating this year, check out the most exciting products, styles and design approaches below.
Floor-to-Ceiling Windows
Given the amount of time we all spent indoors this past year, it is perhaps no surprise that homeowners are redoubling their desire for natural light.
That's one possible explanation for the recent trend toward floor-to-ceiling windows, but it doesn't explain the phenomenon entirely. Floor-to-ceiling windows – or "window walls" – have steadily grown in popularity for a few years now, championed by renovators seeking bright, dramatic views, improved curb appeal and the impression of interior spaciousness. You routinely see floor-to-ceiling windows in design and architecture magazines, movies and other media, which has also added to their general appeal.
For a fantastic floor-to-ceiling option, choose Golden Windows' picture windows. When windows take up a significant amount of real estate, it's particularly important that they be insulating and energy-efficient. Our picture windows, which can be scaled to any size to fit your unique home, come with a choice of four Low E glass options. They are also available in Triple Glaze for increased energy efficiency.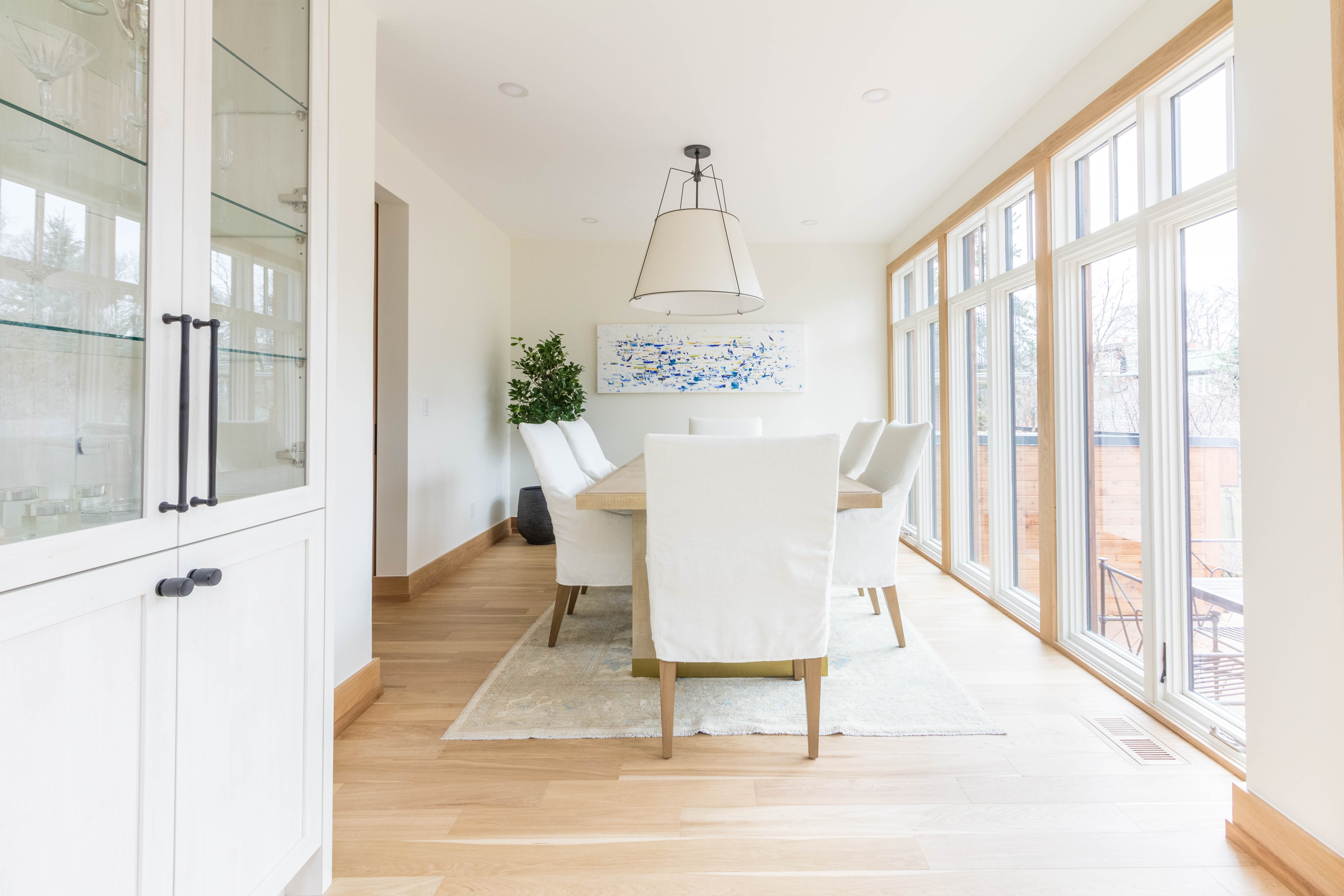 Merging Indoor and Outdoor Space
Recently on this blog, we discussed the growing trend of merging indoor and outdoor spaces. Stemming from a Nordic architectural trend called Naturhus, the concept involves blending one's home with its natural surroundings through the use of large windows and sliding patio doors.
Merging your indoor and outdoor spaces has several benefits. Obviously, it adds natural light, which facilitates vitamin-D production and helps regulate your mood and sleep schedule. By installing several operable windows and large sliding patio doors, you also add plenty of fresh air, which has similar mental and physical health benefits. Harmonizing your home with its natural surroundings also provides you with the opportunity to create additional living space for your family as it makes the outdoor area more visible and accessible.
You can achieve this effect by following the trend directly above, adding floor-to-ceiling window installation to your renovations, as well as adding sliding patio doors and skylights. If you have further questions about how to merge your indoor and outdoor spaces, feel free to contact us here at Golden Windows. We are happy to talk through options and ensure you get the renovation you want.
Front Doors with Sidelites
Sidelites never went out of fashion. They have remained a common feature of front doors for a long time. Recently, however, even more homeowners have expressed interest in adding them.
Sidelites are the narrow, door-length windows that flank entry doors. They complement the look of a door by providing light framing, and they add brightness to your home's foyer. Sidelites are also great for pets, who use them to stare out at the world, watching squirrels run past or eagerly awaiting your arrival home from work!
Like any window in your home, sidelites come in a variety of options to best suit your personal style and needs. You can choose between all-glass sidelites, a full panel with wood trim, a kick panel, 3/4 panel, or 1/2 panel. For visual reference on the different types of sidelites, visit the "Entry Door Systems" section of our website or visit our showroom of windows and doors in London Ontario.
Bay Windows Nooks
Bay and Bow Windows are a trend in and of themselves. Their curved, multi-panelled design adds depth, loftiness and brightness to a room. But these windows have also generated a trend of their own: bay window nooks.
Because they add new dimensions to a room, bay and bow windows create the perfect environment for a cozy nook. Reading nooks are popular and often feature upholstered window seating, perfect for stretching out with a good read or watching a sunrise. Or, of course, you can never go wrong with the classic breakfast nook.
For a closer look at recent bay window treatment trends, including colours and styles, explore this Better Home and Gardens slideshow. When you're inspired to start making your vision a reality, contact Golden Windows to ask about our bay and bow windows selection.
Custom Architectural Windows that Make a Bold Statement
Lately, more homeowners have expressed an interest in thinking outside the square. They want windows that complement and amplify their home's existing architecture – regardless of size and shape. In these cases, we direct customers to our architectural windows, a style of window limited only by your imagination.
Dramatic, unique and available in an unlimited range of shapes and sizes, these windows are a complete expression of personal taste. As a custom window manufacturer, we offer hundreds of standard sizes in a multitude of shapes, including gothic, ellipticals, segmentals, half rounds, quarter rounds, arch, ovals, geometric shapes and many more.
Whether you're looking to enhance the curb appeal of a Victorian home in Toronto, a Gothic Revival cottage in London, or a contemporary home in Kitchener, architectural windows help you achieve the exact look you want.
Light Colours for an Airier Looking Home
Light colours are trendy in all home design circles. That's no different for windows and doors. Light colours make a room feel more spacious, airy and open. Paired with minimalist design features and furniture, they create a sophisticated, clean look.
If your 2021 renovations include window and door replacement, and you've decided on light colouring as your design motif, Golden Windows has plenty of colour options. For GoldenClad® and GoldenVinyl® window, sliding door and door products, choose from:
Golden White
Taupe
Cashmere
Wicker
Sandalwood
Grey
White
Almond
Cream
Pearl Grey
and Dove Grey
You can explore our website to get a sense of the different colours, but please note that individual computer and monitor settings may prevent the exact matches of colour finish. For exact colour and finish samples, contact us here at Golden Windows.
Darker Colours for a Bold Framing Effect
Here is where we point out an interesting thing about trends – they can be overlapping, sometimes contrary. Case in point: dark and light colours.
As we mentioned above, light colours are popular because they make your home feel brighter and more expansive. However, at the same time, a significant number of homeowners have opted to go in a different direction; they prefer dark colours, which create a bold framing effect.
If you decide on dark colours to create striking visual contrast, we have several options for you to choose from:
Golden Sable

Green

Cranberry

Black

Tavern Green

Tile Red

Burgundy

Old World Blue

Wedgewood

Ivy Green

Backwood

Forest Green

Sable

Bronze

And more!
As mentioned above, explore our site for reference or contact us today for exact colour and finish samples.
Double Sliding Patio Doors
Double sliding patio doors are very hot right now. As merging your indoor and outdoor space (see above) has skyrocketed in popularity, so too has the four-panel sliding door, which facilitates easy access to your outdoor areas and offers stunning views of the surrounding property.
In the traditional two-panel sliding doors, one section slides open and closed while the other remains fixed. In a four-panel, "double" version, the two doors in the middle slide open outward into the back patio.
Choose between GoldenVinyl®, GoldenClad® and GoldenWood® options. With GoldenClad® sliding doors, you get the elegance and hominess of traditional wood doors on the interior, with the added luxury and protection of colour-matched aluminum cladding on the exterior. GoldenVinyl® sliding doors are easy to maintain and feature reinforced construction and energy-efficient performance. And GoldenWood® sliding doors are classy, comforting and expertly engineered for safety and efficiency.
With summer right around the corner, contact Golden Windows right away to get the ball rolling on your new double sliding patio doors!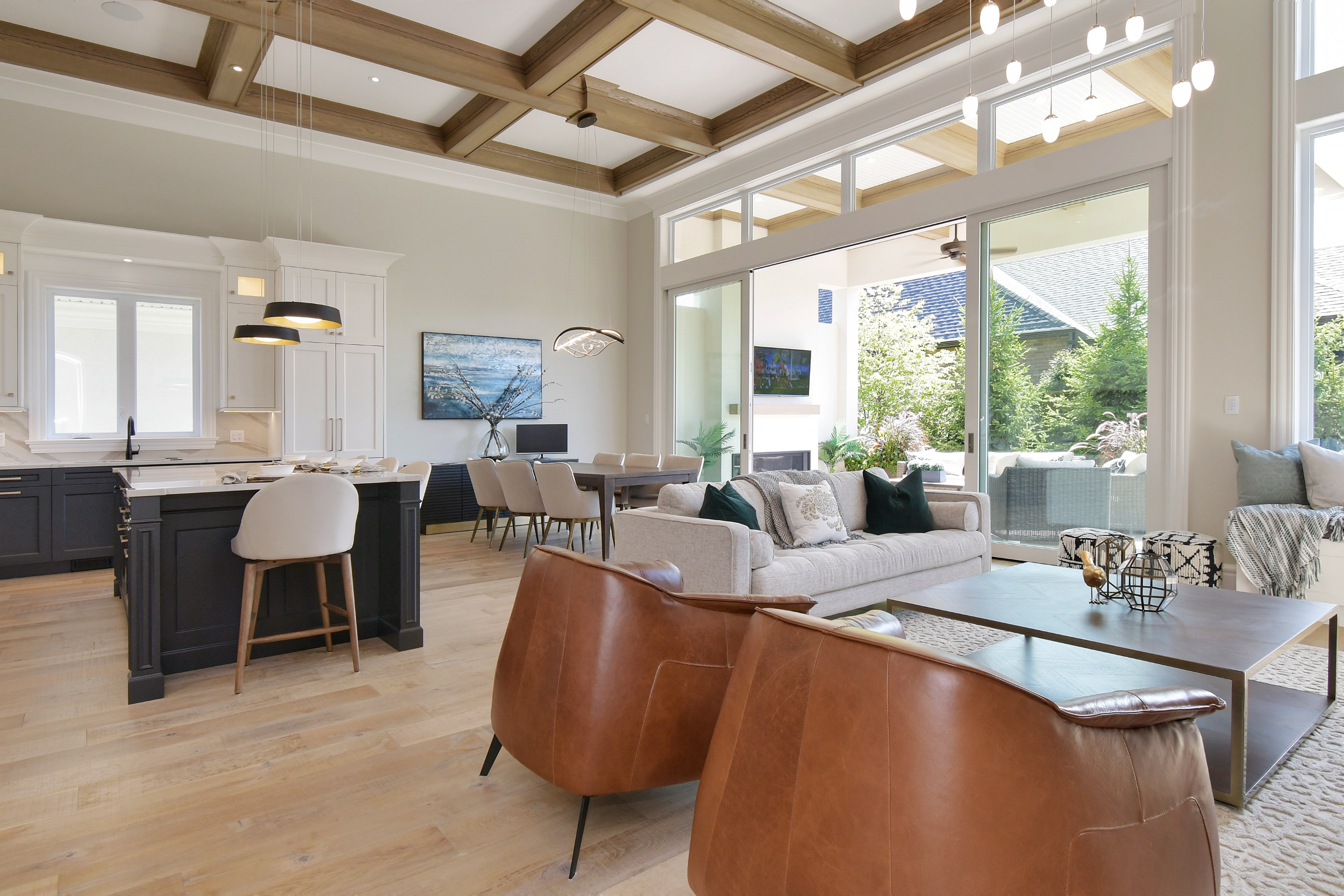 Energy Efficiency
Canada is a beautiful country, full of unspoilt forests, pristine lakes and majestic mountains. Naturally, Canadians want to keep it that way.
We've seen a growing trend toward energy efficiency for decades, and that shift continues unabated in 2021. More people want to know what they can do personally to curb greenhouse gas emissions, conserve energy and help preserve Canada's natural beauty. According to Natural Resources Canada, the journey starts with your windows and doors.
The government agency estimates that replacing your windows and doors with energy-efficient upgrades can improve your home's energy loss by up to 35%. Not only is that great for the environment, but it also saves you, the homeowner, money on your energy bills.
At Golden Windows, we're proud to offer energy-efficient products. All of our window products come with a choice of four Low E glass options, and our triple glazed windows provide superior thermal insulation.
The "Cottagecore" Aesthetic
"Cottagecore" is a recent design trend inspired by the aesthetics of rural life. Initially associated with Gen Z fashion and lifestyle, cottagecore evolved to become a mainstream design trend; its influence can now be found in countless home design magazines and blogs.
The name tells you everything you need to know. Favouring the rustic, naturally textured look of cottages, the design aesthetic heavily relies on materials like wood, metal and natural textiles. You will often find cottagecore homes accented with antique furniture, warmly coloured vintage rugs, abundant plants and wooden features.
However, you don't have to go all-in to enjoy the cozy elements of cottagecore. Our GoldenWood® windows, terrace doors and entry systems are an energy-efficient way to give your home a timeless, rustic look.
Shopping Local
For many consumers, the ongoing pandemic has put into perspective the need for community and mutual support. We want to support the artisans, craftspeople and producers that make our communities vibrant and our economy strong. Supporting local businesses means investing in companies with a vested interest in the wellbeing of our communities. It's more important than ever now.
Golden Windows began as a small Kitchener millwork plant in 1961. Back then, the company had only a handful of employees. Now, sixty years later, we've grown to become a nationally trusted name in designing, manufacturing and installing windows and doors. But we never lost that community spirit. To this day, Golden Windows manufactures its high-quality windows and doors at our facility in Kitchener.
We're also one of the only window and door companies that have obtained the ISO 9001 designation, indicating that we consistently provide exceptional lead times and on-time delivery of our products.
At the end of the day, trends are merely suggestions. They indicate what dominant styles, approaches and products other homeowners are buzzing about, and can therefore be valuable as a springboard for ideas. But the final say is always yours, and should reflect your unique taste and lifestyle. If window and door replacement is at the top of your to-do list this year, contact Golden Windows to get the exact product you want.