Recently on this blog, we have featured inspirational posts on several topics, ranging from how to merge your indoor and outdoor spaces to design ideas for your summer cottage. With these focused articles, we wanted to provide homeowners with specific, actionable advice and information on how to better their houses. As a company experienced in designing, manufacturing and installing quality doors and window products, we are in a unique position to educate, and want to pass that knowledge to our wonderful customers.
In the spirit of education, we thought it best to take a few steps back from those specific inspirational ideas, focusing instead on the broad advantages of window and door replacements.
Most homeowners know when they should replace their old windows and doors – when the products become old, drafty, damaged, or difficult to operate. But we want to remind you of the benefits you can look forward to with replacement windows.
For some, these benefits might serve as motivation to take the plunge. And for those who have already committed to window and door replacements, these benefits will be affirmation that you are making the right choice for your home and family.
Efficiency
At Golden Windows, we care deeply about energy efficiency, as evidenced by our involvement with Net Zero housing, as well as our partnership with ENERGY STAR® Canada.
Old, inefficient or improperly installed windows account for 25-30% of residential energy loss. Expressed a different way, you use significantly more energy heating and cooling a home fitted with subpar windows, as opposed to efficient ones.
According to estimates from the US Department of Energy (converted to Canadian currency at the time of writing), a home stands to save between $156 and $581 annually by replacing single pane windows with double or triple glazed windows. Triple glazed windows, in particular, feature money-saving high insulation performance.
Beyond the cost savings, residential energy efficiency also supports our collective efforts to curb emissions. We meet a lot of homeowners eager to do their part in creating more sustainable living situations; efficient new windows and doors are a fantastic place to start.
To learn more about the different energy ratings for our products, we encourage you to visit our website. Explore our options for triple glazed windows, featuring three panes of Low E glass separated by argon fills.
Security
Doors and windows should strike a balance: they should be easy for you to operate while being difficult for intruders to exploit.
Some windows are challenging to operate from the inside, either because the hardware is warped or, worse, the sash is painted shut. Unintentional inoperability poses a dangerous impediment in the event of an emergency. If there is a fire in your house, you need to be able to count on your windows' operability to get you and your family out safely. The window replacements from Golden Windows feature a variety of easy-to-use hardware options.
On the other hand, you also want your windows and doors to keep people out. According to several home intrusion statistics (usually commissioned by insurance companies or home alarm companies), the majority of burglars enter through the front door or a first-floor window.
Luckily, Canada experiences fewer intrusions than other countries, but it is still wise to remain vigilant. Replacement doors from Golden Windows come with the option of a multi-point locking system, which bolts the door into the frame and locks at multiple points at the turn of a key, giving the door a high level of security. As for windows, as the Guardian points out, double and triple glazed windows are much more difficult to break than single-pane options because the interior panes distribute the force of an object's impact.
Increased Home Value
A home's primary role is to offer comfort, protection, and shelter for our loved ones. But a home is also an investment. At some point, most of us will sell the homes we live in, and when that happens, we want to know that we made wise renovation choices that positively affected its value.
Replacement windows and doors are routinely ranked amid the highest ROI home projects. In this article from Fortune Builders, a leading real estate investment organization, replacement doors are listed first for overall ROI. Replacement windows are not far behind.
Why are replacement windows and doors such a wise investment for resale value? To answer that question, we need to look elsewhere on this list. A home with new windows and doors enjoys better energy efficiency, better security, more natural light and improved curb appeal – all features that attract prospective homebuyers.
Whether you have immediate plans to sell or simply want to undertake projects with long-term sights on resale value, consider replacing your windows and doors. Contact Golden Windows about the best options for your home. Our knowledgeable representatives will be happy to help.
Improved Curb Appeal
Curb appeal is more than just a buzzword among realtors. It's a potent investment in resale value, an expression of homeowner pride, and a collectively-minded way to make a neighbourhood more desirable.
Defined as the attractiveness of a property as seen from the sidewalk, curb appeal involves making aesthetic upgrades to the front yard and front facing of a home. Curb appeal projects typically involve landscaping, siding replacement and, of course, window and door replacement.
Windows and doors are often the first things someone sees when they look at your home. They serve as a focal point, drawing in the eye. Unlike other curb appeal projects, replacing your windows and doors aren't just "lipstick upgrades." In addition to creating a more pleasing, cohesive exterior, window and door replacements also materially improve the comfort and efficiency of your home.
Curb appeal projects aren't merely for sellers, either. If you want to be the envy of your block, or you simply want to feel a swell of pride each time you pull into the driveway, consider a front entry system replacement and new windows.
Better Ventilation
Replacing your windows and doors can be a fantastic opportunity to welcome more fresh air in the home. Especially in the summer here in Ontario, keeping a well-ventilated home is essential. As medical experts are quick to point out, fresh air has numerous benefits: it's energizing, relaxing, and may improve your natural immune system. Further, ventilation helps reduce condensation.
There are a few ways to prioritize ventilation with your window and door replacements. A popular choice is to install a new double sliding patio door, which provides abundant fresh air, maximizes the amount of natural light and allows you to merge your outdoor and indoor spaces. Conventional sliding patio doors have one fixed glass panel and another sliding panel section. By contrast, double sliding patio doors include four glass panels, including two operable middle panels that slide outward into the back patio.
Another way to increase ventilation is to add new operable windows, or replace existing fixed windows with operable alternatives. At Golden Windows, we have operable windows to fit all tastes and architectures, including:
Awning windows

Slider and Double Slider windows

Single Hung and Double Hung windows

Casement windows
To view our options in person, make an appointment with one of our showrooms, where you can view replacement windows in Kitchener, London and Kanata.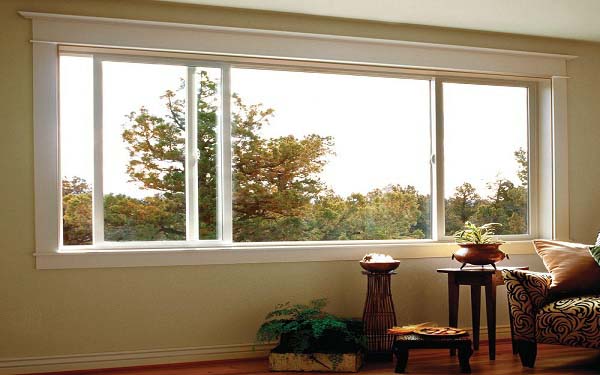 Noise Reduction
Single paned windows offer little in the way of noise reduction. Therefore, if you are replacing single paned windows in your house with double or triple glazed products, you can look forward to reduced sound transmissions.
The science behind this benefit is very straightforward. Noise travels through vibrations in the air; an added pane or two of glass (with added argon gas fills) helps block those vibrations. If you're serious about reduced sound transmission, we recommend considering our triple glazed window option, which you will find in our GoldenClad® and GoldenVinyl® product lines, as well as our Performer® Patio Door.
Noise may also enter the home via small gaps or holes in the frame – called noise "leaks." Therefore, replacing your old windows using an expert installer should go a long way toward remedying the issue. If you are worried about an existing problem with your Golden Windows product, including issues that may affect sound transmission, you can request service online at the link provided.
It bears mentioning that no window is 100% soundproof. You should be wary of any product that markets itself this way. Instead, look for products, like the windows we offer, that provide high insulation performance, which typically translates to better sound reduction.
Fade Prevention
Over time, have you noticed the once vibrant upholstery on your couch grow dull and discoloured? Has your wood floor taken on an unattractive, bleached appearance? This is likely the consequence of UV rays.
With prolonged exposure to UV rays, chemical compounds in wood and fabric break down, which results in a telltale faded look. If your furniture and floors have lost their lustre, it probably means your current windows do not have low-E glass.
Low E glass, a feature in all Golden Windows' window products, helps to minimize the amount of UV light that enters while still allowing visible light. The result: fewer harmful rays on your furniture, but just as much natural light to enjoy.
If you are renovating your home with new floors, counters or cabinetry, or have recently invested in expensive new furniture, replacing surrounding windows with Low E glass products helps you protect your investment. Windows with high insulation performance do not just protect against the damaging effects of UV rays; they also protect your furniture and renovations from temperature fluctuations caused by improper Solar Heat Gain properties.
Maintenance
All windows require maintenance, new or old. But the amount, difficulty and frequency of maintenance depend on type and materials. If you have an old, fixed, wooden window on the second floor, exterior cleaning and maintenance may be a pain, requiring a hazardous trip up the ladder or a costly professional window cleaner. In these cases, window replacement can be an opportunity to make your maintenance easier and more accessible.
For lower maintenance window options, consider vinyl or clad instead of wood. Vinyl and clad surfaces require only a mild soap and water mixture as part of their annual maintenance, and neither requires a coat of paint. If you prefer the look and feel of wood windows (many do), consider easy to clean styles that either open inward or require little effort when cleaning from the inside. Casement windows, double hung windows and slider windows are all fantastic options.
Whichever replacement windows you choose, follow our straightforward care and maintenance instructions to keep them looking and working like new:
As mentioned above, clean vinyl and clad surfaces with mild soap and water. You may also apply automotive paste wax to the aluminum clad for renewed sheen.

At least twice a year, lightly apply silicone spray (or a light oil) to the hinges, tracks and operating hardware. This keeps everything operating smoothly.

Once a year, inspect the face caulking to make sure it still forms a proper seal against the glass.

Avoid abrasive cleaning products and materials when cleaning the glass and finishes.

Do not paint over the weatherstripping.
Add these easy tasks to your spring and/or fall cleaning regimens, so they never slip your mind.
Comfort
Finally, one of the major advantages of window and door replacements is comfort. If you placed two houses side-by-side, one with drafty, single paned windows, and the other with expertly installed double or triple glazed windows, you could spot the difference immediately. A home with efficient, optimally placed windows will remain comfortable throughout the year.
After a year of mainly staying indoors, we Ontarians have renewed respect for our homes. We want them to be as hospitable and relaxing as possible. If you are undertaking renovations to make your house more comfortable, consider your windows and doors. Energy Saver suggests that energy efficient windows are "the most cost effective option to increase the comfort of your home."
As you can see from the list above, you have several benefits to look forward to when replacing your windows and doors. And we didn't even mention one of the most commonly cited benefits: a more beautiful home. Contact the knowledgeable representatives here at Golden Windows to request a quote or start designing your dream windows and doors.