Nothing says summer quite like a back patio. At its best, the backyard patio is an all-purpose space: a hangout for friends, a kitchen for outdoor cooking, a family gathering place, a tranquil reading spot and a scenic environment for reflection. It is your own small piece of the natural world.
When the snow melts after a long winter, we take stock of this space. Usually, it only requires a little TLC to restore its lustre and liveliness – a pressure wash of the deck and a few hours spent pulling up weeds in the garden. But, before long, you may want to turn your attention to more in-depth renovations, like replacing your doors.
Replacing the doors to your backyard patio can completely transform the space, making it more accessible, scenic, airy and welcoming. As a Kitchener window company that has helped countless Ontarians improve their backyard patios, Golden Windows knows first-hand the difference a new door can make.
In this article, we are taking a stroll through your back patio options. Primarily, we will explore the most popular choice for a backyard door, the sliding patio door, listing customization options, benefits and design ideas. We will also spotlight terrace doors – the sliding patio door's classic, timeless cousin.
If the article ahead inspires you to take action this summer, contact us for a quote or book an appointment at one of our showrooms.
Sliding Patio Doors
Sliding patio doors are popular for a reason. Their wide, clear design allows for unobstructed views of the outdoors. They are easy to use, simple to clean, and – if you choose the right company – energy efficient. In this section, let's walk through sliding patio door options, then list a few benefits of this trendy door style.
Customizing Your Glass Sliding Doors
Sliding patio doors should fit your personal taste, lifestyle and locale. They shouldn't be a one-size-fits-all addition. That's why, at Golden Windows, you will find endless customization options. Everything from the material to colour to glass is entirely up to you.
To start, you can choose from three fantastic product lines: GoldenClad®, GoldenWood® and GoldenVinyl®.
GoldenClad® Sliding Patio Doors offer a balance between traditional elegance and sleek modernity. In this line, we pair a wood interior with the added luxury and protection of colour-matched exterior aluminum cladding. The extruded layer of cladding protects the engineered wood core, keeping it free from deterioration. Meanwhile, the wood interior adds a classic, homey look. It's a brilliant compromise that fits as well in a cottage as in a modern home.
GoldenWood® Sliding Patio Doors are for homeowners who prefer the look of wood inside and out. This line features exquisite all-wood doors constructed with only the finest components. The result is a perfect marriage of beauty and first-rate engineering. For homeowners who want to create a seamless indoor-outdoor blend (more on that below), the wood exterior on our GoldenWood® Sliding Patio Doors may be the perfect choice.
Both the GoldenClad® and GoldenWood® sliding patio doors are available in both a Traditional (Wide French Style) and a Contemporary (Narrow Rail) design.
Finally, GoldenVinyl® Sliding Patio Doors are an elegant, easy-to-maintain and energy-efficient third alternative. In this line, we pair a multi-chambered structure and comfort-enhancing weatherstripping system with a premium warm edge spacer. Together, these features – designed and engineered unlike any others in the industry – create a high-performance, efficient patio door perfect for a variety of house styles.
Choosing which line is best for you will involve weighing aesthetic considerations against functional features and budget. Is your primary concern energy efficiency or a classic appearance? Do you like the look of wood exteriors, or do you prefer the bold framing of a clad exterior? Recently on this blog, we featured a comparison of materials; feel free to read through that article for a more in-depth analysis of the relative merits of each type.
Regardless of which material you choose, your next big decision will be whether to install conventional sliding patio doors or go big with Double Sliding Patio Doors. Double sliding patio doors are a hot ticket item right now, popular with renovators who want more light, more breeze and a more seamless transition between indoor and outdoor spaces.
Whereas a standard sliding patio door comprises two glass panel sections (one sliding and one fixed), double sliding patio doors include four glass panels. The two middle panels operate, sliding outward into the back patio.
Finally, you can personalize the look and functionality of your new patio doors with our range of customization options. Several standard and optional colour options are available for GoldenClad® and GoldenVinyl® sliding patio doors, including Golden White, Golden Sable, Taupe, Black, Cashmere, Tile Red and many, many more. Select from a range of grille patterns, including the classic "Colonial" or uniquely Ontarian "Muskoka" patterns. Then, consider which of our Low-E glass options suits your door's position and climate best (or ask us for advice).
The Benefits of a New Sliding Door
Perhaps we are getting ahead of ourselves. Before you select and customize your new sliding doors, let's take a look at a few benefits you can expect. From added natural light to greater cohesion with nature, here are a few undeniable advantages of installing a new sliding patio door.
Light
Countless studies expound the importance of natural light. Among other things, natural light facilitates your body's production of Vitamin D: an essential vitamin for immune function, heart health and happiness.
The big, bright panes of glass on a sliding door allow ample sunshine to stream into the home. At Golden Windows, each of our sliding patio doors is fitted with Low emissivity glass (or Low-E, for short). Low-E glass significantly reduces the amount of UV and infrared light that enters your home without minimizing visible light. In essence, that means you get all the goodness of natural light without the warming, fading effects of its rays.
Fresh Air
Especially here in Ontario, summers can be sweltering. Having a broad, operable sliding door allows you to ventilate your home when it gets too warm. On more temperate days, you can use your sliding patio doors to cool your house, instead of paying for a day's worth of air-conditioning.
Efficiency
Because their panels mainly comprise glass, sliding patio doors are often categorized as windows. Natural Resources Canada even groups the two together when listing criteria for efficiency. Because of the high ratio of glass, energy efficiency is critically important. If you currently have old, single-paned or improperly installed sliding patio doors, replacing them could make your home more efficient, leading to lower energy bills and a higher level of comfort.
Indoor-Outdoor Flow
Sliding patio doors are an excellent way to merge your indoor and outdoor spaces. A trendy concept in home design, indoor-outdoor flow involves blending your home with its natural surroundings for an increased sense of space, light and natural beauty. Since sliding doors are clear and easily operable, they allow you to break down the barrier between indoors and outdoors – while still maintaining an efficient, thermally insulated seal when closed.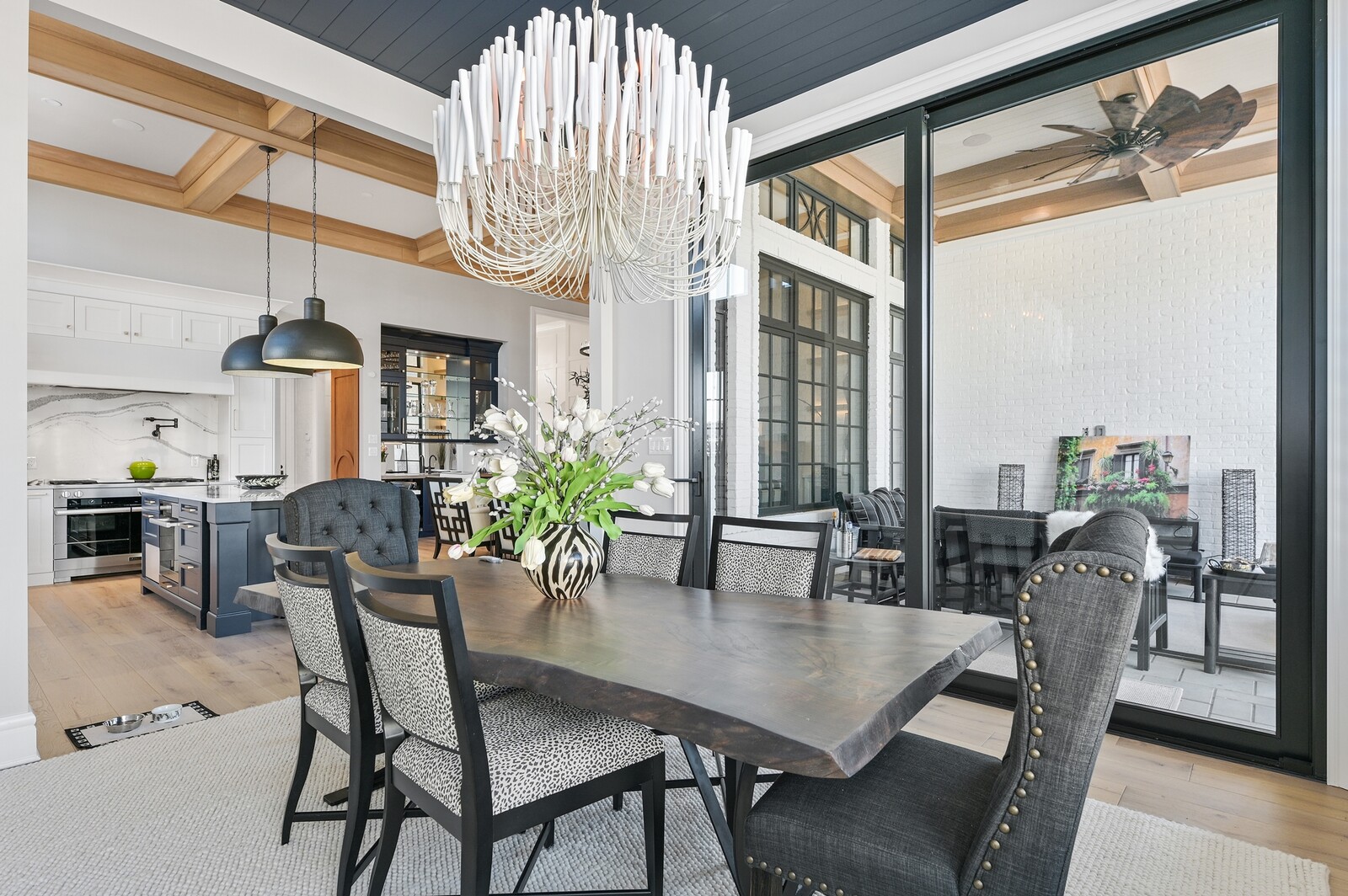 A Welcoming Atmosphere
If you are the type of homeowner who likes to host gatherings, sliding patio doors are the ideal backyard option. Open, they allow for a free flow of guests between the party inside and the party outside, letting guests enjoy your back patio with ease. When closed, as you'd have them in the winter, they still offer guests a proud, picturesque view of the property.
Design Ideas for Your New Sliding Patio Door
For patio doors, you can file design ideas into two broad categories: ideas for the sliding door itself, and ideas for the space surrounding your new sliding door.
To design the door itself, consider your window treatment options. When picking treatments, evaluate style and function.
For instance, if you have a south-facing patio door that receives a lot of intense light, you may consider thicker curtains. If you wish to preserve the natural light (say, from an east- or west-facing door) but want to maintain privacy, you may consider sheer curtains. Whatever opacity or style you choose, have fun with it. Make the treatments as playful or traditional as you see fit. Just make sure to choose treatments that don't restrict access too much; one of the inherent perks of a sliding patio door is its easy transition between outdoor and indoor space.
Next, you can design the space around your sliding patio door. In our blog article on great looks for patio windows & doors, we list a few trendy ideas. In the article, we mention how many homeowners add a sliding door to their bedrooms and create a sanctuary garden outside, as a way to add natural beauty and tranquillity to their living spaces. We also discuss a simple tip for making a seamless indoor-outdoor transition: maintain the same floor level inside and outside. Most patios are built a step lower than the inside floor, but, according to design experts, levelling the two creates a more harmonious feel.
Terrace Doors
A fantastic alternative to the sliding patio door is Golden Windows' Terrace Door. Elegant and timeless, terrace doors are ideal for rustic homes, classic houses, cottages, and log cabins. As opposed to sliding doors, terrace doors swing open on hinges either inward or outward. They are wide, sturdy, and often feature large panes of glass that allow lots of natural light.
In this section, we will spotlight this classic patio alternative, offering a brief overview of its benefits and customization options.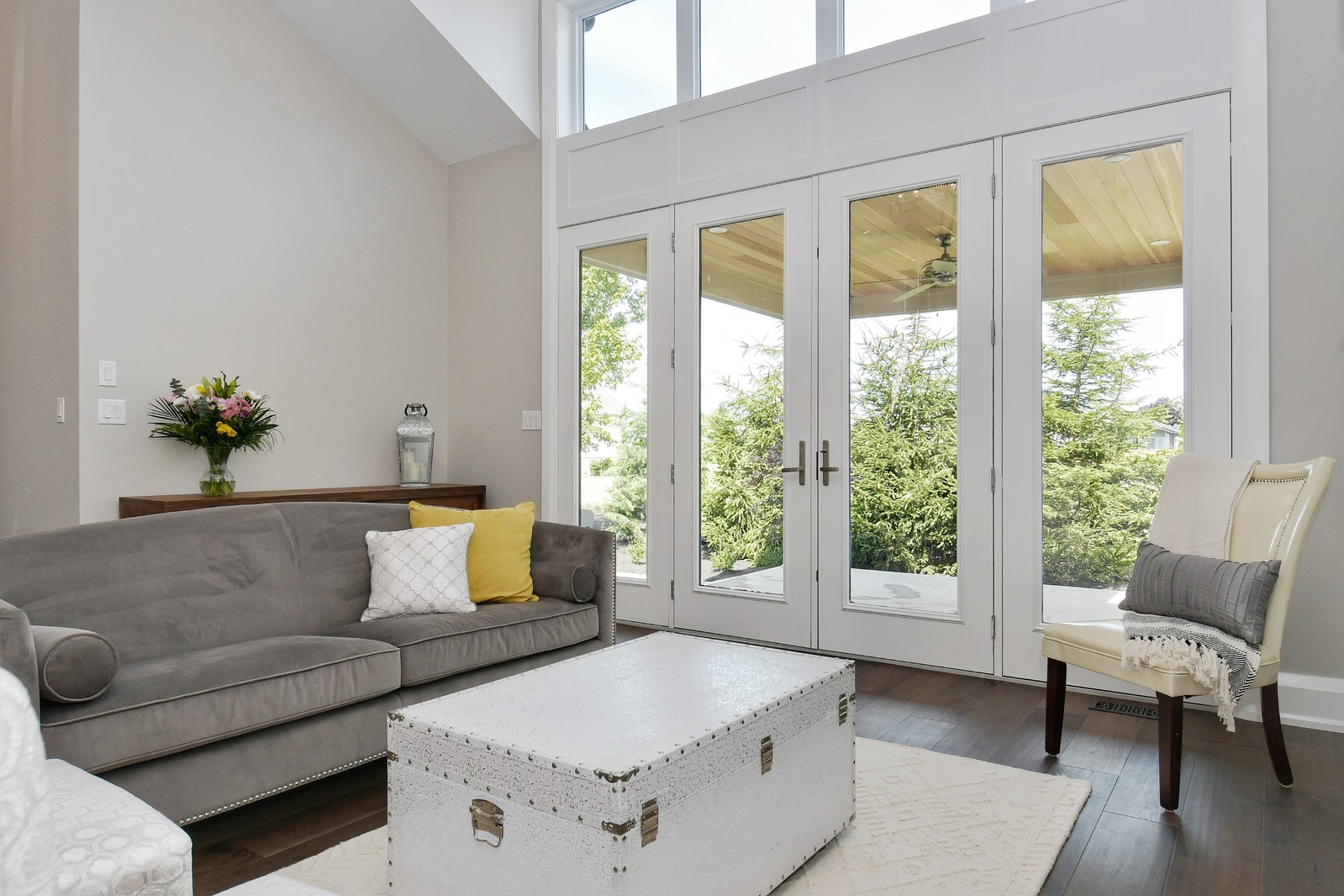 Terrace Doors Vs. Sliding Patio Doors: What's Right for You?
When selecting a door for your patio, it is helpful to weigh your two options. By far, the two most popular options for back patio entryways are sliding patio doors and terrace doors (sometimes called garden doors or French doors). But which one is right for you? To help you choose, here are a few pros for each style.
Let's start with sliding patio doors:
They have a modern look

They are easy to operate

They do not take up any interior or exterior space, making them ideal for smaller patios

They allow lots of natural light
A few pros for terrace doors are as follows:
They have a timeless, classic look

They can be fitted with a multi-point lock handle for added security

When open, double terrace doors offer a very wide entryway, merging indoor and outdoor spaces

With a sill instead of a track, some people find terrace doors to be less of a tripping hazard
Both are fantastic options, and your choice will ultimately boil down to which suits your home and family better. To compare the two up-close, side-by-side, book an appointment at one of our three showrooms – in Kitchener, Kanata and London.
All About Terrace Doors – Benefits and Customization Options
The benefits of a new terrace door are similar in many regards to the benefits listed above for sliding doors.
Terrace doors allow plenty of vitamin D-enriching natural light into the home. Open, they create a breezy entry to the back patio that can help cool your home on unseasonably warm summer days. When designed, manufactured and installed professionally (as all Golden Windows products are), they are energy-efficient alternatives to your old patio doors. You can swing terrace doors open for a free flow of party guests, or to create a compelling indoor-outdoor blend. And, on top of it all, terrace doors add a sophisticated charm to the back of your house.
Golden Windows terrace doors are available in both the GoldenClad® and GoldenWood® lines. Our GoldenClad® Terrace Doors are designed with an extruded aluminum-clad exterior frame allowing for a choice of exterior colours. And our GoldenWood® Terrace Doors are designed with a wood frame and brickmould, which allow for your choice of stains or paint colours. You can also choose from several grille patterns, hardware options, glass types and optional accessories.
Let Golden Windows help you complete your perfect summer patio. Contact us today about adding a sliding patio door or terrace door to your home. And rest easy knowing that if you have any issues at all with your new patio doors, you can quickly and easily request a service call through our website. Together, let's make this summer a season to remember.