Photo above: Marie Payette, a long term employee at Golden Windows.
1961 was a landmark year in many regards. The US inaugurated president JFK, the USSR launched the first human-crewed spacecraft into orbit, and West Side Story made its grand debut in cinemas across North America. Amid those era-defining moments, away from the front-page headlines, another piece of history was made in 1961: the formation of Golden Windows.
It's hard to believe that our window and door company celebrates its 60th anniversary this year. So much has changed over the decades. Yet, there are many things – our core values and dedication to customer service – that have remained the same.
To celebrate Golden Windows' 60th anniversary, we decided to make room on this blog to touch on our history and values. To mark the occasion, we're looking at sixty years of Golden Windows history, from its humble beginnings in Kitchener through to its ISO designation, its ongoing commitment to the environment and ever-expanding range of quality window products and best-in-class doors. Join us for a look back at the past – and a nod toward the future.
And to all the customers, partners, builders and contractors reading this, we want to extend a sincere thank you for continuing to place your confidence in our work. With your support and partnership, we look forward to another wonderful sixty years.
Humble Beginnings
In 1961, Golden Windows began as a small millwork plant in Kitchener. Back then, it went by a different name – Golden Triangle Windows – but the principle was the same. We wanted to create high-quality windows using the best materials available.
With only a handful of employees, the Kitchener plant designed and manufactured wood windows exclusively. It would not be until later that the company added a vinyl, aluminum-clad and wood line to our list of products.
Although much has changed with window and door innovation over the sixty years Golden Windows has been in operation, we remain a family owned and operated company today.
By focusing on the needs and desires of our customers, Golden Windows has continued to grow and expand into a well known and reputable Canadian window and door manufacturer. Today, we are an integrated designer, manufacturer and distributor of quality windows and doors servicing Ontario, United States and other international countries such as the Cayman Islands, Great Britain and Japan.
Now into our third-generation, Golden Windows is happy to call Paul Kreutner its owner and president. Paul summed up our ongoing commitment to people best when, speaking with Our Homes magazine, he said:
"We respect people as a core value, and this is exemplified in the long-standing tenure of our employees. We value our employees, customers and vendors as well as our community."
ISO Designation
If we are discussing company milestones, we must mention our ISO 9001 designation.
For those unfamiliar, ISO 9001 is a certification awarded by independent third-parties to companies that meet a strict set of criteria. These criteria include the ability to demonstrate consistent, quality service; the ongoing ability to provide products that meet regulatory requirements; and, in the case of Golden Windows, the ability to provide exceptional lead times and on-time delivery of our windows and doors.
We were thrilled to receive our ISO 9001 designation, as it confirmed for us what our customers and partners already knew: that we take them seriously. It was a vote of confidence from a third party that we run a people-focused business capable of complex organization and continuous self-improvement.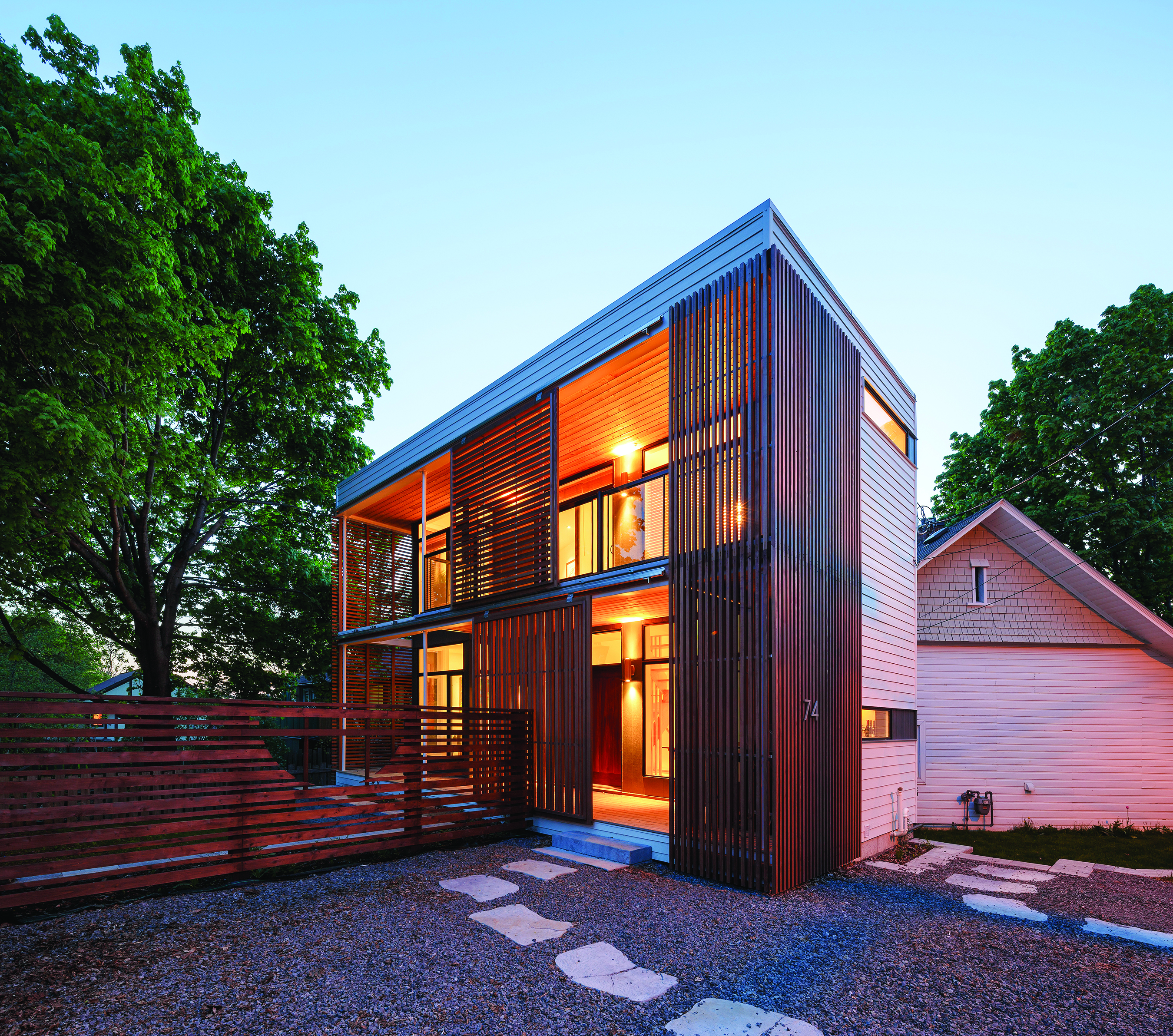 Our Ongoing Commitment to Energy Efficiency
Here at Golden Windows, commitment to the environment runs deep. We are inspired by the natural beauty of Ontario, where we proudly design and manufacture our products. And, being a third-generation family-run business, we want to preserve it for generations to come. For a window and door company like ours, that means taking three essential courses of action:
Offering energy efficient products

Committing ourselves to green manufacturing practices

And aiding in the construction of net zero energy homes
To celebrate our sixty years of environmental care, and to rededicate ourselves to another sixty years of helping the environment, let's take a closer look at those courses of action.
Energy Efficient Products
Golden Windows is proud to offer an array of energy efficient products. As much as 25% of a home's heat loss is due to inefficient windows. Therefore, installing energy efficient windows and doors is an essential factor in lowering your home's overall energy bill and mitigating your carbon footprint.
Our aluminum, wood, and vinyl windows are vanguards of efficiency, and our doors offer high-performance protection from the elements.
At Golden Windows, we are proud to participate in ENERGY STAR® Canada program. That familiar blue-and-white symbol you see stickered to efficient home products is more than just a consumer tag; it's a sign of commitment. Our certification for ENERGY STAR® through Natural Resources Canada (NRCan) means that our products meet strict efficiency requirements.
Windows are eligible for ENERGY STAR® based on a low U-factor or high Energy Rating (ER) and must meet rigid technical specifications for energy performance. According to NRCan, energy efficient windows and doors should have low-emissivity coatings (Low-E), insulated sashes and frames, and the option of triple glazing to further insulate heat. You'll find all those things here at Golden Windows.
A Commitment to Green Manufacturing
Next, we want to talk about our commitment to green manufacturing practices. We believe that it's not enough to make homes more efficient – we also need to lead by example. To do that, we practice environmentally conscious manufacturing, striving to mitigate the impact of our material use and waste.
If you're a certain age, you probably remember the old grade school slogan about helping the environment: reduce, reuse, recycle. That's precisely the approach we have adopted. Over sixty years in the community, we have refined and retooled our manufacturing to incorporate "the three R's."
To reduce, we manufacture our products here in southern Ontario, close to our customers, so that we can minimize the fuel consumption and emissions associated with transportation. We also source our wood from managed forests and, where possible, repurpose lumber and finger-jointed material.
To reuse, we work hard to ensure that any waste from the manufacturing process finds a new home. For instance, steel cut-outs from door slabs are used for extra insulation in concrete flooring and attic hatches, and wood waste is reused for animal bedding.
And when it comes to recycling, we do what many green-focused companies do nowadays: we recycle all our office paper and cardboard. We also recycle our leftover broken glass for "cullet" – waste glass that is collected and reprocessed.
Net Zero Housing
Who could have imagined sixty years ago that Golden Windows would be manufacturing windows to be installed in Net Zero homes? Back then, it was the stuff of science fiction. But we like to align ourselves with the dreamers – the builders, contractors and homeowners striving to create housing without a small energy footprint.
Net Zero Homes produce as much clean energy as they consume. They are up to 80% more energy efficient than typical new homes and use renewable energy systems to produce the remaining energy they need. Every part of the house works together to provide consistent temperatures throughout, prevent drafts, and filter indoor air to reduce dust and allergens. The result: exceptional energy performance and the ultimate in comfort – a home at the forefront of sustainability. It all adds up to a better living experience.
Builders who design Net Zero Homes look to Golden Windows products, such as our triple glazed windows – to help insulate and conserve the home's energy. High insulation performance is the main reason why Net Zero builders choose triple glazed windows. Having that third pane, with an added argon fill, increases the window's Energy Rating (ER), meaning it better resists heat loss and air leakage and lowers the window's solar heat gain coefficient.
It's just one more reason why, year after year, Golden Windows is a top choice for window installation in London, Kitchener, Kanata, Ottawa and across Ontario.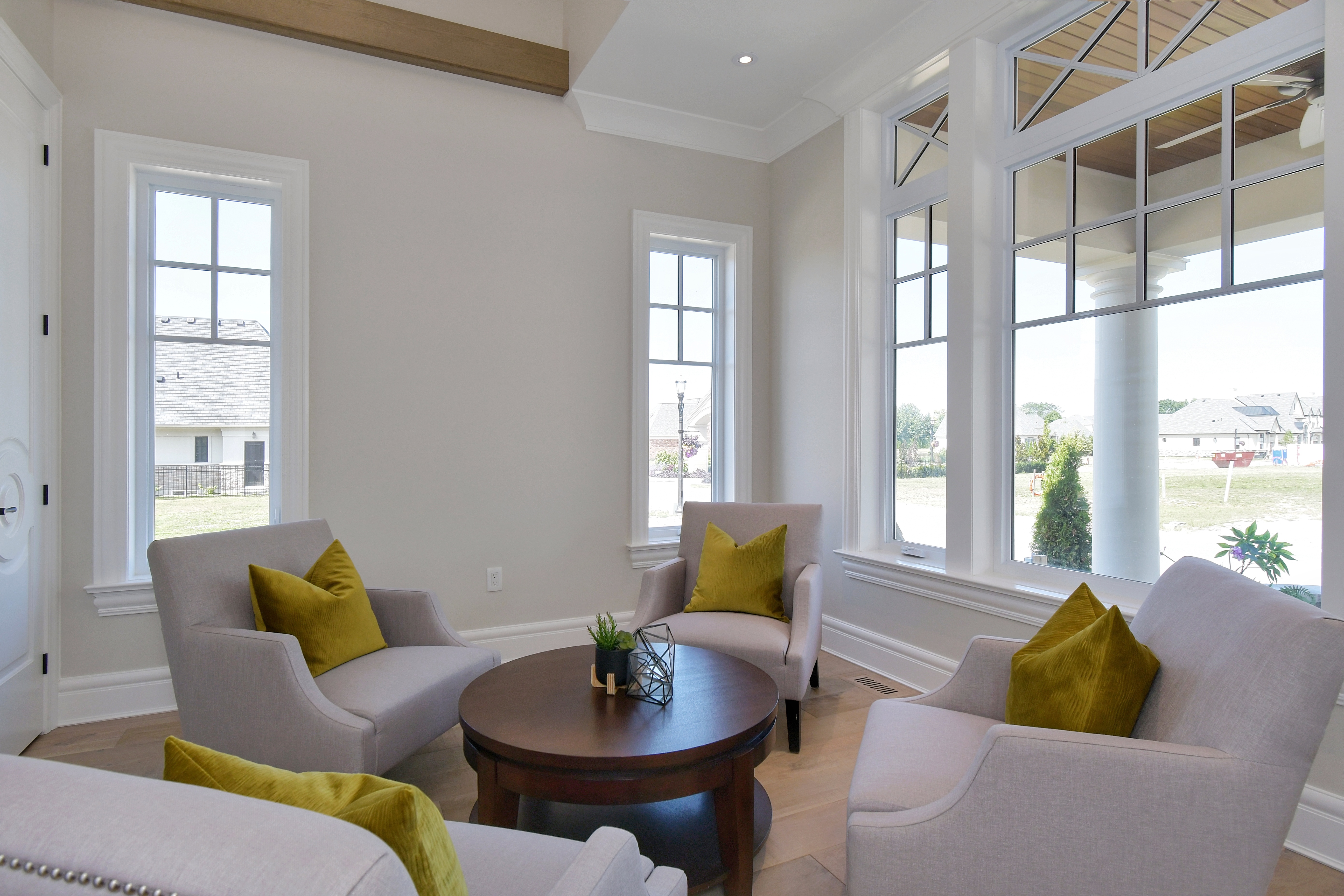 An Expanding Range of Products
As mentioned, when "Golden Triangle Windows" first started here in Kitchener, we focused solely on wood windows. Now, we're proud to offer an expanding range of window and door products to suit our clients' unique tastes, needs and lifestyles.
We still design top-quality wood windows, entry systems and terrace doors on our GoldenWood® line. Perfect for complementing a rustic cottage or reinforcing the bespoke qualities of a heritage home, our GoldenWood® products are as versatile as they are gorgeous. And just like in the old days, we manufacture our wood windows and doors at our in-house mill, which means they are endlessly customizable.
As trends changed and customers began asking for alternatives, Golden Windows added aluminum-clad products to its repertoire with the GoldenClad® line. Homeowners were still able to enjoy the homey charm of a wooden interior, but also a durable, maintenance-free extruded aluminum-clad exterior.
Finally, we welcomed a new product line to our showrooms: GoldenVinyl® windows and doors. The GoldenVinyl® line offers superior insulation, improved energy efficiency and long-lasting beauty.
In each of our windows and sliding patio doors, you will find low-E glass with argon fills and Warm Edge Technology intercept spacers, each of which contributes to increased energy efficiency.
For sixty years now, we have listened to the needs and wants of our homeowners and partners. Because we design, and manufacture our products in Kitchener, we can offer customizable options in each of our fantastic product lines to ensure our customers get exactly what they want. As we look forward to the next sixty years, we will continue to welcome feedback from new and old customers about what they want from their windows and doors.
Recent Developments
At Golden Windows, continuous self-improvement is a central part of our mission statement and business identity. When we see something that we can improve, add or adjust, we jump at the opportunity.
Above, we discussed a few improvements we've made since the company's inception – dedicating ourselves to the environment through green manufacturing practices and adding new product lines to satisfy customer needs, to name a couple. In this section, we would like to inform you of a couple of recent, small changes we've made that we think improve customer satisfaction.
To start, we have recently added Triple Pane windows to our GoldenVinyl® and GoldenClad® line. Our triple glazed windows feature three panes of low-E glass with two argon fills for superior thermal insulation and help to reduce sound transmission. They're a fantastic choice for builders and contractors creating new, sustainable homes. As you can tell, we are excited about these new window options; to get in on the excitement, give us a call or visit our showroom today.
We have also recently added a service request page to our website. Our new service request form helps us obtain the necessary information we need to understand what part(s) of your window or door requires service. Every service job is unique, so we wanted a way for both homeowners and builders/contractors to reach us in a more streamlined and direct way. Ultimately, we want to be more accessible. And what better way to do that than through technology.
From Our Golden Windows Family to Yours
We want to take a final moment in this article to thank the employees of Golden Windows, each of whom is integral to its ongoing success. Without our hard-working, big-hearted, and forward-thinking employees, we wouldn't have been able to achieve ISO 9001 designation, implement green manufacturing processes or expand our quality product lines. Every milestone in the story of Golden Windows is a milestone they have helped shape and create.
Finally, on behalf of Golden Windows, we want to thank all our customers and partners. Serving you for the past six decades, watching you brighten your home with our products, has been a joy.
Here's to the future. With any luck, the next sixty years will be as bright and efficient as our windows!