A living room is a multifunctional space in your family's home. It is central to a family's leisure activities and the perfect place for studying, curling up with a book, entertaining guests, watching TV and playing video games. It's a hub of activity, and for all its purposes, you want your living room to be a warm, welcoming space.
Living room windows can dramatically alter the look and feel of the room by adding light, enhancing the colour of the room, letting a breeze in, or showcasing a view. It can be challenging to determine what level of functionality, style, and material you want in windows for a room with so many different purposes. How do you decide?
When choosing new windows for your living room, whether for new construction or replacement windows, it's essential to consider various factors. You want them to let in light, work efficiently to keep your home cozy and let in plenty of fresh air. In this post, we'll go through these factors and discuss the many options the best window company in Kitchener can provide to meet your needs and help you get the cozy living room you want.
Reasons to Replace Your Windows
Part of the decision-making process will depend on whether you're planning for new construction or replacement windows. With new windows, you may have options regarding placement and size or the opportunity for adding a bay or bow window, as you'll read below. Keep this flexibility in mind as we go through our considerations. On the other hand, you may be looking to replace your current windows. There are several reasons to replace your windows, including if they're leaky, rotting, outdated, or just not functioning correctly.
Old, inefficient or improperly installed windows account for up to 25% of home heat loss. And while you want your windows to be easy to operate for you, you want them to be secure enough to keep intruders out.
If you're considering selling in the near future or even in the next few years, replacing your windows is a great way to increase your home's curb appeal and value. While you should make your decisions based on your family's comfort, curb appeal projects have the added benefit of increasing the pride you have in your home.
Another reason may just be that your living room windows are no longer serving your needs. In this case, it's important to think about what you liked and disliked about your old windows. Maybe you loved the aesthetic but want more airflow, or perhaps you're looking for more natural light.
Lighting
Lighting is an important factor to consider in any room. Natural light provides plenty of benefits to your health and wellbeing and is a great mood booster. However, in the living room, there are some additional considerations.
Think about what direction the sun will be hitting the house from and at what time of day. While you want a good amount of light for reading or studying, you'll want to be aware of whether the sun will be baking in the afternoon or if you'll be getting glare from the setting sun while trying to watch a movie in the evening.
If you want to increase your window replacement size to allow more natural light, contact Golden Windows. Our expert designers, manufacturers and installers are happy to help make your dream living room a reality.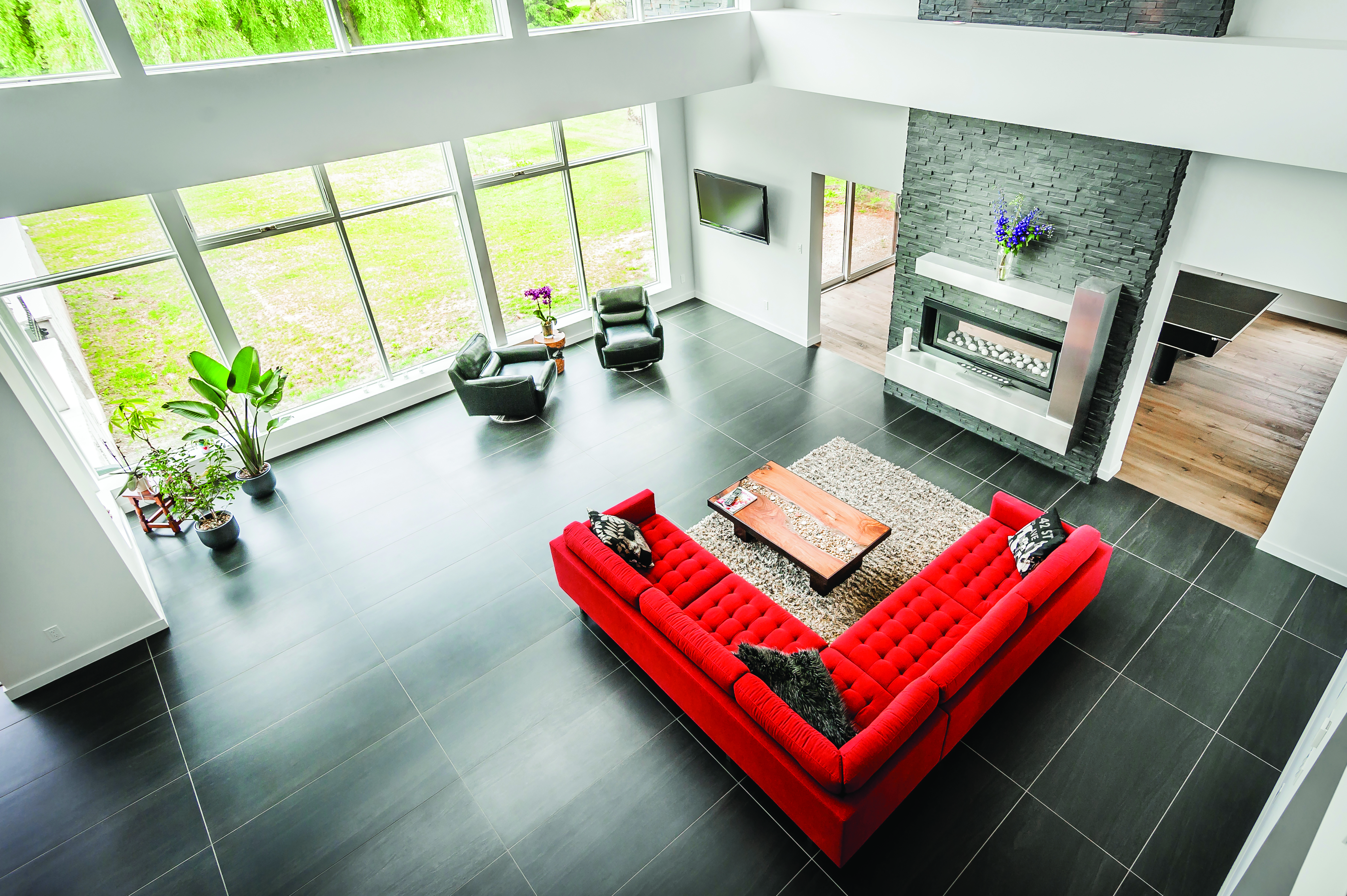 Airflow
Fixed windows are great for letting in light, but many people like to have plenty of fresh air circulating or enjoy a nice, gentle breeze. Operable windows meet that desire. Fresh air provides plenty of health benefits; it can relax and energize you and help improve your immune system.
Aside from ventilation, homeowners love the variety of styles and options to choose from with operable windows. As discussed below, there are several types of operable windows, each with its own specific benefits. Part of the fun of replacing your living room windows is choosing different styles and customizing them.
Noise
While it's great to have windows that provide plenty of airflow, you want to be able to block out neighbourhood noises whenever you choose. When spring comes around, and neighbours start mowing their lawns, it's nice to be able to close your windows to get some studying done or to be able to hear the show you're watching.
Our quality windows will help eliminate all of those neighbourhood noises. If you live in a particularly loud area, you may even want to consider new triple glazed windows. In addition to an extra layer to further reduce noise pollution, these windows add numerous benefits, including increased energy efficiency and security. Triple glazed options from Golden Windows are available in our GoldenVinyl®, GoldenClad® or Performer Patio Door products and are fully customizable.
Noise pollution can have negative consequences on our mental health. Exposure to loud noise can also cause high blood pressure, heart disease, sleep disturbances, and stress.
If the sound of passing traffic or dogs barking is a constant issue or you have a neighbour who likes to mow their lawn early in the morning, the reduction of noise pollution from these windows could prove significant to your health while adding value to your home.
Types of Windows
Now that you know some of the common factors to consider when deciding on new windows, let's look at the options. Fixed windows are fantastic for providing lots of natural light and are lovely if you have a great view. They are very energy efficient and work to keep the elements out of your home. Operable windows, on the other hand, provide plenty of fresh air into your home. For this reason, combination windows, which join fixed windows with operable ones for a best-of-both-worlds solution, are very popular for living rooms.
Picture Windows
These windows tend to be large, offering clear, unobstructed views of surrounding areas, which is perfect if you have incredible scenery to look out on. They are also energy efficient and let in plenty of light. But, as fixed windows, they don't allow for airflow, so they are often used in combination with operable windows, which lets them meet various needs.
Secondly, because architectural and picture windows are endlessly customizable, you can tailor them to meet your home's specific architectural and aesthetic requirements. Architectural and picture windows are the way to go for those who like complete control over every aspect of their home's design.
Bay and Bow Windows
Just looking at a beautiful bay or bow window can be enough to make you want to snuggle up with a good book. These protrusive, panoramic windows add extra space to your home, which is often used for a quiet reading nook but can also be used for added plant life to give off the feeling of being in nature. Let's not forget the light these windows allow. They provide a maximum amount of natural light. These windows can be entirely fixed, or often, the angled or curved windows may be operable.
Awning Windows
Awning windows feature a hinge at the top that allows the sash to open outwards and from the bottom, which is beneficial if you live in an area that receives a lot of rain as they allow fresh air into your living room while keeping the elements out. They are usually placed with another type of window, like a picture or casement window.
Single and Double Hung Windows
Hung windows slide vertically, with single-hung windows sliding from the bottom up and double-hung sliding from the bottom up and the top down. These windows allow for an abundance of light and are easy to operate, and their vertical tracks don't collect much dust or debris, making them easy to maintain.
Casement Windows
In contrast to awning windows, casement windows swing outwards but in a sideways fashion. They open completely, making them great for spots in the home that need fresh air. Their tight seal makes them energy-efficient and provides robust protection against the elements, including drafts and outdoor moisture. Because of their hinged design, casement windows also offer opportunities for airflow if in the right location, as they can catch a cool breeze and direct it inside.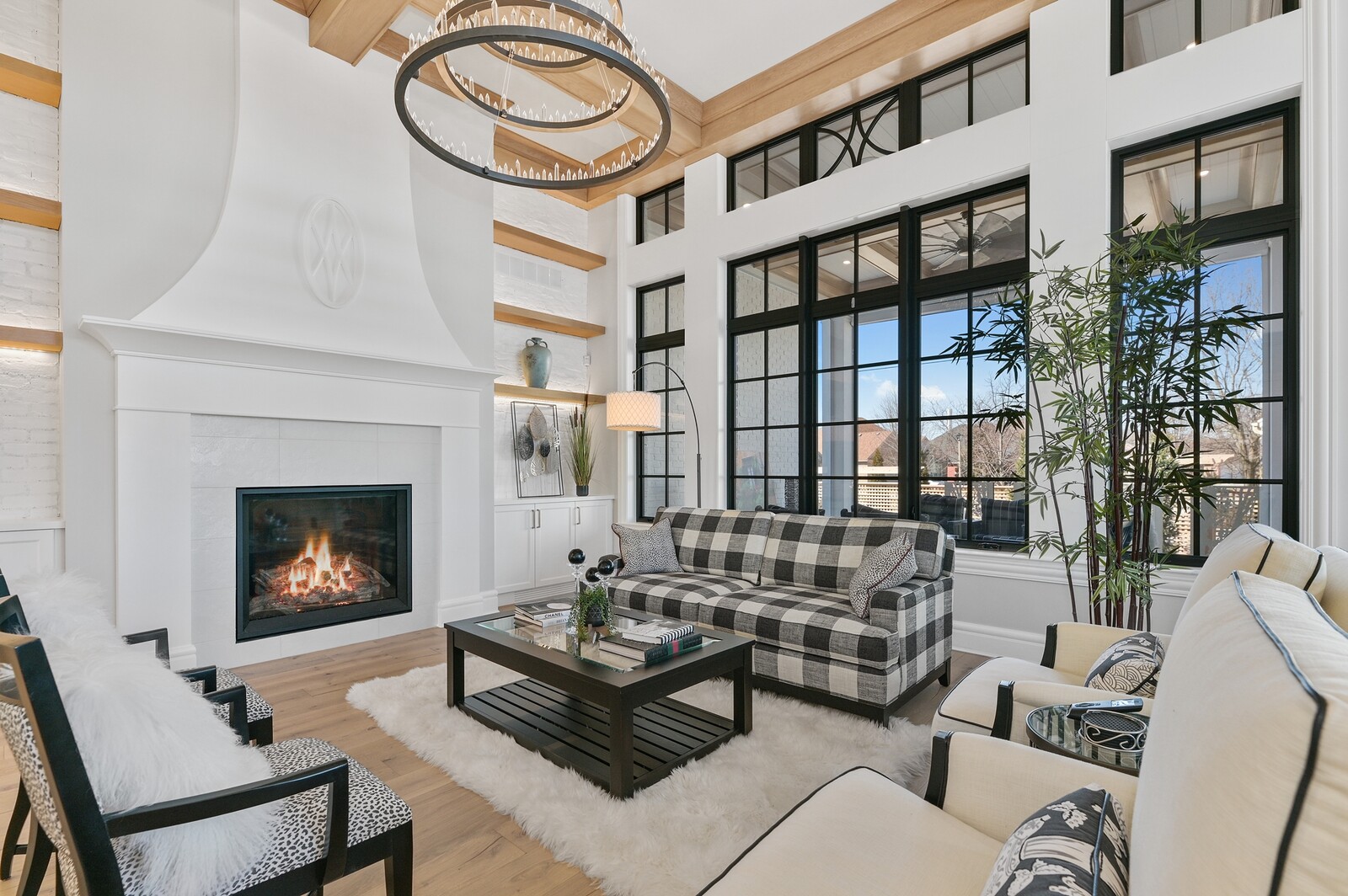 Slider Windows
Slider windows operate along a horizontal track and are an energy-efficient option that work well with casement and awning windows in your home. They are relatively easy to maintain and are a good choice if you're after fresh ventilation and stunning views. They're also an excellent fit if space is an issue – either on the interior or exterior of your home – as slider windows are not protrusive.
Sliding Patio Doors
If airflow and natural light are top priorities, you might want to look at installing a new double sliding patio door if your living room is located at the back of your home. Our sliding patio doors provide abundant fresh air and maximize the amount of natural light in your living room.
Material Options
Just like the type of window you choose affects both style and function, so does the material. Your living room windows should reflect your personal preferences and lifestyle. They must look amazing and provide the functional benefits you're looking for.
All our window products are carefully designed and endlessly customizable to ensure they match your décor perfectly. Let's look at which one best serves your needs.
Vinyl
Our GoldenVinyl® windows are an elegant, clean, and versatile option. Vinyl windows are popular for many reasons. Because of its natural insulating quality and ability to form a tight seal, vinyl is very energy efficient. It's also an easy-to-maintain material that can be cleaned using a simple mixture of mild soap and water and doesn't require paint, stain or finishing. That low-maintenance look can help create a cozy atmosphere. Another point in the pro column, vinyl windows are a very affordable option that provides excellent value.
Wood
Homeowners love our GoldenWood® products for their rustic, homey appearance — in terms of coziness for your living room, it's hard to beat. Wood is often used in cottages and heritage homes, providing a timeless appearance in modern homes. Plus, our wood windows combine beauty with high performance. A fantastic natural insulator, wood is a durable, energy efficient option that provides sound insulation and resistance to condensation. And because you can stain, finish and paint wood, the opportunities for customizing their look to match your décor are almost limitless.
Aluminum
Aluminum is strong and lightweight, and when combined with wood, as it is in our GoldenClad® windows, it's a hard-to-beat combination. Our GoldenClad® windows provide a sleek, attractive look on the exterior of your home while maintaining wood's cozy aesthetic on the interior of your home. These windows are strong enough to withstand the elements, resisting moisture and insect damage, and they're also easy to maintain. All you need to clean an aluminum frame is a mixture of mild soap and water. Aluminum is also relatively affordable compared to all-wood windows and doors.
At Golden Windows, we provide a variety of solutions to meet your specific needs and tastes. Book an appointment now to consult with a Golden Windows sales representative who will visit your home to take measurements and discuss your options. You'll have the opportunity to review the available styles, colours, grille patterns, and more. You'll be able to see firsthand what new windows can do to give you the living room you want. To start the process, contact us by phone, through our website, or visit one of our showrooms.